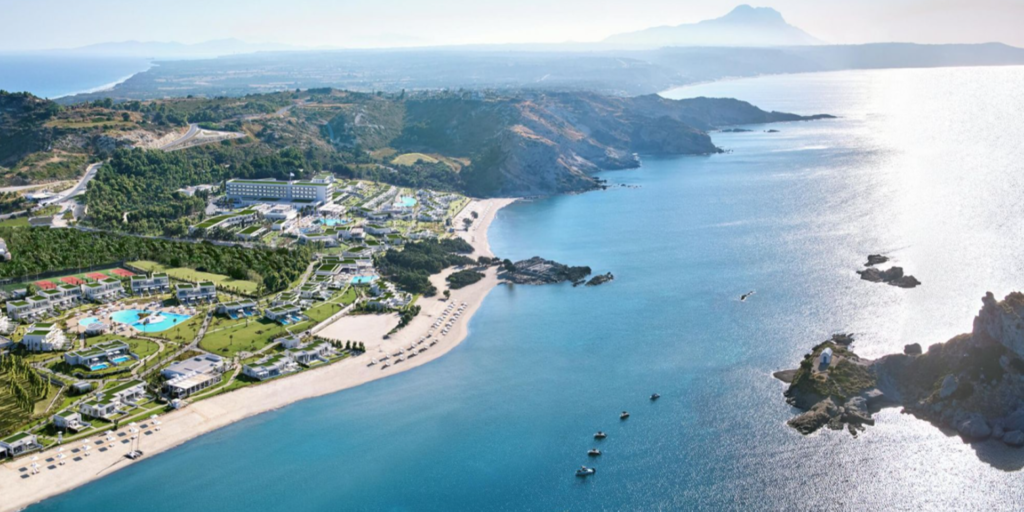 Sani Resort V IKOS Resorts – Which is Best?
IKOS Resorts have had a popular run lately with new hotels selling out even before they are open and new one emerging very year with the newest IKOS Porto Petro now open in Mallorca. IKOS plan to open five more hotels in as many years. I stayed with my family at Porto Sani, Sani Resort, IKOS Olivia, IKOS Oceania, IKOS Dassia and IKOS Porto Petro.
To all-inclusive or not to all-inclusive
As a general rule the Spanish IKOS resorts are the most expensive. Top Tip: We can book accommodation early for you and then call you the day the flights are released to make sure you get the best price. We already have early access to next year's 2024 rates and we are cheaper than booking direct. Our concierge team also book your first three nights' restaurants or your first five nights' if you are staying in Deluxe which is vital if you don't want to be eating buffet every night. We also notify you when the kids club and Tesla car booking system goes online so you don't miss out. If you stay in the Deluxe Collection we can pre-book for you to make sure you get the most out of your experience a special dinner on the beach and neck and shoulder massages (2 per stay) . The obvious difference is the that IKOS offers luxury all-inclusive although Sani Resort overall now include half board or your evening meal as a standard in the rate. You can upgrade to Full Board which includes lunch but no drinks with lunch and dinner. As a general rule my advice would be if you like to eat a three course meal at lunch with wine and then same with cocktails before and apertifs afterwards then all-inclusive is the way to go.
It really is fantastic value if you like to not think about how much you are spending on holiday. Children can helps themselves to milkshakes, snacks and ice cream and even room service and your mini-bar is included. Standards are top-notch. If anyone is still in any doubt the all-inclusive element really is ALL inclusive. Fancy a couple of glasses of wine with lunch? The staff will insist you have the bottle and then offer you another one. Fancy a can of Coke in the mini bar or a Gordons gin and tonic? The staff will replace them for you next day once they have taken note of your preference.
At Sani a €9 beer, €15 milkshake and €25 salad for example every day can really mount up. The only drawback with the all-inclusive is you can't help but overindulge on the food, drinks and alcohol and by the end of the holiday you can't help feeling like a decadent Roman!
However if you prefer quality over quantity and really only want a main course and a glass of wine then Sani is the way to go. The choice of restaurants at Sani is also considerably more with 24 restaurants and 17 bars in total. IKOS Aria has the most dining options for IKOS with eight restaurants but at an IKOS resort you do have the option to dine out in a local taverna or similar as part of your all-inclusive, a novel idea.
However the all-inclusive doesn't just extend to food and drink, with the pedalos and kayaks at the watersports centre also free of charge it is a blessing at the end of your holiday to literally only get a bill for spa treatments.
Location, Location, Location
One of the main differences for me is the location of Sani Resort and the sense of space you have with the benefit of a complex that encompasses five hotels. The pale sandy beach stretches endlessly down the length of the resort and is fringed by natural wetlands making for scenery full of outstanding natural beauty. Within the resort there is acres of green space and the famous Sani marina which is a lovely place to wander around with plenty of restaurants, bars and boutiques.
IKOS resorts tend to feel a lot more hemmed in (Olivia and Oceania are in quite built-up areas) with smaller footprints and less space and more limited gardens with less spread between the accommodations. Where IKOS Olivia and IKOS Oceania is Iocated it's in a pretty average seaside town with other hotels and electricity wires readily in view, Sani resides out on its own in a nature reserve that makes you feel like you're in a different world. All the IKOS resorts follow a very similar theme and decor so where you have seen one IKOS resort you have seen them all! IKOS Dassia stands out as one my favourites as the long bay stretches all the way along the gorgeous beach and is like looking at CGI with your morning coffee as the mountains of Albania frame a backdrop in the distance. It's fabulous as you can take a trip out to Corfu old town with its tiny little winding streets, history and shops or do a boat trip to the tiny little islands of Paxos and Antipaxos with caves and snorkelling along the way.
Beaches and Pools
The beaches at IKOS properties can to be quite small. At Sani however there are beaches as good as any I've visited in the world with white sand and crystal clear waters. The shores stretch for miles and there is a real feeling of space so sunbeds never seem crammed together.
I would say the pools are probably better at IKOS simply because they are much newer and there is regular waitress service to all the loungers as part of your all-inclusive. All the main pools at Sani and IKOS are heated all season to 26 degrees and Sani Dunes has the biggest pool in Greece. IKOS resorts have the edge on splash pad / spray/slide areas with one in nearly every resort.
Entertainment
Evening shows were generally good and by the same dance company in both IKOS resorts and Sani so pretty much the same sort of themes. In fact at IKOS we recognised a lot of performers from previous years at Sani. These are complimentary in both chains and are great fun for all the family with nights like Mamma Mia and music through the decades. Also worth doing is the beach parties which are themed for instance as a white party (yes you actually dress in white) and these too were popular with couples and families alike. At the White Party it's a very sociable atmosphere with children and adults having fun and usually with a live DJ and glow sticks and dancing.
Different Accommodation Requirements
At Sani this incredible family resort comprises of five different hotels, each designed to cater for different family configurations. Each hotel has its own childcare facilities for all ages. We love Porto Sani for young families as the pool area with rocks and the close proximity to the marina and all the main facilities and close kids club attracts this demographic. Plus in 2023 and into 2024 they offer a free Full Board offer if you stay here so there is such as thing as a free lunch!
Sani Club has the largest standard double rooms and the most number of rooms with their own private pool. It also have the most green space and natural backdrop and in my opinion the best restaurants (Ouzerie,
We tend to find the most popular rooms for families are the interconnecting room options at IKOS called Family Rooms but these are only available at Sani Dunes and Sani Beach and sell out very early. At IKOS you would find similar Family Rooms which are interconnecting rooms (these don't exist at Aria or Olivia).
Accommodation
Restaurants
Sani wins hands down when it comes to restaurants I think. It has 27 restaurants part of its dine around plan, thirteen bars and twelve dine around set menus (so you don't pay a supplement) and 19 child-friendly restaurants. Each and every restaurant has its own style and ambience and feels like you are dining out of the hotel in a little village especially the restaurants around the marina. There's new restaurants added every year and all of them are superb with particular praise going to Tomato and Macaroni for a laid-back family dinner, Ouzerie for its beautiful ocean backdrop and Greek food to the fabulous friendly service at Pines and organic ingredients to the memorable Beach Club at Sani Dunes.
IKOS restaurants are all good but they feel more generic and there is no top restaurant or leading restaurant but you won't ever be disappointed and we do love the fact that when the dinner is over you can just get up and walk away without having to wait for the bill which is totally freeing!!
Activities
Sani has reinvested alot of money lately in developing its facilities and it's brilliant that they now have a Sani Tree Top adventure park (free of charge and can be pre-booked), a Bear Grylls adventure academy and three waters sports stations plus a sailing academy. For families with babies there's baby swimming lessons, baby consulting, all manner of in-room equipment, an Annabel Karmel baby menu and 30 minnutes free babysitting on the beach for tired parents. As Sani spans a few hotels the facilities and activities are multiplied up so there is more here. Personally I do find that IKOS Porto Petro, Aria and Dassia are very appealing though in their geographical locations than Sani Resort as Mallorca, Kos and Corfu themselves are such fabulous destinations all with their own unique charm and places to see.
🏷️ Fr. £11.5K for a family of 4 at IKOS Porto Petro departing 13th July 2024 for 7 nights with luxury all-inclusive, flights & transfers
🏷️ Fr. £8.5K for a family of 4 at IKOS Oceania 12th July 2024 for 7 nights with luxury all-inclusive, flights & transfers
🏷️ Fr. £11.9K for a family of 4 at Porto Sani 12th July 2024 for 7 nights with Full Board, flights & transfers
🏷️ Fr. £8.2K for a family of 4 at Sani Club 12th July 2024 for 7 nights with Half Board, flights & transfers