Situated on a secluded azure bay within Sani Resort, Sani Club features fantastic family rooms and suites (some of which are beachfront), in bungalow style buildings nestled in the hills.
Light and airy rooms with a modern, nautical twist are spacious and feature floor to ceiling windows with fabulous views of Greece; Mount Olympus, the beautiful Aegean Sea or wonderful manicured gardens. The resort will further develop its rooms by adding more standard double accommodations.
There are several relaxed restaurants to choose from, including new restaurant Pines with a Farm-to-table concept, an authentic taverna Ouzerie with its fresh fish grill station, and the Sani Marina, with all its glamourous shops, bars and eateries, can be reached by complimentary shuttle bus. An indoor heated pool has recently been added and the infinity pool and all the main outdoor pools at Sani Resort are heated throughout the season.
The sandy beach and shallow clear waters are dreamy and reminiscent of Halkidiki. There's some clever additional services on offer such as Babewatch, which provides beach babysitting (complimentary for the first 30 minutes), and Beach Buddies, where attendants serve refreshments and snacks right up to your bed.
Children's clubs are first-class. Operated by UK-trained staff, there's exciting activities such as gymnastics, beach picnics and face painting at the Mini Club, while the crèche offers fantastic care and mini games for younger children.
During your holiday in Greece, Entertainment is a high priority with sailing and football academies, art classes in the day, and shows and musicals by night in the Garden Theatre located by Sani Beach. Activities abound for all ages from archery and football to water sports and tennis.
Facilities
Babysitting
Beachfront
Children's Club
Evening Entertainment
Football Academy
Gym
Room Service
Spa
Swimming Pools
Water Sports
Transfers
Sani Club is 50 minutes by car from Thessaloniki Airport.
Food & Drink
Sani Club has four on-site restaurants and two bars, whether you want an intimate dinner or to sit down and have fun with the family, you'll find what you want at Sani Club.
The Dine-Around programme allows half-board and full-board guests to use their meal allowance in 23 restaurants throughout the Sani Resort. The resort boasts 24 restaurants and 21 bars in total.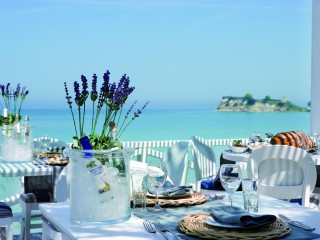 Ouzerie
Welcome to a selection of tempting traditional Greek fare presented with a pleasing contemporary twist. Enjoy the freshest seafood platters perfect for sharing with everyone at your table whilst taking in the best views Sani has to offer; all perfectly complemented with our impressive selection of wines sourced from across the country and beyond.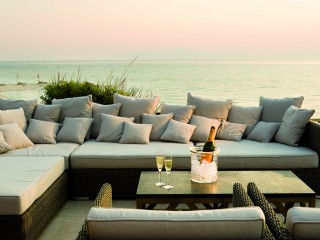 Cabana
Relax with this mouth-watering selection of dishes inspired by Nicole's La Petit Maison provincial cuisine in Nice. Signature dishes draw on the irresistible flavours of the Cote D'Azur such as our renowned tartare and ceviche dishes prepared with only the very freshest ingredients and all lovingly created to be shared al fresco with great company. Open for breakfast, lunch and dinner.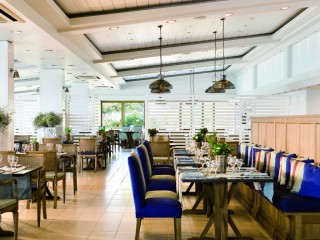 Olympos Restaurant
Casual dining in a contemporary setting features an awe inspiring breakfast buffet and a wide variety of themed buffets in the evening that feature a tantalising selection of hot and cold dishes. Open for breakfast, lunch and dinner.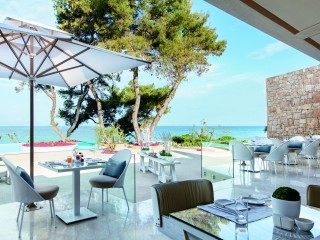 Pines
This exciting "farm to table" menu offers you a choice of gorgeous dishes created using only fresh and mainly organic produce from within 100km of Sani Resort. Enjoy this range of tempting tastes that presents modern Greek dining at its very best. Open for breakfast, lunch and dinner.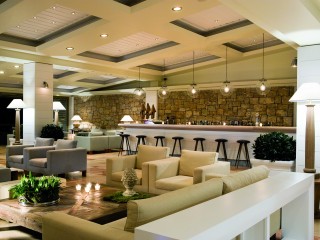 Lounge Bar
With views over the beautiful bay, the atmosphere here could only be chilled. A great place to catch a fabulous sunset or to relax after dinner.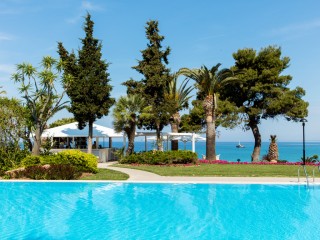 Pool Bar
A refreshing oasis during the day with a selection of light bites and salads. And come the evening, it's a beautiful setting to chill out with something more exotic such as one of our mojitos or famed fruit cocktails.
Childcare
There is a dedicated Kids` Club, Creche and Teens' Club at the Sani Club. All clubs at the Sani Resort are operated by UK childcare specialists, Worldwide Kids Company. It is essential to pre-book the Creche and the Mini Club.
*Please note: Opening times and prices are subject to change*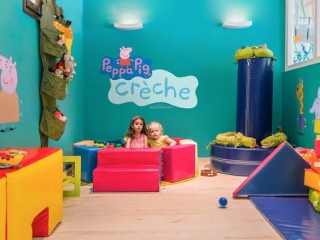 Peppa Pig Crèche
The Peppa Pig themed crèche is the perfect spot for kids to explore fun and adventure with one of their favourite characters.
Accredited by UK childcare specialists Worldwide Kids, our new crèche operates to Ofsted standards, policies and procedures.
Ages 4 months up to 4 years old.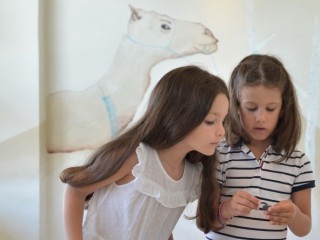 Melissa Mini Club
Parents can enjoy some private time, reassured that their children are being professionally cared for by a team trained by childcare specialists Worldwide Kids, and having a bucketload of fun too.
Accredited by Worldwide Kids, Melissa Mini Club is for children 4 - 11 years with a fun programme of activities running in the morning and afternoon - indoors and out.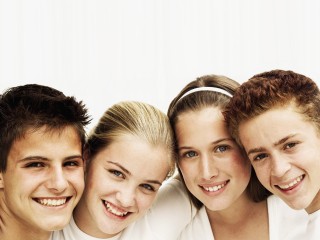 Ozone Teen Club
We know only too well how much fun teenagers love to have on holiday and so you'll find us well prepared with a big range of specially organised activities.
There's classes in hip hop, dancing, DJ-ing as well as in outdoor activities such as archery, beach volleyball and Mountain Biking. There's always something new to discover so check out the activities when you check in. One thing is for sure, your teens will never be bored.
Teen House "Ozone": for children 12 – 17 years old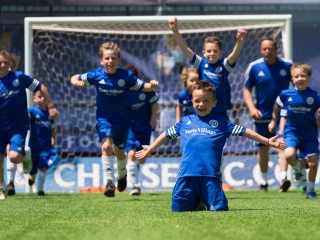 Chelsea FCF Football Academy Coaching
Budding premiership players aged 4 - 16 years can join in the training at Sani's Chelsea FC Foundation Football Coaching. Great opportunity to improve soccer skills with the professionals.
Opening hours: 09:30 – 19:30 ( April –October)
Age Groups: 4-6, 7-9, 10-12, 13-16 years
Additional charges apply.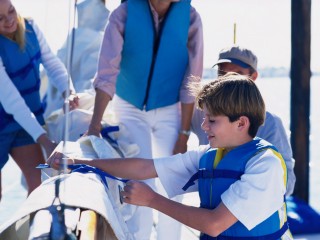 Sani Sailing Academy
The Sailing Academy (age 6 - 17 years) is open Tuesday-Thursday, Friday-Sunday, May - August and staffed by professional, certified instructors.
Lessons are held both on dry land and off shore and the participants are awarded with the accredited "Certificate of Attendance".
Additional charges apply.
20% Early Booking Discount
Valid for stays between 25Apr19-25May19, 27Sep19-28Oct19
For reservations confirmed by 31Jan19
N.B. Deposit of 50% of total stay is payable to Sani Resorts by 15Feb19
Rate Code: 20%(1)
10% Early Booking Discount
Valid for stays between 26May19-29Jun19, 03Sep19-26Sep19
For reservations confirmed by 31Jan19
N.B. Deposit of 50% of total stay is payable to Sani Resorts by 15Feb19
Rate Code: 10%(3)
5% Early Booking Discount
Valid for stays between 30Jun19-02Sep19
For reservations confirmed by 31Jan19
N.B. Deposit of 50% of total stay is payable to Sani Resorts by 15Feb19
Rate Code: 5%(1)
Complimentary Full Board
Valid for stays between 25Apr19-16May19, 03Jun19-14Oct19
For reservations confirmed by 16Jan19
Minimum Stay: 05 Nights
Valid In : Junior Suite Grand Balcony Sea View, Two Bedroom Bungalow Suite Private Garden Sea View, Two Bedroom Bungalow Suite Private Pool Front Sea View, Two Bedroom Bungalow Suite Private Pool Beach Front
Rate Code: FB
Rooms
Sani Club has 253 rooms and suites to choose from.
Great holiday…
Having had a great holiday at Sani Beach last year, we enjoyed the Sani Club even more.  Only two grumbles, we thought the Kids Club at Sani Beach was much better run and appointed.  Our biggest bug bear was the circus of booking restaurants after our 3 pre booked reservations.  Getting the restaurant we wanted at the time we wanted was virtually impossible.  There needs to be a much better and fairer way of making reservations.  We were told by guests who had come with another family that both would book a different restaurant for the same night and decide which they would go to on that night without cancelling the booking they wouldn`t use.  Please make Sani aware of this, the hotel staff know it goes on but say there is nothing they can do!  It was the only thing that truly marred our holiday.
Fourth visit and love it every time we go back…
Fourth visit and love it every time we go back. Great facilities, much of the Sani Club is newly renovated and they are continually upgrading during the off season.Kids club excellent and half board options gives varied cuisine across the whole resort and marina area.
The best family holiday we`ve had….
Posted on: 23rd June 2017
This was the best family holiday we`ve had. Travelling with a 10 month old and 2 year is never easy, but the whole holiday was just made so incredibly easy. The service was second to none. Nothing was too much trouble and all the staff did everything they could to ensure our children and ourselves were well catered for.
In terms of the accommodation, again faultless. We stayed in a 2 bedroom suite with a pool and garden and the facilities were great. Very clean, spacious and very well maintained.
I would recommend Sani to any family. It`s a brilliant resort.
Stunning resort…
Posted on: 11th June 2017
Stunning resort! Sani club has undergone a huge transformation since the end of the last season. The new pools and restaurant have been positive additions to this already first class resort. Service and quality is second to none. Returning in 2018 for our 5th visit!
We enjoyed the holiday…
We enjoyed the holiday but the food was overpriced and samey in a nut shell!
A fantastic hotel in every way…
Date stayed: October 2015
Posted on: 11th November 2015
A fantastic hotel in every way. Great food choices ( even the buffet was good!)and customer service second to none, to the extent that one of my son`s favourite staff members rang him while we were in the taxi on the way to the airport as he`d missed him to say goodbye.
Only negative, which is not anything to do with the hotel, is that the weather is not that great in October half term, and so lying around by the pool isn`t that warm! Thank goodness they have heated outdoor pools though.
In all a fabulous hotel.
Great, relaxing holiday…
Great, relaxing holiday. We went with our 2.5 yr old and he loved it. All his favourite things were there, a playground, the beach and the pool. The landscaped gardens, scenery and walking/hiking opportunities were also things he really enjoyed and that we could also appreciate.
By far what made it a relaxing holiday was that the main chore of cooking, cleaning and washing etc were on hold for a week and the Olympus buffet, Dunes and pool bar restaurant took care of all our culinary desires.
We felt the staff were great, not one lapse even though it must be tedious saying good morning/afternoon to so many people every single day. They were so friendly and interested in the children.
We felt we had enough privacy in the junior garden suite, anything less and it would have felt a bit too restrictive and claustrophobic for us with a child. We had a fantastic sea view and watched many sunsets and a few nights of stargazing.
Would love to go back with extended family or even just us if we need time to relax..