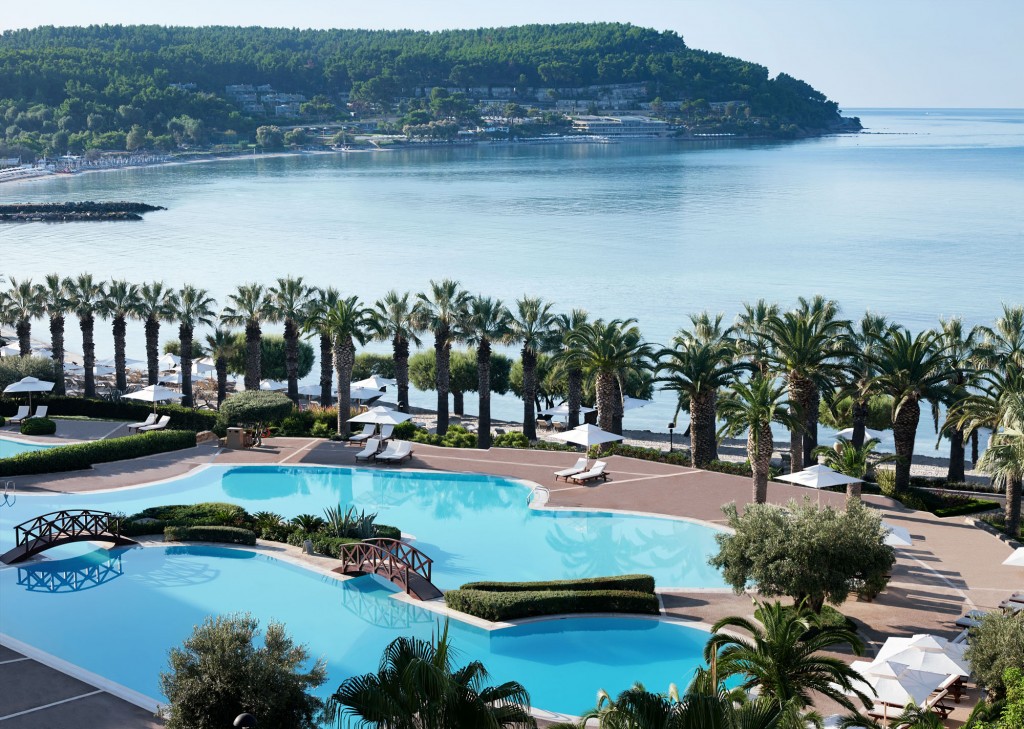 A Parent's Guide to Sani Resort – Is it worth the hype?
So, is Sani Resort worth the hype? In a word Yes! Having visited nearly every luxury family hotel within a 6 hour flight away, we and our children are pretty hard to please. It is hard to shake off the mental check-list of what makes the perfect hotel as soon as you arrive. Piping hot freshly made coffee at breakfast as soon as you sit down – check! Fabulous room amenities – check! The bill on your table before you need it – check! Activities, activities, activities – check! Complimentary water at turn down – check! Child size bathrobes and slippers – check!
But it is often what you don't expect that makes a good family holiday an epic family holiday. When we arrived slightly frazzled after a very early morning flight, we were we immediately whisked to the bar by a charming linen suited chap to check in over a complimentary drink (nice touch mine will be a large G&T please). This was to be a common theme of our trip (the service that is – not the G&T's). The smiling efficient yet trendy staff were everywhere you looked or went, the staff ratio here is 1: 3.
The Resort
My favorite pool area and hotel for families was definitely Porto Sani Village (although if you like the best or like it quiet Sani Dunes is fabulous). Set in beautiful gardens, the three pools are interconnected by bridges and tunnels with a superb shallow small pool for the under 5s with a small rocky island. The service around the pool was very keen (at times it was almost too attentive if this is possible) and the sunbeds were one of the most comfortable and softest I have ever had the pleasure to lie on. New this year are the 3-bedroom Family Suites which will be great for large families and are conveniently located across the path from Porto Sani Village on the Sani Asterias side of the marina.
Sani Beach Club is a much quieter and more natural hotel as it is set into the hillside and the bungalows are amidst gardens and vegetation. This hotel is further from the main facilities of the entertainment and the marina but it is host to one of my favourite restaurants Dunes (trendy low level rattan furniture and right on the beach). You can walk along the beach in 10 minutes or there is a free bus transfer every 20 minutes to other parts of the resort.
Sani Beach Hotel is a great choice if you have younger children and want to be close to the action. Rooms and communal areas have recently been totally refurbished and are now super contemporary and very opulent (think neutral shades, lush fabrics, huge white chandeliers and lots of glass). I loved the 2-bed Family Suites here and would be very tempted to stay in these if I went back. The nature of this 7-storey hotel means that it does feel quite busy and buzzy especially in high season but the service and food is still amazing.
Tips and Tricks
I would highly recommend going down to guest services on the first day to book up your activities for the week (this is key to any family holiday) so that everyone gets to choose what they really want to do and to ensure your dining is booked (makes for a hassle free week). Another good tip is pre-book your first night's restaurant to make sure you holiday begins in style as Sani Resort can get very busy in high season (we can do this for you). A nice idea at breakfast at Porto Sani Village was the a la carte menu which had no additional charge so we could order freshly made Eggs Benedict or pancakes as well as access to the extensive buffet. We particularly liked the Greek honey still in its honeycomb and also the supervised children's colouring table which meant you could enjoy a more leisurely breakfast while the children were entertained for half an hour.
Flexible and fantastic dining
Food generally was excellent and the flexibility of the dine-around concept definitely makes Half Board worthwhile. There are many great restaurants to choose from and we loved Macaroni (trendy Italian) and Tomata (sort of a Greek Jamie Oliver style – but better!) in the fantastic Sani Marina which a great place to walk out to and make you feel like you are really going out to dinner. Beachfront Dunes, located in Sani Beach Club also has an amazing atmosphere and plenty of space for the children to get down at the end of the meal while you finish your glass of wine!
Activities and Entertainment
Hire bikes for the day (there are even trikes and scooters for little ones) as it's a really fun way to get around and our eldest daughter said it was the best part of the holiday (children some times like the simple things the most!). For a lovely day out book a hosted yacht trip available through VIP services which was what I enjoyed the most. We spent a couple of hours swimming and snorkeling and then stopped off for lunch at a little taverna off the beaten track with a mouth-watering meze. It was a truly memorable day. The beaches here are stunning and some of the best I have seen with long stretches of pure white sand (as good as much more exotic places) and a lovely shallow shelf into the sea.
For evening entertainment the shows at the Garden Theatre are great fun for all the family, Mamma Mia being the best one (seasonal). In high season there's also an open-air cinema showing popular films. There's also a comprehensive menu of DVDs which you can borrow free of charge from reception (this is such as simple thing for luxury hotels to do and we know that as a family it is really annoying if there is nothing to watch but channels of foreign TV!).
All in all…
All in all we thought Sani Resort was great, so good in fact we are seriously considering returning for October Half Term and we hardly ever return to the same place twice! Sani also are heating the outdoor pools in the whole resort throughout the season so early or late in the season is more appealing. Please feel free to call to speak to me or Kate to discuss staying at Sani Resort.
Please feel free to call on 01625 538 634 to speak to any member of the team as we have all visited the Sani Resort.