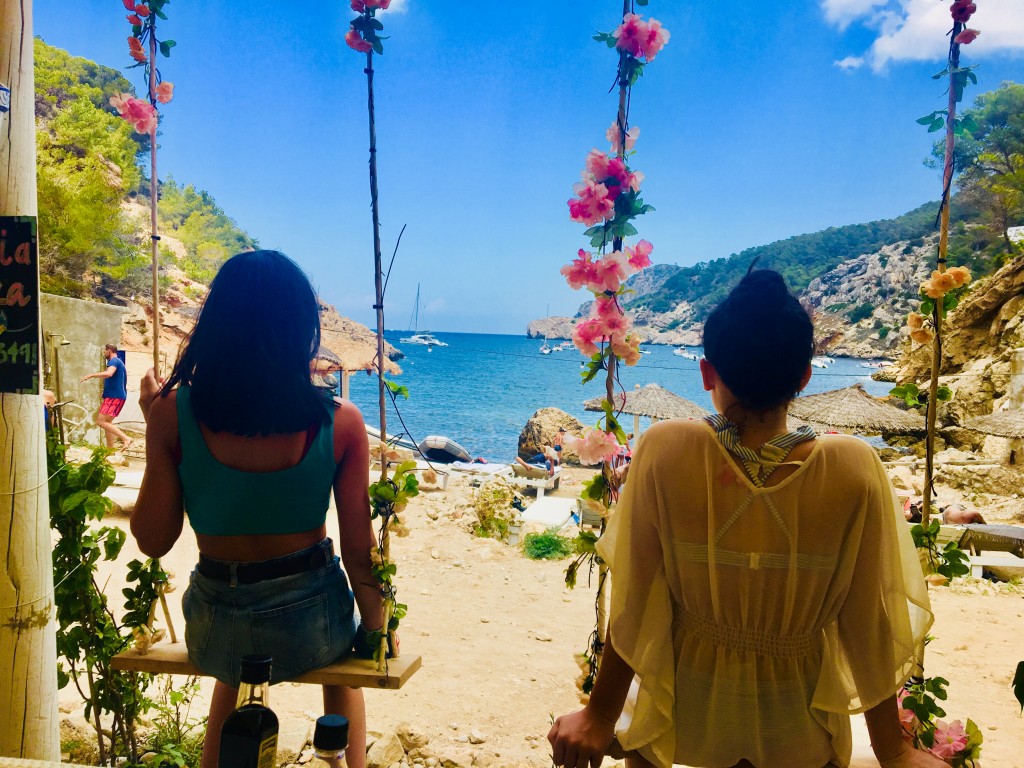 Ibiza – Insider Tips on the White Isle
I've been escaping to Ibiza all my life and I never tire of this beautiful and special place. It is the perfect destination if you want to relax but also if you have a sense of adventure. Ibiza seems to manage to conjure up magic whatever you are looking for. Fantastic for couples and families alike it is the one place that my children want to keep returning to.
Ibiza is small but very diverse and the various areas all have very different vibes. There is always somewhere to go that suits your mood. The main piece of advice I would give is to hire a car for at least part of your stay and get out and about exploring – it only takes at the most 90 mins to go from one end of the island to the other and most parts of the island are fairly accessible and all are unique and memorable.
This trip we stayed at three of the new hotels in Ibiza. They are more family friendly than other properties on the island and are also fantastic for couples for special occasions.
ME Ibiza is on the far North-Eastern coast right on a beautiful beach in the peaceful North. This stunning hidden gem is positioned literally right on the beach on one of the most beautiful stretches of cliff-fringed sandy shore. The hotel sits in a secluded bay close to the pretty little town of Santa Eulalia. The town has a lovely marina and is centrally located only a 25-minute drive from Ibiza Old Town. A real USP is the fact you can walk out of the hotel to numerous local beach restaurants with lovely seafood tapas and friendly Spanish service and also some happening, little low-key beach bars.
We love the rooftop restaurant and bar which perfectly combines all that's best about Ibiza ultra-trendy interiors with a kick-back and relax vibe that I wish I could bottle and bring home. The generously spaced rooms are minimalistic and contemporary perfect for couples with interconnecting options available for families. The main pool on the lower floor is vibrant yet relaxed and hosts daily DJ sessions and comfortable loungers. If you are at a beach club day the famous Nikki Beach is next door. Complimentary access to all facilities is given to ME Ibiza guests. The breakfast here is of special note with a wide varied choice of food to salivate over. The floating smiling staff look like they have stepped out of a magazine and all this until 1130 am. Absolute bliss every day!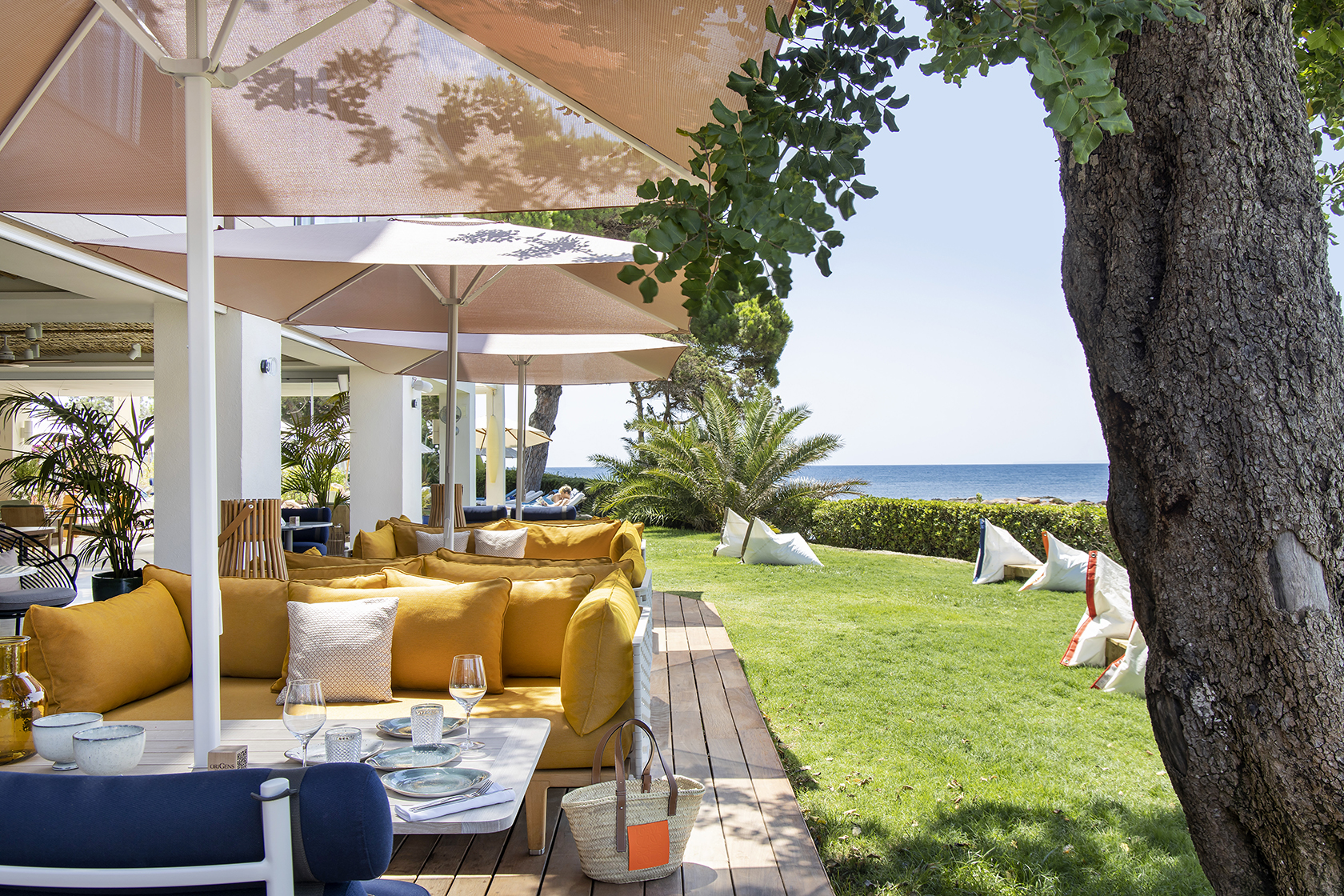 For the family crowd there's a kids' club and a range of scheduled activities to keep the children entertained. Guests of all ages will love the water sports including sailing, windsurfing and canoeing in the turquoise waters. A special boat excursion can be arranged directly from the hotel to the idyllic island of Formentera. For some quiet time use the outdoor pool adjacent to the spa at the back of the hotel. It offers a tranquil sunbathing area with lots of Balinese-style loungers which was empty when we were there in July!
The whole island of Ibiza is small and accessible so the excellent concierge can book you into restaurants in the local vicinity (5/10 minutes by taxi) or you can spend the day exploring the tiny little winding streets and fortress of Ibiza old town or dining at the top-level restaurants there in the evening. There are many wonderful sites to visit close to the hotel such as the quaint town of Santa Gertrudis with its old church, great shopping as the Las Dalias Hippie market or beach hopping to the tranquil Benirras beach in the far north.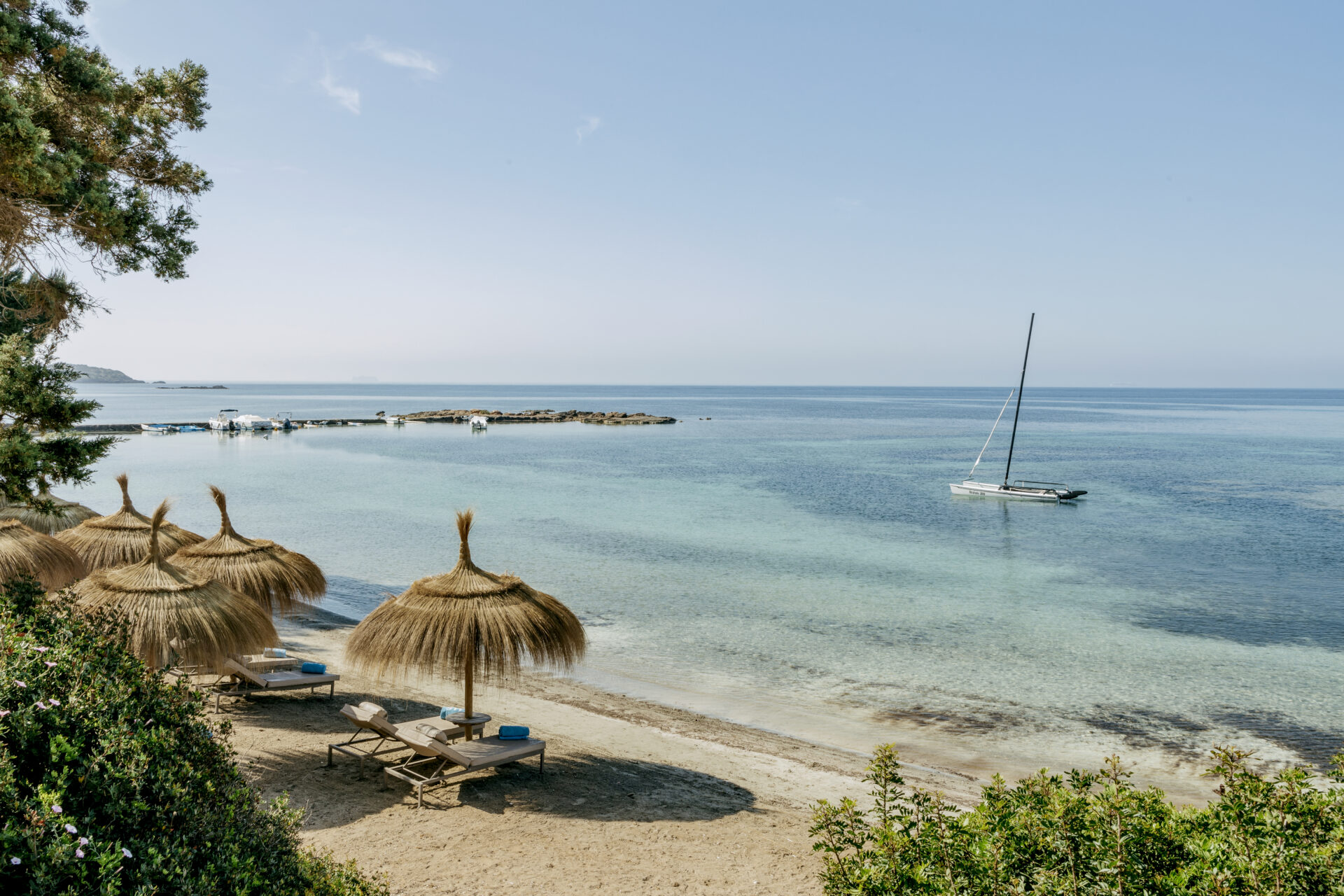 Just around the bay is another appealing alternative. The Aguas de Ibiza Grand Luxe Hotel is a small boutique hotel but is ideally located n the pretty marina. The town of Santa Eulalia has all the shops, restaurants and bars within easy walking distance.
There are a number of rooms types including interconnecting and suites with rooms. I would always opt for a Premier Room as these are in the newest block and I personally prefer the décor of these beautiful white/neutral coloured rooms. This resort has fantastic food and restaurants with an adult-only new rooftop pool, bar and terrace with stunning sea views.
The pool on the ground floor is very useable with many loungers and lots of grassy spaces and gardens all around it. There's an excellent kids' club and the hotel pulls in a discerning family crowd. The Clarins underground spa is like a James Bond villain's lair with a huge pool and ultra-modern interiors. I visited it once and had to go back again the very next day! The beach you can use is only 50m away and there's a lovely beach club called Chiringuito Blue. The hotel has a partnership with the beach (it's not owned by the hotel). It is a great base from which to explore the island by car and very centrally located with nothing more than an hour's drive.
NOBU Hotel Ibiza Bay is in the South on the lovely Talamanca beach, only 5 minutes by taxi from Ibiza old town. This small but perfectly formed hotel is right on the beach and boasts a slick stylish design inspired by natural Ibizan materials. The beauty of this hotel is its location right on the beach but still close to all the action and its stunning pool area which is every bit as good in real life as it is in the photos.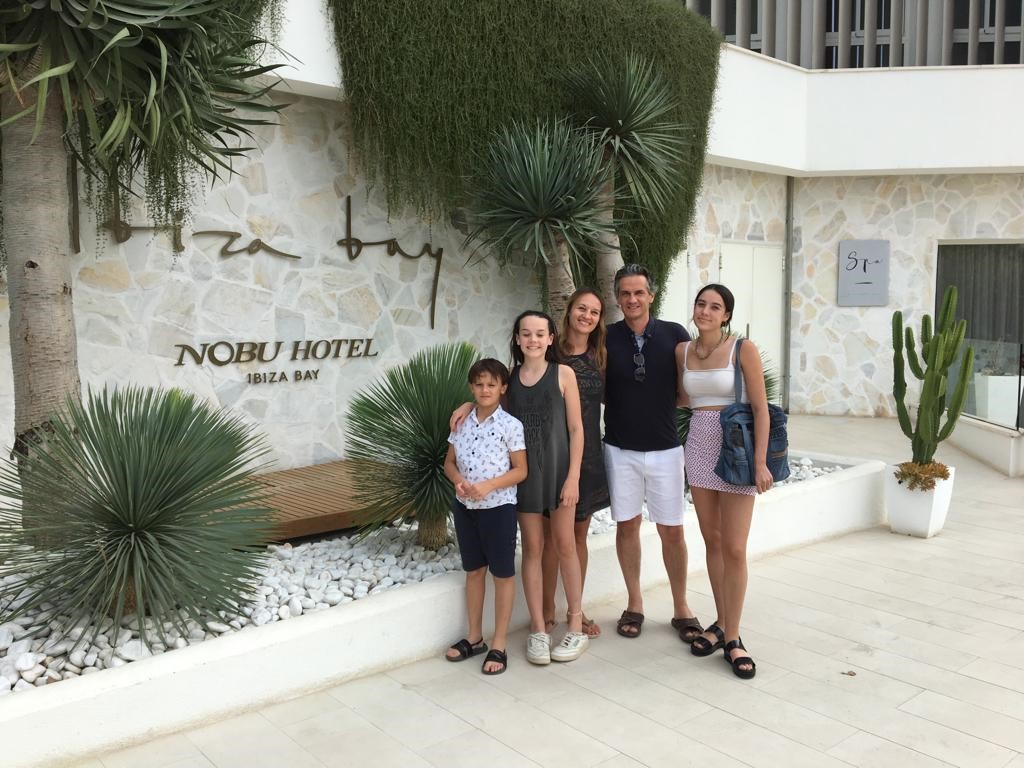 However it does attract a young-ish, vibrant crowd which is not for everyone. This means it is much less family-focused than the other properties. It is also close to the airport from which you can be collected in the hotel's own fleet of blacked out Range Rovers. The hotel has designer chic rooms with ocean and bohemian influences thrown into the mix. Deluxe Garden View rooms are quite compact and only have a shower in the bathroom. We would propose a Junior Suite and above if you want a bathtub and more space. It's amazing for a couples trip or group of friends or possibly part of a twin centre for a family to visit Ibiza old town and the South.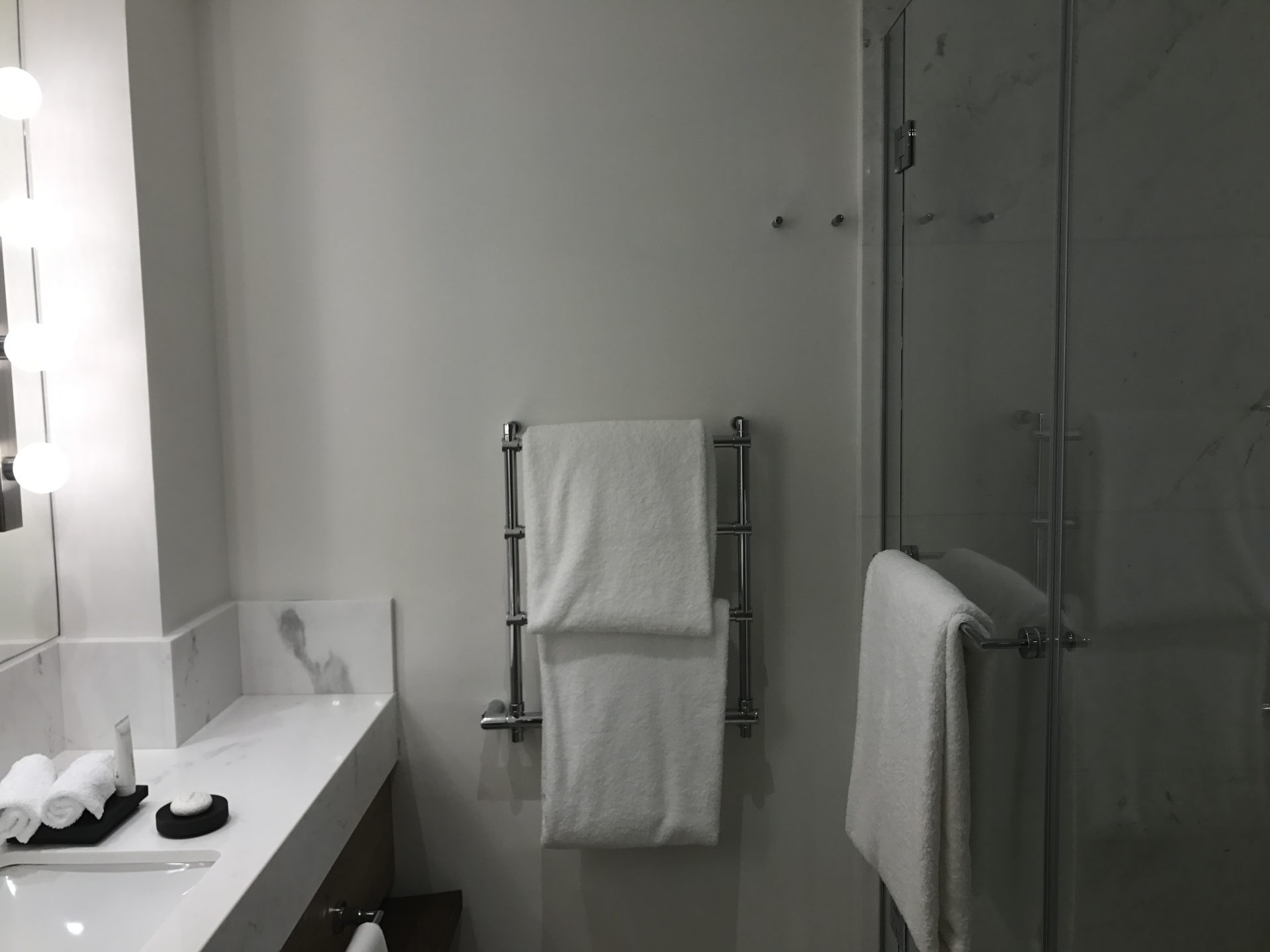 The Dalt Villa or Ibiza Old Town
We would definitely recommend walking along the beach to the marina and catching the boat across to the old town for a wander around day or night. It is a lovely and easy way to get to the old town with boats returning up until about midnight. The children loved it and it only costs a few euros return every 20 minutes or so.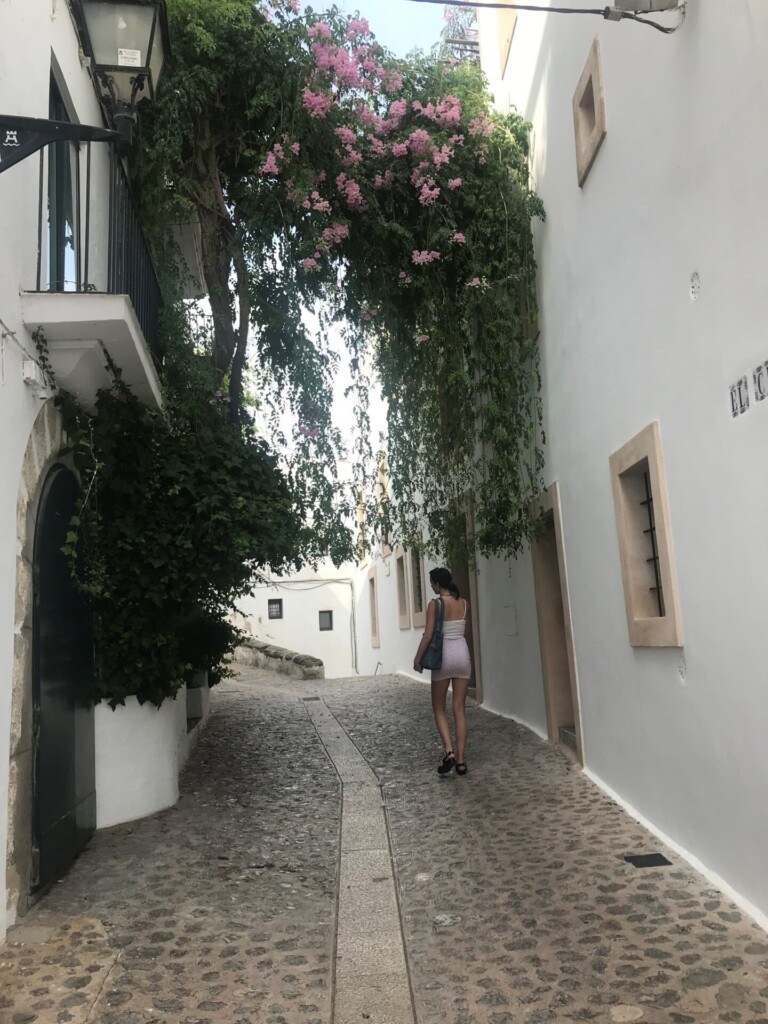 The Dalt Villa, a UNESCO World Heritage Site, is at the top of Ibiza Town. It is an ancient walled fortress dating back to Roman times. It is a must see where you can explore the narrow, winding, steep cobbled streets and magnificent views from the breaks in the high ramparts and the vast terraces at each level (Dalt Vila actually means 'Upper Town'). You can access this part of the old town by walking up a massive ramp to a dramatic entrance. Enter into an ancient cobbled stone courtyard, leading immediately on to the Plaza de Vila (main square). This area is full of amazing restaurants and street entertainers but you must book the fine-dining restaurants as it gets very popular.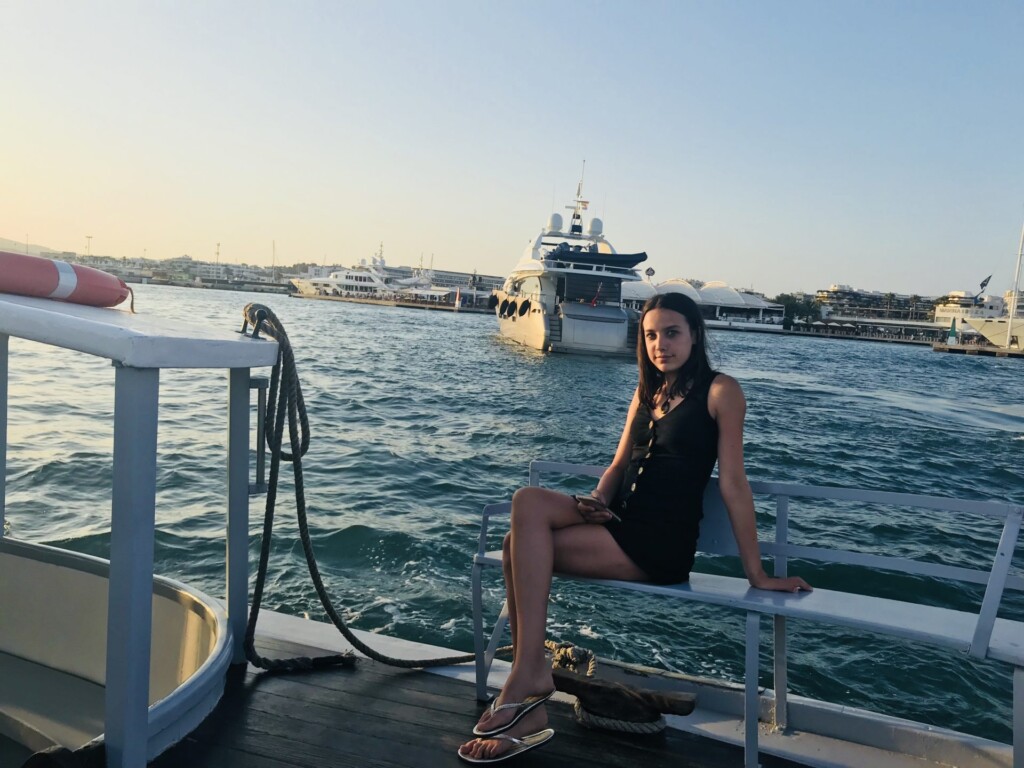 The hotel has many top-notch facilities although it is a small boutique property. Guests can enjoy the Nobu restaurant, six senses spa, John Freida hair salon and kids' club (almost unheard of in five star hotels in Ibiza). It also has a trendy bar overlooking the infinity bar which plays low-level DJ music and is a cool place to enjoy a sundowner. You can also walk out of the hotel along the promenade to handful of local restaurants and bars serving tapas.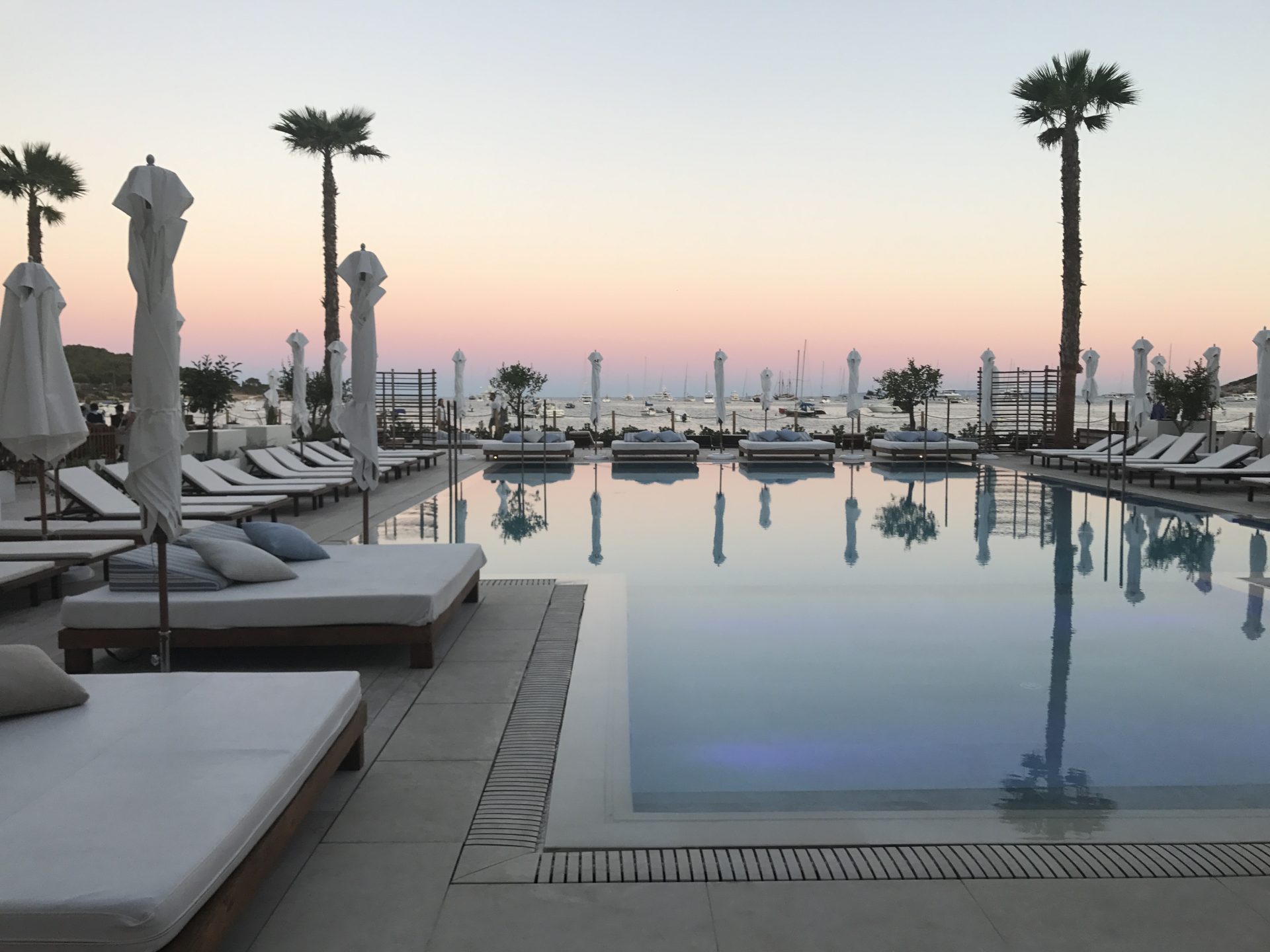 For a more cost-effective alternative that is situated in the more tranquil North of the island we loved Aguas de Ibiza Grand Luxe Hotel which is a small boutique hotel. Ideally located near the pretty marina and town of Santa Eulalia. Which has all the shops, restaurants and bars within easy walking distance. It has a Kids Club, amazing underground spa and is a great base from which to explore the island by car.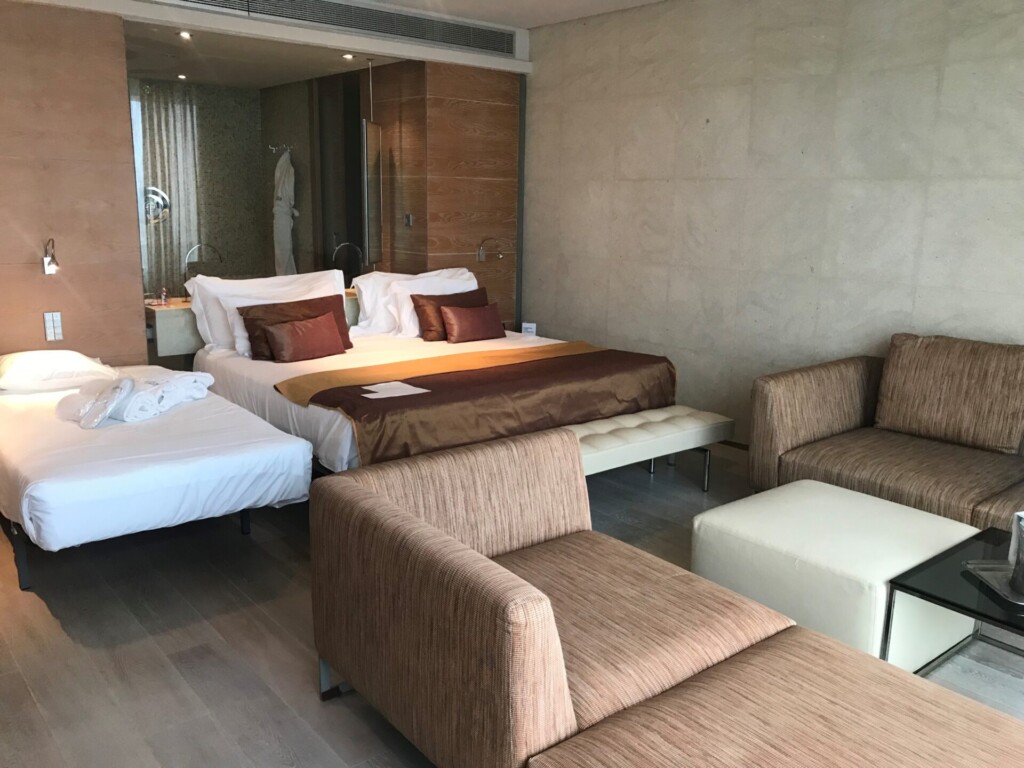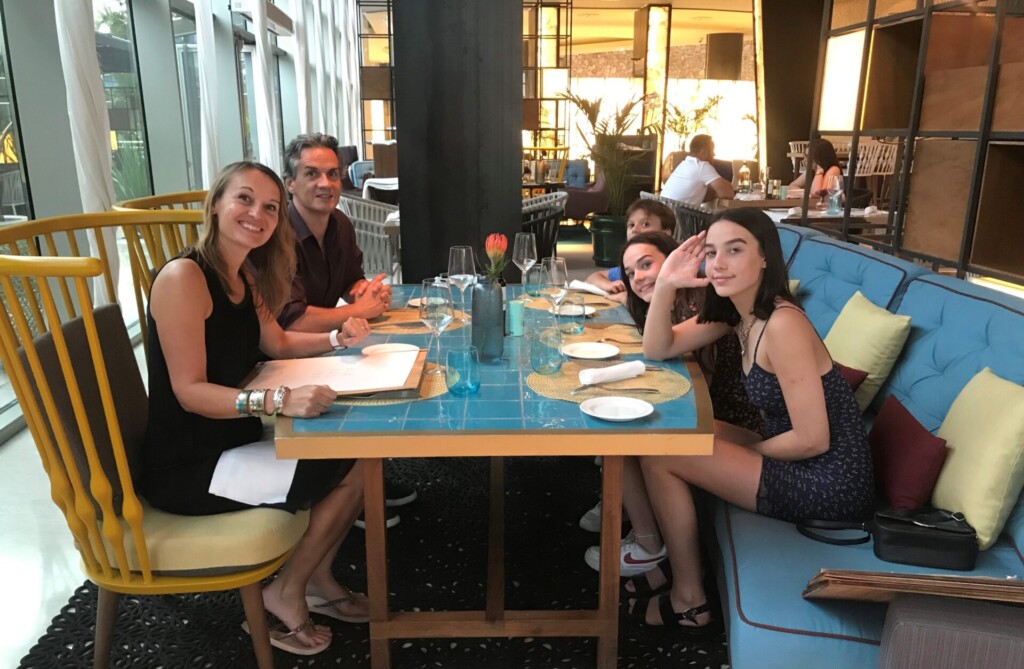 Beaches, Beaches, Beaches
We really recommend venturing out by car and discovering the beaches for which Ibiza is so famous. Beach hopping in Ibiza is simply one of the most delightful things to do. Each beach is different and varied in equal degrees from tiny little rocky coves to vast stretches of golden sands. Spend the day snorkelling, sunbathing and exploring. Don't forget to enjoy lovely little beach huts for lunch, as every day will be different and wonderful. Tip: Most of Ibiza's beaches are signposted (brown signs with a parasol) but many have "challenging" parking arrangements. Also some involve a lengthy walk, but if you just take your time the extra effort is always worth it.
Aguas Blancas – the sand is famous for its magical properties when mixed with sea water and left on the skin to dry. Walk to the very far right of the beachfacing the sea for the best chiringuita for lunch (blue tables)
Cala Nova (Aiyanna restaurant or Aztaro for lunch)
Benirras (Eléments restaurant for lunch)
Cala D'en Serra – Stunning views and an old unfinished hotel covered in graffiti makes for an interesting backdrop but not for faint hearted. Remember you have to park at the top and walk down a steep road/bank but it's worth it (taxis won't go there though!).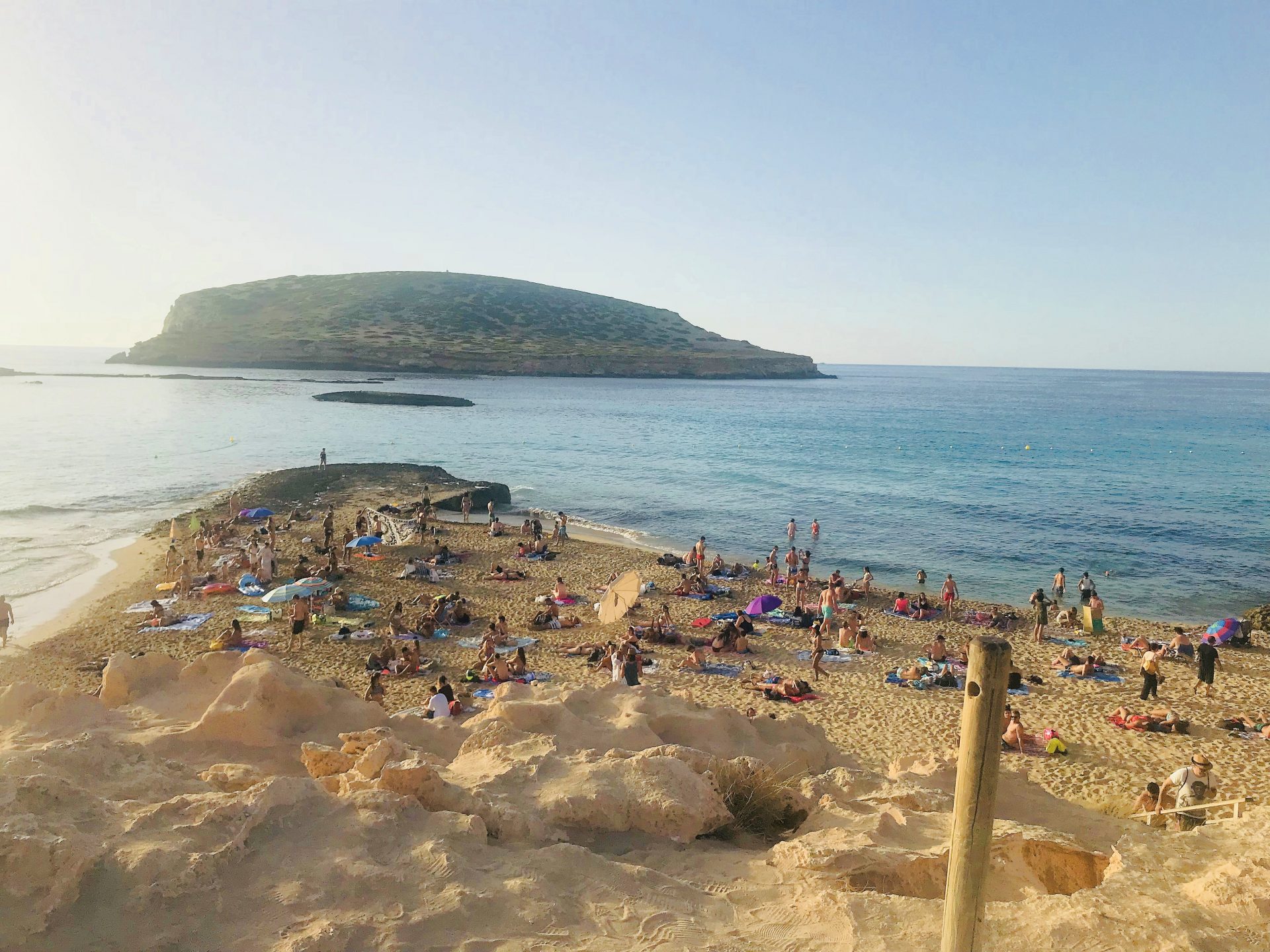 Tip: Only a few minutes away by car is the beach restaurant Sunset Ashram which is famous for its sunset drinks, if you want a table and something to eat pre-booking is absolutely essential, it books out months in advance.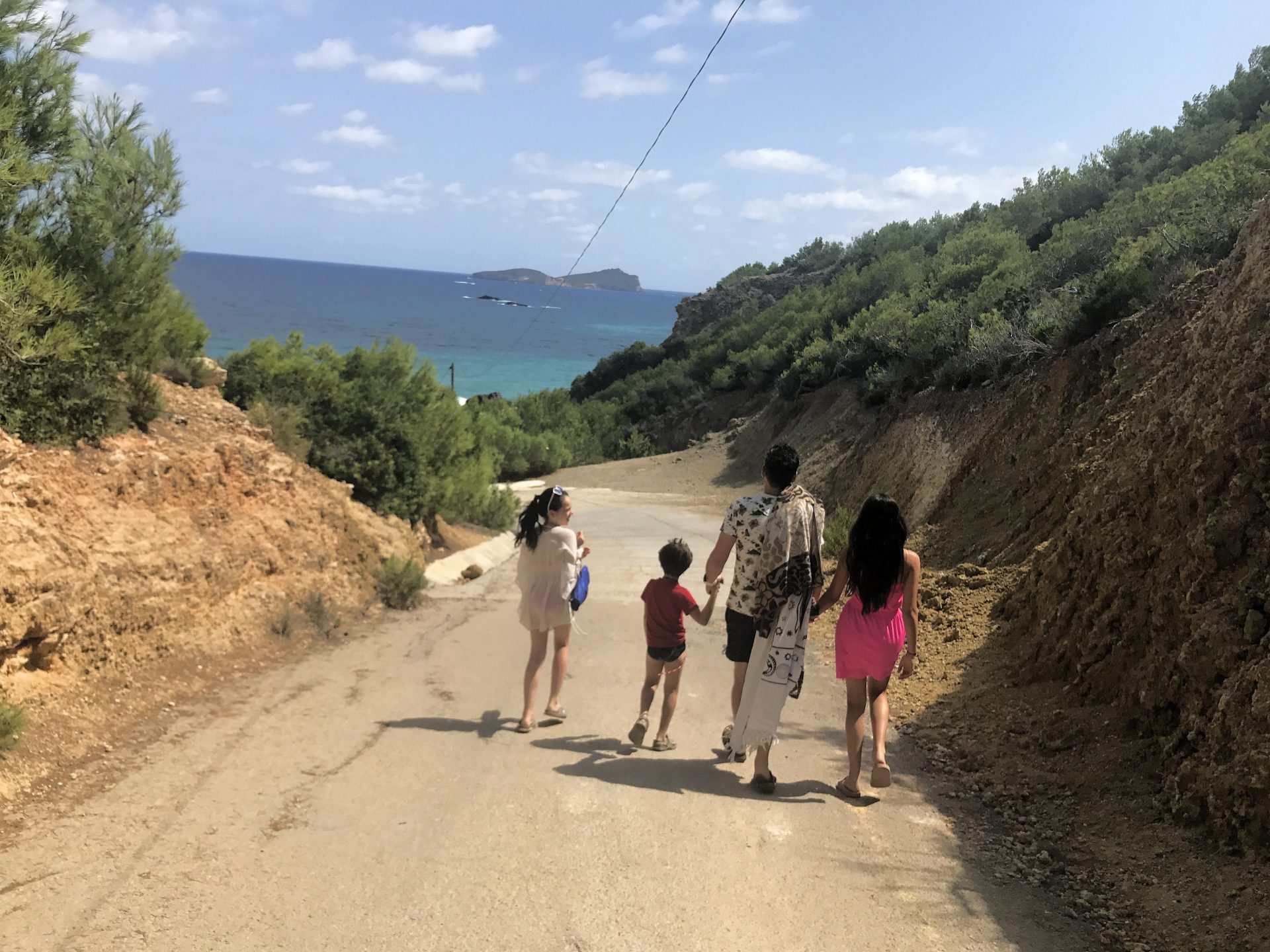 Shopping
If trinket shopping is for you then definitely enjoy a day at the Las Dalias markets. Located just outside of the charming village of San Carlos in the North. These open-air markets have dozens of stalls selling local artisan crafts, a real treasure trove of hippie chic clothes, accessories, food and more. Although not cheap they are very unique and browsing will keep you occupied for hours. It's the perfect place to find bohemian kids clothes, jewellery and local natural face creams and bath products. There's also food and live music on offer.
Santa Gertrudis is a beautiful little town in the middle of the island with great shops and places to eat. You can drink coffee around a lovely little square and ancient church. The village is full of charming little shops selling beachy coverups, clothes and homewares. We inevitably spend a day or two here on our children's insistence and manage to buy lots of items to take home and enjoying the wonderful food and relaxed atmosphere.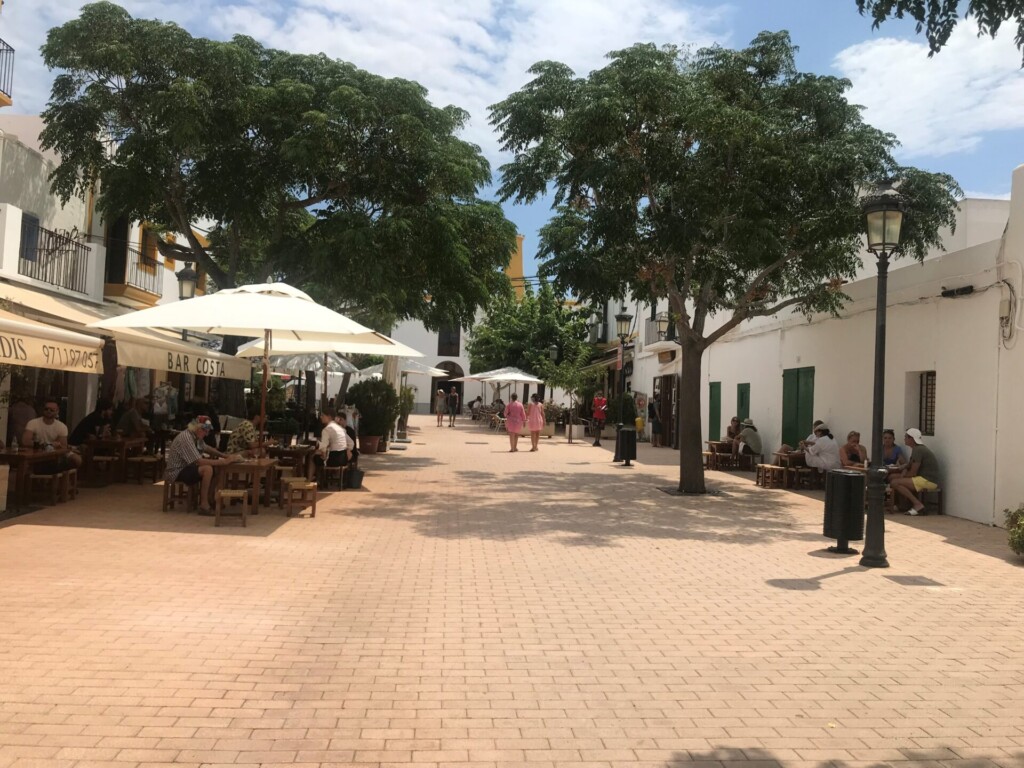 Restaurants
If you speak to our team we can give you restaurant recommendations depending on your preference. There are so many good restaurants but to name a few of our favourites that are suitable for most people:
La Paloma- Simple ingredients beautifully prepared in a gorgeous garden with fairy lights in trees. Nice for lunch or dinner (reserve a garden table not under the covered terrace).
Es Caliu! – Food not top notch but beautiful boho garden setting and great cocktails at reasonable price.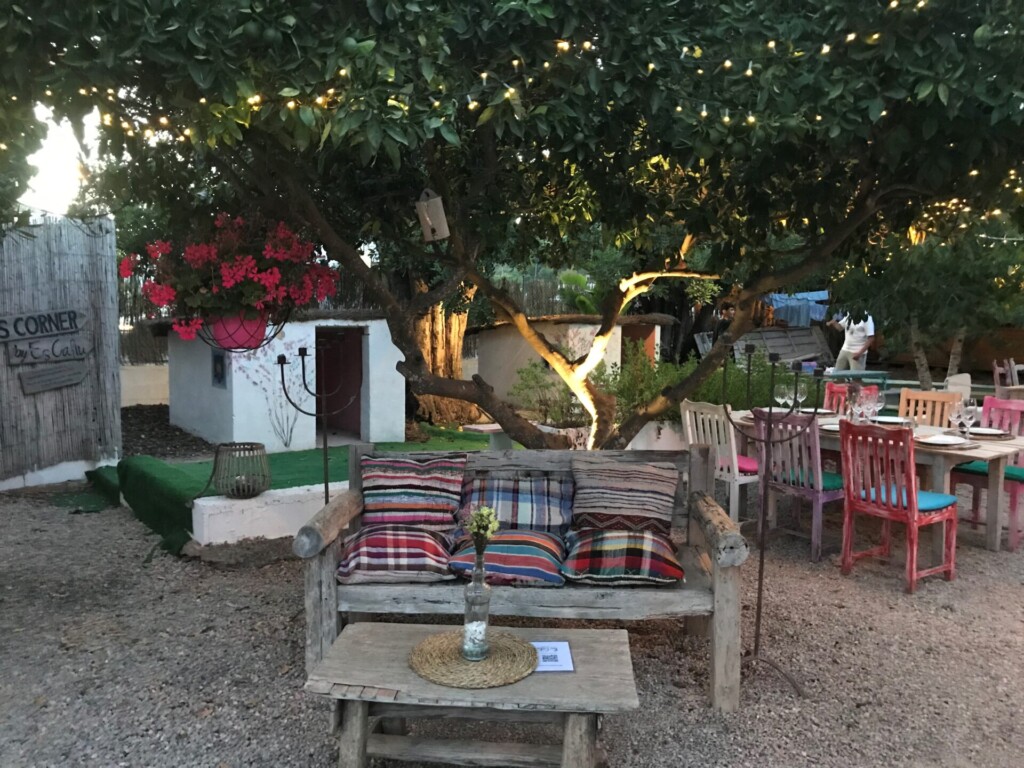 The Giri Café in Sant Joan de Labritja in the North! – Don't be fooled by the unassuming exterior – inside is super trendy with great service and amazing for celeb spotting too! Great for celeb spotting. Nice for lunch or dinner
La Brasa in Ibiza town (strictly reservations only)! – Original and romantic (but always very busy) in a floral-canopied courtyard with classic Spanish fare (reserve a table in the courtyard area).
La Luna Nell'Orto! – Relaxed and lovely, a real find in the North set in a 300 year-old finca beneath a canopy of trees
Bambudda – in the centre of the island is a must if you like Asian inspired food (dine fairly early if you have children)
Vivo – Trendy tapas fusion in the lovely little village of Santa Gertrudis.
Amante Beach Club – lunch or dinner and also fantastic outdoor cinema in high season
Nobu – Definitely worth a trip/ taxi cab to as the food and sushi is divine but very expensive
Tip: Everything happens later rather than sooner in Ibiza and most people dine out late; restaurants open at about 8-9pm and many people don't even start their meal much before 10-11pm. Our advice would be to acclimatise to "Ibiza time" as quickly as possible! Young children (and adults if you like!) should be having siestas by day two so they can eat later. Also, Ibizians are extremely proud of their restaurants and many have been run by the same family for generations, therefore food and service can be a little erratic but charming – we would recommend that you go with the flow and enjoy the moment.
Final Words
The most fantastic days I have had in Ibiza are those where we have toured around as a family and just stopped somewhere that piqued our interest. It is best not to schedule too rigidly, some days you might start with a plan to go to beach only to stop off in a village on the way and end up spending the whole day eating lunch there! If you want top-notch luxury and glamour with stunning five-star restaurants Ibiza will not disappoint, but if you would prefer to find a random little barefoot beach club with best fish you have ever tasted you will find this as well.
Ibiza can be extremely expensive but it doesn't have to be, we would recommend that you experience some of the new luxury and some of the original old Ibiza. If you combine a stay at these two hotels with some days out shopping and other days relaxing on the beaches and then throw in a few sunset bars and evenings out at restaurants you will have the time of your life.