Nobu Hotel Ibiza Bay is in a gorgeous location right on the beach and has views of the beautiful Talamanca Bay and is only minutes from Ibiza Town with its breath-taking Dalt Villa (old town medieval centre), eclectic shops, bars and restaurants.
The style is all-white communal areas with splashes of ocean-inspired colours. Whilst the contemporary rooms blend natural materials such as stone, marble and teak with boohoo chic, making you instantly relax.
Nobu Hotel Ibiza Bay offers a surprising range of services for its size including two freshwater, beach-facing pools. Additionally the resort offers a spa by Six Senses, John Freida Hair salon, fitness centre and a Kids' Club. It has a firm focus on children (unusual for Ibizan hotels) with a bespoke, relaxed Kids' Club tailored to the children's individual needs, including Ibiza-inspired play, DJ lessons and chill out sessions. Service is excellent with a myriad of fashionably-dressed staff at your service. Add unique touches such as breakfast served whenever you like to please late-risers. The concierge are able to make secure bookings for sought after dinner reservations (pre-booking is essential).
Restaurants are divine and include upscale Japanese fusion at the island's only Nobu restaurant. Relax by the seaside in the Mediterranean Chambao. Moreover healthy options can be found at the gluten-free Bay Café. After sunset, the property transforms into a chic nightspot where the cocktails flow and the music fills the air. Additionally, there's high-energy nightlife on your doorstep and babysitting is available so parents with children can venture out at night.
There are a number of local restaurants, bars and shops popular with cosmopolitan families within walking distance. For a scenic trip out you can easily walk to the nearby marina and catch a ferry to Ibiza Town (20 minutes) and also the neighbouring island of Formentera.
152 rooms & suites
Facilities
Spa
Swimming Pool
Room Service
Kid's Club
Interconnecting Rooms
Excursions
Parking
Beauty Salon
Beach
Transfers
15 minutes by car from Ibiza Airport
Food & Drink
Four restaurants / one pool bar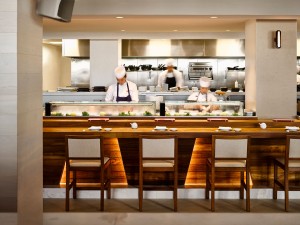 Savour Japanese fusion dishes, such as Tradito, Yellowtail Sashimi with Jalapeno, and Black Cod Miso, as well as dishes inspired by the island and expertly blended cocktails. Lounge by the pool, at the sushi bar, dining room or bar lounge.
Dinner: 7pm to 1am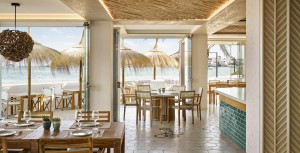 Chambao is Ibiza Bay's laid back Chiringuito beach club. Hop off your yacht in your flip flops or wander in from the beach with your family to take in the laissez-faire seaside vibe. Chambao, (Spanish for "beach shack") is well-known for its market-fresh Mediterranean fish, grilled sardines, artisan wines and jugs of sangria, which are just made for sharing.
Breakfast: 8am to 11am Lunch: 1pm to 5pm Snacks: 12am to 7pm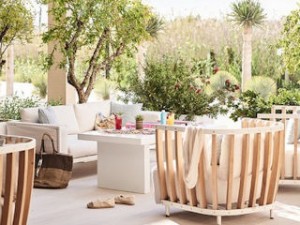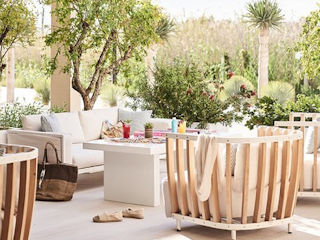 Café-style dining with an emphasis on quality wholesome and nourishing food, with a host of delicious Gluten-free meals to choose from. The menu also offers sugar-free and/or lactose-free choices as well as dishes for vegans.
All day dining: 9.30am to 5.30pm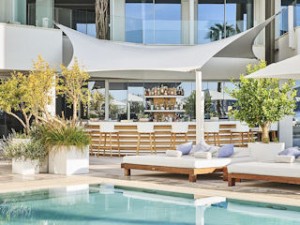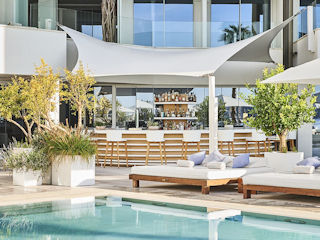 The Pool Bar is the ideal spot to relax with your family and friends. Offering an extensive menu filled with light bites to tempt all, you can tuck into tapas dishes and Ibizan-inspired botanical cocktails. From leisurely afternoons to pop-up supper parties, the expansive and inviting bar and venue is a casual meeting place for you to while away the day. After dark, however, it becomes the place to be seen for pre-dinner drinks, a snack before you hit the town or late-night cocktails with the sound of the sea in the background.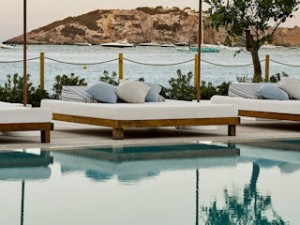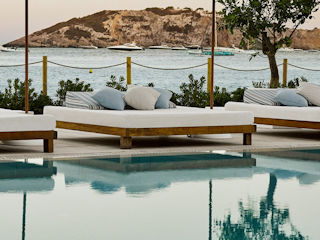 Sea views and a relaxed poolside setting make the Pool Bar the ideal spot to spend the day. Order from the bar or let the waiters tempt you with a refreshing pomegranate juice or tinto de verano. The Pool Bar offers an extensive menu, which means you can snack on fresh sushi rolls and fruit platters without ever leaving your sun lounger.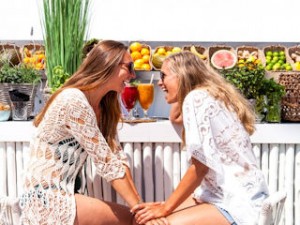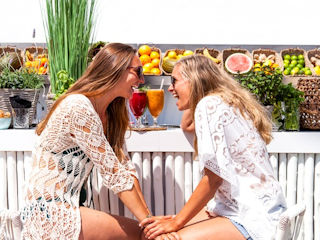 Take a break from the sun and cool off at the seafront Juice Bar. Offering an extensive menu of healthy smoothies, juices and protein infusions.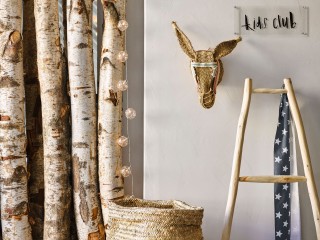 Ibiza Bay Kids Club
An interactive and curated experience for children (age 4 - 14 years), where they can explore and learn about their surroundings in a safe and fun environment. Cooking, arts & crafts, mini jam and DJ workshops (subject to extra charge), Ibiza inspired programmes, creative play, sports and chill out sessions.
Open daily 10:00 to 18:00 (subject to charge)
Sorry, there are no offers available for this hotel at the moment
Rooms
There are 152 rooms and suites to choose from at the Nobu Hotel Ibiza Bay Resort
Sorry, we couldn't find any reviews.