The all-suite Porto Sani, a firm Travelbeam favourite, is perfectly situated around the Sani Marina at the heart of the Sani Resort. There are suites for families such as the large Family Suite Private Garden (interconnecting Junior Suites) and the Deluxe One Bedroom Suite Grand Balcony which have direct access to the Sani Marina.
All 148 of the one, two, and three-bedroom suites located in the low-rise bungalows offer modern, boho chic dècor and family focused features. The ultra-spacious three bedroom suites, which are located on the ground floor, have their own heated private pools. At Porto Sani all the suites enjoy enhanced benefits. Included is a personal concierge, private beach sections, priority booking, a la carte in-room dining and a chauffer-driven Volvo tour.
There's some clever services on offer such as Babewatch, which provides beach babysitting (free for the first 30 minutes). Also new for parents, on holiday with their little ones for their first time , classes  free for 30 minutes) with sleep guru and baby consultant Carol Mae. You can also pre-order  a complimentary range of special in-room touches. All of these are high-end products from baby baths and sterilisers and even baby spa packages.
For those who wish to relax, the Porto Sani Spa offers top treatments with Anne Semonin products and a special menu for younger guests (age 12 and over ). The spa also features an indoor pool with Jacuzzi, a thermal suite and the spa pool. The indoor Spa pool is open to children for morning Splash Hours. Adults can relax in the adults-only outdoor pool or enjoy a one-to-one yoga or personal training session.
The nearby vibrant Marina is home to some of Sani's most popular restaurants with a wide range of choices. Throughout Sani Resort, younger guests can dine on menus specially created by Annabel Karmel. The gorgeous beaches, which are a short walk away, offer endless stretches of beautiful white Halkidiki sands and crystal clear waters, shallow enough for children to play in. Guests can also enjoy the use of the exclusive beach at Sani Asterias.
For sports enthusiasts there are eight tennis courts and a Rafa Nadal tennis centre, a mountain biking centre and volleyball. There's a Chelsea football foundation with an UEFA approved football pitch and Club House (near to Sani Beach). Additionally, a new Bear Grylls Survival Academy is on offer for learning survival techniques. There's also the a sailing academy and the Sani Bike Club which offers KTM-certified instructors.
Guests can also enjoy the use of an exclusive beach at Sani Asterias or Sani Dunes.
Facilities
Spa
Swimming Pool
Gym
Room Service
Beach
Evening Entertainment
Babysitting Service
Transfers
50 minutes by car from Thessaloniki Airport.
Food & Drink
Porto Sani's location close to the Marina means you'll find a tempting selection of Greek and international menus. The Porto Sani wine cellar features a selection of international and local exquisite wines, carefully curated by experienced sommeliers.
The Dine-Around programme allows half-board and full-board guests to use their meal allowance in 22 restaurants throughout the Sani Resort. The resort boasts 23 restaurants and 21 bars in total.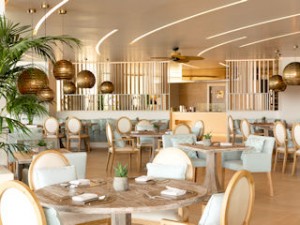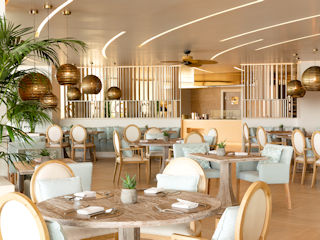 In the morning, Artemis greets you with a breakfast which you'll just want to go on forever. And come the evening, its a la carte menu delivers some wonderful surprises in a luxurious yet relaxed atmosphere, and with a very spacious terrace. Open for breakfast and dinner. There are special food stations serving up exclusive kids' menus curated by celebrity nutritionist Annabel Karmel.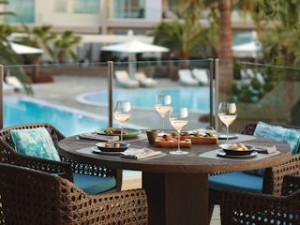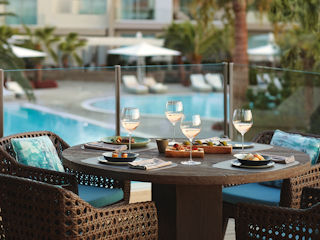 Michelin-starred chef David Ibarboure and his team invite you to enjoy the authentic taste of Spain with a modern twist. Our menus use the finest local ingredients and offer a selection of wines from some of Europe's most renowned producers. Whether sharing tapas at the bar or going a la carte on the spacious veranda with its spectacular views, family-friendly El Puerto turns every occasion into a celebration. With Vegetarian and Gluten Free options available. Open for dinner.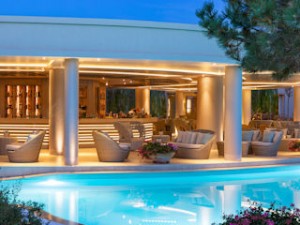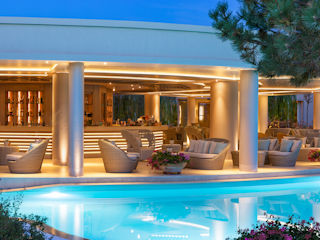 A relaxed poolside setting for this bar offering speciality coffees and well being fruit juices and smoothies along with a satisfying selection of salads and lite bites.
In the evening live music adds to the ambience making it the ideal place to appreciate our fine selection of aperitifs and cocktails.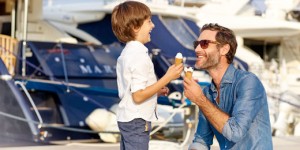 If there's one thing better than an ice cream, it's a free ice cream! Sani's brilliant pop-up ice-cream van will move round the resort and is guaranteed to bring happiness to guests of all ages.
Childcare
Porto Sani Kids Club and Sani Crèche are operational from 25th April - 28th October. Porto Sani's Childcare facility is for use of families staying at Porto Sani, Sani Asterias and Sani Dunes.
All clubs are operated by childcare specialists. It is essential to pre-book the Creche and the Mini Club. Activities include gymnastics, beach picnics and face painting at the Mini Club while creche offers fantastic care and mini games for younger children.
Other facilities and amenities include complimentary use of high chairs at most restaurants, cots upon request, baby monitors,warmers, sterilisers, special baby, toddler and children menus at most restaurants, 24 hour medical care, bottle warmers, baby food and toiletries in Sani Beach Hotel and Sani Beach Club mini-markets and in the Sani Marina's super market.
Playstations on request and bathrobes for toddlers at Porto Sani Village and Sani Asterias Suite, pushchairs for hire, bikes and trikes for hire and children's DVDs.
*Please note: Opening times and prices are subject to change*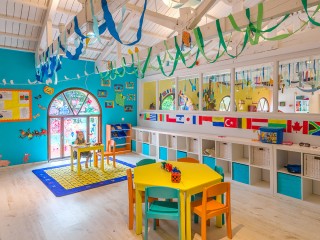 Sani Crèche
Ages: 4-23 months & 2-3 years
Sani Crèche is an early years childcare service operated by qualified and experienced childcare professionals with a focus on new experiences and most importantly FUN!
Open 7 days per week, 10.00-13.00, 13.00-15.00, 13.00-18.00
The Crèche operates from 25th April - 28th October
*Please note: Opening times are subject to change*
Additional Charges Apply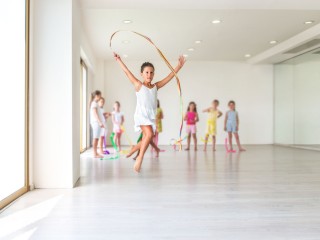 Mini Club
Ages: 4 - 11 years
This childcare facility is a purpose designed children's entertainment area, for indoor and outdoor play. The aim for each child at mini club is for them to make some friends, learn some new skills, have fun and enjoy their holiday in a safe and happy environment.
Parents can enjoy some private time, reassured that their children are being professionally cared for by a team trained by childcare specialists and having a bucketload of fun too.
Complimentary service. Please be aware lunch is an additional cost of €12.50 per child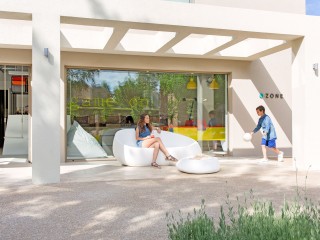 Teen House
Teen House "Ozone" (age 12 – 17 years), designed exclusively for teenagers to enjoy some time out and make new friends in a cool, safe environment. Located in the buzzing Sani Marina it's operated by childcare professionals and promises a fabulous, independent environment.
Open from 10am - 10pm every day of the week, there's something for everyone, indoors and out. Teens can choose from a superb range of activities from console gaming and table football to cooking classes and canoe tours. And after dark there's even night treks and stargazing on the menu. While for those just want to chill out and chat, there's a snack bar where they can grab a delicious milkshake or ice-cream.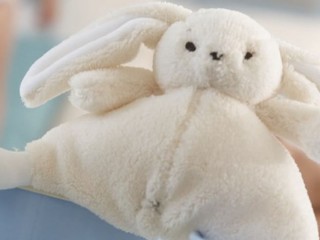 Babysitting
Experienced babysitters or private nannies are available for your little ones.
Evening Babysitting: 10€ per hour paid in cash directly to the babysitter. There is a 15€ charge after 22:45 for the baby sitters taxi.
The ratio for babysitting is 1 adult: 3 children.
Nanny Service: Guests will be able to have a daytime nanny up until 18:30, 7 days per week and the cost is 15€ per child, per hour.
The ratio for daytime nanny service is 1 adult: 2 children.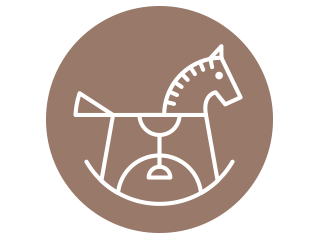 Carol Mae Baby Consulting
This service aids families to adjust their children's sleep and behavioural routines to the holiday setting, allowing parents and their little ones the luxury of truly relishing the Resort and all it has to offer.
The service is offered complimentary to all Sani Suite Collection guests.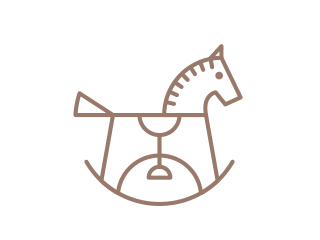 Baby Swimming Lessons
The baby swimming lessons (June-September) are carried out at the indoor swimming pool of MySpa by certified and experienced partners "Pirates of the Swimming Pool" and they are available for toddlers (age 6 months - 4 years). Each programme will have five sessions in total from Monday to Friday , one per day, and the duration of each session will be 30 minutes.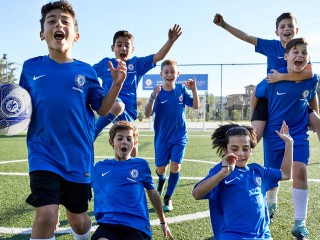 Chelsea FCF Football Academy Coaching
Budding premiership players (age 4 - 16 years) can join in the training at Sani's Chelsea FC Foundation Football Coaching. Great opportunity to improve soccer skills with the professionals.
Opening hours: 09:30 – 19:30 ( April –October)
Age Groups: 4-6, 7-9, 10-12, 13-16 years
Additional charges apply. Pre-booking advised to avoid disappointment.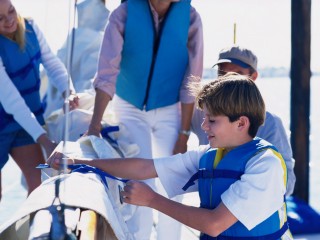 Sani Marina Sailing Academy
The Sailing Academy (age 6 - 17 years) is open Tuesday-Thursday, Friday-Sunday, May - August and staffed by professional, certified instructors.
Lessons are held both on dry land and off shore and the participants are awarded with the accredited "Certificate of Attendance".
Additional charges apply.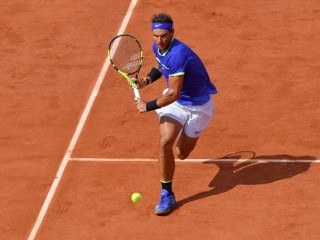 Rafa Nadal Tennis Centre
Developed by the Grand Slam-winning tennis legend, Rafa Nadal Tennis Centre comprises of eight clay courts on which tennis courses will be available to players of all ages and standards. Additional charges apply.
5% Early Booking Discount
Valid for stays between 25May24-01Jun25, 22Jun24-07Sep24
For reservations confirmed by 30Nov23
Minimum Stay : 05 Nights
N.B. 25% Pre-Payment is due to the hotel by 15Dec23

Rate Code: 5%
10% Early Booking Discount
Valid for stays between 11Apr24-24May24, 02Jun24-21Jun24, 08Sep24-02Nov24
For reservations confirmed by 31Jan24
Minimum Stay : 05 Nights
N.B. 50% Pre-Payment is due to the hotel by 15Feb24

Rate Code: 10%
Rooms
The understated opulence of this exclusive hotel is reflected in the 98 stunning all-suite guest accommodation and the subtle design with its use of fabrics and natural woods. Each one with its own terrace or balcony and everything that makes your stay very special, including luxury beds, choice of pillows and even a Nespresso machine. In addition, the bathroom comes complete with rain shower and Jacuzzi bathtub with luxury toiletries by Anne Sémonin.
The Sani Suite Collection brings you an even more individual and personalised level of service before, during and after your stay. Some of the additional services and benefits include; exclusive beach area, personal concierge, chauffeur-driven experience to discover the local area (once per suite per stay) and complimentary laundry service.
**Sani Suite Collection applies to guests staying in one, two and three-bedroom suites across Sani Resort, in all deluxe suites of Sani Dunes and all suites of Sani Asterias.
Great as always.
Posted on: 30th August 2023
Great as always. Service brilliant apart from your hired bikes always going missing
We really enjoyed staying at the Porto Sani!
Posted on: 13th April 2023
We really enjoyed staying at the Porto Sani! As you know we haven't been to the Sani for about 5 years and there have been so many improvements. Loved the new look Porto Sani and the new restaurants there. We had a lovely room and the new and improved swimming facilities were fantastic. We also really enjoyed the Sani Treetop Adventure. I would definitely book the Bear Grylls Academy next time. We actually managed to go for a walk to the wetlands too. Service was great. The manager of the Porto (and Dunes) greeted us on arrival (and chatted to us whenever he saw us) and also waved us off when we checked out too!
Too many screaming infants
Posted on: 19th October 2022
Too many screaming infants – not suitable for adults!
Excellent facilities, beautiful setting
Posted on: 17th August 2022
Excellent facilities, beautiful setting. Food was very good standard, at times exceptional. Porto Sani excellent for families with children, and our children loved it! We occasionally had some issues with service which wasn't always consistent and there were incorrect charges on our bill at the end of the trip e.g. water sports that we didn't have. On the whole we were very happy and would return.
Could not fault our stay
Date stayed: October 2019
Posted on: 5th November 2019
My wife and I could not fault our stay at Porto Sani Greece, the staff are really good and professional
I'll be going back again and again…
Date stayed: October 2019
Posted on: 29th October 2019
Staff were incredible as were the facilities. I'll be going back again and again. I can't fault it really. Other than the odd meal which is personal taste anyway, everything was almost perfect. Only thing are drinks are very expensive. My only criticism.
Overall a very enjoyable stay…
Date stayed: September 2018
Posted on: 5th October 2018
Overall a very enjoyable stay.
The Porto Sani is looking a little worn and unloved in areas in comparison to some of the other hotels.
We were also disappointed to have booked a car seat for our toddler and to have such a bad experience on departure. Namely we were given a baby car seat and told our son would be 'fine' in it despite the straps not tightening and him being able to get out of the seat.
A somewhat disappointing end to a relaxing holiday.
Excellent facilities and location…
Date stayed: October 2015
Posted on: 3rd October 2018
Excellent facilities and location that make this hotel stand out as an elegant choice. There are some areas for improvement which include:
– Room furnishings were ok, but not particularly ornate.
– Heated towel rails would have helped and save on replacement towels / robes every day as they did not dry.
– Taxi transer was ok but not the `town car / limosine experience.
– The restaurant booking service seemed haphazard and a little frustrating. Most restaursnts were `fully booked` only for my husband to enquire ( he speaks Greek) and then a reservation appeared. Which was great for us – not so sure how the system works for others.
We had a wonderful holiday…
Posted on: 3rd October 2018
We had a wonderful holiday, although it could have quite easily been better if we had gone for 10 days!!!  We loved the resort and the facility.  The staff were very friendly and the kids club for Sebbie was great. We will be talking to you about booking for next year!!!
Absolutely fabulous…
Posted on: 29th June 2018
We really couldn't speak highly enough about the hotel, the resort, the staff… We booked the hotel on recommendation for a family travelling with 2 young children. We found that the staff couldn't do enough for us from the minute we arrived in the early hours of the morning; the reception staff, waiters and waitresses, and housekeeping, to name a few. It's a great resort for families, there's so many great restaurants serving a variety of food, the pool and the beach is a great hit for all the family. The whole resort is spotless, and we'll be looking to return!
We had a fantastic holiday and will certainly return…
Posted on: 28th June 2018
My wife and I travelled to Porto Sani with our three year-old son, having never visited Greece together as a family. From start to finish the holiday exceeded our high expectations. The attention to detail and warmth of the service received sets this hotel apart, they really have thought of everything. We were collected from the airport in a large Mercedes, complete with car seat for our child, the latter a first in our global travel experience. 45 minutes later, following a drive through lovely countryside, we arrived at the hotel and were greeted by the hotel manager and the customer services manager which was a lovely touch. After a welcome drink and the most efficient of check-ins we were shown the hotel and our garden suite, which was light open and spacious. From there we had great fun experiencing the various restaurants, where the quality of the food is excellent and the set up for children is first class. Breakfast is a mix of a la carte and buffet and has everything that you could possibly want. The beach and pool area were quiet despite the hotel being full and the sun loungers were amongst the most comfortable I have ever had the pleasure of falling asleep on! At the beach the team led by Nancy came round with free ice creams for the children as well as waters and watermelon for the adults.
To complement the above the hotel offers free evening and daytime cruises from the harbour, with drinks and canapes included. We found the evening cruise a great way to see the sun set and see more of the coastline, whilst relaxing with a glass of bubbly!
Overall, we had a fantastic holiday and will certainly return.
The best levels of service we have had on a holiday…
The best levels of service we have had on a holiday. Also, a fantastic choice of restaurants available through the dine around programme
We will be going back, without a shadow of a doubt…
Posted on: 19th August 2015
From the moment we arrived until the moment we left, this hotel provided the ultimate in service and luxury. The General Manager and each and every one of his team provided excellent client service, consistently and always with a smile. We stayed in a two bedroom family suite which was lovely and spacious and a true replica of the photos on the web site. The amenities and restaurants in the hotel and around the resort were fantastic and a special mention to Ammos Restaurant and Tomato Restuarant. The dine around half board option is a good idea and recommended. The open air cinema was unique and a lovely experience to watch a movie under the stars. In terms of value for money, given the excellent service, the beautiful surroundings, the stunning hotel, it was worth every penny. The question we always ask ourselves at the end of a holiday is would we go back? In this case, we will going back, without a shadow of a doubt.
Excellent service. Very attentive…
Posted on: 5th August 2015
Excellent service. Very attentive. Manager and team always visible, very personal despite it being in a very large resort. Rooms are super clean and quiet. Suite was the perfect size for us.Very child friendly- our daughter used the kids club every day and we retreated to the adults pool or one of the bars. The motto seems to be: make the children happy and delight the parents.The team at the Sani Village just got it right! This might just be the first hotel we would go back to.
This is the second year we have stayed at Porto Sani…
Posted on: 11th June 2015
This is the second year we have stayed at Porto Sani Village and it has improved even more over the past 9 months. There are more restaurant choices within walking distance than anywhere else we have stayed in the past and they are all delicious. They have a new kids club at the Village itself with lovely staff who will happily babysit in the evenings too and they have a new gym which is no longer in the basement. The pools are now heated too.
All the staff are great with some going the extra mile to make sure we enjoyed our stay eg Roman in Ammos restaurant.
It was also my son`s birthday whilst we were there and they surprised him (and us) at breakfast with a cake and a song. A lovely additional touch. I expect we will be going again next year.