Hotel Fariones, a five-star new boutique property, by PY hotels (the same people behind sister hotel Princesa Yaiza), has reopened recently after a total overhaul with extensive investment and sports very modern, stylish rooms and suites. It is designed as an adult recommended but children are welcome but young children are not catered to.
In a privileged and peaceful location in Puerto del Carmen, Hotel Fariones has direct access to a seafront promenade and to two different beaches, the beautiful, extensive Playa Grande and the idyllic cove Playa Chica. Within easy walking distance from the harbour are a range of restaurants and shops.
Featuring lovely ocean views, the slick and stylish new suites double rooms and junior suites offer free Wi-Fi, flat-screen TVs, mini fridges and living areas, plus balconies or terraces. Double relax rooms and suites enjoy the Relax Package including gourmet á la carte breakfast, with a sea view terrace, daily aromatherapy on turn-down service and daily access to Roof Top Terrace (age 16 years+). The extensive adults-only terrace on the roof is the perfect place for couples to relax and has a solarium, heated swimming pool and a chill-out bar (this area is accessed from the 4th floor).
There are three delicious restaurants including a buffet restaurant (main course is served á la carte), a deluxe tapas uniquely set in a cave carved from rocks from the beach and a gourmet Asian. Directly on the sea front, it has a pretty infinity pool surrounded by palm trees plus two outside hot tubs. The active can take advantage of the high-tech gym. Only 50m away is the 14,000m2 Fariones Sport Centre which is one of the best sports centres in Lanzarote. It has a swimming pool for adults and children, several tennis and paddle courts, fitness classes, an outdoor crossfit area, jacuzzi and sauna (gym from 16 years). Diving and biking rental is available on the beach.
Golfers will appreciate the nearby Lanzarote Golf, which is only a five minute drive from the hotel, which offers special golf packages for hotel guests.
Facilities
Gym
WiFi
24-hour Room Service
Sports Centre
Solarium
Swimming Pool
Transfers
15 minutes by car from Lanzarote Airport
Food & Drink
The new Hotel Fariones offers you a real gastronomic adventure with a wide and varied selection of restaurants and bars.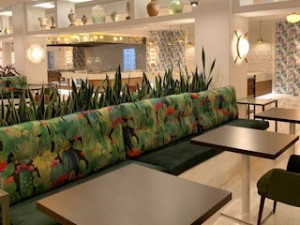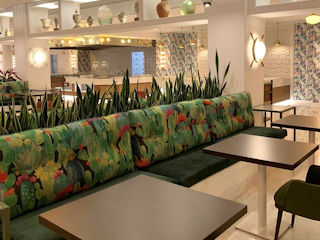 La Bella Lucia Main Restaurant
Main restaurant offers cutting edge cuisine presenting a fusion between contemporary international cuisine and traditional Canarian Cuisine. The dinner service offers a varied international menu with buffet stations for starters and desserts, and an exclusive à-la-carte service for the main course.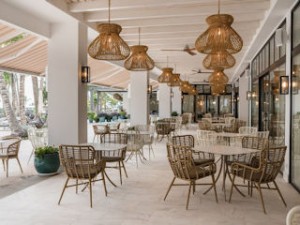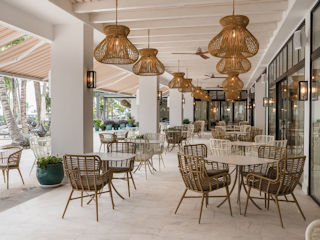 La Barra Food and Drinks Terrace
A delicious way to enjoy lunch on the terrace, overlooking the gardens and the impressive infinity pool in front of the Atlantic Ocean. An outdoor area located on the pool terrace where you can enjoy a light lunch based on local cuisine, with a wide selection of salads, tapas and other snacks.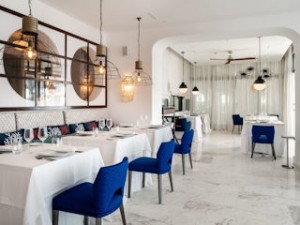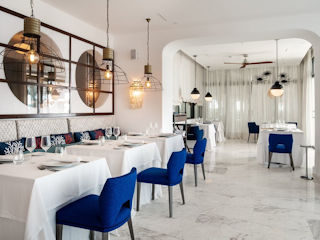 During dinner, the Erizo Macaronesian Restuarant converts itself into a real gourmet reference. Creative, innovative and cos. With focus on the local cuisine and natural ingredients, its creations respect tradition while adding an imaginative touch. Traditional cuisine made avant-garde, using the best raw materials and proper elaborations from the region of Macronesia.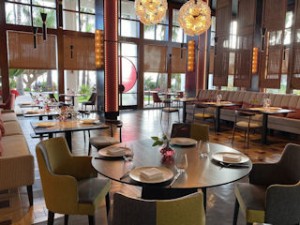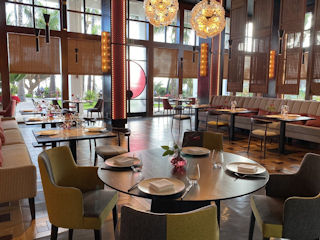 The Asian restaurant offers an exclusive a la carte dinner service to taste a wide range of Asian cuisine. An Asian gourmet restaurant where you can enjoy delicious combinations of culinary specialties across the Asian continent. This exclusive project is under the direction of Chef Ignacio Hernandez Almira: a gastronomic reference with numerous mentions, a true magician of reinterpretation of incipient cuisine. His innovative cooking style with high quality ingredients, as well as his creations with exotic flavours and techniques will take you on a journey through the Asian continent without leaving the hotel.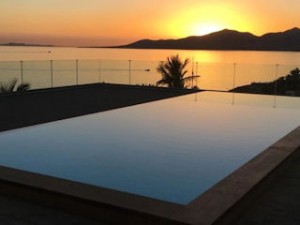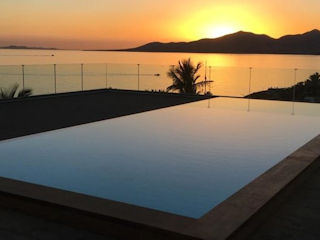 Imagine an impressive heated infinity pool, next to a sun terrace and a bar with exclusive access on the roof of the hotel, overlooking Puerto del Carmen, the beach and the Atlantic Ocean. The Sunset Rooftop, offers an appealing selection of cocktails and drinks for guests to enjoy the wonderful view over the ocean.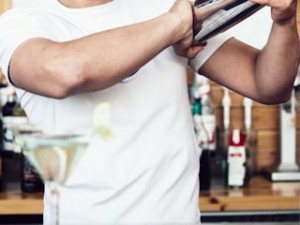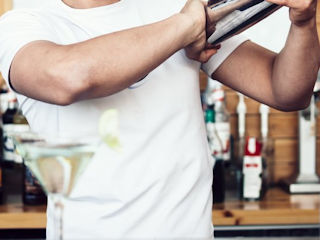 A small kiosk to enjoy a refreshing drink on the hotel's solarium, next to the main pool, without missing a ray of sunshine. A topical oasis right by the pool to enjoy the most varied selection of ice creams, natural juices and cocktails.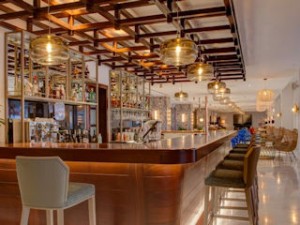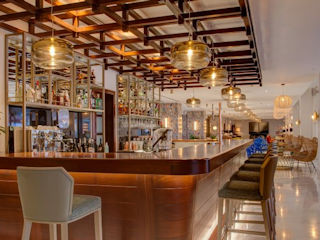 Visit the 'La Barra Bar & Cocktail' in the heart of the hotel next to the lobby. Enjoy a drink served with much care during the day. In the evening you will find the best selection of classic cocktails in a very personal environment.
Sorry, there are no offers available for this hotel at the moment
Rooms
Hotel Fariones has 213 rooms.
A super hotel for a relaxing getaway
Date stayed: October 2021
Posted on: 5th November 2021
First class service, spotlessly clean, convenient location for airport, lovely decor and attention to detail in interior design. A super hotel for a relaxing getaway.