This gorgeous terracotta Citadel on the unspoilt western coast of Tenerife is resplendent in acres of beautiful botanical gardens with stunning sweeping views over the ocean and the neighbouring island of La Gomera.
In the main hotel or 'Citadel' you will find spacious rooms and suites with large balconies and beautiful marble bathrooms overlooking swimming pools, palm groves and the golf course. If you require more privacy, accommodations can be found in the separate and more exclusive 'Villas' area. Throughout the resort there are family rooms which are ideal for parents with children.
The new 'Villa Club' is a semi-private concept with rooms and suites in a more secluded setting to suit couples, families or groups. These accommodations are in rows down towards the sea and you can check-in contactlessly. The Villa Club guests share a pool that is only for the exclusive use of each building and enjoy special privileges such as an à la carte breakfast in El Mirador restaurant, Lounge Access (beer and wine available), complimentary amenities by the pool such as canapés, soft drinks, juices and smoothies and a sunset experience with Tapas and alcoholic drinks in the evening. There is also the Citadel Club Lounge for all rooms (some are adults-only) situated on the 10th floor where complimentary refreshments and culinary offerings are served throughout the day.
The Ritz Carlton Abama provides comprehensive facilities that really set it apart. It has a whole host of delicious restaurants, a tennis club with an academy, new cycling centre and an amazing inspired 2,500m2 Spa with ESPA and Spanish SEPAI products. An adults-only swimming pool by El Mirador restaurant creates the perfect place to relax.
Restaurants at the hotel are really special including a new plant-based restaurant, the Michelin-star Japanese fusion Kabuki, Spanish TXOKO, Italian and 'M.B' boasts two Michelin stars.
The breathtaking golf course is sure to impress even the most discerning golfer, whilst the secluded sandy beach, set against looming slate cliffs, is a dream with imported golden sand and a fantastic beach club, restaurant and bar.
Children will love spending time in the Ritz Kids' Village, which is one of the largest in Europe, with its eight diverse zones including a secure garden with a lawn for outdoor play and a playground.
Facilities
Swimming Pool
Spa
Gym
Room Service
Interconnecting Rooms
Golf
Adults Only Area
Kid's Club
Transfers
The Ritz-Carlton, Abama is 25 minutes by car from Tenerife South (Reina Sofia) Airport.
Food & Drink
Choose from an impressive 8 restaurants and two bars at the Ritz-Carlton Abama. Flexible half board and a new full board option.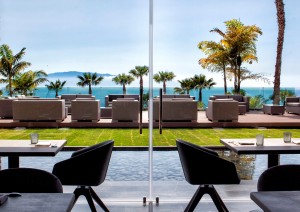 Recently relocated in a stunning new setting, high above the resort at Casa Club (Abama Golf Course club house) with a brand new Sushi bar and an outdoor 'Kabuki Terrace' perfect for pre-dinner drinks with its trendy low furniture and stunning golf and ocean views. Awarded a Michelin Star in 2013. With minimalist trendy decor, Kabuki's original style lies in the adaptation of Japanese dishes and aromas to western tastes. Children above six years of age welcome
Dinner - 19:00 to 23:00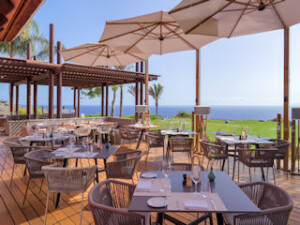 On the cliff top with magnificent views of the Atlantic Ocean and La Gomera, this restaurant's specialties are seafood, fish and rice.
Breakfast - 07:30 to 11:00 (Villa guests above 18 years of age only)
Lunch - 13:00 to 15:00
Dinner – 18:30 to 23:00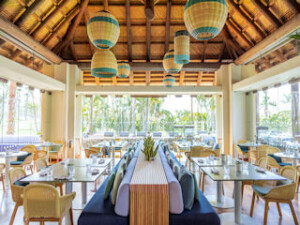 This restaurant is based on traditional Spanish gastronomy with a modern twist. With Martin Berasategui and Erlantz Gorostiza at the helm, this restaurant offers a winning combination.
Dinner - 18:00 to 23:00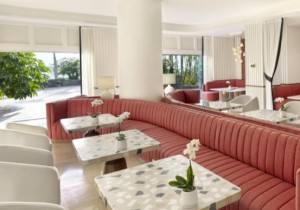 Chef Erlantz Gorostiza carries out the vision of Martín Berasategui, offering a bold, Basque-inspired menu that builds on familiar flavours. Enjoy exquisite fine dining at this two Michelin-starred restaurant.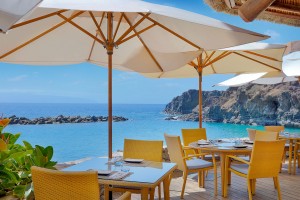 Situated on the beach facing La Gomera Island, the oceanfront Beach Club restaurant serves freshly prepared food, refreshments and cocktails until sundown. The perfect place for lunch.
Lunch - 12:00 to 18:00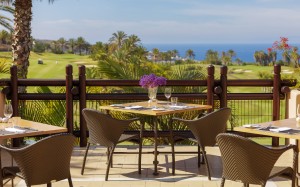 Right at the heart of the golf course, surrounded by luxuriant palm groves, La Casa Club is an idyllic spot for a light lunch or an early evening cocktail. The terrace offers stunning ocean views.
Lunch - 12:00 to 18:00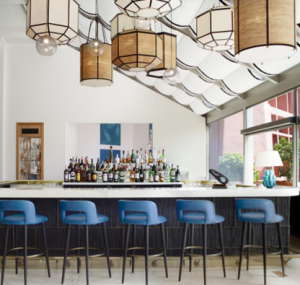 At the heart of the hotel, the lobby bar is both a meeting point and a romantic evening destination, where you can enjoy live piano music and cocktails either from the comfort of the grand interior or the intimacy of the outdoor terrace.
All Day – 10:00 to 01:00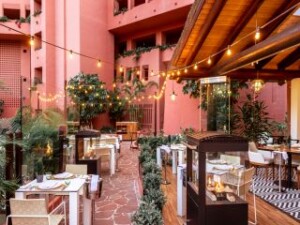 Located near the main entrance of the Citadel, Verde Mar offers cuisine that features organic and environmentally friendly local products. In Verde Mar vegetables are the main dish and meat and fish are the side dishes.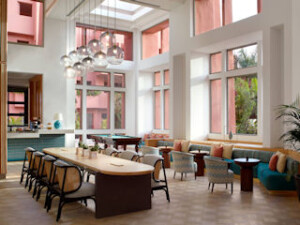 Located in the Lobby area, we have available for our guests the Deli Cafe, with a delicious offer of our most mouth-watering sandwiches selections, sweets, cakes and smoothies.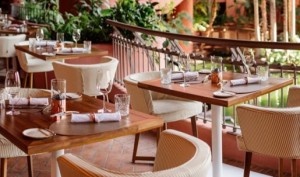 Offers a comforting blend of classic Italian flavours, with innovative dishes introducing a pop of contemporary methods and taste combinations.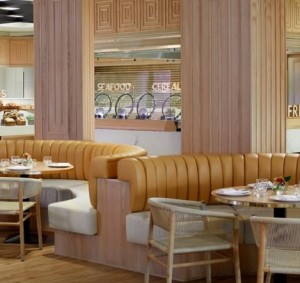 Serves a superb buffet breakfast in the heart of the Citadel and with the best views to the Cascade Pool and Golf Course.
Childcare
Children are welcome at The Ritz-Carlton, Abama. Babysitting is also available upon request (€20 per family, per hour -subject to change).
Children's golf and tennis classes (from 8 years) are available.
Ritz Kids'
Ritz Kids is one of the largest children's clubs in Europe offering eight diverse zones created to challenge and develop the minds of younger guests. There's everything from astronomy to local wildlife; sustainability to the latest in technology; theatrical skills to arts and crafts; all of which can be discovered and enjoyed in the fabulous new facility.
The indoor zones are segmented and range from Relax to The Theatre Space and Scientific Area. Outside in The Garden Space there are football sessions, water play and traditional outdoor games. The children at the Ritz kids can not do naps. There is no nap area provided.
Chargeable (age 4-12 years inclusive)
Between 09:15 - 12:15 (3 hrs) = €15 per child
Between 13:45 - 16:45 (3 hrs) = €15 per child
Reservations 24h in advance are required and sessions must be specified
For families we offer different spaces for playing in family:
Outdoor Playground: open from 8am to 8pm
Ritz Kids Garden: open from 8am to 10am and from 5:00pm until 8pm
Planetarium Room: open from 9:00am to 12:30pm and from 1:30pm to 5:00pm
Please note that all the time the child must be accompanied by a parent or tutor. We actively encourage you to enjoy our facilities as a family.
We do not offer activities or child supervision at the timetable above
Valid for stays between 01Jan24-30Apr24
For reservations confirmed by 30Nov23

Rate Code: 20%(1)(WB)
Valid for stays between 01May24-04Jan25
For reservations confirmed by 31Mar24

Rate Code: 20%(2)(WB)
Valid for stays between 01Nov23-31Dec23
For reservations confimed by 30Nov23

Rate Code: 20%(WB)
Rooms
There are 459 rooms and suites to choose from at the Ritz-Carlton, Abama.
Complimentary services and amenities in all the Club Level Rooms & Suites include:
Personalized Check-in, Laundry and dry cleaning (two pieces per day),Wireless Internet access, Mini Bar (excluding alcoholic drinks),Nespresso coffee machine, iPod docking station and access to the exclusive Club Lounge.
The spacious new Club Lounge has panoramic views overlooking the golf course and mountain range including the iconic Teide Mountain and an outdoor terrace. The Club Level offers a personal service provided by the Club's Concierge team with continuous culinary treats throughout the day (continental breakfast, midday and light snacks, afternoon tea, hors d` oeuvres, cocktails and night-caps) and access to tablets and complimentary WIFI.
We stayed in the villas and enjoyed
Posted on: 17th April 2023
We stayed in the villas and enjoyed the use of our own buggy and the villa club. The upgrade in services since our last visit was much appreciated and we enjoyed a complimentary glass of wine/coffee and snacks for lunch most days and the cocktails by the pool. They are about to do up the villas but there was no disruption from the work already underway. The new Txoko restaurant is excellent but La Verona is now not great – bowls of pasta for nearly 30 euros is too much and the service was not the best. We ate out 3 nights in nearby towns and really enjoyed the variety that gave us (La Boca Rie French restaurant is particularly good in Playa sanJuan).
Fabulous
Posted on: 20th December 2022
Fabulous
Loved it will go again
Posted on: 29th November 2022
Loved it will go again Thrilled with Travelbeam excellent service
We had a wonderful family holiday
Posted on: 8th November 2022
We had a wonderful family holiday and loved the weather and the hotel. The only minus for us was that there were many extras dining wise even, when we paid for half board. The best value for us and the best service was definitely the Verona restaurant. The concierge was also very under staffed even at peak times. The golf course and tennis courts really added to our holiday and we also enjoyed our day at the beach. It was a shame however that the tennis courts weren't included. We didn't expected the golf course to be included but did expect the hire of the tennis courts. We did really enjoy our holiday and would definitely go back, especially at this time of year.
We have just returned from a very relaxing family holiday.
Posted on: 8th November 2022
We have just returned from a very relaxing family holiday. The flights and transfers were all very good. I am also pleased that we upgraded our room to a suite with interconnecting twin room. It meant as a family of four with two teenagers we had lots of space; 2 terraces, 4 sun loungers and a dining table to work at. The weather was perfect and we loved the option of the quieter pool. Although the resort was large and obviously busy because it was quite spread out with lots of different dining options it never felt over crowded or ridiculously busy. The Verona restaurant was our favourite and were we experienced the best customer service. The only area which lacked staffing was the concierge where there was only ever one member of staff available, even at very busy times of the day. We would definitely return to this hotel at this time of year.
Best food ever
Posted on: 15th September 2022
Best food ever at the hotel this year. With such a selection of great restaurants, no need to leave the hotel.
We loved it and had a wonderful time
Posted on: 15th September 2022
We stayed at Las Tarrazas rather than the hotel itself. The second time we have stayed there. Staff were great, Apartment was perfect. Pools were perfect too. Couldn't fault anything except a terrible dinner at Txchoko, which is situated in the main hotel Poor service, very over priced food which was average and we were sat inside, rather that outside by the pool and the ambiance inside is awful. Other than that little blip we loved it and had a wonderful time.
There didn't seem to be so many staff
Date stayed: October 2021
Posted on: 5th November 2021
The hotel seems a bit shabbier than in previous years. There didn't seem to be so many staff. We were disappointed that they were holding a tennis tournament so we couldn't use any of the courts.
First Class
Date stayed: February 2020
Posted on: 26th February 2020
First Class
Very lovely and pleasant stay…
Date stayed: November 2019
Posted on: 12th December 2019
We had a very lovely and pleasant stay, room was great, food was excellent.
However we were disappointed with the amount of refurbishment that was taking place.
The main pool was cordoned off and the main restaurant was closed.
We understand work needs to happen some time but think we should have been informed.
Great hotel…
Date stayed: October 2019
Posted on: 29th October 2019
Great hotel. Staff are brilliant. Food great.
A little bit of heaven…
Posted on: 20th September 2019
This has to be the best hotel not only in the canaries but in Europe. The Tagor Suites make it a little bit of heaven. The restaurants, all a la carte, are fantastic. If you haven't been, you need to. This is canaries with style.
Great food – lovely location…
Posted on: 18th September 2019
Great food – lovely location and amazing breakfast at el mirador
Excellent holiday…
Posted on: 28th June 2019
Excellent holiday. We have been many times it never disappoints.
Excellent holiday…
Excellent holiday. Good accommodation and Food. Would recommend.
Overall great…
Overall great. Service and food were super
New playground for children…
Date stayed: January 2019
Posted on: 5th February 2019
The hotel became increasingly crowded. On our way to breakfast, we found families staking out their pool places 1-2 hours before the pool opened. We have never seen this before. Some of the restaurants were closed causing those that were open to be over crowded and loud with very slow service. We had a consistent ant problem in our rooms with a steady stream of ants on the floors and in the bathroom and on the counters by the sinks. Additionally, there was a strong sewage smell outside our block of rooms. Every time we entered and left we noticed this awful smell. We were please to see that they were installing new playground equipment. However, our children were not able to use this playground equipment because it took them more than our 8 night stay to install it and paint it, etc.
Pleasant staff…
Date stayed: January 2019
Posted on: 5th February 2019
Our fifth trip to Abama and whilst it is still a great hotel, there were some chinks showing through in terms of reduced staffing and closure of restaurants on selected nights. Staff still very pleasant and supportive.
Superb staff and setting
Date stayed: December 2019
Posted on: 21st January 2019
Superb staff and setting. Make sure you book restaurants in advance to avoid disappointment
Very high standards everywhere
Date stayed: December 2019
Posted on: 21st January 2019
This was the 2nd time at the hotel and we were very pleased on our return very high standards everywhere.
Everything was excellent
Date stayed: December 2019
Posted on: 21st January 2019
Everything was excellent apart from one thing. On return to the UK my credit card had been used fraudulently 3 times to pay my extras bill at the hotel Marriott hotels group hacker. Travelbeam were very efficient and everything promised was delivered on time. will definitely use them again.
Club level amenities are second to none…
Date stayed: November 2018
Posted on: 1st December 2018
The club level makes the holiday something special. While the half board is no longer such good value the food is excellent, the staff at the club are superb and the club level amenities are second to none
Will certainly return…
Date stayed: November 2018
Posted on: 20th November 2018
First time in this hotel and will certainly return.
Wonderful time…
Date stayed: October 2018
Posted on: 7th November 2018
Always a lovely experience here. Beautiful hotel and surroundings. Some amazing people working there e.g. George, Sergio and the staff at the main pool restaurant. October half term was extremely busy, and service at the beach restarant wasn't great.
Love the refurb in The Mirador.
Overall had a wonderful time.