Completely renovated, this hotel from the distinctive Hard Rock brand, the Hard Rock Hotel Tenerife is in a sea facing spot on the sunny southern coast of Playa Paraiso in Adeje, and offers a lively good value holiday experience.
Aimed at music-loving couples and families and spread across two brand new towers which reflect this (Oasis and Nirvana), stylish funky interiors combine with modern facilities and state-of-the-art technology to create a winning mix.
Many unique features set this hotel apart from others in the Canary Islands. Here you can enjoy the Hard Rock's Sound of Your Stay programme where you can order musical instruments or create your own in-room DJ set. The carefully picked Hard Rock Entertainment Team provide guaranteed fun and games with an array of activities or you can just sit back, relax and enjoy daily music concerts, DJ sets on the open-air stage, pop-up events and pool parades.
There are three swimming pools, a beautiful lagoon with beach club and indoor /outdoor entertainment areas. For those who are looking to relax and unwind, there's the vast 1,094m2 Rock Spa® with therapy pools, sensory showers, sauna, steam bath, hydro massage and foot bath (at an extra charge) and a range of treatments by beauty specialists. The more active can take advantage of the fitness centre Body Rock®, which boasts top of the range equipment and numerous heart pumping fitness classes.
There are six restaurants each with a theme and many bars including a rooftop sky lounge with unmissable views across Tenerife. There's comprehensive child care at the resort and teens will love the specialist area for young adults and the live music on offer whilst parents will appreciate it's all on-site.
Facilities
Children's Club
Children's Entertainment
Daily activities
Gym
Hair and Beauty Salon
Interconnecting Rooms
Laundry Service
Mini-Golf
Room Service
Snorkelling
Spa
Swimming Pools
Tennis
Water Slides
Water Sports
Yoga
Transfers
Hard Rock Hotel Tenerife is 20 minutes by car from Tenerife South (Reina Sofia) Airport.
Food & Drink
Hard Rock Hotel Tenerife has six restaurants and six bars to enjoy during your stay.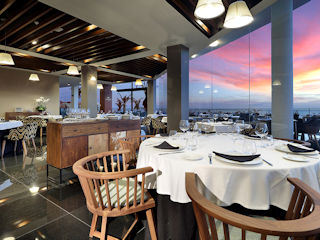 Montauk
Calling all meat lovers! Surprise your taste buds with a selected range of top quality beef cured to perfection. Porterhouse, Prime Rib, Rib-Eye and other popular cuts, perfectly grilled over charcoal are served alongside an array of excellent side dishes. The well-stocked wine and champagne cellar will complement the perfect dinner.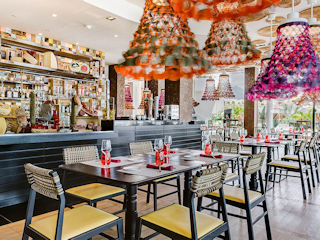 Capolavoro
Try the masterpieces of authentic Italian food in Capolavoro. Located at the foot of the Nirvana tower, the restaurant offers a stylish interior area and a fantastic terrace where you can enjoy the magical nights of the island. Enjoy delicious antipasti, meats, pizzas and the most exquisite homemade pastas, accompanied by a complete wine list.
Sessions
Not your typical buffet restaurant, this restaurant is decorated in a luxurious style with contemporary decor coupled with gorgeous views of the pool and ocean. Satisfy your appetite with mouth-watering dishes any time of the day or night.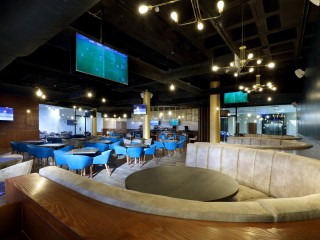 3rd Half
Perfect place to sit back and enjoy live music, jam sessions and sports. This sports bar has multiple giant screens, premium drinks, hot and cold Tex-Mex and international dishes.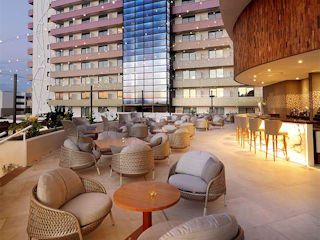 UTC
This is the place to see and be seen. The lobby bar is ideal for enjoying an aperitif, an after-dinner drink or refreshments throughout the day thanks to its great selection of spirits and exclusive cocktails.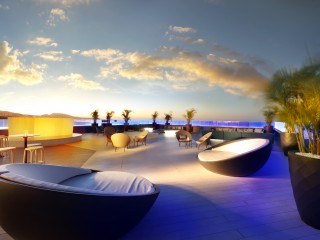 The 16th
Overlooking some of Tenerife's most stunning scenery, this private sky lounge is the ideal spot to celebrate gatherings and enjoy great moments with friends. Experience amazing views of the exciting surroundings and contemplate the spectacular sunsets. Interiors are decked out in modern, futuristic furnishing and decor, and the service is impeccable. Music is an important element here, with nightly entertainment ranging from resident DJs to incredible artistic performances.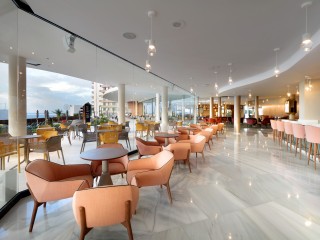 Constant Grind
Few pleasures are more satisfying and invigorating than the smell of freshly brewed coffee filling the air. Savour a mix of flavours, textures and colours, all in one single cup. A wide array of delicious snacks and other refreshing drinks are available to choose from.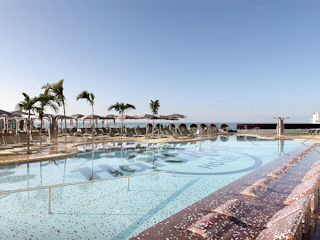 Splash Pool Bar
You can find the Splash Pool Bar in the Splash Pool of the Oasis Tower. Enjoy a complete menu of cocktails and drinks or try come of the delicious appetizers from the Muchies Snack Bar menu: burgers, pizzas, salads and a complete children's menu. Hours - 10:00am-6:00pm.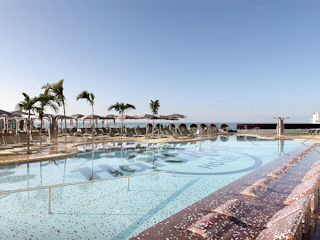 Eden Pool Bar
The Eden Pool Bar can be found in the Nirvana tower. This pool bar offers an extensive list of surprising cocktails, premium spirits and a delicious menu where you can taste exquisite gourmet bites in an exclusive environment for adults only. On the pool terrace enjoy dishes of Iberian ham, smoked or traditional Canarian chesses, sushi rolls, ceviches, salads, pokés or sandwiches. Hours - 10:00am-6:00pm.
Childcare
Children are welcome at the Hard Rock Hotel Tenerife. A babysitting service is also available upon request.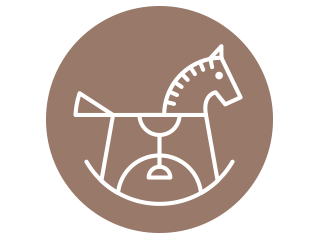 Club Lullaby
The creche one of the only one in the Canaries caters well for little children (age 6 months - 3 years). The perfect place for a little R&R, the Lullaby care centre has all the facilities for your little ones to enjoy.
Complimentary for max. two hours, per child, per day (pre-booking required).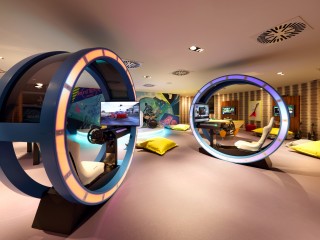 Hard Roxity Kids Club
For children (age 4- 11 years). A specialised team of animators has a designed a range of activities in an atmosphere full of music. Games, races, group activities, talent contests and performances will make the stay unforgettable for the younger members of your party.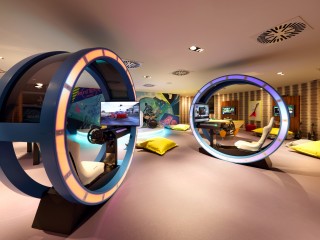 Teen Spirit
For teenagers (age 11-17 years). The Hard Rock Hotel Tenerife has all the ingredients to keep teenagers entertained, including personal Xboxes, 65-foot HD TV screens, activities and a separate area with a small cinema. There are also plenty of sports, contests and a wide range of evening activities and theme parties.
Travel Tips From Our Blog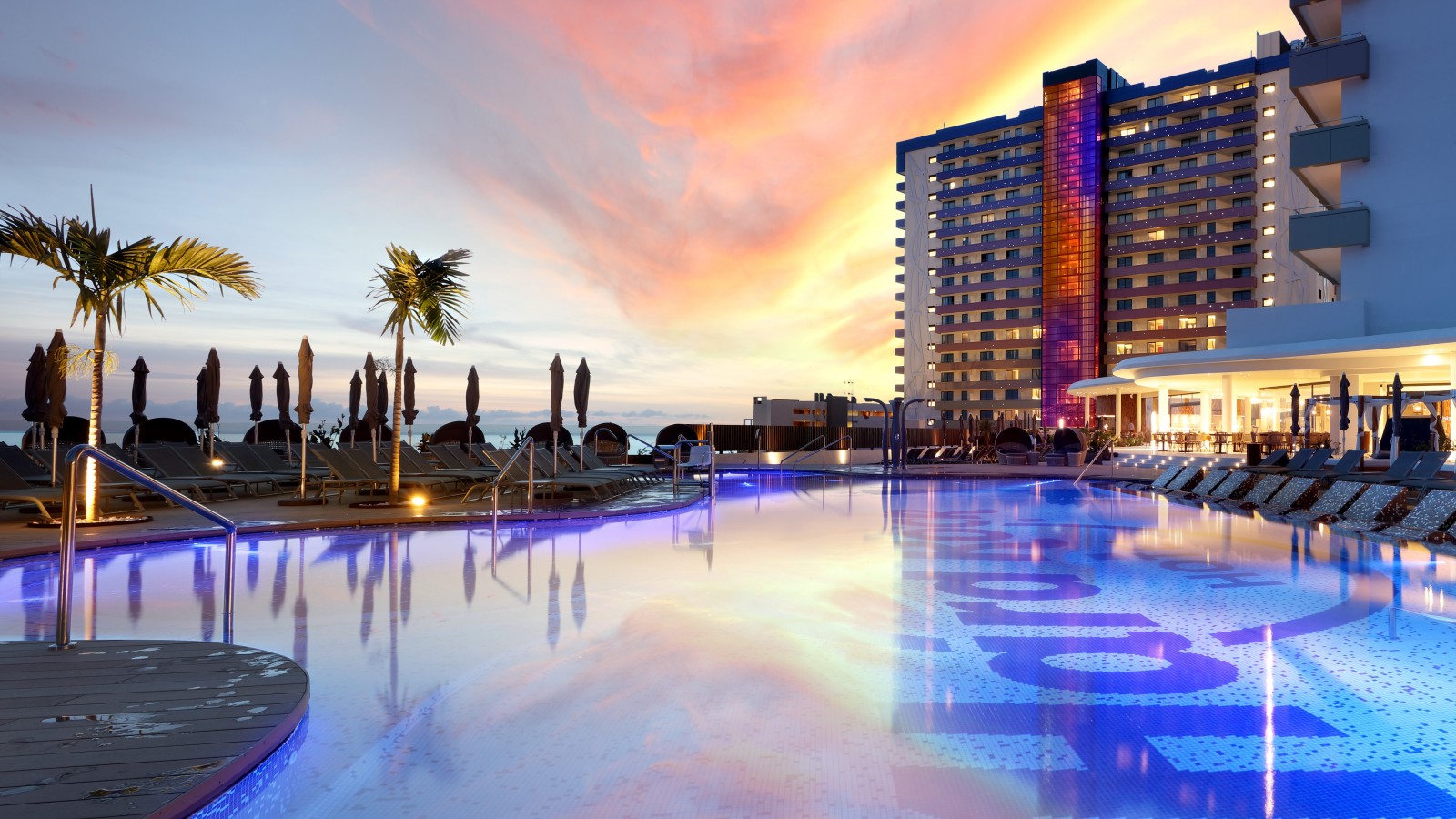 Sorry, there are no offers available for this hotel at the moment
Rooms
There are 624 rooms and suites to choose from at the Hard Rock Hotel Tenerife.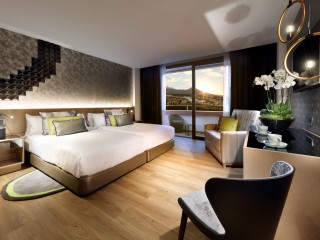 Deluxe Silver
Relax in your newly appointed room with cutting-edge decor boasting a tranquil palette of warm earth tones and chromo-therapy illumination. Functional and beautifully furnished, these exclusive rooms feature the finest facilities including a dual rain sensor shower and double sink in the bathroom. A flat-screen TV 43' and a single sofa bed in the seating area. A long list of comforts include thick terry robes, slippers, hair dryer, down pillows and duvets, select fine cotton bed linens and towels and pure natural bath products. 35m².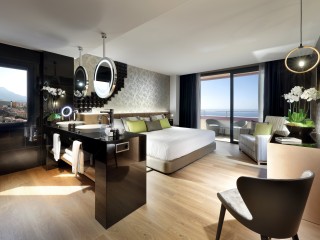 Deluxe Gold
With stunning lateral sea views the Deluxe Gold rooms feature either a King sized bed or two individual beds with a memory foam mattress and 300 thread count sheets for utmost comfort. The open bathroom design features a free-standing vanity with circular mirrors hung from the ceiling and a separate dual rain-select sensory shower. A long list of comforts include thick terry robes, slippers, hair dryer, down pillows and duvets, select fine cotton bed linens and towels and pure natural bath products. 35m².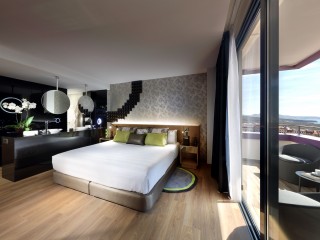 Deluxe Platinum
This beautiful, sea-facing room boasts a stunning ocean backdrop, plus a long list of comforts including thick terry robes, slippers, hair dryer, down pillows and duvets, select fine cotton bed linens and towels and pure natural bath products. The ultra-modern black marble vanity with two stylish sinks and hanging circular mirrors fits in perfectly in the cool, modern space. There is nothing better than waking up to the magic of frontal views of the Atlantic from your private fully furnished terrace. 35m².
Studio Suite Silver
Luxurious and spacious. Find comfort and relaxation in your choice of king, queen, or two double size beds with elegantly striped 300 thread count sheets and elegant linen. The interior mixture of black marble and dark wood tones are stylish, yet remain cosy and welcoming. Soak in your spacious whirlpool bath. 50m².
Studio Suite Gold
In a Studio Suite Gold, you'll feel like you've gone to heaven. Enjoy a relaxing chill out area and a terrace with lateral ocean views. Feel every silky thread of the 300-count cotton sheets of your King sized bed or choose two individual beds instead. Watch the sunset through a cocktail glass. Your exclusive maxi bar and fully furnished terrace will make sure you do. 50m².
Studio Suite Platinum
This luxurious, beachfront suite boasts a flat-screen 43" TV, sofa bed, maxi bar with Premium drinks and your very own wine cellar, whirlpool bathtub, plus the added luxury of frontal ocean views. Watching the sunset from the comfort of your spacious terrace is a heavenly experience. 50m².
Rock Suite Gold
These exclusive suites are spacious and finished to a high standard, down to the smallest detail. The roomy master bedroom suite has all the trappings of a five-star hotel with comfy furnishings and quality cotton linens. Character-filled and immaculately presented, the sun-filled interiors include a spacious bedroom, a separate living room and a beautifully furnished and trendy open-plan bathroom. Enjoy a long, contemplative soak in the generous whirlpool bath. 70m².
Rock Suite Platinum
These exclusive suites are spacious and finished to a high standard, down to the smallest detail. Character-filled and immaculately presented, the sun-filled interiors include a spacious bedroom and a separate living room. The emphasis is on total relaxation in the open concept bathroom complete with a whirlpool bath and a dual sensory shower. They all come kitted out with a Nespresso coffee machine. Bathrooms feature double washbasins, spa-inspired showers, and whirlpool bathtubs. 70m².
Rock Suite Diamond
This amazing suite is all about the views. The spacious terrace allows all-embracing ocean views spread out before you – simply stunning. Sleek materials enhance the contemporary lines of the spacious bathroom that includes twin basins, black marble vanity, a sensory shower and a whirlpool bath. 70m².
Rock Royalty Studio Suite
This stylish Studio Suite enveloped in light and comfort, combined bedroom and living room with a private fully furnished terrace. The signature 350 thread count Sleep like a Rock™ Egyptian cotton linen of your King sized bed or two individual beds with a memory foam will make sure you have the sweetest of dreams. All you have to do is relax and wake up when you please to the magic of stunning ocean views. 50m².
Rock Royalty Suite
This amazing suite, located on one of the three top floors of the exclusive Rock Royalty Level will provide you with a true taste of glamour. Wake up and look straight out to sea from the comfort of one of the biggest, comfiest hotel beds you`ve encountered complete with memory foam mattress and 100% cotton sheets. Carefully created with modern decor, sleek furnishings, and exclusive amenities, the entire suite boasts spectacular views. Relax in the marble bathroom with natural daylight, a whirlpool bathtub, and a walk-in shower. 70m².
Rock Star Suite
You will be instantly seduced by the charms of this spectacular presidential suite. Expect a first class experience with a VIP treatment. These Nirvana Tower top floor penthouse suites boast plenty of space full of natural light and calming sea vistas captured through the floor-to-ceiling windows. Sit back and relax in your comfortable living room or enjoy your Spa-style bathroom with an oversized walk-in shower and a large whirlpool bath. The master bedroom is luxuriously equipped with a generous wardrobe. For whatever else you may need, just ask your butler. 154m².
Looking to re-book…
Date stayed: October 2019
Posted on: 6th November 2019
We are looking to re-book & go back next year
Loud music…
Date stayed: February 2019
Posted on: 6th March 2019
Evareytging was good apart from the constant loud music and the lack of daily activities for children over 10.
Fun vibe and the pools are great..
Posted on: 23rd August 2017
The hotel has a fun vibe, and the pools are great. It had the best selection of sun loungers/beds/pods etc than most places. The kids loved the style of the place, and enjoyed playing football every day at 6pm at the kids club. This wouldn`t be for the faint hearted though – very competitive, quite a few Spanish Dads joining in and taking it very seriously! Less younger ones. My 9 and 6 year olds are football mad, and did play, but the youngest one struggled a few times. The room we had was very cramped, and the storage is minimal. I was disappointed to have to ask for the sofa bed to be made up for my son, and was waiting quite a long time to have that done on the first night when he needed to go to bed. Overall the service is very mixed. Some friendly, helpful staff, some actually really rude. The refurbishment has clearly been done very quickly, and although the hotel is less than a year old, there are quite a lot of problems e.g. numerous glass doors on the loos are cracked or shattered, locks on doors broken. Food wise, people definitely need to book the restaurants before they arrived unless you want to be stuck in the buffet every day. Availability when we arrived was very limited. The best restaurant is the steak house, but you do pay a lot more than the credit given for half board. Overall, it`s quite good for a quick week away in the sun, and offers reasonable value, but it`s more like a 4* than a 5*. I`d go again, particularly in the winter if there was a good deal, but be mindful of all those points!
Staff could not be any more helpful…
Posted on: 22nd August 2017
The facilities are all still nice and new and the staff could not be any more helpful. The rooms are modern and clean and the a la carte restaurants food was excellent, and is a nice touch you get a free drink at each meal. The breakfasts were excellent and the pools did not open until 10, which saved all the hassle of diving in early for a sun lounger. The music as you expect was great by the pool all day, and live music every evening. There are local restaurants and shops around the facility for when you fancy a change. The beach is very small and this is very much a pool rather than beach type location
The Hard Rock Hotel was exceptional…
Posted on: 16th August 2017
We had an amazing holiday in Tenerife. The Hard Rock Hotel was exceptional. Booking with Travelbeam was hassle free, they dealt with the flights, transfers and finding the perfect hotel for us . The staff are all very knowledgable, helpful and friendly, keeping us informed about any flight changes and ensuring we have received all the documentation from them. I will definitely book with them again.
Great atmosphere. Good Music. Rooms were lovely…
Date stayed: February 2017
Posted on: 1st March 2017
Great atmosphere. Plenty of food choice. Good music. Loads of space so never felt busy. Rooms were lovely. Seperate adult pool area for those wanting to escape from kids. Helpful staff for a fun week of sun & music I would highly recommend. Not much to see immediately outside the hotel complex and no beach to speak of, but for a short relaxing stay it was great!
The Hard Rock Hotel was fantastic…
Date stayed: February 2017
Posted on: 28th February 2017
The trip was absolutely fantastic from start to finish.The transfer vehicle was spotless and the driver incredibly well presented friendly and very professional. The Hard Rock Hotel was fantastic everything and more that Travelbeam said it would be. It truly catered for all and is not just for aging rock fans ! It is incredibly well presented and everything within is to the highest standard and worthy of the 5 star rating. Just amazing! for all ages. Travelbeam managed to organize a yacht excursion with `Big Smile` Luxury charters , amazing, Dolphins, Whales, alongside the boat just a perfect day! Hope to go again later in the year, the service from Travelbeam was second to non just what you would expect. Thanks to all at Travelbeam!!
We loved the Hard Rock…
Date stayed: February 2017
Posted on: 28th February 2017
We loved the Hard Rock, it was so much fun, very good food and great service from all the hotel staff.
We had a fabulous holiday here…
Date stayed: February 2017
Posted on: 17th February 2017
We had a fabulous holiday here. I thought the music playing throughout the hotel was fab, the nightly entertainment was great and varied, the rooms were incredible, the pools were heated and heavenly and the kids facilities were great…all in all we would definitely love to go back.