This hidden gem, close to the bustling area of the Costa del Sol, Puente Romano Marbella offers complete peace and quiet from a great beachfront location set in acres of subtropical gardens with its own Roman Bridge (hence the hotel's name). It is the perfect place to relax and unwind and is just minutes from glitzy Marbella. Additionally, Puerto Banus with their fabulous restaurants, charming marina and amazing shops.
Spacious, contemporary rooms and new modern luxury Suites are Andalusian in style and superb for families or couples alike. Dining is excellent to cater to the elite crowd in Marbella, with exclusive restaurants of all styles in the unique dining concept La Plaza. Choose from a gourmet two Michelin star restaurant by Dani Garcìa, renowned Nobu restaurant Bar & Lounge, modern Italian Serafina, Thai Galllery and gluten-free restaurant Celicioso.
Puente Romano Marbella has a world-famous Tennis Club, host to several major tournaments, with 10 tennis courts (including two hard and eight clay). There is also a gym located outside amongst the greenery, with the equipment made from wood. The Six Senses Spa spans two floors with stunning ocean views and products from QMS Medicosmetics and The Organic Pharmacy. This sublime spa also plays host to a series of yogic programmes and wellness retreats.
Golfers can enjoy the many championship golf courses in the area. Included is the resort-owned Marbella Club Golf Resort, designed by Dave Thomas. During the golfing season, the hotel operates a complimentary shuttle all year to the Marbella Club Golf Resort. Guests of the hotel receive one complimentary green fee per person per stay (prior reservation required).
The equestrian centre is just 20 minutes away and you can take rides across the Benahavís Mountains. There are also beautiful beaches and fabulous all year-round water sports.
Facilities
Spa
Swimming Pool
Gym
Room Service
Water Sports
Beach
Babysitting Service
WiFi
Golf
Transfers
Puente Romano Marbella is 35 minutes by car from Malaga Airport.
Food & Drink
Enjoy lots of choice with 14 restaurants/ bars (some seasonal) at the Puente Romano Marbella.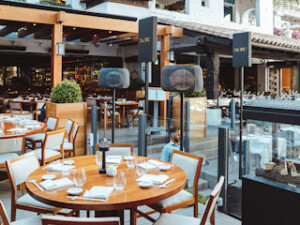 Nobu Matsuhisa's acclaimed restaurant is certain to redefine your dining experience in the heart of Marbella's Golden Mile. This foodie's temple, run by Eleni Manousou, Nobu's first female Executive Chef, offers inventive dishes, merging classic Japanese cooking with Peruvian flavours. From Toro Tartare with Caviar to Black Cod Miso, from its famed Japanese Wagyu to Salmon Avocado Sushi Maki.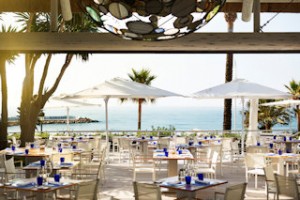 Sea Grill offers exclusive dining experience, located in the grounds of Hotel Puente Romano, the restaurant boasts stunning views over the Mediterranean Sea. During lunch service Sea Grill offers a salad bar, where the Chef can individually prepare your perfect salad, along with your preferred dressing. Sea Grills gastronomic experience offers a menu with Indian and Mediterranean influence, including dishes prepared in the distinctive "Tandoor Oven" and on the "Charcoal Grill", all consisting of the finest and freshest ingredients.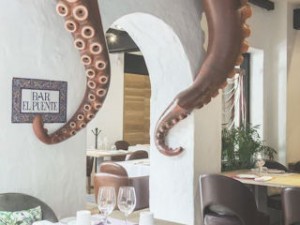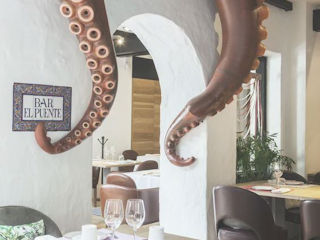 Bibo is an epicurean escape made for those who crave the adventurous. There`s fantastic tapas with sample dishes from the Raw and Oyster Bars, cool cocktails and platters great to enjoy with friends. Every morsel is crafted from fresh and locally-sourced ingredients.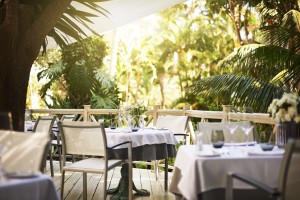 A modern Italian restaurant created by Marc & Carlo Morelli serving in the historical location of the famous Roman Bridge. Serafina represents the best of authentic Italian cuisine, with a superb collection of wines to match.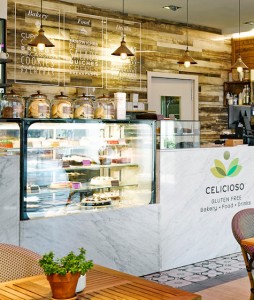 At Celicioso, the cuisine is sugar, dairy, or wheat free. This is a Marbella first – the only dedicated gluten-free restaurant in Puente Romano's social hub, Plaza Village.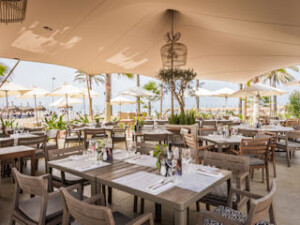 A lively Mediterranean restaurant excellent for a long, laid back lunch, you have the choice of a shaded deck or chic indoor restaurant.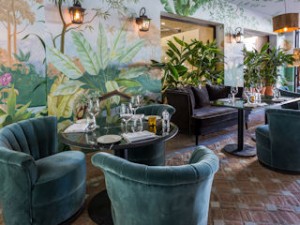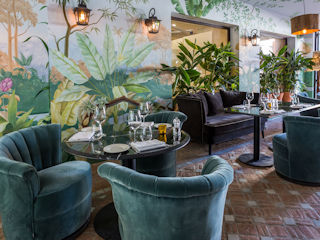 At Monkey Club, the atmosphere is tropical and the flavour Mediterranean. Pairing European wines with carefully crafted menus, come and get a taste of life in Marbella.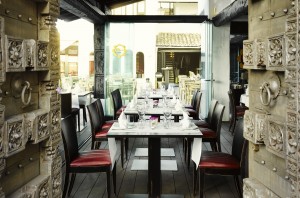 Ornate interiors and tantalising scents await as your luxurious prelude to dinner at Puente Romano`s Thai Gallery. Effortlessly combining authentic recipes and modern interiors flooded with light set the scene for cutting-edge cuisine, delicately prepared with edible origami.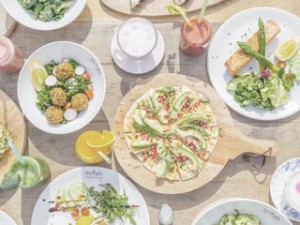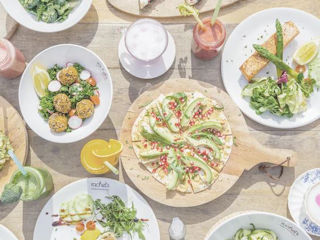 Energising juices, protein shakes, avocado-topped olive bread, and peach-stuffed crêpes are just a small selection of the indulgent treats that await at Rachel's. Each and every order is handmade from scratch using only the finest freshest ingredients.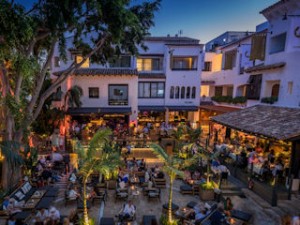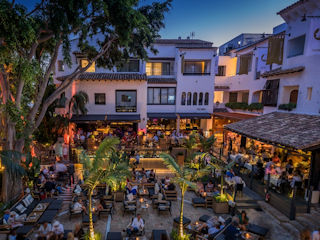 La Plaza is the heart and soul of the resort. Centred in the middle of most of our restaurants and bars, and located just a few steps from Reception, this atmospheric square is host to an array of events throughout the year. In the summer you can take a seat on a sofa and bask in the sun with a cocktail, and in the colder months you relax by outdoor heaters under the canopy and watch fashion shows.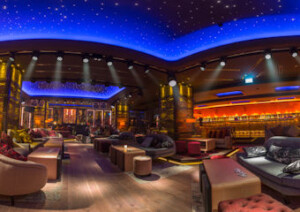 Music is a fundamental part of the Suite concept showing the best international DJs, La Suite becomes one the best nightclubs in Marbella after midnight on Friday and Saturday nights.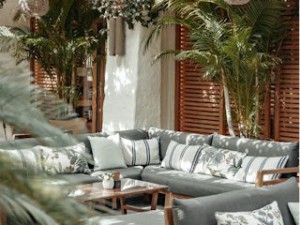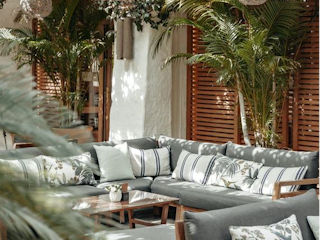 Located near the renowned stream that flows through Puente Romano's extensive grounds and under the Roman bridge. Les Jardins is a charming little setting for an evening aperitif. Bursting with flora, the space is a subtropical paradise at the heart of the hotel's subtropical gardens. The menu, is equally alluring, with the focus on the freshest of ingredients and wholesome cooking. Enjoy a cocktail or carefully selected wine, alongside authentic gourmet tapas.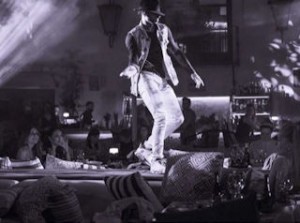 More than a restaurant, this informal dining experience promises to have you immersed from start to finish. With long tables Mediterranean style dining, you are sure to leave with more friends than you arrived, as you chat away and share the memory of one-of-a-kind feasting experience. Prepare to be entertained by spectacular performances and dance the night away with the in-house DJ's providing an epic soundtrack throughout the evening.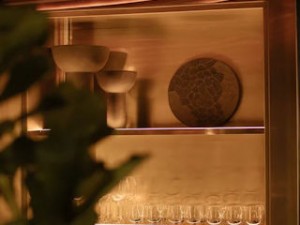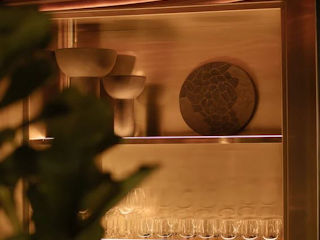 It will come as no surprise to learn that, as a steakhouse, Leña serves up an irresistible duality for its guests: the balance between Dani Garcia's technique and his sense of honesty and respect for the produce. So in the menu he's come up it's all about the raw material and its versatility on the grill, but with a highly personal touch and a real international influence, born of the chef's travels and experience around the world
Childcare
Children are welcome at the Puente Romano Marbella. A babysitting service is also available on request.
Kids Club Puente Romano
Puente Romano Kids club opens its doors for all kids and teenagers who will be staying in the hotel. This kids and teens club offers a wide and varied selection of activities for all ages. It is completely free for all guests who are staying in Puente Romano Beach Resort & Spa.
Opening hours: Monday to Friday from 10:00 to 18:00h.
Sorry, there are no offers available for this hotel at the moment
Rooms
Puente Romano Marbella has 187 rooms and suites or one of three villas to choose from.
Sorry, we couldn't find any reviews.