The Royal Mirage Arabian Court presents a unique design and sumptuous rooms set on a private coastline and lush palm gardens. The exclusive sister hotel One&Only The Palm occupies prime position on the adjacent Palm Jumeirah Island.
While at Arabian Court you will find dramatic architecture nestling majestically in peaceful gardens. For a truly indulgent stay, Residence & Spa offers an air of privacy and peace with a private reception. Additionally, guests receive exclusive access to the two restaurants The Dining Room and The Library specifically for Residence guests.
There is plenty to do at the Royal Mirage Arabian Court, whatever your preference. If you wish to relax, enjoy chilling out by the idyllic pool. Additionally, there's the  kilometre-long powder white private beach or in the state of the art One&Only Spa and traditional Oriental Hammam with its soaring marble domes and endless treatment rooms.
If you fancy making your Dubai break a little more adventurous, why not try the water sports, floodlit tennis courts, golf putting green or explore the local area with an exciting 4×4 desert excursion.
Children will love the superb KidsOnly Club with its range of activities from camel riding to henna painting. A separate shallow end of the swimming pool is covered and reserved for children.
There's an array of dining venues including the excellent Nina presenting a modern twist on Indo-European cuisine. For special occassions the opulent Celebrities is the perfect choice. You can dine at any of the restaurants in resort with the exception of some exclusive facilities at Residence & Spa. Guests can enjoy complimentary access to Aquaventure Waterpark (Atlantis The Palm) and on-demand shuttle transfer to Aquaventure and Mall of the Emirates.
Facilities
Spa
Swimming Pool
Gym
Water Sports
Kid's Club
Beach
Excursions
Adults Only Pool
Water Park
Golf
Transfers
One&Only Royal Mirage Arabian Court is around 30 Minutes from Dubai International Airport.
Food & Drink
There are many places to eat and drink at the One&Only Royal Mirage Arabian Court, including those at The Palace.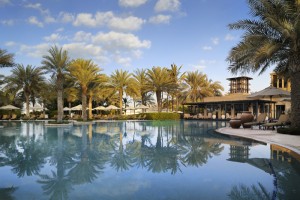 Bathed by the blue of the sky and sea, Eauzone is a place to contemplate the rhythm of ocean tides and the setting sun. On the beach surrounded by palm trees, Eauzone features shaded wooden decks and floating 'Majlis' – an Arabic word for a room in a private home used to entertain guests – overlooking the Arabian Gulf and translucent pool. The ambience is casual by day and stylish after sunset. Once night descends it evokes intimacy in a slick, refined restaurant complemented by modern food with an Asian twist. Open for lunch and dinner.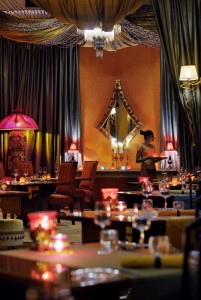 Nina is a colourful Indo-European dining venue. Descend the staircase and enter a vibrant, lively setting with an alluring sense of discovery. Flickering candles, curtain beads and contemporary music set the scene for an evening at Nina, the mistress of spice. The food enlivens the palate, with a strength of flavour and seductive aromas that create a journey of exploration. Open for dinner only.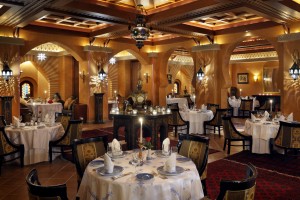 Truly Moroccan, the ambiance of Tagine provides diners with more than just a taste of this mysterious land. The tobacco-coloured walls have been hand polished and wax plastered in the Moroccan tradition of Tadlekt. Lanterns, rugs and artefacts have been specially procured from around the region and adorn the restaurant's series of moody rooms, arches and alcoves, creating an ambience akin to an old home in Marrakesh. Open for dinner only. Children over 8 years old are welcome.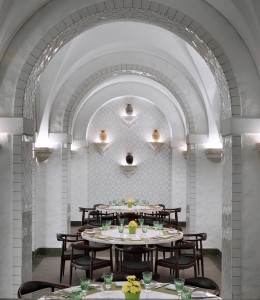 lives is The Palace's casual all-day dining restaurant. A sky-blue ceiling adds a sense of drama to this refreshing venue, with African slate floors, towering shrubbery and whitewashed stucco walls. Stained glass, wrought iron chandeliers, and colourful crockery add vibrancy. Marble-topped tables and cane chairs give the bougainvillea-covered terrace overlooking the palm-shaded pool a Riviera coastal cafe feel. Open for breakfast, lunch and dinner.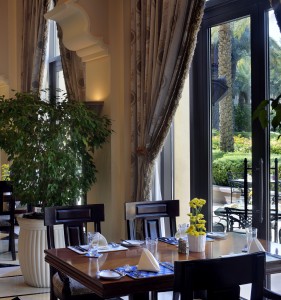 This all-day dining room boasts an intimate courtyard terrace and open veranda that overlook the resort's gardens and fountains. An impressive show kitchen evokes a bygone era, with high vaulted ceilings, voluminous copper chimneys, enamelled cast-iron ovens and large wooden tables. Guests interact with chefs who prepare cuisine based on traditional recipes from Europe. Open for breakfast, lunch and dinner.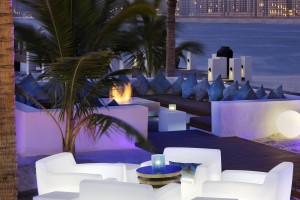 Housed in chic Arabian architecture with contemporary interiors, the Jetty Lounge is not a restaurant as such but an elegant beachside bar. Beverages and wines are complemented by a selection of light snacks such as mezzeh, quiches, Spanish ham and cheeses as well as dips and Asian-inspired platters. The mood is laid back, with sophisticated chill out lounge music. An ideal place to wind down during sunset or after work and a great place to enjoy pre- or post-dinner drinks. Watch beach-goers and boats on Palm Bay by day, and admire Dubai's stunning skyline by night.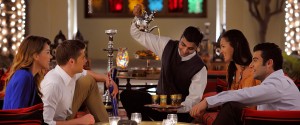 Enjoy a uniquely Arabian evening in one of two atmospheric Courtyards at The Palace and Arabian Court. Here, guests enjoy 'Majlis' style seating on comfortable cushions, exotic mezzehs, and the unique experience of an aromatic 'Shisha', all set to enchanting and authentic Arabian music.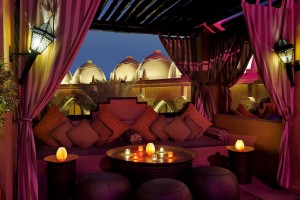 The Rooftop Terrace & Sports Lounge
Atop Arabian Court, The Rooftop & Sports Lounge is the resort's most dramatic outdoor evening venue, where the sky is the ceiling. Within, a circular bar sparkles with activity, showing live sporting events. The mood is chilled out, a laid back atmosphere that continues as guests climb the stairs and relax around the central dome under the stars. The abundance of embroidered cushions and candlelight creates warmth and intimacy in the magical, musical Majlis serving cocktails and oriental mezzehs late into the night.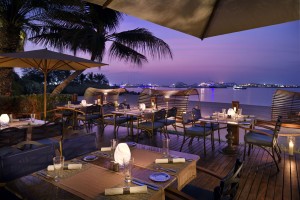 Overlooking Palm Island, and poised between lush gardens and golden sand, the Beach Bar & Grill is a refreshing experience. Affectionately called "The Beach" by resort staff, the mood by day is informal on the shaded terrace where guests enjoy impressive platters of freshly grilled seafood and bright salads. By night, "The Beach" dresses up with flickering candles and a warm glow as chefs serve lobster, tiger prawns, mixed kebabs and prime steaks.
Childcare
Children are welcome at the One&Only Royal Mirage, and there is a designated kids' club (age 4- 11 years) to keep them entertained. Babysitting available on request.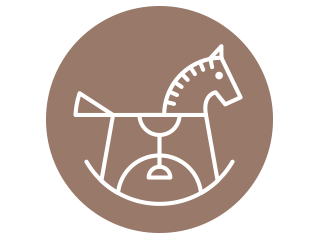 KidsOnly
Complimentary for children ages four to 11 years, at KidsOnly there are two dedicated children's centres– one at Arabian Court and the other at The Palace – which are both open every day of the week. Children under four are welcome to use the club's facilities, but must be supervised at all times by a parent or guardian. Reservations required during school holiday periods. Open from 10:00 - 12:30 and 14:30 - 17:00 and 18:00 - 22:00 with children typically joining their parents for meals.
Sorry, there are no offers available for this hotel at the moment
Rooms
170 rooms and suites at The Palace, 170 rooms & suites at Arabian Court and 49 rooms & suites including the Beach Garden Villa at Residence & Spa.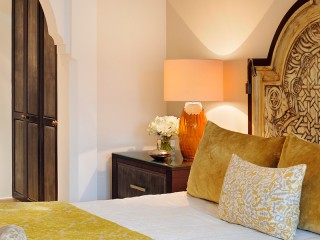 Deluxe Room
Deluxe Rooms (50m²) overlook Palm Bay and feature a private balcony or terrace. Inspired by the magic of Arabia, each room features carved arches, colourful mosaics and dramatic artwork. The bathrooms are adorned with wood, marble and slate and feature a wet area with overhead and handheld showers with a granite bench, separate toilet and bidet, individual vanity with under-shelf cupboards and separate bath with handheld shower. Furnishings are rich with intricate patterns reflecting the warmth and comfort of the Orient.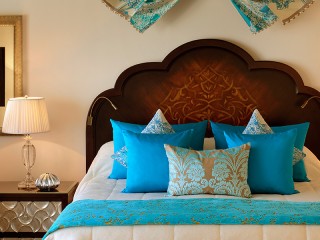 Falcon Suite
Falcon Suites (125m²) overlook Palm Bay and feature a private spacious balcony or ground-floor patio. Decorated with rich natural fabrics and colours inspired by the warmth of the desert, these suites feature an entrance foyer, dining area with a wooden table for four, and an ornate desk with business centre offering Internet, fax and printing capabilities. A separate bedroom features a splendid King-size bed with a decorative overhead canopy. The luxurious master bathroom is adorned with wood, marble and slate and features a wet area with overhead and handheld showers with a granite bench, separate toilet and bidet, individual double sink vanity and large bathtub with handheld shower.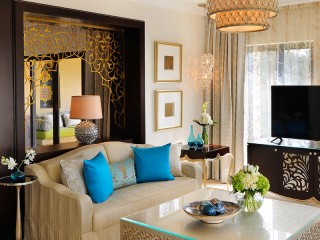 Prince Suite
Prince Suites are spectacularly spacious with an expansive outdoor terrace offering 'Majlis' style seating, a dining table for four people, two ottoman chairs and two sun-loungers for private sun bathing. The suites are designed with the finest detailing to reflect the 'Magic of Arabia' theme that so gracefully envelops the resort. Luxurious bathrooms are adorned with wood, marble and slate and feature a wet area with overhead and handheld showers with a granite bench, separate toilet and bidet, individual double sink vanity with under-shelf cupboards and large bathtub with handheld shower.
Sorry, we couldn't find any reviews.