This ocean-themed resort based on a mile of pristine beach on Palm Island is the height of drama. All elements of Atlantis The Palm are on a super-size scale, perfect for visitors who want fun and adventure.
As the name suggests, there is a distinct aquatic theme with spectacular water views of the Arabian Sea and Dubai's Palm Island. The Lost Chambers Aquarium with 65,000 marine animals, the Wave park and the Wavehouse are not far from the resort. Also, the giant Aquaventure Waterpark – with world record breaking rides, is close by too. The resort offers free and unlimited access to the waterpark and aquarium.
The accommodation is similarly impressive, located in two high towers linked by The Royal Bridge Suite. The Club Suites have recently been refurbished and offer special benefits. This includes free access to the Imperial Club Lounge, complimentary airport transfers and free breakfast. Additionally, the resort adds  happy hour and afternoon tea as well.
The Shopping Avenue features a range of luxury boutiques and numerous award-winning dining options that are famed across the United Arab Emirates, from the likes of Nobu Matsuhisa, Giorgio Locatelli and Gordon Ramsay. Those dining at the impressive Ossiano restaurant will experience the view of marine life while enjoying the exquisite dishes.
There is also an utterly tranquil ShuiQi Spa & Fitness that allows you to escape into a world of beautiful relaxation in one of its 27 treatment rooms. While the parents want to relax the resort offers the Atlantis Kids Club and The Zone for teens. 
Atlantis: 1,539 rooms and suites
Facilities
Spa
Swimming Pool
Water Sports
Interconnecting Rooms
Fitness Centre
Beach
Babysitting Service
Kid's Club
Water Park
Shopping
Aquarium
Transfers
Atlantis The Palm is 45 minutes from Dubai International Airport.
Food & Drink
There are 23 restaurants, bars and lounges to enjoy at Atlantis The Palm.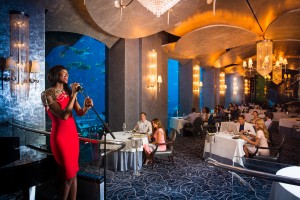 To arrive in Ossiano is to enter a world of mesmerising tranquility created by the captivating ocean life of the Ambassador Lagoon. The experience is coupled with the delight of dining in an elegant seafood restaurant with flavours from the Mediterranean, Pacific and Indian Oceans, prepared to perfection by Chef de Cuisine and TimeOut's "Young Chef of the Year 2011", Wesley Berghoff. Ossiano is the gourmet's choice of dining venue and the perfect location for an intimate dining experience, with extensive set menus and spellbinding views of Atlantis' Ambassador Lagoon and its 65,000 marine animals. Dress code: Elegant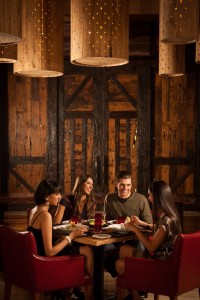 Seafire Steakhouse and Bar
Offering the finest cuts of beef from around the world, grilled over a flaming charcoal grill at this award-winning restaurant will make your mouth water. Seafire Steakhouse and Bar is the 2011 Winner of Timeout's "Best Steakhouse in Dubai" and presents a dining drama for all meat connoisseurs with the finest cuts of beef from our very own all-natural grain fed "Atlantis" beef from Australia and US Black Angus. The menu also includes a selection of other red and white meats and seafood, and vegetarian options. All the ingredients for creating a feast for the senses await here, and be sure to stop by the bar and ask our bartenders to mix a classic cocktail for you and your party.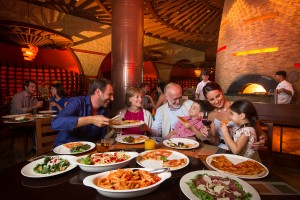 At Ronda Locatelli, Giorgio Locatelli creates a rustic, warm and inviting Italian restaurant that blends the charm of an Italian countryside with the modernity of Dubai. Authentic, classic Italian cuisine from North and South Italy is blended seamlessly with new flavours using the fresh and seasonal ingredients. The heart of this Italian restaurant is undoubtedly the wood fired brick oven, which will entice you with the aromas of fresh breads, handmade pizzas and al forno dishes as soon as you walk through the door. And that's before you've even sampled the antipasti and delicate pastas from a family-style menu, reinforcing the sense of tradition and homeliness.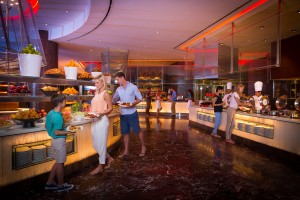 Saffron presents dining drama within a vibrantly bold, contemporary setting created by award-winning New York restaurant designer Adam Tihany. Asia is a big place and our chefs thrive on the challenge of making sure the twenty theatrical cooking stations at Saffron offer a taste of every region. The preparation and presentation of international cuisine, with an emphasis on Asian specialties, becomes a culinary art form where diners enjoy an interactive dining experience as they sample food from open cooking areas throughout the restaurant. The blend of sights, sounds and aromas of selections ranging from wok-fried Southeast Asian specialties to Indian naans and Malaysian rotis, all prepared as diners look on, is memorable. A superb selection of sake and wine is available to complement the many moods and flavours of the cuisine.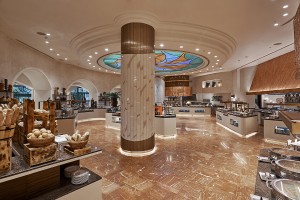 For those who just can't decide what to eat or who simply want to try a taste of everything, Kaleidoscope is the perfect dining solution. An impressive buffet and open interactive kitchens with live cooking stations will ensure you can indulge yourself with a world of dishes, wherever your taste buds take you. Kaleidoscope appeals to a wide range of international tastes by celebrating the subtly nuanced dishes of the many regions. With palate-pleasing displays of flavours and textures draws from the very best of Indian, Mediterranean and Arabic cuisines you will be truly spoilt for choice at Kaleidoscope.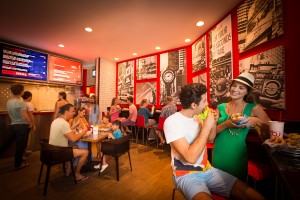 All TBJ burgers are freshly prepared using the finest quality of 100% pure beef complemented with the awesome TBJ sauce. Choose 'The Works' with the ultimate in toppings if looking to indulge, enjoy gloriously melted cheddar cheese with the 'Cheesy' or bring back fond memories with the traditional 'Old School' burger. Alternatively, choose the succulent `Rooster Booster` chicken fillet or the healthy option of the 'Mighty Veggie' burger. Complete the celebration of the American classic with special crispy homemade fries and cool off with an incredible milk shake - strawberry, chocolate, vanilla, banana or cookies and cream.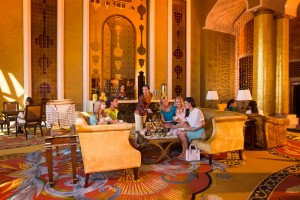 Located just off the Grand Lobby, this traditional Arabian Coffee House specialises in refreshments for any time of the day or night. With a connoisseur's collection of coffees, teas, pastries, macaroons and Arabic sweets, as well as fine spirits in the evening, this coffee house is the ultimate place to catch up with friends and family.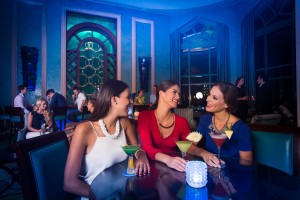 Designed in cool blue and striking metallic colours, this elegant bar is Dubai's place to see and be seen. Located by the Grand Lobby and overlooking The Palm, it serves the latest cocktails, wines and Champagnes, including an elaborate signature selection of Martinis and Champagne Cocktails.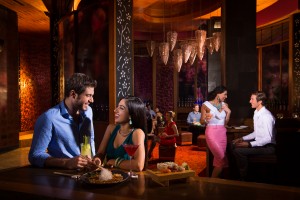 Nobu, the world-renowned Japanese restaurant created by Chef Nobu Matsuhisa, combines his cutting-edge style with South American influences to create a truly stunning space and unforgettable dining experience. Complemented by a sushi bar and sake lounge, Nobu gives you the perfect excuse to dress to impress.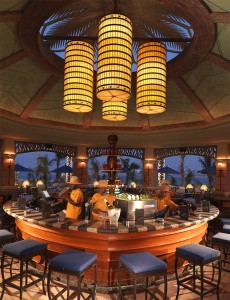 Located alongside The Royal Beach and adjacent to the Royal Pool, The Edge and The Shore are great places to chill out during the day in the sunshine, offering poolside service for the ultimate relaxation. With an Italian twist, The Edge offers delicate pizzas from the wood fired oven, salads, burgers and grills, and serves a wide array of thirst quenchers, cocktails and wines. The Shore provides snacks as well as Tex-Mex cuisine from the grill, with burritos, nachos and steak, while the bar serves up a range of signature margaritas.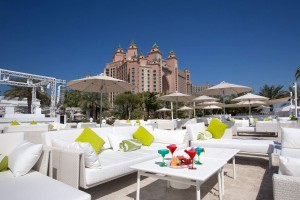 Spend the day lounging on beach beds and have your lunch by the sea while a DJ spins you into a relaxed state of mind from early afternoon, building it up until late. With the surreal Dubai skyline as your backdrop both day and night, a perfect mix of cosmopolitan crowds, Nasimi Beach invites you to enjoy life. Enjoy Nasimi.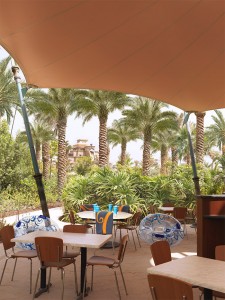 When eating on the go, we know that what you want is something quick, fresh and delicious. With no less than 16 different restaurants and kiosks offering all sorts of bites ranging from burgers, to hot dogs, nachos, ice creams and freshly squeezed fruit juices, the Waterpark has something on offer for every taste.
Childcare
Children are exceptionally well catered for at Atlantis The Palm, with a kids' club, teen hangout and comprehensive babysitting service.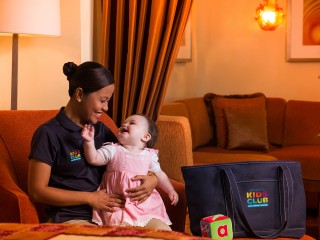 Babysitting
Babysitting is available on request by paediatric first aid and CPR-trained staff. Bookings must be made 24 hours in advance. There is in-room, in-resort and off-resort babysitting services. Prices vary on services before or after midnight and number of children.
Children over 36 months (or three years) – one babysitter: three children
Children under 12 months (or one year) – one babysitter: one child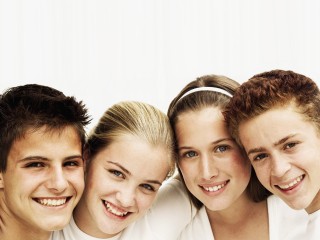 The Zone
At The Zone for teenagers (age 13-17 years), there is a bar serving non-alcoholic cocktails, a dance floor, a game zone equipped with Apple Mac computers, a Wii, an Xbox, PlayStation, as well as a chill out lounge to enjoy some of the best movies in theatre.
Closed on Mondays and Wednesdays.
Family Zone: 15:00-18:00 Late Zone: 19:00-midnight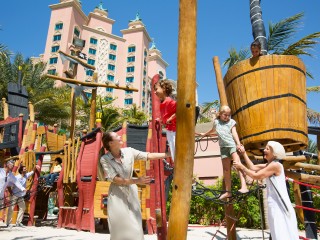 Kids Club
One of the most family friendly resorts in Dubai, Atlantis The Palm includes a fully supervised Kids Club for ages three to 12 years. The exclusive club offers the ultimate in children's entertainment, with activities including an underwater theatre, climbing walls, creation zones for arts and crafts, a pirate ship, electronic entertainment, an arcade as well as special events for amazing birthday celebrations.
Opening hours:
Saturday – Thursday 10:00–18:00
Friday 10:00–22:30
Sorry, there are no offers available for this hotel at the moment
Rooms
Atlantis The Palm has 15, 39 rooms and suites to choose from.
Sorry, we couldn't find any reviews.