Residing majestically on the beachfront of the western crescent of the Palm Jumeirah, Jumeirah Zabeel Saray is a grand opulent property with stunning views of the Arabian Gulf and Dubai's skyline.
Decadent rooms and opulent suites, reminiscent of ancient Ottoman palaces, are very spacious (starting at 46m2) and feature advanced technology, rich brocades and lavish furnishings. The top-notch residences, for which the United Arab Emirates are famous, boast additional benefits such as a 24-hour butler, direct pool access and a private beach.
There are many restaurants to choose from all with a certain twist ensuring variety – from Lalezar, with its modern take on Turkish cuisine, to The Rib Room, a steakhouse restaurant and bar that showcases the best of traditional meat and grill dining with a superb selection of wines and cocktails. For entertainment you must sample The MusicHall, a unique live music experience over dinner and the private 29-seat cinema with daily screenings aimed at both children and adults. If you opt for half board you can also dine at the surrounding Jumeirah restaurants as part of your meal plan.
Another special highlight is the spectacular Talise Ottoman Spa (8,000m2) which has influences from the Ottoman Empire and a staggering 42 treatment rooms, high-tech gym, three authentic Turkish hammams over two levels and a VIP area.
Whatever you plan on doing during your holiday in Dubai, the Jumeirah Zabeel Saray is likely to have you covered with its extensive menu of activities. Spend your day at the tennis centre, relaxing on the pristine private beach with water sports or enjoy tax free shopping its mall filled with premium boutiques.
Families will enjoy complimentary unlimited entrance to the fabulous Wild Wadi Waterpark, located only a short journey away, whilst children will delight in the Sinbad's Kids Club with over 50 activities and facilities which include a mini water park, climbing wall and soft play.
405 rooms and suites or 38 four and five-bedroomed Royal Residencies
Facilities
Babysitting
Beachfront
Butler Service
Children's Club
Cinema
Evening Entertainment
Fitness Centre
Gym
Indoor Pool
Room Service
Scuba diving
Spa
Swimming Pools
Tennis
Water Park
Water Sports
Transfers
Jumeirah Zabeel Saray is 45 minutes by car from Dubai Airport.
Food & Drink
There are nine restaurants and bars to enjoy at Jumeirah Zabeel Saray.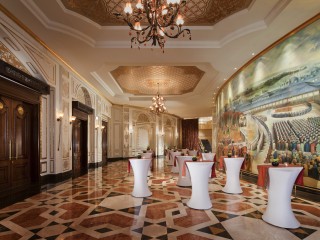 MusicHall
MusicHall at Jumeirah Zabeel Saray offers a modern take on the 'dinner and dance cultural entertainment' concept. Enjoy more than 10 unique live music acts per night whilst relishing a vast selection of gourmet food and premium beverages.
Open Thursdays and Fridays.
Location : Ground floor
Cuisine: International dinner and dance
Dress code: Smart casual.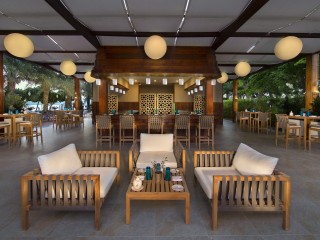 Plaj
When you want to unwind over a delicious meal with the sound of the gentle ocean waves as your backdrop, there's nowhere better than Plaj. This family-friendly restaurant may enjoy panoramic views of the Arabian Gulf, but it's the relaxed and friendly atmosphere people keep returning for.
Location: On the beach overlooking The Palm Jumeirah
Cuisine: Italian-inspired and weekend barbecues
Dress Code: Casual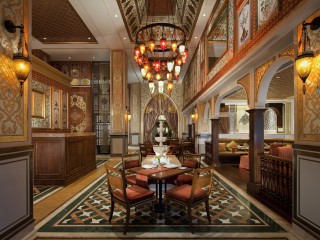 Lalezar
When you enter Dubai's first Anatolian restaurant, you can't help but be impressed by the wonderfully grand setting. There's a firewood furnace to the stained-glass chandelier, evokes the spirit of the majestic Ottoman Empire – yet with a contemporary feel.
Location: Ground level, right wing.
Cuisine: Turkish
Dress Code: Smart casual
Seating: Indoor and al fresco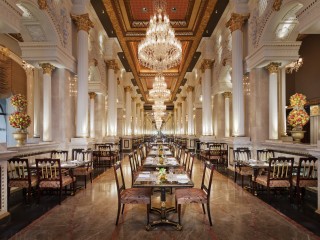 Imperium
The magnificent Imperium serves a wide range of French cuisines from breakfast until late. With crystal chandeliers, gilded columns and a terrace offering superb views of the sea, it's a fabulous venue.
Location: Ground level, left wing.
Cuisine: French Brasserie and international cuisine served in buffet style
Dress Code: Smart casual for lunch and dinner.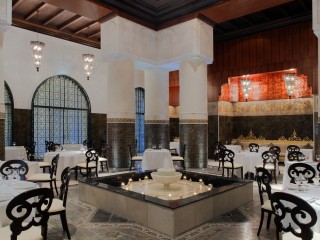 Amala
This grand, exquisitely decorated restaurant offers you the finest Northern Indian cuisine, along with especially good value.
Location: Right wing of the lobby
Cuisine: Northern Indian
Dress Code: Smart casual
Seating: Indoor and al fresco.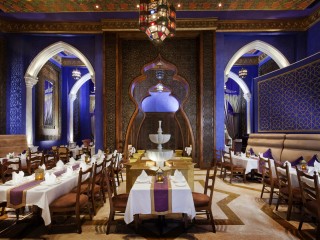 Al Nafoorah
Al Nafoorah is quickly earning a reputation as one of the best Lebanese restaurants in Dubai. The high ceilings and dark wood carvings create a distinctively regal feel as you enter, yet the atmosphere is warm and relaxed.
Location: Ground level, right wing. Cuisine: Arabic Dress Code: Smart casual Seating: Indoor and al fresco.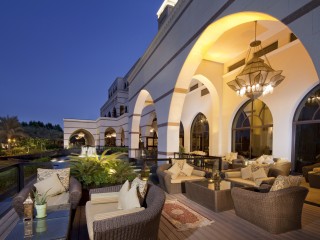 Sultan's Lounge
Sultan's Lounge is the perfect place to meet friends, as you relax among grand Ottoman-inspired décor. Set in the impressive lobby it is open any time of day or night.
Location: Ground floor, main entrance lobby
Cuisine: International menu of light fare and Afternoon Tea
Dress Code: Smart casual
Seating: Indoor and al fresco.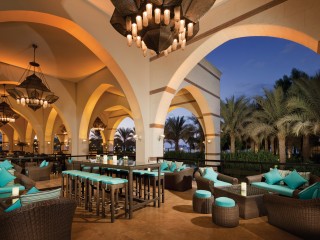 Club Lounge
The Club Lounge is located on the ground floor on The Avenue of Indulgence offers exclusive features designed to make your stay even more comfortable and memorable. The new concept offers a specially trained team, dedicated concierge desk with check in and check out facilities, an extensive culinary offering throughout the day, complimentary Internet, a lounge area and spacious outdoor seating and other special privileges for the sole use of exclusive Club Lounge guests.
Location: Ground floor, Jumeirah Zabeel Saray
Cuisine: International drinks
Dress Code: Smart casual.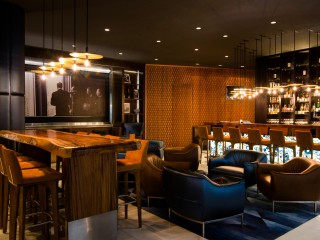 The Rib Room
Meat lovers in the city will be excited to learn that The Rib Room is coming soon to Jumeirah Zabeel Saray. The Rib Room will offer a sumptuous culinary experience in an ambience that is perfect for the whole family.
Childcare
Children are welcome at Jumeirah Zabeel Saray, with a kids' club (age four - 16 years). Babysitting is also available upon request.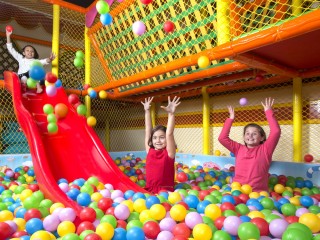 Sinbad's Kids' Club
Kids' club for children (age four - 16 years). Complimentary for four hours daily. There is also a splash park.
Sorry, there are no offers available for this hotel at the moment
Rooms
Jumeirah Zabeel Saray has 405 rooms and suites or 38 four and five-bedroomed Royal Residencies to choose from.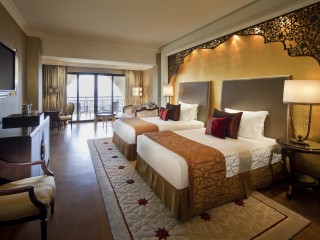 Deluxe Double Sea View
Deluxe Double Sea View Rooms (56m2) are beautifully appointed and lavishly sized with Ottoman-inspired luxury, our idyllic Deluxe Double Sea View room is an oasis of plush relaxation. The room features splendid ocean views from a private balcony, two double-sized beds, an en-suite pure-marble bathroom with splendid Penhaligon's amenities and a welcome basket of seasonal fruits.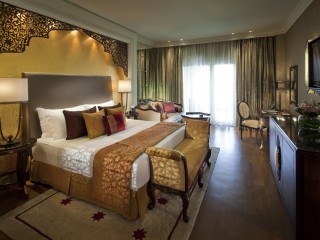 Deluxe King Palm View
Deluxe King Palm View Rooms (46m2) are of Ottoman-inspired luxury, this room offers incredible views of Palm Jumeirah and the sparkling sea beyond. With a private balcony, generous king sized bed and indulgent marble bathroom including exquisite Penhaligon's amenities, you can escape to an intimate haven of unmatched comfort.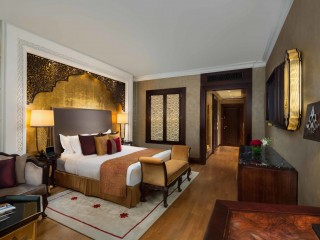 Deluxe Family Room
Deluxe Family Rooms (50 - 60m2) are designed with opulent Ottoman-inspired luxury, merging flexibility and privacy, the room features two bedrooms – a master bedroom with a king-sized bed and en-suite bathroom as well as a twin bedroom, with en-suite bathroom, a private balcony with panoramic views of the entire resort and sea views. exclusive Penhaligon's amenities and a welcome basket of fruits upon arrival.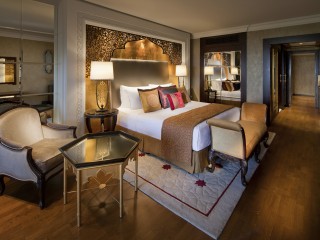 Grand Deluxe Family Room
Grand Deluxe Family Rooms (65 - 80m2) are luxuriously spacious and designed in opulent Ottoman-inspired style. The room features two bedrooms - a master king bedroom with en-suite bathroom and a second twin bedroom, also with en-suite bathroom, private balcony with incredible views over the shimmering waters of the Arabian Sea, exclusive Penhaligon's amenities and a complimentary basket of fruits upon arrival.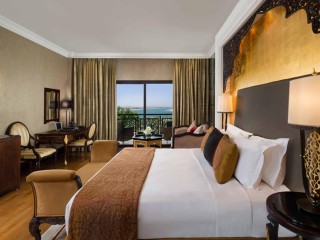 Club Room
Club Rooms (46m2) With sweeping views across the resort, the stunning Palm Jumeirah and breath-taking sea beyond, enter a world of opulent Ottoman-inspired luxury in the club rooms. Featuring a private balcony, king-sized bed, a stunning white-marble bathroom with exquisite Penhaligon's amenities and a welcome basket of seasonal fruits, while enjoying unparalleled service with exclusive Club Lounge access. Access to the Club Lounge from 07:00 to 00:00 daily, where guests can enjoy private check-in and check-out facilities, breakfast, afternoon tea, complimentary internet, transfer from the Dubai International Airport and a host of special privileges.
Excellent hotel and staff…
Date stayed: February 2019
Posted on: 28th February 2019
The hotel and staff in all areas whether in the restaurants, reception, arranging excursions, were excellent.
The cleanliness of all areas was obvious and very much appreciated.
Our accommodation was as expected and hoped for, suiting our family very well.
Very good balance of eateries, with Themed international buffet, Lebonese, North Indian, Turkish, Rib room and more casual in the pool/beach restaurant. (can't complain about portions).
You have be careful which type of holiday you require as this hotel is on the most distant section of the Palm, which makes for peace etc, but a 15 minute cab/drive to main land.
Great hotel…
Posted on: 4th April 2016
Great hotel, absolutely brilliant for kids even better than 2 years ago when we stayed there. Staff are lovely, get half or full board as otherwise it will be costly.
Had a fantastic time at this hotel…
Posted on: 15th March 2016
Had a fantastic time at this hotel, rooms were impeccable and staff were so kind. Great service and we will certainly be returning to this hotel again in the near future!