The unique Hotel Bouganville is set in centuries-old grounds by a stunning powder white beach. The resort features eight elegant hotels with faultless service and delicious restaurants that keep guests returning year on year.
The resort has a refreshing village-style layout which is a private park. The area allows guests to switch off from the world and feel totally relaxed. It is very easy to walk around with all the facilities only five minutes' walk from the main hotel reception.
To really get the most out of Forte Village in stunning Sardinia, we recommend staying in the bungalow-style rooms amid the verdant green grounds. Situated in the centre of the resort, adjacent to the Oasis pool complex, the four star Hotel Bouganville is excellent value for money. The entry-level property offers 133 traditionally built bungalows set in the shade of the tall palm trees. Mediterranean gardens nestle the round bungalows to create privacy for the guests. The bungalows were also completely refurbished in 2019.
The unspoilt beach has miles of pale sand, crystal clear waters, water sports and a PADI diving centre. In 2020 there will be a new bespoke beach concierge service with staff serving drinks to guests on the beach. If you want to chill-out during your Italian holiday you will be in heaven at the AcquaForte SPA, an open-air haven (with a retractable roof for use in the winter) with techniques based around six seawater pools at different temperatures and thalassotherapy therapies. There is also a Turkish bath, sauna and a health bar.
At the "Forte Village Sport Academy" you can enjoy countless sports with professional experts. Running a Tennis Academy that has access to 13 tennis courts. Rugby by Austin Healey and a Basketball Academy. Bike Academy, Swimming Academy and the Chelsea Soccer School are also available. The Dance Academy, Netball and Boxing Academy is also part of the indoor sports centre. Moreover, children can happily travel on bikes around the complex to meet up with their friends.
There is a Children's Wonderland with a pool, a special pink Barbie™ activity centre, and also a restaurant just for them. with a menu designed by Michelin Starred chef Rosanna Marziale and Mario's Village with miniature houses and its own cinema and diner. Leisure Land boasts eight bowling alleys, go karts and a disco. There is also an Aquapark with water slides, a pirate ship and water games.
In the evening (high season), there is fanatastic entertainment in the Piazza Luisa with live shows including bands, musicals and dance routines. The Forte Arena is an open air theatre adjacent to Forte Village with internationally acclaimed top artists and opera.
Winner of 'World's Leading Resort and Wellness Retreat' and 'Europe's Leading Luxury Family Beach' and 'Leading Luxury Family Resort' and 'Leading Sport Resort'.
We are Forte Village specialists so please call a member of our team to discuss your holiday requirements as we will be able to suggest the best option and give you much more information.
Facilities
Spa
Swimming Pool
Room Service
Water Sports
Interconnecting Rooms
Kid's Club
Evening Entertainment
Babysitting Service
PADI Dive Centre
Beach
Transfers
50 minutes by car from Cagliari (Elmas Airport).
Food & Drink
All guests have access to Forte Village Resort's 21 restaurants and 11 bars. The dedicated restaurant for breakfast for Bouganville guests is on the Oasis Terrace, or at an extra charge, at the Bellavista and Cavalieri Restaurants.
Half-board for guests at Hotel Bouganville includes dinner at the following restaurants: Pineta, Forte Grill, Sardinian, Brazilian and Hells Kitchen and the Ethnic restaurant (a themed restaurant that changes every year).
Guests can also eat at these following restaurants with a supplement (reservation required): Bellavista, Belvedere, Cavalieri, Le Dune, Da Rocco Iannone, La Terrazza San Domenico, Heinz Beck and The Cinnamon Club.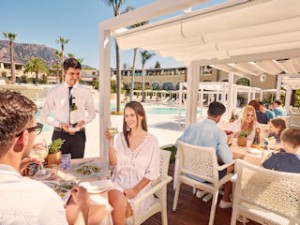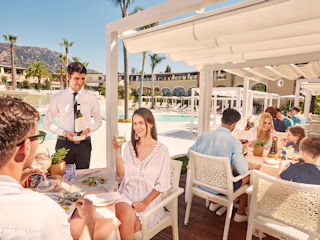 The dedicated restaurant for breakfast. Complementing the all day in-pool bar, at lunchtime there is a charming poolside terrace adjacent to Hell's Kitchen, which serves delicious sushi, burgers, sandwiches and salads.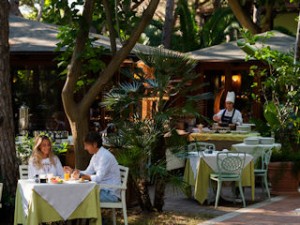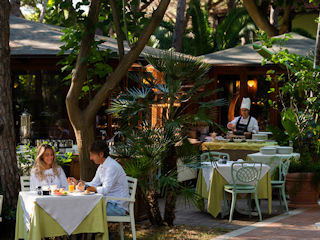 A deliciously varied buffet with a beautiful pine grove as its backdrop. The extensive menu is made even more special during theme nights - a chance to taste traditional dishes from around Italy. Mineral water and ½ bottle of house wine per person included. Open from the end of June to early September. (no reservation required)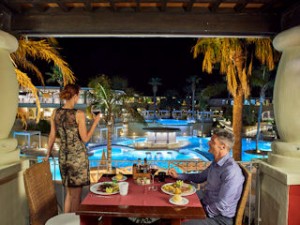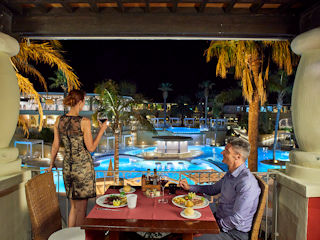 An exceptional variety of meat from Italy, Ireland and Australia, all cooked on the grill. Plus a wide range of starters and desserts, Located in the Oasis area. Opening time: 7:30pm to 11:00pm - July/August 7:30pm - 1:00am. (no reservation required)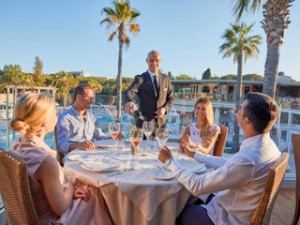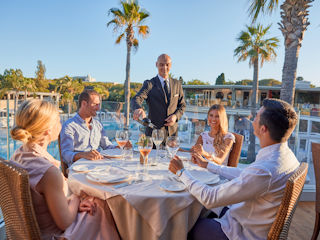 Sardinia boats one of the most varied and tasty cuisines in Italy, a melting pot of history and culture. Try local pasta dishes, meat, vegetables, cheeses, desserts and wines. Located on a terrace overlooking the Oasis pools. (reservation required)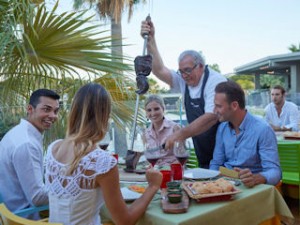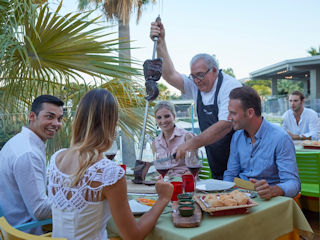 Delicious meat on long skewers grilled over charcoal or spit-roasted at this refreshingly relaxed restaurant. Located in the Oasis area, a fun place to enjoy. (reservation required)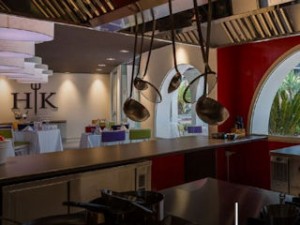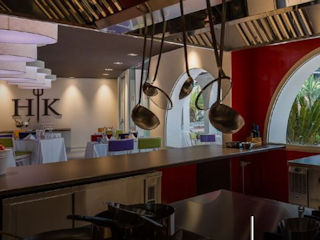 Exclusive to Forte Village, the first authentic Hell's Kitchen restaurant in the world. In addition to an evening a la carte menu, it serves sushi and gourmet burgers by the Oasis pool in the day. (reservation required)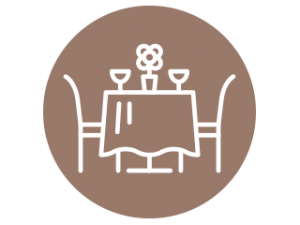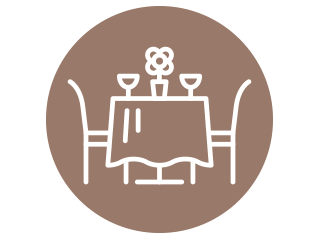 Located with views over the newly renovated Oasis pool area, the ethnic restaurant reflects the latest trends in cuisine. Open in July and August only. (reservation required)
Childcare
Forte Village Resort is a one of a kind resort with a vast amount of clubs and activities for children and teenagers.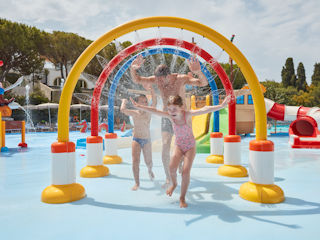 Children's Wonderland, Mario's Village, Aquapark
The resort has recently added to its children's facilities with Mario's Village, a special kids miniature village where they can role play. The village incorporates top children`s brands including a pink Barbie house (with a real life Barbie). Here you will find fantastic workshops/ labs, where children can model clay, cook a pizza, play an instrument, dance, learn English or Italian and, new this year, create their very own work of art on a huge canvas with artists from Art Event. Children`s Wonderland has three private pools right at the water's edge and there is also a children's restaurant with special menus and opening times. For the adventurous a new Aquapark with a choice of exciting water chutes and slides, a pirste ship and water games located at the Baia Delle Palme. All the staff at the Wonderland have been trained and certified by Worldwide Kids. Wonderland is open every day 09:00 to 12.30 and 15.00 to 18.00. It is free of charge.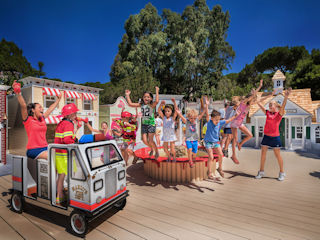 Kids' Club (Age 0-17 years)
Nursery (age 0-2 charge applies), complimentary Mini-Club (age 2-12), Children's Wonderland and U-Club for teens.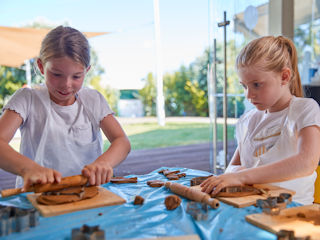 Nursery (Age 0-2 years)
The cost is 15.00 euros per hour. The same price as the cost of a baby sitter. Excellent and professional child-minding services are available at Children's City, including outside normal opening times. Pushchairs can be rented for around 10 Euro a day.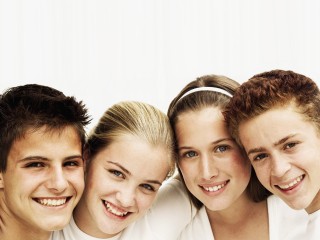 U-Club for Teenagers
The teen club is a fluid group that does different activities such as boat trips to caves, bowling and watersports with a team leader. Many activities are complimentary or at a reduced rates. Leisureland is also appealing for teenagers. It is situated in a private area, on the other side of the main road, it is connected to the resort thanks to an underground passage. It's the ideal place to go bowling or go-karting with friends, or dance the night away at the disco. New this year for teenagers Forte Village has launched a DJ and make -up academy.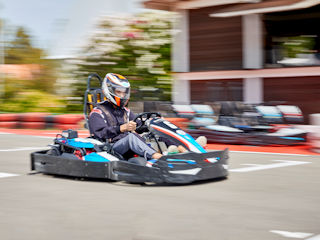 Go-Karts
A high-speed kilometre-long track with one bend after another, plus a real starting grid and podium. The go-kart track is our very own take on Formula 1. (Available day and night)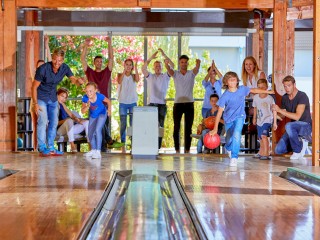 Bowling
The full-size 8-lane bowling alley is the perfect place for an afternoon or evening of fun. (Available day and night). In May, June and September it is open in the afternoon and evening, July and August morning and from 17:00 to 02.00.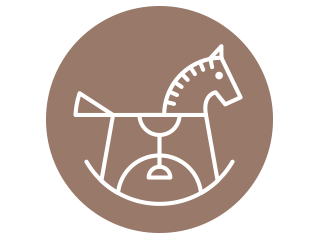 Disco Club
Our "Forte Fortissimo" club is one of summer's real hot spots, a chic, high energy venue and the heart of the resort's nightlife. Take to the floor every night and enjoy light shows and sounds from top DJs. (Only at night).
Sports Academies
At the "Forte Village Sport Academy" you can enjoy countless sports with professional experts including the Chelsea Soccer School, the Tennis Academy with 13 tennis courts, Rugby by Austin Healey and Will Greenwood, Netball and Hockey (by celebrity coaches), Basketball Academy, Go Kart Academy, Bike Academy, Swimming Academy, , Dance Academy and Boxing Academy. There's a state-of-the-art indoor sports centre with four dance rooms, a boxing gym and a table tennis gym.
Children can enjoy a week's daily lessons (a full sports kit is included for some academies) or a single one-to-one or group sessions with a professional instructor (it's a great way to meet friends). Sporting heroes run some of the academies. Academies are run during May and October half terms and peak summer months.
Sorry, there are no offers available for this hotel at the moment
Rooms
Set in beautiful mature gardens, Hotel Bouganville offers fantastic rooms ideal for families and couples. All rooms have air conditioning, broadband connection, bath or shower (some have both), outside telephone line, satellite TV, hairdryer, safe and minibar.
Deluxe Bungalow
The fully refurbished Deluxe Bungalows (24-30m²) offer a bedroom with double bed or twin beds (some rooms have a sofa bed). An additional bed can be provided as an alternative. The bathroom comes with a bathtub and separate shower. Deluxe Bungalows also have their own private garden and patio.
Deluxe Family Bungalow
The fully refurbished Deluxe Family Bungalows (35m²) are divided into two separate areas. On one side there is a double bedroom and bathroom with bathtub and shower. On the other, a living area with sofa which converts to two beds (replaceable with two single beds). Deluxe Family Bungalows also have their own private garden and patio.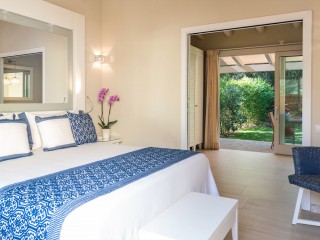 Deluxe Family Plus Bungalow
The fully refurbished Deluxe Family Plus Bungalows (44-49m²) offer two adjoining bedrooms. One room has a double bed or twin beds, with an additional bed available on request, and a bathroom with bathtub and shower. The second bedroom comes with two single beds arranged in an "L", and a bathroom with a shower. Both rooms have a separate patio and entrance.
Sorry, we couldn't find any reviews.