Located on one of the most beautiful beaches on the unspoilt Athos peninsula, these luxury self-contained villas (a member of Small Luxury Hotels of the World), are perched on top of lush green hills, with stunning sea and sunset views.
Villas are designed to a very superior specification and are inspired by traditional Greek design with a fresh, elegant feel. For the height of exclusivity, interiors boast expansive chic spaces, as well as private plunge pool heated to 26°C, outdoor terrace, Nespresso coffee machine and wine cooler. Accommodations range from the standard Junior Pool, the Ocean One Bedroom with two full marble bathrooms to the truly special Residential Two Bedroom Villas, which are bi-level and some of which have a private garden.
The beauty of the villas is you can enjoy the privacy of your own luxury plot but have all the extensive facilities of the resort at your fingertips, such as the award-winning spa, water sports centre, main pools, special kids area and shaded pool (all the pools are heated). The active or sporty can take advantage of a complete range of high-end activities from yoga, gym and tennis to Greek cultural lessons and sunset cruises.
Eagles Villas has a buffet restaurant, located in the main building, and a la carte Italian restaurant Eleonas. You can even arrange to have a private dinner on your terrace for special occasions.
Facilities
Spa
Swimming Pool
Gym
Water Sports
PADI Dive Centre
Kid's Club
Transfers
Eagles Villas is 90 minutes by car from Thessaloniki Airport.
Food & Drink
Eagles Villas offers six fantastic restaurants and five bars.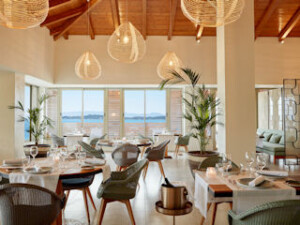 Follow the aromas of modern Mediterranean cuisine and a dollop of international flavours to Lofos, one of the buffet restaurants radiating a welcoming ambience from floor to ceiling, plate to palate. Lofos' live cooking section along with the wine tasting table and sea views stand ready to envelop you in gastronomic pleasures.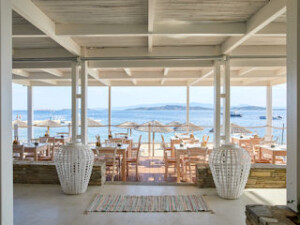 Feel the breeze of the sea and indulge in traditional Greek cuisine, especially the local seafood specialities stealing the spotlight in the evening, at the beach-side taverna, Armyra Restaurant. You can expect mouth-watering culinary delights from the region's purest ingredients and a view that will make you come back for more.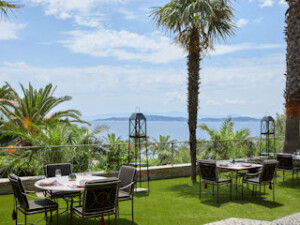 Set in a palm tree garden by the crystal-clear waters of the pool, the sea-facing Vinum Grill is a meat lover's dream come true. Featuring a state-of-the-art Josper grill, sink your teeth into mouth-watering prime cuts that will tempt your taste buds for lunch and dinner.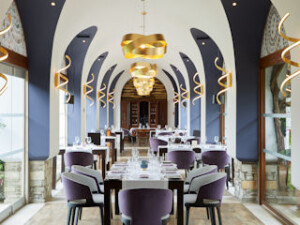 Kamares by Spondi is an epicurean dream where the dishes - conjured up by two-star Michelin chef Arnuad Bignon - are seasonally inspired and elaborate with bold modern flavours. This world-class restaurant is a treat for the senses, as it also serves unmatched views over the island of Ammouliani.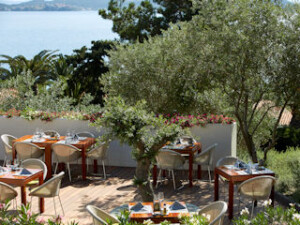 Embark on a flavoursome journey and dip your soul in authentic Italian cuisine at Eleonas by Fuga which overlooks the bay of Mouth Athos. Award-winner in the category of International High Gastronomy and European Cuisine in the FNL awards, our traditional pizza and fresh pasta will please even the finest palates.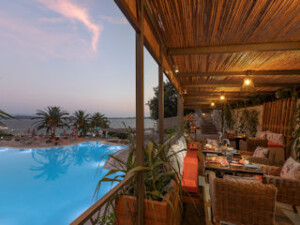 Taste Asia's authentic, spicy, and full of flavour dishes at Washi restaurant, located on a beautiful terrace above the hotel's swimming pool with magnificent sunset views.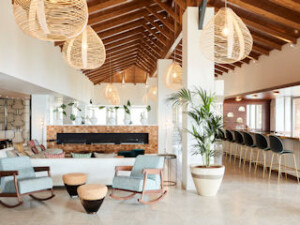 The Cabin Bar, with its chic décor inside and terrace seating area outside offering enthralling calming views of the entire Gulf of Mount Athos, is arguably the best spot for sundowners. With a cold one in had, take a seat and soak in the panoramic views.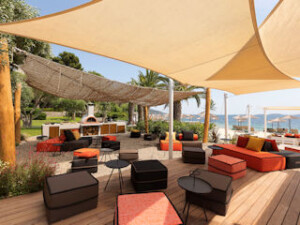 Sip on cocktails and enjoy the sight and sound of lapping waves in an ideal location. With a push of a button you don't even have to leave your sun lounger and a water will come over and take your order. In the evenings from 6pm, Ammos Beach Bar becomes a haven of entertainment with mixologists shaking things up while classic films take a nostalgic centre stage in he background.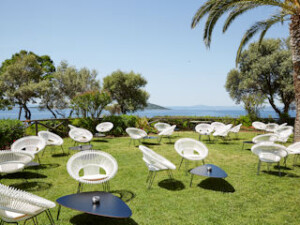 Dance the night away and bust your best moves to the rhythm of Eagles Club's live music. Gourmet finger food, refreshing flavoursome cocktails, and an all-round festive atmosphere is the cherry on top of the experience.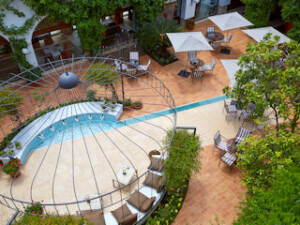 Eagles Café - with its great number of teas from around the world, coffee, freshly baked heavenly pastries, and desserts - offers unspeakable indulgence. Tear yourself away from the beach and enjoy a taste of paradise on the patio or in front of the fireplace.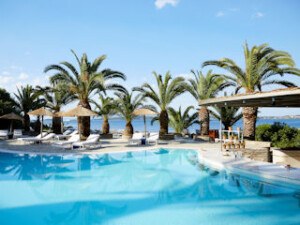 Quench your thirst at Armyra Pool Bar while you relax and rejuvenate mind, body and soul at the pool. It offers something for everyone with signature cocktails, a kids pool and an array of snackable options on the menu. Every evening, from 6pm, the bar puts its bubbly foot forward with champagne-based cocktails and fresh fruit.
Childcare
Eagles Villas is a renowned Halkidiki hotel with children facilities, programs, and activities to ensure a memorable stay for young and old. A family-orientated 5-star resort with a Kids Club, operated by childcare professionals, featuring both indoor and outdoor facilities, a kids pool, playground, a special water sports program and babysitting services for when you want some alone time as parents.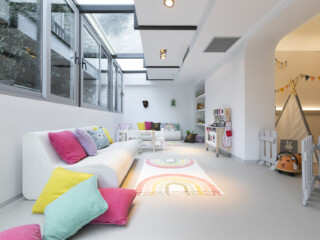 The Explorers Kids Club
The Explorers Kids Club is for children aged from 4 months to 11 years, offering dedicated, age themed activities, managed by qualified childcare experts. Children from 4 months to 4 years have a dedicated space in the hotel called The Nest, whilst those from 5 to 11 are based in The Shack, right on the beach. Each space has indoor and outdoor play areas, full with toys and games for every age. Freshly prepared meals, tailored to any special dietary requirements, are provided. Children are divided into 4 groups according to their age group. Children can be booked for full day or half day sessions.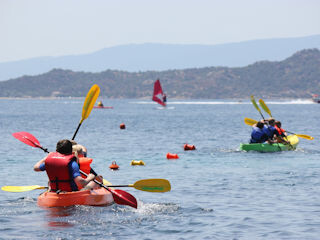 Aqua Explorers
A programme for children aged from 5 to 13. Children are divided in 2 groups, Juniors (5-7yrs) or Seniors *8-13yrs), depending on their experience and qualified instructors teach them the basics of a variety of water sports. Junior and Senior Groups run alongside each other, so that siblings can join the club together. Available for 3 days (Monday - Wednesday and Thursday - Saturday) or 6 days (Monday - Saturday), 3 hours per day.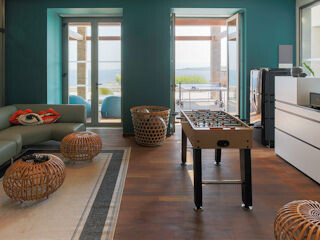 Teen Club
Created to suit the needs of teenagers, the Teen Club will provide a space that will serve as a gathering spot, ideal for socialising, making new friends and having fun. The Teen Club will be equipped with 2 Playstation 4 consoles, 2 TVs, a Bluetooth speaker where kids can play their own music, a vending machine with snacks and refreshments, a ping pong table, several retro arcade games, a pinball machine and darts.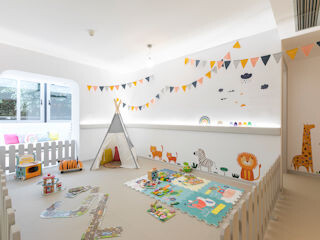 Babysitting
Babysitting can be provided for evening care at an additional charge.
Sorry, there are no offers available for this hotel at the moment
Rooms
Eagles Villas has 42 villas to choose from.
Sorry, we couldn't find any reviews.