This trendy hotel, part of the Domes Resorts portfolio and sister property to Domes of Elounda in Crete, is situated on a private beach on the island's North-West coast just a few miles from the Chania's cultural old town and ancient Venetian port. 
The theme of this fresh-styled boutique resort is earthy and peaceful with rooms offering a distinctly tropical aesthetic. Designed to enjoy the tranquil atmosphere of authentic Greece with a chilled vibe centred around the sea-facing pool, the property is themed around ef zeen, a classic Greek term meaning wellbeing.
We highly recommend the upscale Haute Living Selection 'hotel within a hotel' section of the resort which offers gorgeous accommodation great for families, with a range of added value services such as dedicated 24-hour concierge service, premium room amenities and access to the exclusive lounge where you can enjoy all day hot and cold snacks and drinks. These rooms also offer a complimentary upgrade to the Dine Around Half Board programme (á la carte). The collection of Grand Pavilions, Pavilion Suites and Pavilion Retreats, are the key product of the Haute Living Selection. Elegant, spacious and private, these one or two-bedroom suites and open plan retreats come with private pools or/and outdoor Jacuzzis and private gardens. The waterfront Pavilions are only located a couple of steps from the sea and offer spectacular uninterrupted views and the ultimate in luxury.
The pebbly beach, which is right in front of the hotel, provides the landscape for water sports such as water bikes, SUP, and canoeing. The Kids' Club (operated under British OFSTED standards) offers bespoke supervised activities such as cooking classes or sleepovers in a Bedouin inspired teepee whilst the beach house kitchen offers a variety of fresh and healthy dishes for children, infused with local Cretan ingredients. The beachfront, jungle spa extends to visitors all manner of divine treatments. There are two restaurants on site, the Beach House Restaurant with its local produce and Enino Gastronomy Restaurant with its Mediterranean dishes in a six-course degustation-style dinner, accompanied by local and fine wines.
The hotel offers a classic range of island experience in the hotel and the wider area including cookery and ceramics classes, wine tastings and coastal hikes to Core theme nights and open-air cinema.
Named 2020 Winner in the Ahead Awards as 'Best Resort of the Year'.
Due to relevant health and safety protocols, services may vary from those advertised. Protocols are frequently amended as per WHO, Greek State and Marriott International guidelines. Guests are advised to read the relevant Domes New Normality protocol prior to booking and departure.
Facilities
Adult Only pool
Beach
Children's Club
Gym
Kids' club
Pool
Spa
Water Sports
Transfers
30 minutes by car from Chania International Airport.
Food & Drink
Domes Zeen Chania offers two fantastic restaurants and one bar.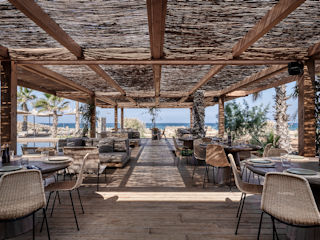 Beach House Restaurant
Serving breakfast, lunch and dinner from morning till late, this is the spot of summer sustenance enjoyed while you marvel at the striking views of the Aegean Sea. Flavoursome surprises courtesy of talents chefs pack local, organic produce - treats aplenty to impress every preference and dietary requirement.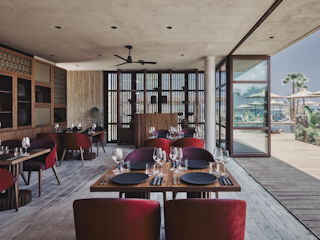 Enino Gastronomy Restaurant
Newly arrived in 2020 is the wine themed fine-dining menu, served against a backdrop of remarkable seascapes. Enjoy creative Greek, Cretan and Mediterranean fare with a twist from the hands of expert chefs whose attention to detail will take your breath away.
*Please note due to COVID-19 Enino won't be operating temporarily.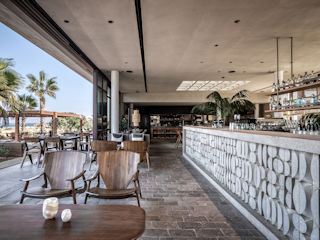 Beach House Bar
Your favourite poolside spot to wind down in the sunshine and enjoy a fragrant coffee, signature cocktail, glass of exquisite wine or something else from an enticing menu.
Childcare
Domes Zeen Chania offers a Kids Club and babysitting. All Domes Resorts kids clubs will operate under strict British OFSTED standards.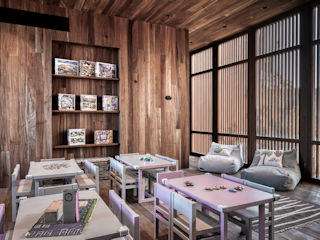 Kids Club
Under the watchful eye of a highly creative and fully qualified team, the Kids Club offers a fun and unique space for kids perfect for them to let loose, make new friends and spend endless hours of play. There are play areas, a pool, educational play activities and on-site open kitchen for food and drinks.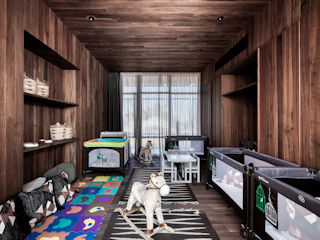 Babysitting
Domes Zeen Chania offers babysitting at an additional charge.
Prices:
1 child per hour - 24 euros
2 children per hour - 29 euros
3 children per hour - 34 euros
20% Early Booking Discount
Valid for stays between 09Apr22-31Oct22
For reservations made between 01Jan22-31Jan22
N.B. 50% Pre-Payment is due to the hotel by 15Feb22
Rate Code: 20%
15% Early Booking Discount
Valid for stay between 09Apr22-31Oct22
For reservations confirmed between 01Feb22-28Feb22
N.B. 50% Pre-Payment is due to the hotel by 15Mar22
Rate Code: 15%
25% Early Booking Discount
Valid for stays between 09Apr22-31Oct22
For reservations confirmed by 31Dec21
N.B. 50% Pre-Payment is due to the hotel by 15Jan22
Rate Code: 25%
Rooms
Domes Zeen Chania offers 102 rooms to choose from.
Sorry, we couldn't find any reviews.