This secluded hotel attracts a well-heeled crowd who like it intimate and private. The modern, stylish suites and villas (all with Jacuzzi or private plunge pool) at Domes of Elounda offer an abundance of living space set in carefully designed landscaped gardens with breath-taking views of the UNESCO protected Spinalonga Islet.
There are three pools (one of which is heated) and the only natural sandy beach in Elounda lined by olive trees and trendy wooden decking.
There is a mix of cultural and sporty activities on offer from tennis and biking excursions to aqua yoga and day trips to Spinalonga or Knossos. You could lose yourself for days in the zen-like spa with its dark metallic décor and treatments combining Greece's ancient methods with the latest techniques, while cinema nights, food festivals and workshops will make your holiday truly memorable.
There's an innovative 40,000m² green space called The Core which offers festivals and pop-up events which change weekly such as open-air cinema nights and features different lifestyle areas including shopping kiosks and gourmet street-food trucks (changeable weekly). The Kid's Club is located in this area and boasts an eco-playground and wellness sections, all with a focus on the outdoors.
There is a variety of dining options on offer, with four delectable restaurants to choose from including traditional Greek and fusion as well as theme nights such as fish barbecue nights at their signature seafood restaurant TOPOS or a progressive adult-only menu showcasing some of the innovative dishes from Crete. At night the resort's live music bar comes alive with a mix of cool beats and jazz under the starry sky.
All Domes Suites, Domes Lobby, Grand Dome Bar and Tholos Restaurant as of season 2020, have been fully renovated. For those staying in Family Suites, Residences and Villas there are some special highlights such as one complimentary kids snack and daily ice cream happy hour by the pool bar and mini bathrobes and slippers. All Domes Resorts kids clubs will operate under strict British OFSTED standards. For couples or larger groups that prefer total privacy there are four über-luxe villas set high above the resort (with fully equipped kitchens), and a number of residences (two, three and four-bedroomed). The fully renovated Suites and Residences, the newly built Core Residences and the Luxury Villas feature the exclusive "Haute Living Selection", a boutique hotel within a hotel vision that showcases world-class accommodation with a range of added value services (Suites – Half Board included/ Villas & Residences – Dine Around Included as well as access to the Haute Living Lounge offering complimentary snacks, beverages and specific drinks throughout the day).
Due to relevant health and safety protocols, services may vary from those advertised. Protocols are frequently amended as per WHO, Greek State and Marriott International guidelines. Guests are advised to read the relevant Domes New Normality protocol prior to booking and departure.
Facilities
Swimming Pool
Gym
Room Service
Beach
Kid's Club
Sauna
Transfers
The Domes of Elounda hotel is 75 kms / approximately 1 hour by car from Heraklion Airport.
Food & Drink
Domes of Elounda has four wonderfully contrasting restaurants to choose from, and a handful of bars to unwind in.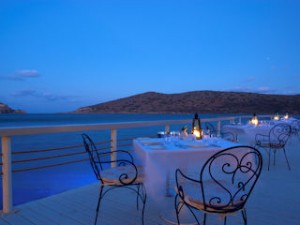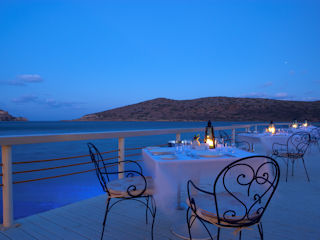 Topos is Domes' award-winning Greek Sea Food restaurant. Located in the seafront and under a lush olive grove, this Greek á la carte restaurant amazes with its fresh seafood. Offering stunning Spinalonga views, its Greek tavern setting can be enjoyed day and night.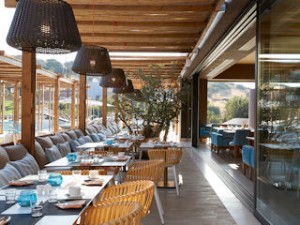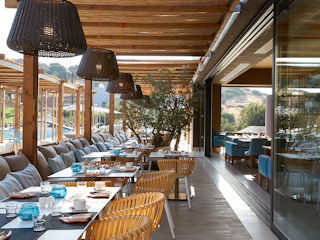 Newly updated with a brand new, bold focus in 2020, Blend Steakhouse is the resort's sleek upmarket restaurant. Located by the pool, Blend elevates the art of sourcing extraordinary cuts of meat from local farms as well as hand-picked locations from all over the globe, cooking them to perfection.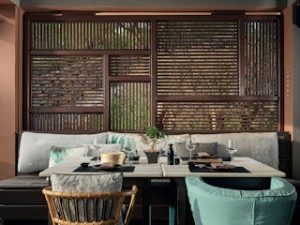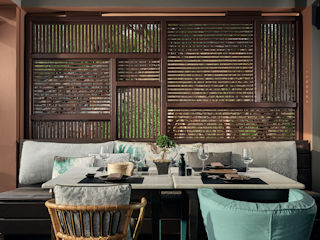 Translating to fortress in Chinese, and we feel the hotel couldn't have picked a more suitable name for their premier Asian restaurant, Yaosai, which offers unobstructed views to Spinalonga. This cosy, intimate restaurant offers Asian-Peruvian fusion cuisine.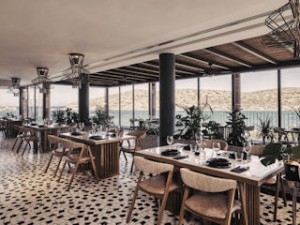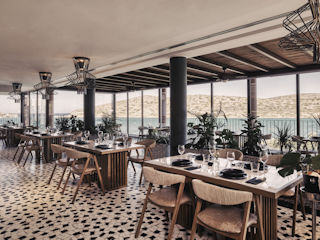 Located in the main building, Tholos offers Greek and Mediterranean cuisine, with an elegant design and magnificent sea views to Spinalonga and the Gulf of Mirabello. Tholos is our main buffet restaurant where breakfast and half board dinner are served.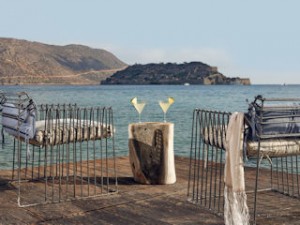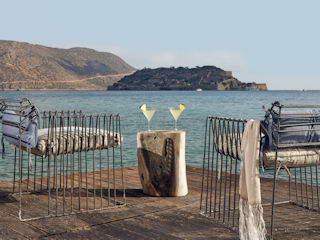 Breeze All Day Beach Lounge
On the private beach, Breeze All Day Beach Lounge is the place to be. An utterly relaxing and tranquil source of replenishment, it's your go-to seaside venue for an aromatic cup of coffee, iced cocktail, beer or juice.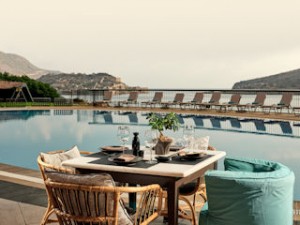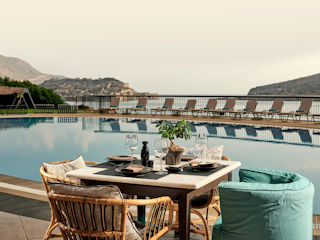 The elegant Yaosai Pool Bar sits right on the edge of the main pool so you can pick your spot in the sun, laze around and sip a drink or refreshment of your choice. Try the signature cocktails too which have been created by expert mixologists.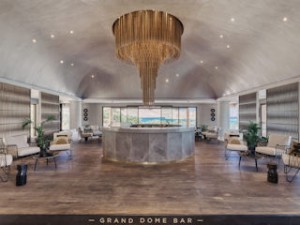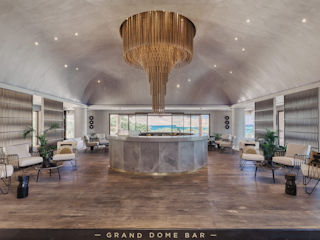 Open from morning to midnight, the Grand Domes Lobby Bar is elegant and memorable, pairing a classic luxe setting with perfectly mixed cocktails, premium spirits and more. It remains a firm favourite in Elounda nightlife.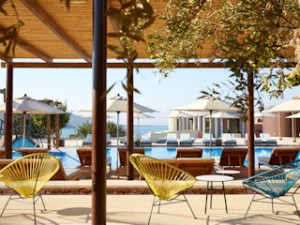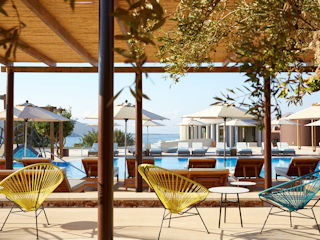 The most elite place to enjoy a drink is the Domes Plaza Bar Pool near the Luxury Residences. Open from morning to evening, it will serve you chilled champagne under the bright Greek sun as well as diverse options in beverages, drinks and snacks.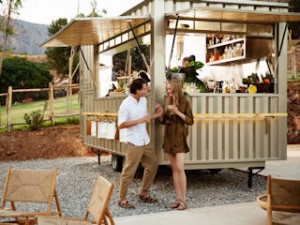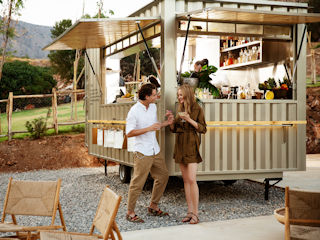 The signature CORE concept at Domes of Elounda also offers tantalising foodie treats, with selections including everything from ice cream and waffles to cooked-to-order international street food. Dishes vary from season to season, to make the best of nature's treasures.
Childcare
Children will love the sandy beach as well as the age-appropriate activities on offer at KiEpos kids` club (age 4 - 12 years). It's really popular so try to book in advance. There's also a crèche (payable locally), cool teens' games room, a playground and an open-air theatre for summer entertainment. All Domes Resorts kids clubs will operate under strict British OFSTED standards.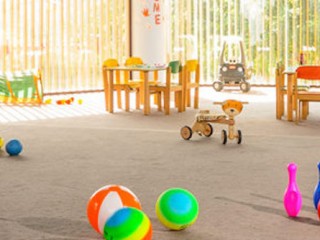 KiEpos
KiEpos Kids' Club is complimentary (age 4 - 12 years), and it is open between 10:00 – 13:00 and 15:00 to 18:00 – every day excluding Sundays.
Younger children can be catered for at the crèche (age 4 months - 4 years), cared for by qualified childcare staff. open between 10:00 – 13:00 and 15:00 to 18:00 (except Sundays) with evening babysitting available on request.
Domes Family Plaza with a shaded children's pool and cooling fountains.
The Domes Family Plaza with a shaded children's pool, cooling fountains and a Teens Club. Babysitting available on request.
Valid for stays between 05May22-14Jul22, 12Sep22-22Sep22, 04Oct22-14Oct22
For reservations confirmed by 30Jun22

Rate Code: 5%
10% Additional Booking Discount
Valid for stays between 03Jun22-31Oct22
For reservations confirmed by 30Jun22
Valid In : Core One Bedroom Residence

Rate Code: 10%
Rooms
The Domes of Elounda Hotel has 78 suites and 40 villas/residences to choose from.
As soon as we arrived I knew I could relax and enjoy the views!
Posted on: 23rd September 2021
I just wanted to let you know that we have safely returned from Domes of Elounda in Crete and we had an amazing time. The weather was fantastic and not a cloud in the sky. As soon as we arrived I knew I could relax and enjoy the views! It was stunning.  Kids loved every minute and they didn't want to go back home. I'm sure we will visit Crete again in the near future.
Loved this place…
Loved this place. It was great to be able to let the kids wander round knowing they'd be safe and the staff are looking out for them. Nothing is too much trouble – whatever you need the staff will sort. Any problems and they are sorted almost instantly. The villa was amazing. Having our own pool was great for us all. The pool at the villa was a great size so we only went to the resort pool once. The garden was also a beautiful sun trap so even though it was windy on some days we were sheltered. We would definitely go back and I would definitely recommend it!
We really enjoyed our recent holiday to Domes of Elounda…
Posted on: 15th August 2017
We really enjoyed our recent holiday to Domes of Elounda. The villa was fantastic with a much larger pool than expected and an excellent location near the family pool and kids club. Restaurants were good – I would highly recommend booking in advance during high season. Kids club is good if you have children who are under 6 and happy to do inside games & art. Fantastic option in the evenings to leave the kids in the club for a movie/disco/magic show whilst we had dinner. Our girls (6 and 4) loved the mornings and evenings in the kids club. The staff are very friendly and helpful with a relaxed manner. Overall we loved it and will certainly be returning next year.
Very good accommodation with excellent facilities…
Date stayed: October 2016
Posted on: 8th November 2016
Very good accommodation with excellent facilities for a party which included 4 adults and 2 young children. From the moment we arrived until we left the staff were friendly and helpful always willing to go that extra bit to provide us with anything we needed. There was plenty to occupy the children and with the good weather for the majority of our stay they were kept entertained. The onsite restaurants provide a good choice of quality food.