Domes of Corfu is a new beachfront resort, surrounded by forest and sea and sporting trendy accommodations in natural hues. It is desirably positioned only steps from Glyfada beach, one of the best stretches of sand on the island. It is only a 25-minute drive to Corfu's old town with its historic Old Fortress, pretty little winding streets and charming restaurants.
Domes of Corfu, part of the top-end Autograph Collection and the Domes Resorts portfolio, is nestled in between thick pine forests in a wild and natural location. The hotel's tropical-styled rooms and suites are imbued with a sense of calm and are fantastic value. They are decorated in warm and dark earthy tones and enhanced by sustainable natural materials, such as wood, stone and metal. All suites includes a private veranda or patio, and Sapphire rooms or suites have sea views. Families who want a separate sleeping area for children and luxury should opt for the Tropical Sublime Family Suite, which has sliding doors. The Horizon Family Retreat are more economical but these only have a blackout curtain separator.
We would highly recommend the upscale Haute Living Selection whereby you opt for a superior room category that enjoys a range of added value services such as dedicated 24-hour concierge service, premium room amenities and access to the exclusive lounge where you can enjoy all day hot and cold snacks and drinks. These suites also offer a complimentary upgrade to the Dine Around Half Board programme.
The resort has direct access to a secluded, golden sand 100m natural beach. Water sports such as water bikes, SUP, canoe are all available (by an external company). In resort, there are designated spaces for families and adults only, including separate swimming pools, a creche, Kids' Club and teens' zone. All Domes Resorts kids clubs will operate under strict British OFSTED standards. The Core is the innovative large green open-air space where there are food trucks, deli stalls, pop up shops and boutiques (open three times a week). Foodies will enjoy the street food and the little ones will not be able to get enough of the ice cream and waffle bar.
Three appealing restaurants serve Greek cuisine with Italian fusion, an outdoor AGORA theme night buffet and seafood at Topos and the hotel hosts special wine tasting evenings and seasonal gastronomy workshops.
The fantastic concierge at the hotel offers a range of experiences in the hotel and the wider area which include walking tours of the old town, traditional boat trips, olive oil and wine tasting, CORE theme nights and open-air cinema (seasonal). Guests can also relax and rejuvenate at the Soma Spa (Elemis Partnership) which offers a full-service menu of massages and treatments.
Due to relevant health and safety protocols, services may vary from those advertised. Protocols are frequently amended as per WHO, Greek State and Marriott International guidelines. Guests are advised to read the relevant Domes New Normality protocol prior to booking and departure.
Facilities
Spa
Kid's Club
Adults Only Pool
Swimming Pool
Transfers
25 minutes by car from Corfu Airport
Food & Drink
Domes of Corfu offers three restaurants and four bars.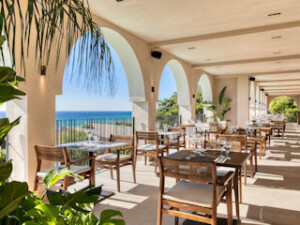 Serving breakfast, lunch and dinner from morning till late. Flavoursome surprises courtesy of talented chefs pack local, organic produce.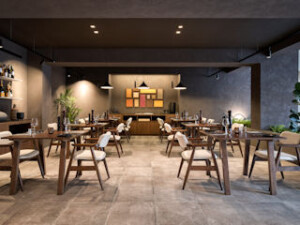 This fine-dining restaurant shows us the great Italian influence that Corfu Island had during the Venetian rule. This iconic space will offer to guests the opportunity to taste the original Italian gastronomy via adopted Grecian recipes and live-action with a chef's table facing a bustling open kitchen and robust selection of local and international wines by a connecting wine cellar.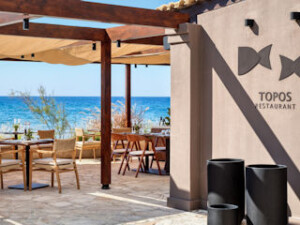 Greek coastal towns most often have picturesque places where fresh regionally-sourced seafood is served and are usually known locally as 'psaro-tavernas'. At the best possible location of the hotel, on the seashore, with stunning views, you will enjoy Mediterranean tradition and a unique dining experience.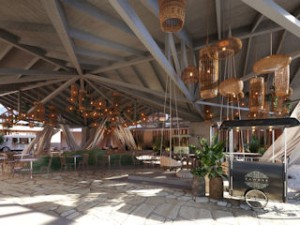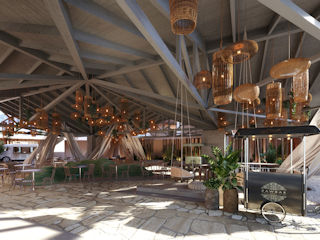 Spianada will host food trucks for gourmet street food dining, providing a distinctive setting focused on open social life, featuring meze/local bites and organically farmed produce in simple, tasteful presentations. Just like a traditional Greek square, here guests will meet and share experiences around food at monastic tables and lounge seating for a dinner to remember (seasonal).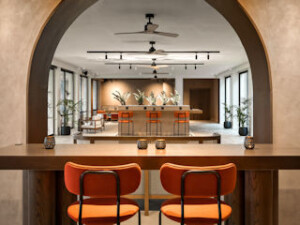 Branded liquors and signature cocktails are available and it is also the place to gather and play after dinner with friends in an inviting ambience with nightly music programming.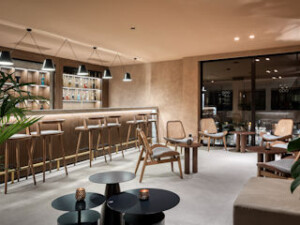 Domes of Corfu welcomes guests at the Lobby Bar with special drinks and snacks both infused with local flair, to express gratitude to guests for them to experience the essence of Corfu as soon as they arrive.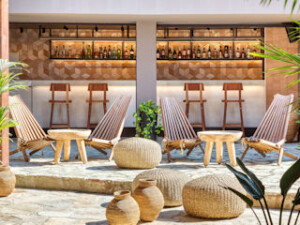 Your favourite poolside spot to wind down in the sunshine and enjoy a fragrant coffee, signature cocktail, glass of exquisite wine or something else from an enticing menu. This resort has one of the best beaches in Corfu and they want to complement the beachside experience for guests with a unique bar right on the beach, sporting an open air multi-sided bar, expansive views and awe-inspiring sunsets. Here you will treat yourself to all-day gastronomic offerings, top-notch service, innovative craft cocktails and sundowners.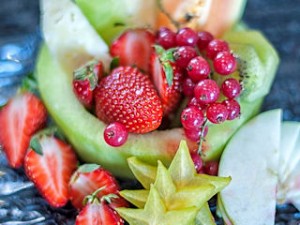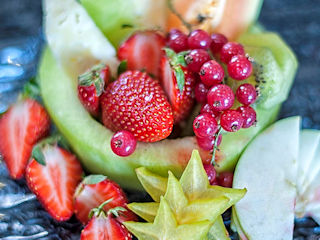 A vitamin-packed juice bar for a health-conscious statement. Its location, of course, the hotel's wellness area to complete the wellbeing experience of guests and receive a full 'ef zeen' spectrum.
Childcare
Domes of Corfu offers Domesland: Domes kid's culture which includes Creche, Kids Club (Montessori hands-on approach, expert staff, teepees), special well thought Tween and & Teens Clubs with age-appropriate activities and family activities for bonding. All Domes Resorts kids clubs will operate under strict British OFSTED standards.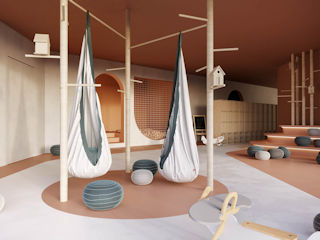 Kids Club
Under the watchful eye of a highly creative and fully qualified team, the Kids Club offers a fun and unique space for kids perfect for them to let loose, make new friends and spend endless hours of play. There are play areas, a pool, educational play activities and on-site open kitchen for food and drinks.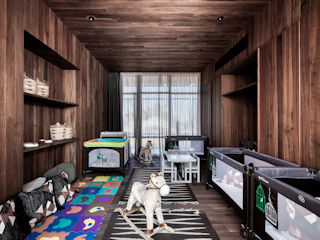 Babysitting
Domes of Corfu offers babysitting at an additional charge.
Prices:
1 child per hour - 24 euros
2 children per hour - 29 euros
3 children per hour - 34 euros
Valid for stays between 22Sep22-31Oct22
For reservations confirmed by 30Jun22

Rate Code: 5%
Rooms
Domes of Corfu offers 214 rooms to choose from.
Sorry, we couldn't find any reviews.