Set on its own beach, Dar Al Masyaf is an authentic recreation of ancient Arabia. The resort is  dramatic featuring lush gardens, a superb two kilometre stretch of private unspoiled beach. Traditional boats are used for the transportation of guests with meandering waterways.
The Dar Al Masyaf, joined with the Madinat Jumeirah Resort, boasts five exquisite accommodations, including three grand hotels, two distinctive complexes of summer houses and royal villas.
The luxurious Jumeirah Al Naseem hotel has a fresh, contemporary design. In comparison the Jumeirah Al Qasr and Jumeirah Mina A' Salam hotels have a distinctive boutique feel.  There are also 29 very exclusive summer houses to choose from at the Jumeirah Dar Al Masyaf. However, those looking for a more regal experience, the seven Jumeirah Malakiya Villas are palatial and spacious. They also come with a 24-hour butler service.
Jumeirah Dar Al Masyaf sits comfortably within tranquil gardens, exquisite waterways and exclusive pools. The resort is also just steps from Madinat Jumeirah's private beach – the longest private beach in Dubai. The Intimate summerhouses and elegant guestrooms are also dotted around the resort. Moreover there is a personalised and generous butler service. The service is an understated Arabian luxury experience and an exquisitely designed hideaway.
Within Madinat Jumeirah there is a huge choice of facilities available including an excellent Kid's Club, complimentary access to the Wild Wadi Waterpark next door, world-class golf and the award-winning Talise spa.
If you're looking to take advantage of tax-free shopping during your Dubai break, the resort has a traditional souk with 80 boutique shops and the Mall of the Emirates is less than five minutes by car.
Of an evening, you can enjoy the on-site Madinat Theatre, replete with toe-tapping musicals, side-splitting stand-up comedy and breathtaking ballet. The resort also boasts more than 50 first-class restaurants, bars and lounges, and you can even dine in adjacent Burj Al Arab or Jumeirah Beach Hotel.
If you're feeling energetic, you can enjoy the health club which features a fully equipped gym, 25m indoor lap pool and squash courts or head to the beach to try the resort's water sports, including windsurfing, sailing and scuba diving (extra cost). The PBI Tennis Centre offers five floodlit hard courts and a variety of tennis programmes for adults and children.
283 luxury rooms and suites or 29 summer houses with exclusive pools
Facilities
Spa
Swimming Pool
Gym
Room Service
Water Sports
Beach
Babysitting Service
Kid's Club
Water Park
Transfers
Dar Al Masyaf, Madinat Jumeirah is 30 minutes from Dubai International Airport.
Food & Drink
There are 44 restaurants and bars within Madinat Jumeirah.
Signature Dining
Magnolia – International
MJ's – Steakhouse
Pai Thai – Authentic Thai Cuisine
Pierchic - Award winning seafood restaurant
Segreto – Italian, Mediterranean
Zheng He's – Asian
Casual Dining
Al Hambra – Spanish
Al Muna – International
Al Samar Lounge -Sandwiches, cakes and light fare
Arboretum – International
A`Rukn- Cafe
Bahri Bar - Light snacks
Barzar- Light Snacks & Drinks
Centimetro-Italian
Honyaki – Japanese
Khaymat A Bahar – International/Arabic
Koubba- Light Fare
Rivington Grill – British
Shimmers – International
Shoo Fee Ma Fee – Moroccan
The Agency- International
The Wharf – English
Toscana – Italian
Noodle House – Asian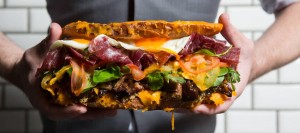 The Hide brings a modern twist to the Dubai culinary scene with a fresh take on American cuisine. The concept has been inspired by the coolest meateries in gastronomic capitals such as New York, Chicago and Los Angeles.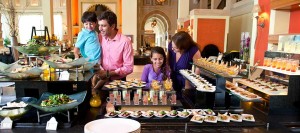 Arboretum is not only an ambassador for Arabian dining culture and cuisine, but also a hub of international food. The environment is airy, well-lit and spacious.
You can dine al fresco on the terrace and enjoy spectacular views of the sea, or enjoy your meal inside, under the ornate ceiling with its iconic palm columns. Also drop by for
an exquisite brunch on Fridays, one of the best in the city.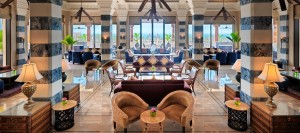 The tradition of afternoon tea is raised to an art form at Al Fayrooz Lounge with its Arabesque charm and ambience. Sit back and enjoy your tea and desserts as you marvel at the views of the winding waterways and the Arabian Gulf.
Childcare
Children are welcome at Dar Al Masyaf. Babysitting is also available on request.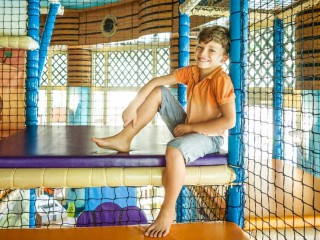 Sinbad's Kids Club
Complimentary Kids' Club (age 4-12 years). Whether it's splashing around, experiencing the Atomic Rush, face painting, playing sports, watching movies or doing crafts, your kids will have the time of their lives at Sinbad's Kids Club. There are over 1,000m2 of play areas and pools.
Open daily - 08:00 to 19:00
Sorry, there are no offers available for this hotel at the moment
Rooms
The Dar Al Masyaf, Madinat Jumeirah has 283 luxury rooms and suites or 29 summer houses with exclusive pools to choose from.
Fantastic Hotel, great facilities…
Date stayed: December 2017
Posted on: 23rd December 2017
Fantastic Hotel, great facilities, Great that you can eat in all the Jumeriah restaurants with the HB supplement. Perfect for children.
Would definitely return again. Christmas was the perfect time. Not too hot and still very festive.
Very, very good…
Posted on: 24th April 2015
On whole very, very good. Wonderful food, service and weather. Only two minor complaints – the first couple of days we were left waiting for buggies to take us to breakfast for close to 30 minutes and finally the hairdryer they provide which is attached to the draw in the desk is no where near a mirror – quite essential for a woman. Otherwise, very pleasant stay. The kids loved it.