This James Bond style über-contemporary resort rises out of the rocks all stunning glass walls and clean lines in a blindingly blue bay. Slick, stylish rooms and villas at Daios Cove cling to the side of the steep cliffs around the private cove and beach, providing a breathtaking view from wherever you look.
All rooms feature the very latest technology and lavish, marble-lined bathrooms. Deluxe Sea View rooms come with spacious balconies and some have their own individual sea water pool (or similar).
Villas are really special and include additional benefits from the new concept Premium All-Inclusive (complimentary to Suites & Villas) such as á la carte meals and cocktails, mini-bar (available on a daily basis) and 24-hour room service. Special touches such as unlimited ice-cream and healthy drinks at the beach and pool bar for children are also on offer. If you are staying in a Villa there is a specially reserved beach area with waiter service, dedicated concierge and breakfast in the exclusive Ocean Restaurant.
The private sandy beach has an excellent water sports centre, one of the best on the island of Crete. There is plenty to keep you busy with numerous sports and activities including paddle boarding, canoeing, and scuba diving, tailor-made island excursions including a Land Rover tour of the island or the option to take a catamaran out for the day. To help you get around a funicular lift glides up and down the centre of the resort.
Restaurants include the new open-air Beach House built into a nearby cove, a fine dining option, a traditional Greek taverna and Pangea, the main buffet restaurant. In the evenings there's a cool programme of DJ nights, live events and traditional Mediterranean and Cretan music under the stars.
The 2500m² spa in partnership with GOCO spa, leaders in their field, is state-of-the-art. It features an indoor pool with floor to ceiling windows, two exclusive spa suites, a Finnish sauna, a cutting-edge gym and a fitness studio.
Children will be taken care of in the comprehensive crèche and Kids' Club.
Facilities
Babysitting Room service
Beach Club/Restaurant
Beachfront WiFi
Children's Club
Evening Entertainment
Fitness Centre
Gym
Indoor pool Swimming pools
Interconnecting Rooms
Scuba diving
Spa
Swimming pool
Tennis
Water Sports
Transfers
Daios Coves is 50 minutes by car from Heraklion Airport.
Food & Drink
Daios Coves has three restaurants and three bars (some seasonal) serving a tasty mix of Greek cuisine, international dishes and snacks. Private candlelit dinners can also be arranged in rooms, villas or under the stars.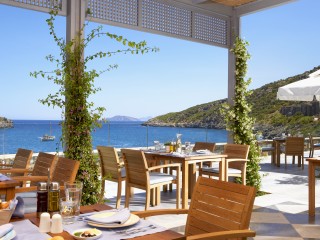 Taverna
A Greek à la carte venue overlooking the cove which has a special ambience, particularly at night. Taverna serves superb local specialties with a selection of Greek and international wines. Fish is a must-taste dish here with a fresh catch arriving every day by kaiki boat, destined for your plate.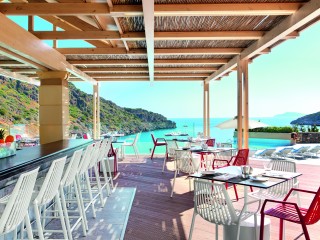 Ocean Bar
Guests who want refreshments without interrupting their swim are able to enjoy drinks and snacks without even leaving the pool.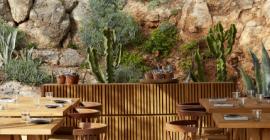 The Beach House
Refined yet unpretentious, The Beach House sits on an isolated coastal cove serving locally sourced ingredients with the flavours reminiscent of the Mediterranean and the Orient.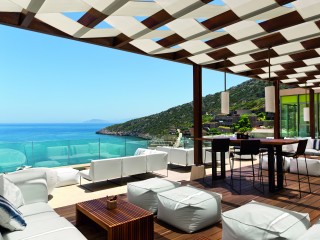 Crystal Box
At night, the cool, chic and contemporary Crystal Box shakes a mean cocktail with chill-out music. As its name suggests, the Crystal Box features vast windows which present spectacular views across the bay. A drink in the open-air, glass-walled Crystal Box bar is unmissable.
Childcare
Daios Cove has a range of services and facilities to keep adults and children happy during your stay.
Facilities include: Special children's menus, 24 hour medical care, High chairs at all restaurants, Well-equipped with toys for indoor and outdoor activities, Toys and equipment comply with European safety standards, Kids' friendly beach, Babysitting is also available on request (reservation required).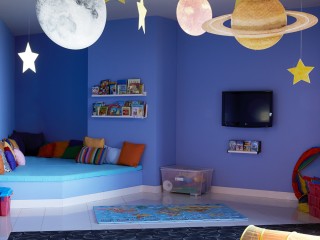 Crèche
Available to children aged four months - four years and managed by qualified nursery staff according to the UK standards and regulation.
Includes special children's menus, baby listening, bottle warmer/steriliser, kettle, baby bath/changer, high chair, stroller, toilet seat, baby potty, food set, stool for the wash basin, pool fence, stair gate, children's welcome gift. Well-equipped with toys for indoor and outdoor play.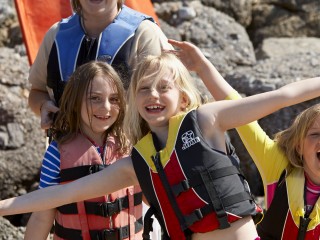 Children's Club
Available for ages four to 11-year-olds,
Facilities include:
- Children outdoor playground
- Pool games in hotel's children's pool
- Programme of activities inside and outside.
35% Booking Discount
Valid for stays between 01Jun19-30Jun19, 01Sep19-03Nov19
For reservations confirmed by 24Jun19
Minimum Stay : 05 Nights
Valid In : All Rooms
N.B. Full payment due by 27Jun19
Rate Code: 35%(1)
30% Booking Discount
Valid for stays between 01Jun19-30Jun19, 01Sep19-03Nov19
For reservations confirmed by 24Jun19
Minimum Stay : 05 Nights
Valid In : Suites & Villas
N.B. Full payment due by 27Jun19
Rate Code: 30%(2)
Complimentary Heated Pool (Villas)
Pools heated up to 25 Celcius
15% Booking Discount
Valid for stays between 01Jul19-31Aug19
For reservations confirmed by 24Jun19
Minimum Stay : 05 Nights
N.B. Full payment due by 27Jun19
Rate Code: 15%
Rooms
Daios Cove has 261 rooms and suites, and an additional 39 villas to choose from.
Sorry, we couldn't find any reviews.