Columbia Beach Resort offers a fresh concept in Cypriot luxury with beautiful suites and communal areas. Spanning 75,000m² of gorgeous seafront grounds, this elegant retreat's reputation as one of the most prestigious hotels on the island is confirmed.
This all-suite resort (rooms range from 35m² – 84m²) includes some very spacious two bedroom Family Suites in the East and in the West Wing. All suites have new soft furnishings with a modern décor and the Eagles Nest Executive Suites, reached by a luxury lift, boast spectacular views.
Restaurants are excellent such as the fine dining Mediterranean and Asian 'Bacchus', seafood and sharing sushi dishes in 'Cape Aspro', 'Apollo Taverna' with its traditional Mediterranean cuisine (most nights you can enjoy live music), all of which embody the resort's characteristically charming Cypriot service.
The nautical themed Hébe Spa showcases Elemis and Valmont treatments and has a studio for yoga and Pilates classes. In the resort there are two gyms, saunas and steam baths as well as a jacuzzi, tennis and squash courts.
On the beach enjoy all manner of water sports and there is even a children's sailing club. The hotel also works with an established PADI 5 star Dive Centre providing a full range of diving courses to suit all levels from beginners to more experienced divers, to the best diving sites in Cyprus.
In 2019 and 2018 Columbia Beach Resort received World Travel Awards for 'Europe's Leading Luxury All Suite Resort', and 'Mediterranean's Leading Resort'. The property is winner of the 'Best All Suite Resort and Hotel' in the Haute Grandeur Global Awards 2021 and a 'Green Key Award'.
Facilities
Spa
Swimming Pool
Room Service
Water Sports
Interconnecting Rooms
Beach
Babysitting Service
Kid's Club
Sauna
Steam Room
Transfers
20 minutes by car from Paphos Airport. 60 minutes by car from Larnaca Airport
Food & Drink
There are four restaurants and six bars (all seasonal) to enjoy during your stay at the Columbia Beach Resort.
Atrium Restaurant, a space accented by warm woods and atmospheric lighting with views of the azure sea. From baked goods and cereals to fresh fruit, à la minute fare, and some local favourites, there is something to tempt every palate. During the cooler months, Atrium Restaurant also serves as an evening buffet restaurant; serving gourmet themed buffets, with a backdrop of refined musical entertainment and attentive service.
(Breakfast and Dinner)
Boasting a delicious selection of signature cocktails, our Eros Cocktail Bar is the perfect place for some pre-dinner drinks. With our prow-shaped bar and comfortable armchairs, the indoor bay has a stylish, nautical theme, while the terrace offers panoramic views of the west lagoon-style infinity pool and Pissouri Bay
On the eastern side of the resort, the Seven C's Bar is the place to try a famous Cypriot coffee or sample one of our popular signature cocktails. Following the resort's nautical theme, the bar has a stylish, contemporary design, and a terrace that looks out over the Mediterranean Sea - the perfect spot to watch the sunset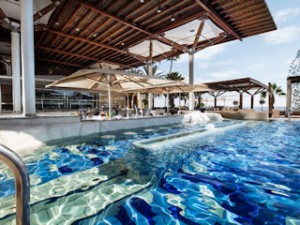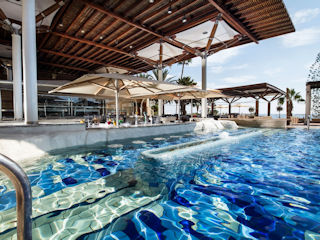 In a stunning location overlooking Pissouri Bay, Cape Aspro Pool Bar is the perfect place to cool off with a refreshing drink or delicious ice cream. There is a terrace where you can relax or you can simply swim up to the bar and order your drink. If you're feeling hungry then try some of the small seafood dishes created by the Executive Chef Ioannis Giakoumidis
Childcare
Children are welcome at the Columbia Beach Resort, and there is a babysitting service available upon request. A crèche and a kids' club are open six days a week from April to October*.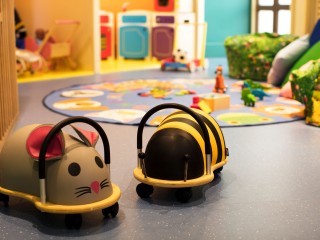 Cub Life Crèche
The seasonal Cub Life Crèche welcomes babies and children (age 3 months to 3 years) and will be open six days a week, all year round. The crèche is available at a charge and includes a Baby play zone and a Toddler play area.
The Den Kids' Club
Open daily throughout the summer for children (age 3 - 12 years), this vibrant kids' club is bursting at the seams with fun, engaging, and entertaining activities for your young ones. Kids can enjoy fun pastimes from pizza making baking, arts and crafts to mini football, paper creations, stone painting, and more.
Morning and afternoon sessions are complimentary for all in-house guests, and lunchtime sessions are also available for a small charge.

Kate
"Peaceful and charming with outstanding service and food, such a relaxing hotel"
Email Me
Call Me: 01625 538631
10% Early Booking Discount
Valid for stays between 01Nov22-31Mar23
For reservations confirmed by 31Oct22
Minimum Stay : 03 Nights

Rate Code: 10%
10% Early Booking Discount
Valid for stays between 01Jun22-04Aug22, 29Aug22-30Sep22
For reservations confirmed by 31Jul22
Minimum Stay : 05 Nights
Valid In : All Rooms & Suites (exc Junior Suite Garden View)

Rate Code: 10%(1)
Rooms
This beautiful all-suite boutique hotel has 169 suites.
Wonderful holiday here once again!
Date stayed: October 2022
Posted on: 6th January 2022
Wonderful holiday here once again. So impressed with the restaurant's easy handling of my dietary requirements. First time staying on half board basis but definitely not our last.
Everything that I expected…
Date stayed: November 2019
Posted on: 12th November 2019
The hotel was everything that I expected from a 5 star hotel. Both the food and the staff were to be applauded.
Ideal for a short break…
Posted on: 24th September 2019
This was the seventh visit here – ideal for a short break. The half board deal is excellent.
Incredibly kind, helpful staff…
Posted on: 24th September 2019
The Columbia Beach Resort really is exceptional. Yes, it's five star and had all the facilities you'd expect, but above all it was the incredibly kind, helpful staff – for whom nothing was too much – who made the place so special. I went with my wife and seven-year old son for a return visit (that alone speaks volumes) and we were treated so wonderfully well. I can recommend it without hesitation.
Fifth time there and still as good as ever…
Fifth time there and still as good as ever, great service and fantastic facilities.
No complaints whatsoever…
Date stayed: November 2018
Posted on: 20th November 2018
I had no complaints whatsoever
Perfect paradise…
Date stayed: October 2018
Posted on: 27th October 2018
I almost don't want to write a review as I would like this to remain my own piece of perfect paradise but I also want to thank Columbia Beach for the most fantastic experience. I cannot rate this hotel and the staff highly enough. I have been to many destinations and this by far exceeds in both hospitality and standards. The food is amazing, the staff incredible and the room itself was outstanding. Everything was perfect and continually pursued to be perfect for us during our stay, the effort was never relaxed. A huge thank you to both the Columbia Beach and Travel Beam. We only have one problem and that is that we want to go back every year and go nowhere else and so far I haven't even mentioned the gorgeous scenery and the beautiful bay.
Beautiful place…
Date stayed: October 2018
Posted on: 23rd October 2018
What a beautiful place with excellent facilities. we were extremely comfortale, welcomed and well looked after throughout our stay
We will certainly be back…
Posted on: 17th July 2018
This is the 4th time we have been to The Columbia Beach Resort but the previous time must have been at least 5 years ago. Last years renovations are a lot more visible in the old Colombia Beach Hotel whereas in the resort the work was more behind the scenes (plumbing electrics etc) despite it being at least 5 years ago several of the staff remembered us and we were looked after very well. If I had one complaint it would be that the portions at dinner were rather large!
Very good…
Very good, no significant changes since the refurbishment. Nice bar area at Apollo.
This is our favourite place to stay to recharge our batteries…
This is our favourite place to stay to recharge our batteries. The recent merger of the hotel and the resort hasn't influenced the superb standard of everything although the price has increased somewhat and the spa treatments are now over priced. The breakfast is still fantastic and now has the benefit of a sea view although the option to eat in both breakfast areas would be nice. Definitely recommend this resort.
Really great resort, good atmosphere, great mix of people and a nice size resort…
Posted on: 13th August 2016
Stayed at the Columbia Beach Resort in July 2016, really great resort, good atmosphere, great mix of people and a nice size resort. Pool was fantastic for children, rooms were lovely (we were upgraded – had booked interconnecting garden suites). Breakfast was great with enough to suit everyone – fresh waffles and pancakes delivered to your table. Food in the restaurants was good but a bit pricey – but this is a 5* resort so I guess you should expect 5* prices. Fabulous location, right on the beach, a few minutes walk into the nearby village with a small selection of restaurants (including a fabulous Italian actually owned by the resort which is where we ended up quite a few nights) and a couple of small shops. Got a cab up to the nearby village (4km) which is worth a visit – nice restaurant called a Bunch of Grapes. Would I go back – in a heartbeat but it`s closed for renovation next summer. Our girls aged 7&9 made friends and had an amazing time.
This is the second holiday Sophie has booked for us and she really understands what we want and gets it spot on. Where to go next year??