Set against breath-taking panoramic views of Cyprus, with jewel-like islands dotting the horizon and enveloped by verdant gardens. Brimming with centuries old olive trees, fragrant herbs and endemic flora, the Cap St. Georges Hotel is a sanctuary of holistic serenity.
Crafted from natural Cypriot stone, the resort's design reflects the surrounding landscapes and embodies the rich culture of the island in its every line. Exclusive Design Interiors in each accommodation encapsulates a thoroughly sleek and modern attitude with contemporary design and way of living. Luxurious and fresh, each room has a subtle natural earth tone and luxuriant furnishings, wall art and lighting.
The extensive amenities include the 130-metre Blue Flag beach cove, three outdoor pools with sunbeds, a tranquil indoor pool, and an outdoor playground. The exceptional Cleopatra Spa provides guests with luxury branded product lines, bespoke therapies, and an abundance of therapy rooms. The wellness theme is enhanced by a fully equipped, state-of-the-art gym. Those seeking more activity the resort has a Horse riding school, a diving centre and a variety of water sports. Additionally, there is the Agora square for a luxurious shopping experience alongside a hair salon and nail salon.
Cap St. Georges Hotel has an exquisite farm to table concept and a honey or olive harvesting experience. The restaurants serve a high level of quality and excellent dishes from Asian to southern Italian cuisine. The Kohili bar offers shisha and DJ entertainment in the evenings, while the Chroma lounge bar sets a more chilled atmosphere. There are also two areas within the resort that is dedicated to relaxing. SKY 7 combines both stunning panoramic views and culinary artistry for a unique experience of dining.
202 rooms and suites
Facilities
Spa
Swimming Pool
Gym
Kid's Club
Beach
Babysitting Service
Water Sports
Transfers
40 minutes by car from Paphos Airport 110 minutes by car from Larnaca Airport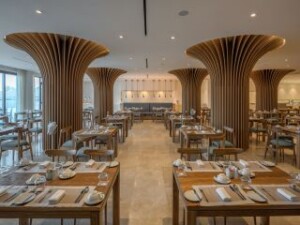 A breakfast buffet as well as a la carte lunch menu. You will also find an exhibition bar with a bountiful display of home-prepared products, as well as a wide selection of wines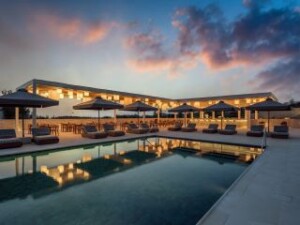 The most popular spot that serves a selection of snacks and cocktail creations with a selection of iced draught beers, non-alcoholic drinks, and hot beverages.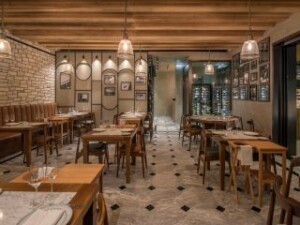 This is an al fresco restaurant and bar where guests can savor the unique cuisine of southern Italy. Featuring wines from Italy, Sapori operates only evenings.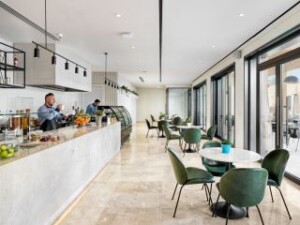 Serving patisserie, hot and cold beverages, fast snacks, afternoon homemade gelato with fresh fruit, frozen yogurt, Cypriot sweets, waffles and crepes.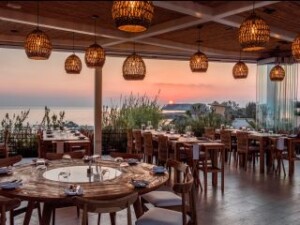 Showcasing the cuisine and wines of Cyprus & Greece, this themed indoor and outdoor restaurant features grilled meat dishes or a fabulous a la carte menu that serves fish and seafood prepared in a variety of Mediterranean styles.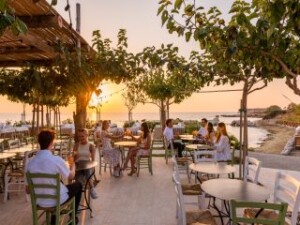 This unique beach bar is arranged on a small deck overlooking the sea and beach surrounded by trees and shrubs offering all kind of beverages and cocktails as well as traditional snack meze dishes & tapas with Cyprus Wines. Enjoy the Shisha Menu and the tunes of our famous guest DJ's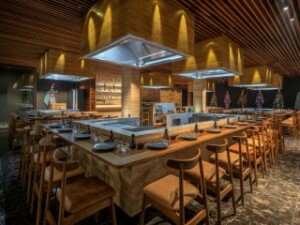 This casual elegant Teppanyaki Japanese restaurant is open for dinner only and has both indoor and outdoor dining areas. Its menu specializes in Teppanyaki dishes and Asian Contemporary Cuisine.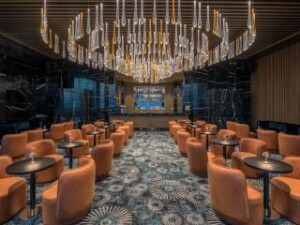 Whether for a quick meeting, a lazy morning reading a book, or an enjoyable afternoon with the entire family, the Chroma Lounge & Bar will keep everyone satisfied
with a large variety of snacks and desserts, and a signature afternoon tea.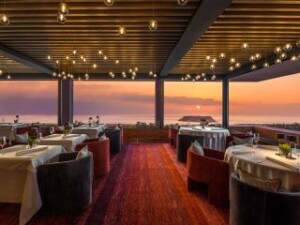 Sumptuous surroundings meet world-class cuisine at Sky 7- the pinnacle destination for pure culinary artistry. Dine in the sultry warm glow of magical sunsets, or captivating starlit skies at this exceptional epicurean experience offering unparalleled panoramic views of the Mediterranean.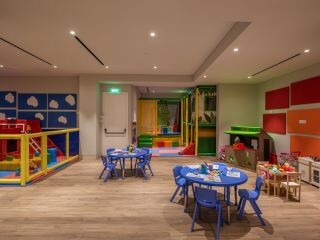 Happy Seal Kidz Club
Endless fun for the little ones where they can participate in learning-oriented activities with specially trained staff to organize and supervise all activities for children 3-12 years old. Opening Hours: 9:30 - 18:00 (closed on Tuesday & Wednesday) Baby-sitting services at an additional charge can be booked with our concierge team.
10% Early Booking Discount
Valid for stays between 01Nov23-31Mar24, 01Apr24-31Ict24
For reservations confirmed by 15Apr24

Rate Code: 10%
20% Early Booking Discount
Valid for stays between 01Apr24-31Oct24
For reservations confirmed by 31Dec23
N.B. 50% Pre-Payment is due to the hotel by 15Jan24

Rate Code: 20%(1)
Stay Minimum 21 Nigths and Recieve a 10% Discount

Rate Code: 10%(1)
15% Early Booking Discount
Valid for stays between 01Nov23-31Mar24, 01Apr24-31Oct24
For reservations confirmed by 29Feb24
N.B. 50% Pre-Payment is due to the hotel by 15Mar24

Rate Code: 15%
Wonderful hotel
Posted on: 30th October 2023
Wonderful hotel and excellent friendly staff. We hope to return soon!