The vast Al Bandar provides countless facilities and resides in acres of verdant grounds. Set in a beautifully unspoilt mountainous landscape bordering sandy beaches guests will find peace and luxury.
The extensive complex, on the outskirts of Oman's capital city of Muscat, comprises two different hotels inspired in design by old Muscat and named Al Bandar, (The Town) and Al Waha (The Oasis). Each also offers the ultimate in amenities combined with the very highest level of Shangri-La service.
Al Bandar is a deluxe hotel at the heart of the resort, centred around a large pool with a family-friendly atmosphere. Spacious Deluxe Rooms are stylishly decorated and have a balcony, whilst Deluxe Terrace Rooms are located on the ground floor.
The 500m Lazy River is a fun way to get around and you can easily visit different parts of the resort. The excellent spa village focuses on traditional Chinese philosophies. They have included a vitality hydro pool, a herbal steam room, tundra and also tropical showers. In addition, there are tennis courts, an outdoor amphitheatre and water sports, and the Al Mazaar Souk which is reminiscent of a traditional marketplace in Oman. The Dive Centre offers PADI dive instruction, scuba-diving, snorkelling, dolphin and whalewatching trips. Water sports facilities have recently been upgraded and there is also a new beach club with a chilled-out vibe.
Gourmets will love the vast choice of dining options. The resort has over 13 different restaurants including seafood, South American dishes as well as a trendy Surf Café.
Children can enjoy all manner of activities in the comprehensive Kids' Club. The kids have access too an air conditioned indoor and outdoor play area. Additionally, there are treasure hunts, Arabian arts and crafts. Older children will love the 'Adventure Zone'. Located adjacent to the 'Omani Heritage Village' (a cultural centre where kids can get close to Arabian horses and camels).
Facilities
Spa
Swimming Pool
Gym
Kid's Club
Water Sports
Babysitting Service
PADI Dive Centre
Games Room
Transfers
The Shangri-La's Al Bandar is 45 minutes transfer by car from Muscat International Airport.
Food & Drink
Across the Barr Al Jissah resort and the Al Husn Resort and Spa close by, there are more than 13 different bars and restaurants including speciality seafood, a relaxed South American and a trendy surf Café. Some of the more relaxed bars and eateries are set around the Al Mazaar Souk.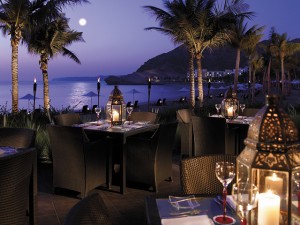 Offering a contemporary Italian experience through its innovative menu and stylish restaurant. Eat in the fashionable ambience of the indoors or relax in the outdoor seating area looking out over the beach and garden. The menu focuses on the freshness and flavour of the ingredients with regular the regular introduction of new dishes to highlight seasonal produce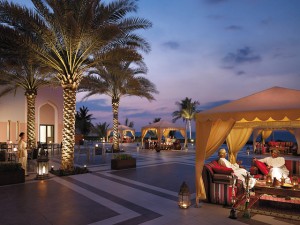 Tapas and Sablah, Al Bandar
A relaxing piazza in the heart of the resort serving Mediterranean and Asian tapas as well as Middle Eastern mezze late into the night. The menu is complemented by a full beverage and shisha selection.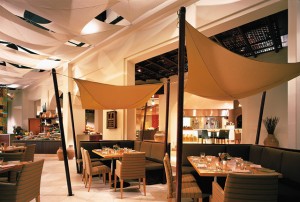 Serving the characteristic cuisines of the Arabian Gulf region in a traditional Omani atmosphere. The interior is designed with Arabian tents, pottery and vibrant colours which complement the enticing dishes prepared for you at the open cooking stations. In addition to Arabian cuisine, the restaurant offers Mediterranean, Persian, Indian and Turkish favourites, as well as a tempting selection of fresh fruit and juices.
Childcare
There are a variety of activities, clubs and child-friendly facilities amid the Barr Al Jissah Resort. Activites for children change daily dependent on how many families are in the resort, but include Henna Painting, Sand City Competition, Treasure Hunts and traditional Arabian crafts. GameZ (daily 12 noon - 10pm) offers family activities at the Al Mazaar Souk where all can play billiards, snooker, air hockey, electronic darts and video games. Babysitting is also available on request.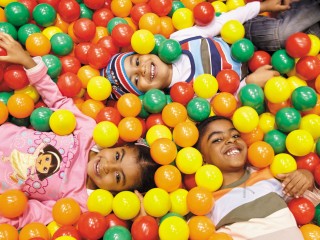 Cool Zone Kids Club
Complimentary (daily from 9:00 to 18:00). Indoor and outdoor play areas supervised by trained staff, located in the Al Waha at the heart of the resort. Welcome for children from four years upwards. Children under the age of four years old should be accompanied by a parent or guardian.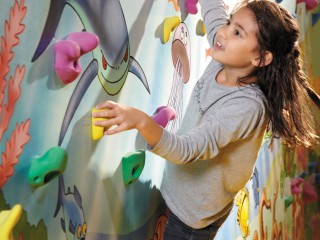 Adventure Zone
Complimentary - daily between 10:00 and 22:00 and situated in the Al Mazaar Souk adjacent to the Omani Heritage Village.
Adventure Zone is an exciting family entertainment venue with a variety of play areas - Over Under Hurdles, Swing Over Net, a climbing wall, PS3, computer with Wi-Fi access and soft play areas. The highlights are the three drop slides providing fun for all, with the ultimate 6.5-metre Demon Drop slide. Open for children under 16 years. Children below the age of 4 are to be accompanied by a parent or babysitter.
Lazy River (daily 10am-7pm) Meander your way between Al Waha, Al Bandar and back again on inflatable tubes along the Lazy River.
Splashpad (daily 9am - 7pm) Located on the headland at the Al Waha hotel, Splashpad is an aquatic play area for all the family with a combination of water effects from light mists to touch sensitive sprays and projection jets.
Children`s Pools (6am-7pm) Located beside the Circles Pool Bar at Al Bandar hotel and next to Assira Pool Bar at Al Waha hotel.
Camel and Pony Rides (daily) Enjoy a camel or pony ride from Bait Al Bahr (Al Bandar, Beach Bar) to Al Waha.
Mini Golf (daily 10am-10pm) Beautifully landscaped miniature golf course with nine challenging holes. Located in Omani Heritage Village.
Sorry, there are no offers available for this hotel at the moment
Rooms
There are 198 rooms and suites at the Shangri-La Al Bandar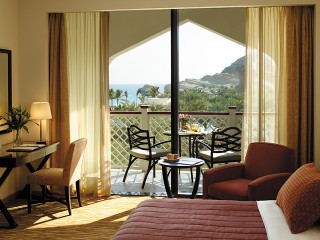 Deluxe Room
Offering expansive space with modern, Arabian-inspired décor in a contemporary setting. Each room offers 38m2 of luxury with lush views over the garden and the Gulf of Oman. The balcony or patio measures 7m2 and is furnished with a table and two chairs,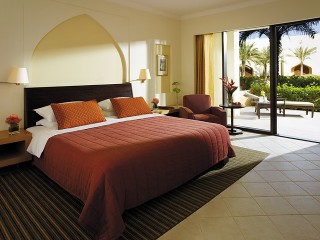 Deluxe Terrace
Modern decoration with an Arabian-inspired style. Each room offers 38m2 of luxury. These rooms feature an expansive terrace measuring 15m2 furnished with a table and two chairs. Their position provides direct access to the garden and pool areas with lush views towards the Gulf of Oman.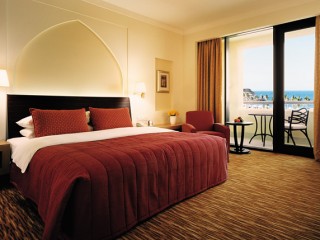 Deluxe Sea View
Offering the luxury of space with modern, Arabian-inspired décor in a contemporary setting. Each room measures 38m2 with lush views over garden and/or pools towards the Gulf of Oman. The balcony or patio measures 7m2 and is furnished with a table and two chairs.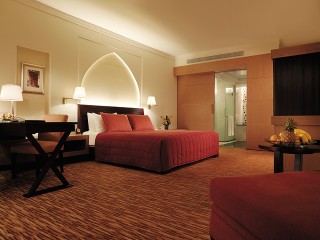 Premier Room
Some of the largest non-suite rooms in Oman measuring 51m2 and featuring luxurious, Arabian-inspired décor with memorable views over the lush gardens and pools then out towards the Gulf of Oman. The balcony or patio measures 7m2 and is furnished with a table and two chairs.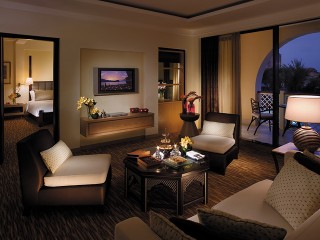 One Bedroom Suite
Arabian-inspired and opulent. This luxurious one bedroom suite with separate sitting room measures 76m2 and offers lush views over the garden and the Gulf of Oman. An ideal option for guests travelling as a group or those requiring extra space and amenities. The balcony or patio, furnished with a table and two chairs, measures 14m2.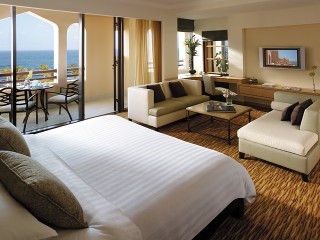 Speciality Suites
Decorated with contemporary, Arabian-inspired décor and state- of-the-art amenities, these one-bedroom suites with separate sitting room and dining area offer the luxury of expansive space measuring 114m2 with lush views over the gardens to the Gulf of Oman. The balcony or patio is furnished with a table and two chairs and measures 28m2.
Sorry, we couldn't find any reviews.