7Pines Sardinia, part of Destination by Hyatt, is surrounded by turquoise Mediterranean waters, soft golden beaches and the refreshing scents of Baja Sardinia's native trees and plants.

Here the emphasis is on laid-back luxury in an authentic, natural setting. The accommodation makes sensitive use of local materials, whilst the interior décor pays homage to the island's Sardinian cultural heritage.

Framed by palm trees, the Spazio Pool area (heated on shoulder seasons) has its own international restaurant and is a sanctuary for relaxation. Guests staying in the Laguna suites and rooms have their own dedicated pool and gardens. The main beach boasts white sands and calm waters while four secluded coves are also dotted around the resort for those seeking a more tranquil atmosphere.

The dramatic main building offers a signature Italian restaurant, Capogiro, where freshly caught seafood and other local ingredients whilst the more informal restaurant the Cone Club enjoys spectacular ocean views.

Body and mind are revitalised holistically at the Pure Seven Spa. Guests can opt for a selection of treatments or bespoke sessions tailored around favourite health and mindfulness therapies. Besides many local water sports options, 7Pines Sardinia also provides a dedicated sports area and gym, and numerous walking routes within the resort's 15 hectares of gardens, including paths by the coast and through the indigenous flora of the Nature Park. 7Pines Yachting services are available for exclusive cruises along the Costa Smeralda coast and the nearby Maddalena Islands.
For those active guests, 7Pines Sardinia offers an amazing variety of watersports from sailing and yachting to puddle surfing, snorkelling, kayaking and jet skiing. Additionally, there are unique sporting academies including Football with Andrea Zambrotta, tennis with Novacek and paddle tennis.
7Pines Sardinia: 76 suites and rooms
Facilities
Spa
Swimming Pool
Kid's Club
Beach
Water Sports
Sports Academies
Transfers
45 minutes car drive from Olbia Airport
Food & Drink
The culinary experience at 7Pines Resort Sardinia is led by Pasquale D'Ambrosio, an Italian chef with several experiences in Italy's most prestigious hotels, including Chateaux Monfort in Milan and Evetia Bristol in Florence.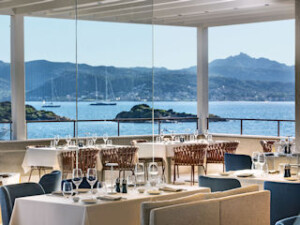 Capogiro is the fine dining restaurant of 7Pines Resort Sardinia. It is placed on a panoramic terrace facing the sun setting over the sea of Baja Sardinia, a stone's throw from the Costa Smeralda. Executive Chef Pasquale D'Ambrosio offers Mediterranean cuisine interwoven with the aromas of the island's gastronomic tradition, in which the use of local raw materials and cooking techniques preserve their freshness, and taste and quality prevail.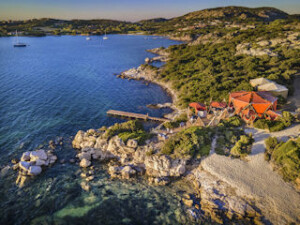 The Cone Club's menu is in close collaboration with local producers, farmers and fishermen. The dishes are a tribute to the joy of life consisting of Mediterranean and international cuisine, adapted to the character of the location and the demands of the guests.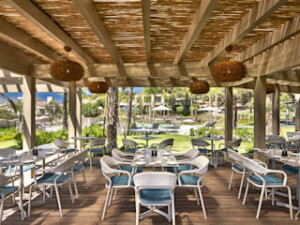 Spazio restaurant is the perfect place for informal lunches and relaxed dinners. Overlooking the main swimming pool, the restaurant offers a modern proposal but with various references to the Italian and international tradition.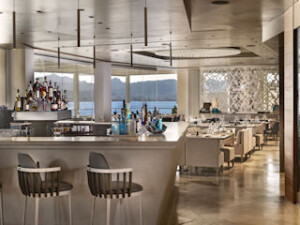 An aperitif before dinner, a cocktail afterwards, a soft, long drink for a summer evening or perhaps a nightcap – the Capogiro Bar is a delightful venue for all these occasions, and more.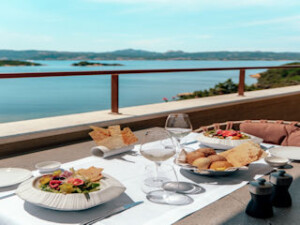 Once a month, Pasquale D'Ambrosio, Director of Culinary and Executive Chef of 7Pines Resort Sardinia, will collaborate with some starred Chefs to create unique and sensational dishes.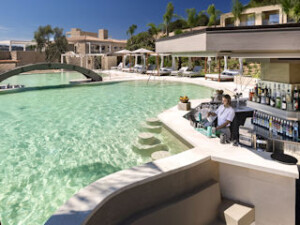 Have you ever had a cocktail sitting in water? Our Spazio Pool Bar is the perfect place to do it!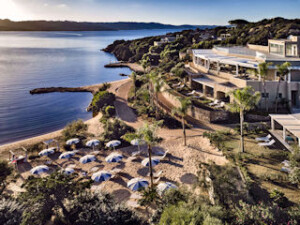 Ajò Chiringuito offers the best cocktails and snacks directly in the main beach.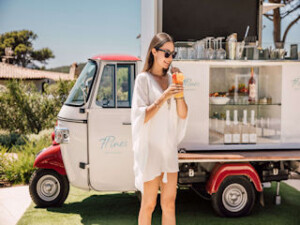 Reserved for Laguna guests, it is a luxury Food Truck located a few steps from the pool.
Childcare
Step into our eco-friendly and educational Kids' Club: Kio House of Kids. An immersion into sustainability and environmental protection with the aim to sensibilise children from an early age to a broader eco – awareness. Our mission is to help educate next generations and support families in finding ways to be more aware of the environment and help protect the planet, our home.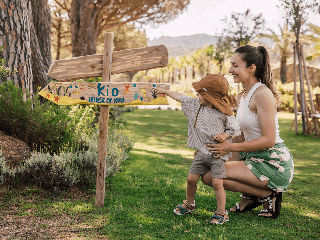 Kio House of Kids
Kio House of Kids promotes creativity, consciousness and the power of imagination and provides a high-quality experience to the children spending family holidays at 7Pines resorts. The club is aimed at children from 4 to 14 years old.
Sorry, there are no offers available for this hotel at the moment
Rooms
An enticing choice of rooms, junior suites and suites sit within our extensive gardens. The varied room and suite categories are arranged in three distinct locations within the resort: the Gardens, surrounded by a green curtain of trees and shrubs; the Laguna, a collection of large rooms and suites grouped around the tranquil Laguna pool; and the Sea Views, the most coveted and closest to the beach.
Sorry, we couldn't find any reviews.