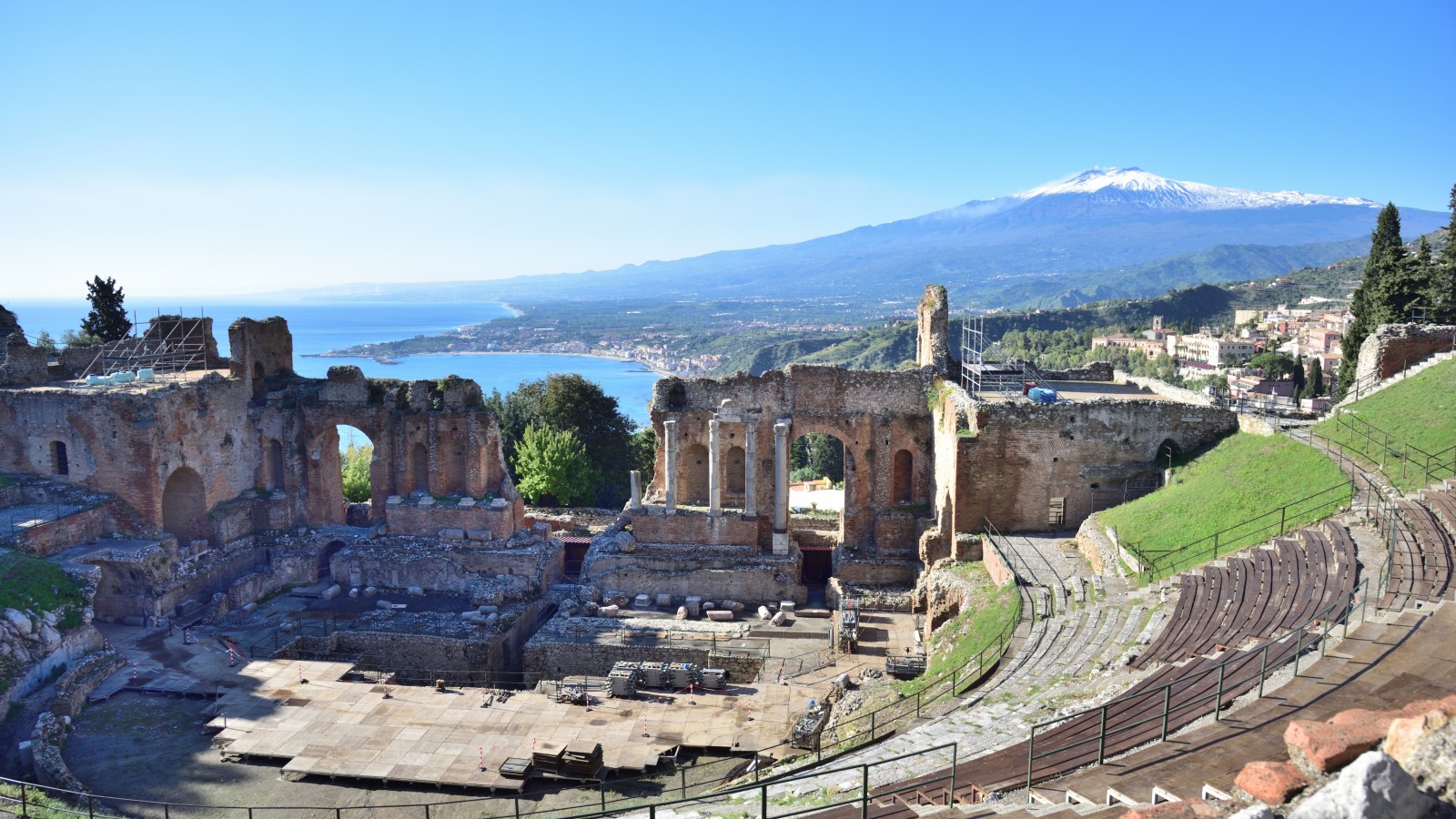 Sicily
Italy's largest island is overflowing with archaeological treasures, renaissance palazzos and charming historical towns, all fringed with over 1,000 kilometres of magnificent unspoiled coastline. Sicilians enjoys hot, dry summers and mild winters, delivering the ideal climate for the fragrant olives, buttery almonds and full-bodied vino for which this verdant isle is famous.
A Little More About Sicily
Sitting on the southernmost tip of beautiful Italy, Sicily's captivating history is chronicled through its lavish tapestry of cultures, with a unique blend of Baroque squares, Grecian temples and Norman churches, and a sprinkling of decadent Middle Eastern flavour.
Exploring the island, you'll find no two cities are the same. Palermo, the island's principal city and Italy's Capital of Culture, is in beautiful decay with its crumbling streets and near-ruined architecture. Explore the sights, smells and sounds of the fascinating souk-like markets of Ballarò, where you can pick up delizioso delicacies, local handicrafts and colourful fashion and accessories.
Energetic and chic, the port city of Catania sits on the opposite side of Sicily and is centred around the grand Piazza Duomo. A city of contrasts, the city's urban gardens and opulent palaces are balanced with stylish trattorias and lively enotecas (bars).
Uncovering Sicilian culture
If you're looking for things to do in Sicily, then its cultural offering will not leave you disappointed. Italy has more UNESCO World Heritage Sites than any other country, and Sicily is home to more than its fair share of them. Among them are eight Baroque Towns in the Val di Noto region in the south east, including the decorative belle of the south east, Noto.
Known as the 'the stone garden', Noto's golden streets are overlooked by gilded palaces, embellished parapets and a bell tower that looks far out across the town's expansive lido and the sparkling Ionian Sea.
Sicily's seemingly-endless beaches sit in stunning contrast to the island's resplendent mountainous backdrop. The smoking summit of Mount Etna is one of Europe's most impressive natural attractions and the jewel in the landscape's crown, overlooking the north east's beautiful fishing villages, hilltop towns and whimsical cities.
A taste of Sicily
While the island is acclaimed for its diverse landscapes and outstanding architecture, Sicily is equally celebrated for its gastronomy. Whether you opt for a Michelin-starred ristorante or a rustic neighbourhood osteria, the Sicilian passion for food spins the fruits of the land into mouth-watering dishes that will please even the most discerning of palates.
Whether your Sicilian break focuses epicureanism, relaxing on a curve of golden sand or exploring the ancient streets, every visit will be impossible to forget.
Weather
Summers are hot, especially in Southern Italy and the islands, whilst spring and autumn are mild.

Temperatures (°C)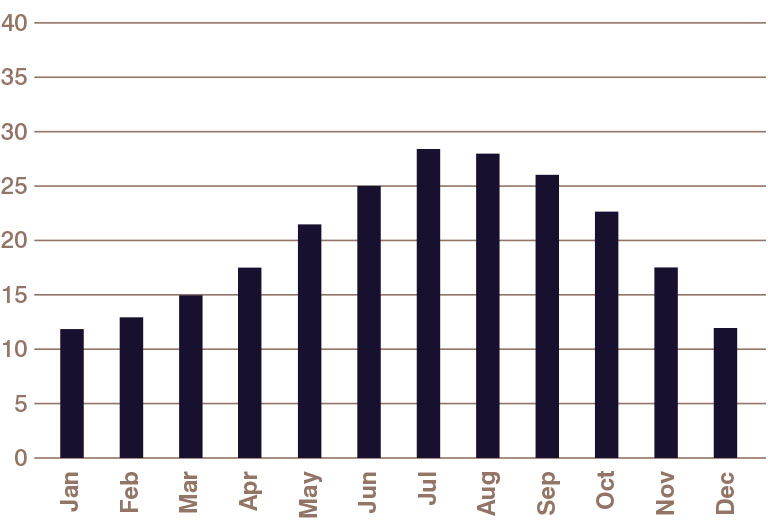 Flight Information
Approximately 3 hours 30 minutes from the UK
Currency
Euro €
Language
Italian
Time Difference
GMT + 1 hour
Top Luxury Hotels in Sicily