The whitewashed Tivoli Carvoeiro, which presents excellent value-for-money, lies low along the dramatic clifftops and you can hear the relaxing sound of the crashing waves in the distance. The resort has an authentic Portuguese air and is on a stretch of beautiful coast just a few minutes' drive from the charming town of Carvoeiro.
ticks all the boxes, from a superb position to its proximity to some of the region's best restaurants and beaches such as Benagil or Caneiros Beach. With cool re-modelled interiors sporting white-on-white, it oozes a hip, beach-chic feel topped by a sleek Sky Bar and a happening restaurant called The One.
Rooms are decorated in muted shades with flashes of blue with floor-to-ceiling windows facing the Ocean and balconies, in some cases sporting hot tubs. All rooms have been revamped with stunning Junior Suites and Deluxe Sea View rooms, perfect for couples looking for a high-quality experience and
large interconnecting family rooms for added flexibility.
The service is excellent, with staff keen to ensure your stay is memorable. The refurbished spa has a sauna, steam room, indoor swimming pool and fitness centre, as well as a large circular swimming pool with an adjacent kid's pool with a picture-perfect ocean backdrop.
The three restaurants/three bars comprise of all-day Mare Bistro serving the freshest of seafood, local Portuguese delicacies can be found at The Med, whilst The One, delivers fine dining in the evenings accompanied by a very skilled sommelier to pair your wine for you.
Tivoli Carvoeiro works with local experts to offer a arrange of Algarve experiences such as hiking in the 'hanging valleys' or for a more mainstream day out enjoy a visit to the nearby Vale de Milho golf course or the Slide & Splash water park.
Tivoli Carvoeiro: 248 rooms
Facilities
Spa
Kid's Club
Fitness Centre
Laundry Service
24-hour Room Service
Transfers
50 minutes from Faro Airport
Food & Drink
Three restaurants/three bars.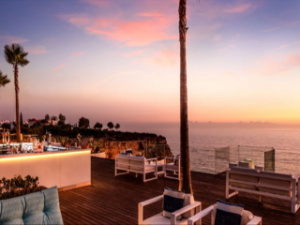 Unwind with cool music and relaxing vibes at the top of the Algarve. As the sun sets slowly along an endless horizon, Sky Bar Carvoeiro comes alive with a joy and relaxation that is contagious. Enjoy superb cocktails and appetisers against a backdrop of chilled music and intoxicating rooftop views.
The ideal space for a light, relaxed meal made with fresh, local ingredients. At this relaxed yet upscale bistro you will find the freshest daily catches and produce on hand. Open seasonally from April to October, come here for a light bite loaded with unique essences.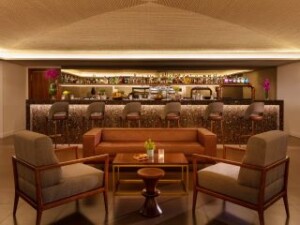 Marvel at a awe-inspiring sunset while enjoying refreshments from tapas to craft cocktails. A captivating sundowner here is the perfect touch to an unforgettable day in the Algarve. Watch the sky dance into dusk while sipping on a local beer or chic cocktails designed by our mixologists, with a wide array of light meals and snacks.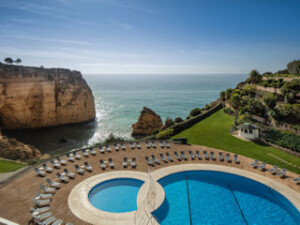 Soak up your holiday with exhilarating refreshments by the pool. Dive into a refreshing assortment of smoothies, icy drinks, sangria and more at our poolside bar.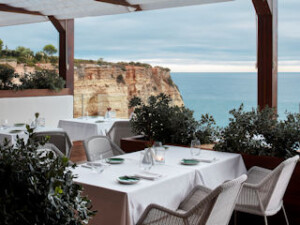 The bases are launched. We celebrate national products, from north to south, with a basic recipe full of considerable ethnic influences. Following the shape of a pyramid, with Portugal in the lead, French technique and Asian minimalism as supports, The One Restaurant kitchen is sophisticated and generous. With the main focus on local winemakers and the most unique proposals in the region, we show the best of the Algarve in this area, selecting wines full of personality. In this sense we can affirm that Portuguese wine is an important inspiration.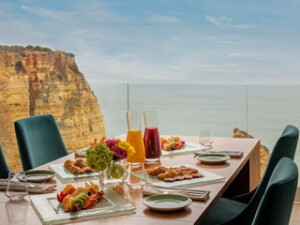 Enjoy fresh catches and delicious wines while overlooking the glimmering Atlantic. Be inspired by the distinct flavours of the Atlantic and age-old Portuguese traditions at Med Food & Wine. Dine on the freshest sea foods with fine wines, breath-taking interiors and panoramic views you won't find elsewhere.
Childcare
Tivoli Kids - There are a range of services exclusively designed for younger guests. An activity plan packed with adventure and fun, overseen by a team of professional monitors equipped with everything that children ages 4 to 12 most enjoy, will keep your children happy and busy with boy indoor and outdoor activities
Sorry, there are no offers available for this hotel at the moment
Rooms
Tivoli Carvoeiro has 248 rooms and suites to choose from
Sorry, we couldn't find any reviews.