With an enviable Adriatic seafront location and beautiful Mediterranean gardens in a quiet coastal location north of Dubrovnik, this seaside getaway offers stunning scenery, fabulous wellness facilities and superb family activities.
Chic rooms and suites sport oak floors, contemporary minimalist furnishing, fabrics ocean-inspired blues and greens and slick modern bathrooms with Salvatore Ferragamo toiletries. The 207 residences are self-catering one, two and three-bedroom apartments equipped with a kitchenette, living room and sofa bed.
A member of the Leading Hotels of the World, this lively resort has a private beach, three freshwater pools (two for families; one adults-only) and world-class sports facilities to keep you entertained such as three clay tennis courts, a squash court and water sports.
There's a Sun Gardens Dubrovnik Sports Academy for children to enjoy in the summer with football, tennis, squash, swimming and basketball (six days, age 7 – 15 years) on offer with occasional celebrity sportspeople.
The award-winning spa, acknowledged as one of Croatia's best, has an 18-metre indoor pool, a hydrotherapy pool with massage jets and a waterfall, various sauna, and offers treatments using Croatian OCCO products.
There are a wide range of restaurants with 16 to choose from including buffet,  à la carte Giardino and intimate seasonal restaurants in the grounds such as La Pasta for pizzas, romantic Cilantro for fresh fish on a sea-view terrace, and Ginja, a fine-dining lounge-restaurant, directly above the beach.
If you want to get out and about tailor-made excursions can easily be arranged to Dubrovnik with its UNESCO World Heritage Site Old Town, or cruising the stunning Elaphite Archipelago. In summer, daily boats run to Šunj beach on Lopud island.
Transfers
40 minutes by car from Dubrovnik Airport
Food & Drink
Sun Gardens offers an array of 16 restaurants and bars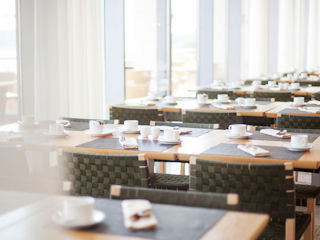 Origano
A casual atmosphere and coastal views make Origano's sunny terrace a perfect place to start the day. The fusion of delicate and healthy savory ingredients takes center stage each morning with a lavish buffet breakfast featuring a cheese & bread selection, various gourmet stations, natural juices, fruits and pastries and more. In the evening, we welcome guests to enjoy a superb buffet dinner with a rich and extensive selection of dishes from around the world.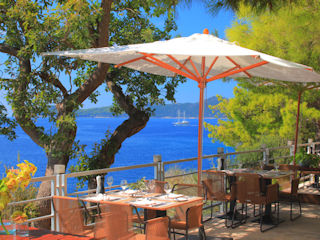 Cilantro
Inspired by a desire to explore the Mediterranean region, the Cilantro restaurant is a diner's gem that shouldn't be missed. Experience mouth-watering aromas from the open kitchen and enjoy a light lunch or a quiet romantic dinner for two. Authentic ingredients bursting with flavour and modern culinary techniques make Cilantro the perfect choice when you wish to enjoy delightful dishes in chic surroundings with a view of the sea.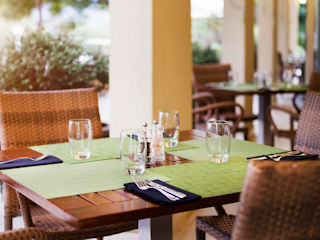 La Pasta
A modern restaurant specialising in fresh and simple Italian cuisine. Satisfy your craving for fresh, home-made pasta, a delicious Neapolitan pizza, or a light and crispy salad, served against the backdrop of innovative décor in woody surroundings. An open kitchen with a bread oven exclusively for baking pizzas offers diners a wonderful dining experience.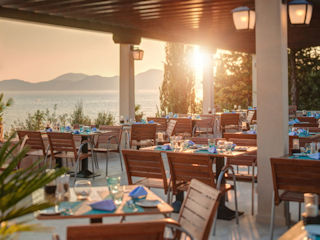 The Market
A perfect choice for a locally inspired evening meal. The Market offers fresh seafood specialties with an amazing panoramic view over the crystal clear Adriatic Sea from the welcoming terrace. Match one of these sublime dishes with a bottle of fine local wine and you have an authentic experience in a truly unique Dalmatian atmosphere.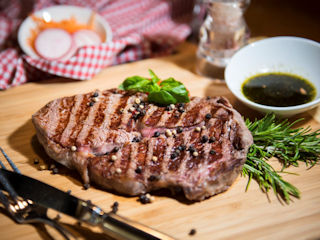 Butcher's Grill
Ideal for meat lovers this restaurant has a live kitchen and the highest quality meats from all over the world.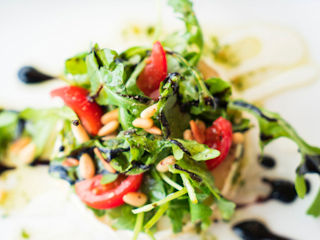 Sunset Grill
Located at the Sunset Pool, here there are water features, a dedicated kids' pool, and a fantastic bar & grill. Have lunch or dinner without wandering too far from the beach. Try seafood, salads and grilled specialities, or sample something lighter, such as bar snacks and local fruits, all in a family-friendly environment. Ice creams, smoothies, and coffee, beer, wine, and mixed drinks are available near the pool.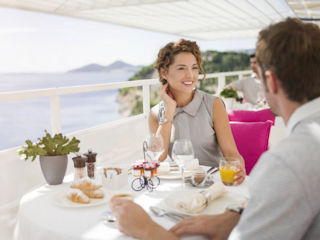 Roof Top Breakfast
During the summer, there is no better way to start your day than with an alfresco breakfast served on the hotel's rooftop terrace with panoramic views over the shining, translucent waters of the Adriatic Sea. Enjoy the premium service and the selection of freshly squeezed juices, aromatic coffee, warm rolls and croissants, bacon and eggs, and more.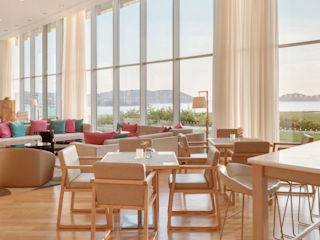 Maraska Lounge Bar
Soak in the stunning views of the sea and the nearby islands as you unwind and relax. Choose from an irresistible selection of drinks, including signature cocktails, wine by the glass and best malt whiskeys or let the baristas make you a perfect cup of coffee. The contemporary dining menu offers a variety of light choices, such as salads, sandwiches, and snacks, as well as home-made desserts.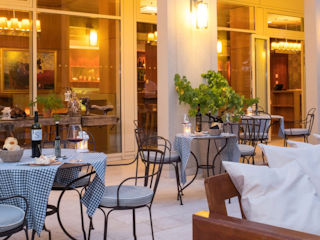 Vino Bar
For the wine connoisseur, a visit to Vino is a must while in Dubrovnik. Vino's collection features the best of what Croatia has to offer, including unique and award-winning vintages. You can also taste a variety of tapas authentic to different wine regions and enjoy soothing live music several times a week.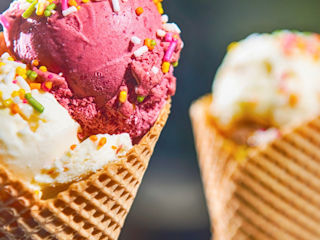 La Patisserie
Indulge in artisan ice cream and cakes, as well as freshly brewed espresso with a glass of orange juice. There is also a choice of sandwiches with bread freshly made in La Patisserie.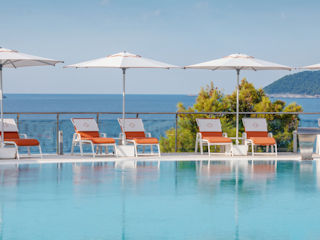 Sunset Bar
If you want lunch without wandering too far from the comfort of the pool or the beach, the Sunset Bar & Grill is the perfect option. Try salads and grilled specialties, or sample something lighter such as local fruits and desserts, all in family-friendly environment.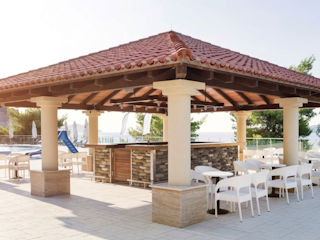 Lemonia Bar
Experience true luxury as you lounge by one of the best pools in the world, as stated by the Conde Nast Traveller. Enjoy the selection of refreshing options and delightful sweet snacks such as ice creams, smoothies and fresh local fruits. Evening entertainment can be enjoyed at this bar with a favourite cocktail, beer or wine.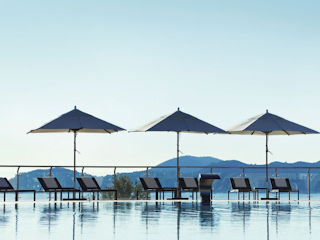 Marina Bar
This adults-only bar allows you to soak up the tranquility of the atmosphere whilst slipping a glass of fine wine, champagne, favourite cocktail or a long, cold beer. For a snack, try and ice cream, a smoothie or something else from the snack menu and relax with a cup of coffee.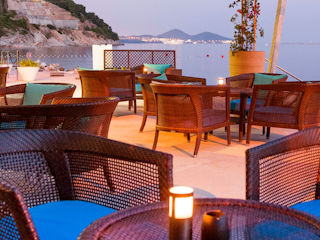 Beach Bar Pebbles
Treat yourself to some thirst-quenching drinks, freshly squeezed juices and cold beverages all served in the paradise of the Adriatic coastline. Order a cocktail, refreshing fruit drink, or simply a bowl of fresh fruit from your lounge chair at the Beach Bar.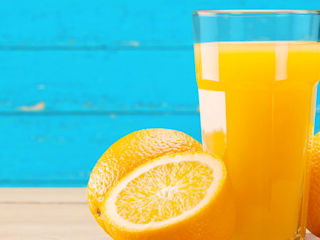 Vitality Bar
After a relaxing time at the Spa, enjoy a healthy drink at the Vitality Bar. Sip on a freshly squeezed juice or some of the other healthy drinks on offer on the sun terrace to complete your ultimate spa experience.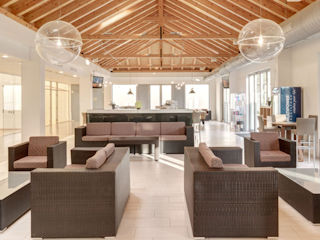 Sports Bar
Kick back in the Sports Bar, conveniently located inside the centre. The menu includes a vast array of nutritional drinks, a home-cinema screen and LCD televisions tuned to 4 SkySports, keeping you-up-to-date on the latest sporting events.
Childcare
Children can enjoy the discovery of their imagination in a safe environment with Sun Garden's Marco Polo Kids Club. With specially trained staff on hand at all times, the Marco Polo Kids Club offers the chance for children to enjoy new experiences under the warm Mediterranean sun. It provides facility auditing and childcare training to ensure that children have a safe, fun and engaging experience in their care. Strongly advise to pre-book childcare requirements.
Babysitting services are available daily from May to September upon advance request. Extra charges apply and prior reservation is necessary.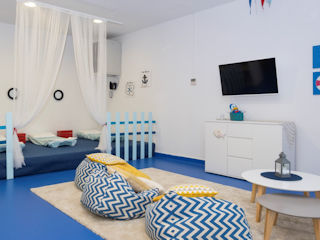 Discoverers Baby Club
The Baby Club for children from 9 months to 3 years is designed to provide memorable moments for our smallest guests. Bright and airy, the Windroses South & West room gives children a safe and motivating environment with great views and a joyful setting. Highly qualified staff take care of the kids in a professional and safe environment. The Baby Club is operates from 10am to 5pm, six days a week and is available from July 6 to August 23, 2020.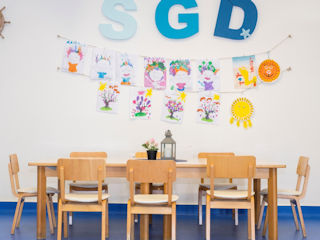 Explorers Mini Club
Designed for children 3 to 6 years old. Children can choose from splash volleyball in the swimming pool, mask making, face painting to exploring the world through various games and activities. The Explorers Mini Club is available from May 11 to September 27 2020. The morning session (10am-noon) and afternoon session (3pm-5pm) are complimentary while the middle session, with lunch included (noon-3pm) is charged extra. A kid's lunch at the Origano restaurant is available from May to September. Their dedicated menu includes healthy and fun dishes that children will like, including eye-catching soups, nutritious main dishes, and colorful desserts.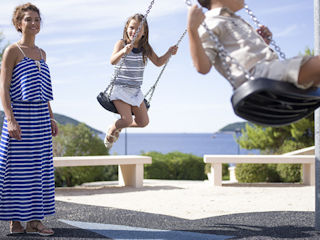 Navigators Junior Club
For children 7 to 10 years old. The weekly program is specially designed to make sure the children are always looking forward to a new challenge, from sporting competitions to creative and artistic moments. Junior Club is available May 11 to September 27 2020. The morning session (10am-noon) and afternoon sessions (3pm-5pm) are complimentary while the middle session, with lunch (noon-3pm) is charged extra.
Children from 4 to 10 can also participate in thematic Evening Programmes which include exploration, games, dancing and laughter. Evening Programmes are available every evening from June to September at an additional charge and with prior reservation.
During the peak summer holidays, children can get the chance to see famous cartoon characters at the Meet & Greet sessions in the resort.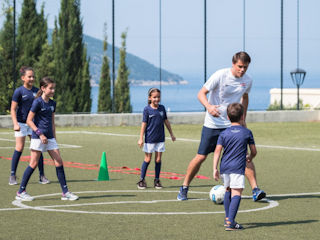 Commanders & Hideaway Club
Tweens (11 to 15 year olds) and Teens (from 16 years old) can hang out and enjoy various activities ranging from sports, puzzles, escape challenges and drone finder activities. The Commanders & Hideaway Clubs each operate one session daily from Monday to Friday, and are available from July 6 to August 28 2020 with complimentary enrollment; the Commanders Tween Club in the morning session (10am-11:30am), and the Hideaway Teen Club in the afternoon session (3:30pm-5pm).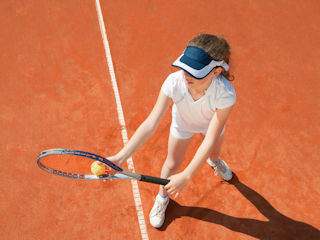 Sports Academies
Sun Gardens provides various sports academies for children aged 7-15. Each academy provides children with a Nike sports kit and, upon completion, children receive a certificate and medal. Academies range from tennis, squash, swimming, football, basketball, sports camp and the popular Campioni Soccer Academy (ran by ex-Premier League players and joined by many famous football players). All academies, apart from the Campioni Soccer Academy, run from May until September. The Campioni Soccer Academy only runs for one week each month between May and August. The number of places are limited for each academy so it is highly recommended to book in advance. All academies are charged extra.
10% Early Booking Discount
Valid for stays between 01Apr22-31Oct22
For reservations confirmed between 01Jan22-28Feb22
Valid In : All Rooms & Suites (exc Deluxe Residences & 2 Bedroom Residences)
N.B. 50% Pre-Payment is due to the hotel by 15Apr22
Rate Code: 10%
10% Early Booking Discount
Valid for stays between 01Apr22-23Jul22, 28Aug22-31Oct22
For reservations confirmed between 01Jan22-28Feb22
Valid In : Deluxe 2 Bedroom Residences & 2 Bedroom Residences
N.B. 50% Pre-Payment is due to the hotel by 15Apr22
Rate Code: 10%(1)
Rooms
201 rooms and suites available
Sorry, we couldn't find any reviews.