Located on one of the largest islands in the Maldives, LUX* South Ari Atoll is the perfect destination for families or couples (it's excellent value for money), providing a serene haven with its stunning natural surroundings, lush tropical vegetation and four kilometres of pristine beach.
With natural Maldivian style décor, choices of accommodation are exceptional, either located directly on the white sands or perched over the sparkling lagoon. Interconnecting and family options are available, as well as alternatives if you are looking for the utmost privacy and seclusion while on your retreat in the luxurious Maldives.
It's the special touches at the LUX* South Ari Atoll that will really delight you, from impromptu family games tournaments, to al fresco cinema screenings under the night sky or stargazing with your very own expert. Facilities around the resort are excellent, including two pools on the sunset side of the island, LUX* Me Spa with 11 garden villas and four over water treatment villas, a world-class PADI diving centre, tennis courts and a very modern gym. It's the place to be for water sport fanatics where you can dive off a dhoni and enjoy the colourful aquatic life on offer including parrot fish, stingrays and whale sharks.
With eight restaurants serving authentic island delicacies, including the new Beach Club, 'Beach Rouge', the resort serves up culinary triumphs taking influences from Indian, Italian and Japanese dishes.
The Kids' Club (PLAY) features a whole host of exciting and educational activities with a focus on the surrounding natural habitat, as well as a range of high-energy sports. For teens, STUDIO 17 offers lots of activities including local dance and language classes, beach sports activities and exciting adventure trips around the island.
Facilities
Spa
Swimming Pool
Gym
Room Service
Water Sports
Kid's Club
Interconnecting Rooms
PADI Dive Centre
Excursions
Babysitting Service
Transfers
LUX* South Ari Atoll is 25 minutes by seaplane from Velana International Airport - Seaplane operating times 06:00 hrs - 16:00 hrs
Food & Drink
LUX* South Ari Atoll has eight restaurants to choose from on the island, along with five bars including a beach bar.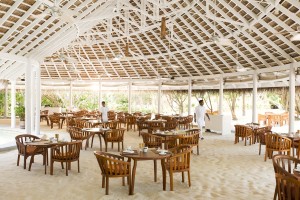 Embrace the essence of island living while sitting on the beach under thatched roofs with your feet sinking into the warm sand. At Mixe you can enjoy fresh buffets for breakfast and dinner, as well as live cooking stations serving everything from wood-fired pizzas and grills to locally-inspired cuisine.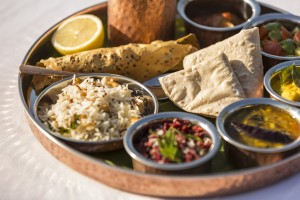 Inspired by North African, Lebanese, Indian and Indian Ocean cuisine, Senses never fails to delight with its tempting menu of tagines, tandoori prawns and unique tropical sorbets. Enjoy a light lunch of fresh salads, grills and local seafood, then take a seat at the water's edge overlooking the infinity pool for an exquisite à la carte dinner under the stars.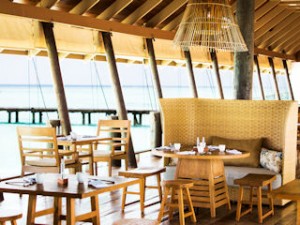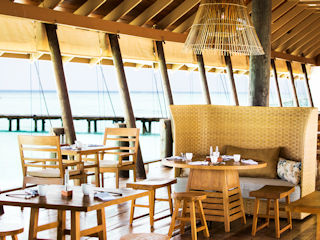 Suspended above the water, East inspires with its incredible view out over the lagoon. Rustic decks and old ship's riggings add to the nautical theme, while bright cushions and light fabrics provide a lively island feel. The menu features the best of Cambodian, Indonesian, Thai, Sri Lankan, Hong Kong and Chinese-style buffets.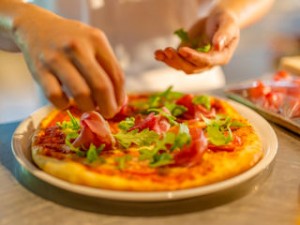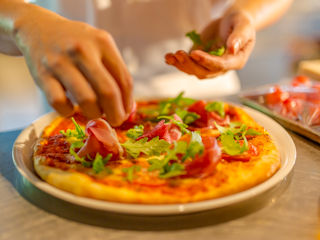 Vibrant Italian flair blends with the lively island ambience at Allegria. Located right on the beach, this open kitchen allows guests to watch our skilled chefs at work as they create pizzas, pastas and gnocchi dishes. For a more intimate atmosphere, Allegria`s wine cellar can be booked for private dinners. Exclusive arrangements can also be made for small parties to dine in the cellar and indulge in a range cheeses complemented by our exceptional selection of French and New World wines.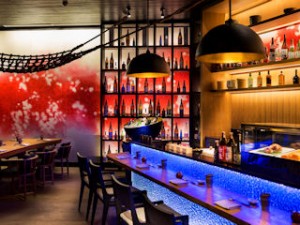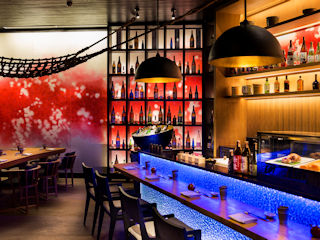 Perched on stilts over the water, Umami features a Japanese-style teppanyaki table where our chefs entertain guests with their culinary skills. Sit under beautiful silk paper lanterns surrounded by wooden latticework while you enjoy the simple yet delicate flavours of Kobe beef sushi rolls served with scallops or fresh seaweed and squid salad. N.B. Tables need to be reserved in advance.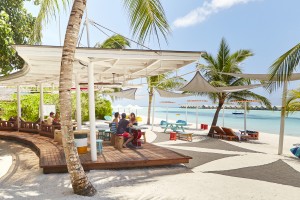 On the beach, facing the sunrise, close to the lobby and the boat house, this is your regular laid-back watering hole. Enjoy island music and reggae favourites while sharing your experiences from the last dive or your exciting water sports session.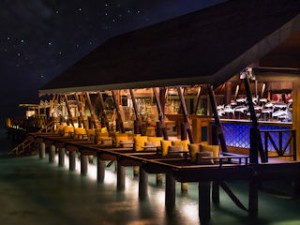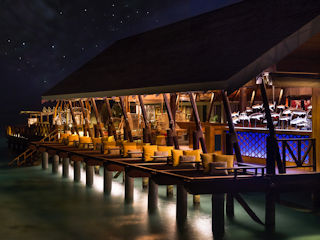 With swinging seats and loungers for two, East Bar offers a selection of cocktails, rums, liqueurs, beers and spirits.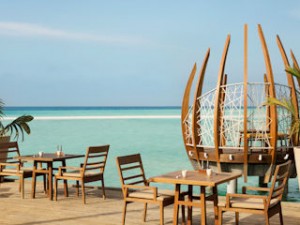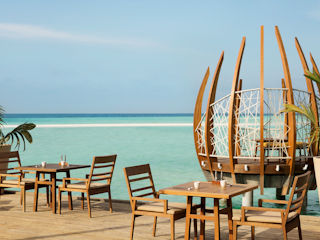 Located near the crystal clear swimming pool that extends out to sea, with shimmering views of the lagoon on three sides, Veli Pool Bar offers a casual menu of tasty pizzas, sandwiches and spring rolls, as well as Mediterranean-style tapas, meze and antipasti.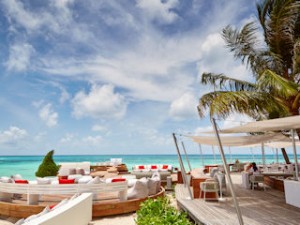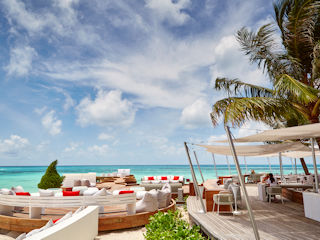 The best pizza, in the most relaxing setting, right on the beach. Crisp, thin crusts, topped with the freshest ingredients, baked to perfection and enjoyed with your feet in the sand, your eyes on the lagoon and the breeze in your hair. Heaven.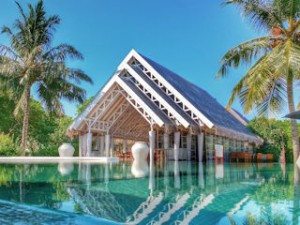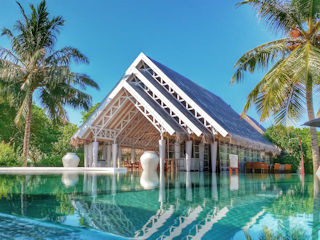 Senses Bar and Lounge offers a selection of cocktails, rums, liqueurs, beers and spirits, as well as a refreshing selection of Sri Lankan teas in the afternoon. It also offers light Indian Ocean lunches in the shade, or by the pool. Relish in a light snack in the evening while swaying gently in a giant hammock.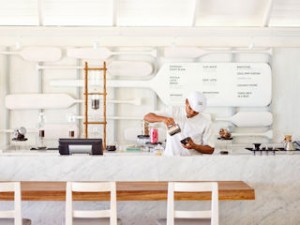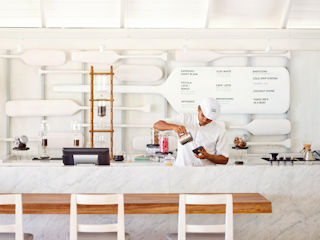 Café LUX* offers guests the finest barista-made coffee. Great coffee begins with freshly ground beans that are roasted in LUX's own on-site roasting rooms, which can be explored on our aromatic behind-the-scenes tour. The specialist baristas keep up with all the latest trends and techniques.
Childcare
Children are welcome at the LUX* South Ari Atoll in the Maldives, with clubs covering ages two to 17. Babysitting is also available upon request.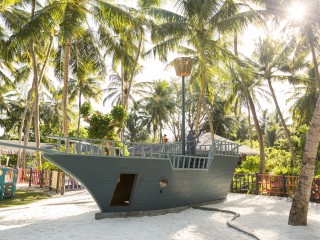 PLAY Kids Club
For ages three to 11- years, PLAY offers children an opportunity to explore the many wonders and delights of island living. Supervised by a highly trained and enthusiastic team, kids are exposed to the nature and culture of the island's incredible surrounds, as well as a range of high-energy sports and outdoor activities. From art classes and treasure hunts to engaging and educational Teddy Tennis lessons, PLAY is everything your kids could hope for on an island vacation.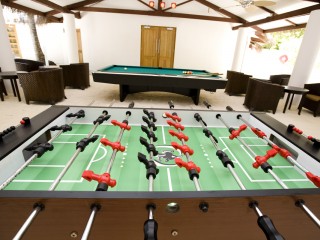 Studio 17 Teens Club
Young people aged 12 to 17 years can get together, explore the island or just hang out. Run by trained and enthusiastic LUX* supervisors, teens can make the most of their island holiday with loads of activities including local dance and language classes, beach sports activities and exciting adventure trips around the island.
Valid for stays between 02Mar22-09Apr22, 21Apr22-22Dec22
For reservations confirmed by 30Jun22
Valid In : All Rooms & Suites (exc Beach Pavilion, Temptation Pool Water Villa & LUX Villa)

Rate Code: 25%
Complimentary Meal Upgrade from Full Board to All Inclusive
Valid for stays between 09May22-30Jun22, 01Sep22-22Dec22
For reservations confirmed by 31May22
Valid In : Beach Pool Villa, Beach Villa, Family Lagoon Pavilion, Romantic Pool Water Villa, Water Villa

Rate Code: AI
Rooms
The LUX* South Ari Atoll has 193 villas to choose from.
The hotel was absolutely lovely…
Date stayed: January 2018
Posted on: 29th January 2018
The hotel was absolutely lovely. Rooms were idylic. Restuarants were very good.
Shame about the weather, 2 days of rain but we still had an amazing holiday.
Island was lovely, service very good…
Island was lovely, service very good & friendly. Cleaning of rooms was really good & we loved coming back to find a new animal made out of towels on the bed every day. Snorkelling trip out to reef every day worked well, fish were amazing. It felt like there was plenty to do every day without feeling we were being pushed into things. Food was good, buffets much better than the usual.
We went all inclusive which felt very expensive – over £4k for 1 week, 2 adults, 2 children, but looking at menu prices made us think it wouldn`t have been any cheaper to go a la carte, & it was relaxing to have it all pre-paid.
Only grumble was that we had particularly asked via Travelbeam for twin beds for the children – we got a king size bed because hotel said there were no twin beds at our room level ( a downgraded room could have had twin beds). I thought Travelbeam should have told us that at booking, so we could have changed.
Excellent…
Date stayed: January 2015
Posted on: 17th January 2015
It was an excellent recommendation of hotel for our family holiday, with plenty to do for us and our teenage children. The rooms, facilities and service were all excellent, with wonderful scuba diving and snorkelling and a huge array of fish. My only criticism would be the food which is good on the whole but somewhat boring and unimaginative.