The beachside adults-only  Miramare in Corfu, a Luxury Collection resort, is ensconced in grounds dotted with ancient olive trees on Corfu's eastern coast. Sister hotel to Domes of Noruz in Chania and a member of Domes Resorts, it is perfect for couples and families with young adults as it has a minimum age of 16 years. 
Once the playground of the Onassis family, this boutique property shrouded in history and charisma dating back from its 60s heydays. The interior design reinterprets Sixties style with contemporary flair in shades of neutral tones. Emerald Suites and Retreats are housed in beachfront low-rise buildings with ocean views through a garden and are surrounded by grassy areas.
The exclusive "Haute Living Selection", a boutique hotel within a hotel vision with a range of added value services such as dedicated 24 hour concierge service, premium room amenities and access to the exclusive lounge where you can enjoy all day hot and cold snacks. These units also offer a complimentary upgrade to the Dine Around Half Board programme. At Miramare the Haute Living Selection includes Pavilions which are Thailand-styled fully and semi-detached, single story beachfront accommodations, with direct access to a private decked beach. These Pavilion Suites, Pavilion Retreats and two villas enjoy a more spacious sea view, hot tub or private pool and direct access to the sea. 
There's a shingly 400m beach sporting a variety of watersports including wake boards, sea bobs and glass-bottomed canoes await those craving action. But if guests are in the mood for relaxation they can take a complimentary yoga class on the beach. The hotel also provides an elevated beach service providing umbrellas, sun loungers and floating sofas. Luxurious motor boats and speed boats (Miramaretta) can be used if guests want to visit Corfu's Old Town or a nearby secluded cove. At the spa, treatments such as couple massages are performed with Elemis products. There's a real focus on wellness at the resort with a outdoor gym, team of highly skilled personal trainers and yoga close to nature in the grounds.
The main restaurant Makris is exceptional with an abundance of healthy options and a degustation menu by a multi-awarded chef. The 'Raw Bar by Moët and Chandon' is a minimalist venue serving champagne, cocktails and sushi in the evening. There's a range of experiences on offer from olive oil making tours to full day boat trips. Nearby there's the quaint fishing village of Benitses whilst UNESCO old Corfu town is only a 20 minute taxi ride away.
New for 2021, Domes Miramare is offering The Luxury Collection® Experiences: Be Authentic Experience (once per week) a weekly event with one of the famous Philharmonics of Corfu, with the Ionian Sea in the background. From Venetian and Corfiot classics, jazz and soul guests can enjoy the band over their dinner or drink (food and beverage not included). Be Authentic Experience (daily) is a daily evening event about the art of making fine traditional Greek coffee. Guests can learn about the history of Greek ground coffee, whilst specialist prepare a complimentary tailor made drink. Be Epicurean Experience (weekly) is a complimentary weekly olive tasting event where one of the oldest oil producing families in Corfu bring to guests their secrets in how to distinguish extra virgin olive oil.
Due to relevant health and safety protocols, services may vary from those advertised. Protocols are frequently amended as per WHO, Greek State and Marriott International guidelines.  Guests are advised to read the relevant Domes New Normality protocol prior to booking and departure.
Facilities
Spa
Water Sports
Beach
Transfers
25 minutes by car from Corfu Airport
Food & Drink
Domes Miramare Corfu offers two fantastic restaurants and two bars.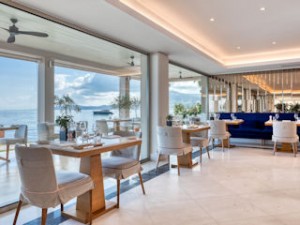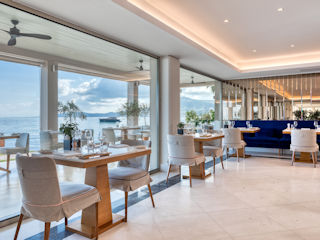 In present day Corfu, Miramare's guests are having the privilege to be initiated in the Mediterranean and Corfiot cuisines. Also, it will be hard to resist the live station for omelettes and eggs, along with the dairy section, with a wide selection of cheese varieties and type of milk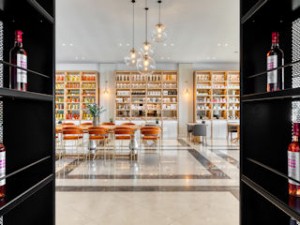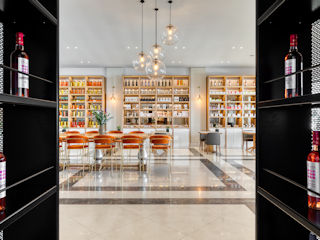 Makris Gastronomy offers a menu that brings together the local and the international, provides you with both premium meat and vegetarian choices, and treats comfort food and mezedes the right way.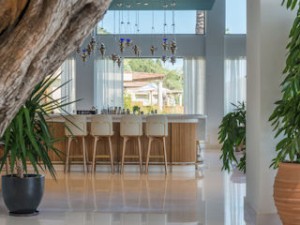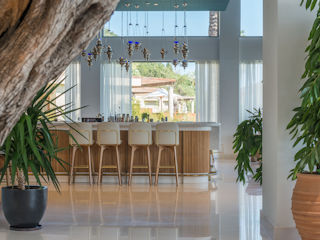 In a bohemian setting with many collectibles and a distinct essence of personal style, every drink enthusiast will have the chance to enjoy premium spirits over the sounds of the piano, while sitting at the counter or next to the fire place.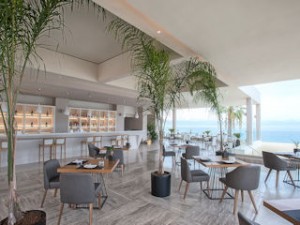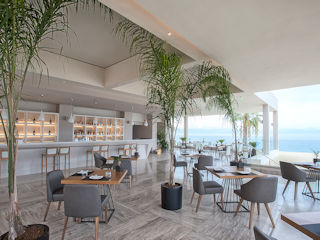 Raw is a sushi and cocktail bar, run by a renowned progressive team that brings in the latest Asian fusion tastes and mixology trends. Right above the dining area, Raw offers a stunning sea view, best enjoyed with a selection of premium sushi prepared in it open kitchen by our sushi chef along with some fine champagne or an exquisite cocktail by the acknowledged mixologists team.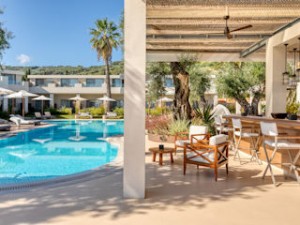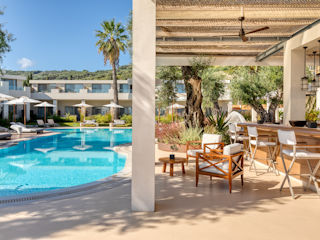 Somewhere between the main swimming pool and the beachfront, lies your personal refreshing haven. During the day's hottest times, or not, the pool bar with its lounge ambience is the place to be when it comes to enjoy light snacks such as sandwiches, salads, and finger food, freshly made fruit juices, and of course summer cocktails.
Childcare
Adults only hotel (minimum age 16)
5% Additional Booking Discount
Valid for stays between 22Jul22-27Aug22
For reservations confirmed by 30Jun22

Rate Code: 5%(1)
Valid for stays between 07Jun22-31Oct22
For reservations confirmed by 30Jun22

Rate Code: 10%
5% Additional Booking Discount
Valid for stays between 30Jun22-21Jul22, 28Aug22-21Sep22
For reservations confirmed by 30Jun22

Rate Code: 5%
10% Additional Booking Discount
Valid for stays between 22Jul22-27Aug22, 22Sep22-31Oct22
For reservations confirmed by 30Jun22

Rate Code: 10%(1)
Rooms
Domes Miramare Corfu offers 113 rooms to choose from.
Sorry, we couldn't find any reviews.