Set within its own private lagoon, Huvafen Fushi is a extremely swish piece of paradise which offers laidback luxury for discerning guests. With dreamlike surroundings, a stunning house reef and the world's first underwater spa, this resort is sure to excite visitors.
The accommodation at Huvafen Fushi is architecturally designed with a nod to nature and offers the ultimate in privacy. The contemporary bungalows sport private plunge pools, cutting-edge technology and also your very own 'Thakaru' butler service to cater for every whim. The rooms are enshrined in natural bright greenery and bright blue oceans, surrounded by exquisite marine life on your own little island.
Your Maldivian holiday will be complemented by dining options that are truly special. Salt offers an overwater experience specialising in freshly caught seafood. Additionally, the more relaxed Celsius allows you to dine under the stars on a terrace with spectacular ocean views. Raw also serves exquisite healthy food conjured up from the freshest local ingredients. For special occasions let the hotel spoil you with dining options under the stars or by the ocean reef.
The worlds first underwater spa offers overwater and underwater relaxing treatment rooms used to restore and rejuvenate guests. The spa provides the feeling of a giant aquarium providing visitors with tranquillity and a once in a lifetime experience. Also, if you are looking for an adventure, why not explore the other islands with a night aboard a luxury yacht or sail aboard a Dhoni (hand-crafted Maldivian sailboat).
Facilities
Spa
Swimming Pool
Gym
Room Service
Water Sports
Beach
PADI Dive Centre
Babysitting Service
Transfers
Huvafen Fushi is just 25 minutes by speedboat from Malé Airport.
Food & Drink
There are four restaurants and two bars to choose from at Huvafen Fushi.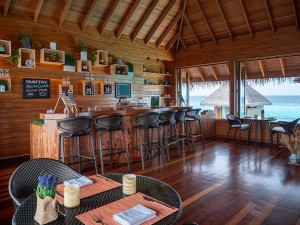 Innovative 'Raw' cuisine for those who care about their bodies yet crave exquisite taste. Original. Creative. Natural. Restaurant and juice bar set over the water.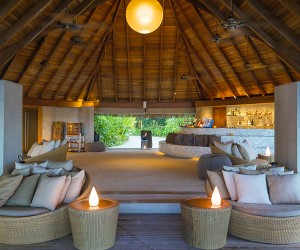 Vodkas clear as the Maldivian seas. Tropical juices, fresh coconut. UMbar at the water's edge. Overlooking the breathtaking infinity pool.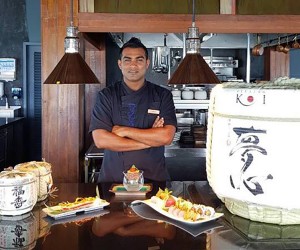 Sumptuous Japanese dining with an innovative Latin twist. Immerse yourself in the tantalising tastes of fusion cuisine amid laid-back Izakaya-style dining.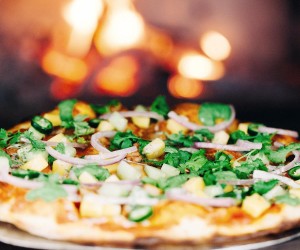 Contemporary Napolitano cuisine is served in a casual beachside setting, allowing you to enjoy Italian flavours with views of the Indian Ocean. Artisanal pizzas, handmade pastas, imaginative fusion are served throughout daily lunches and dinners, with themed dinners on select evenings.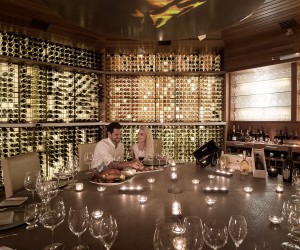 Hidden eight metres below the surface, Vinum is a treasure trove of rare vintages by the thousands and the Maldives' first underground wine cellar. Reservations required.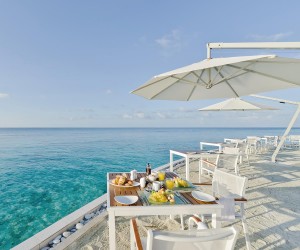 Open and easy. Outdoor or indoor. Sample Celsius by candlelight or in the bright Maldivian sunshine, refreshed by cool ocean sprays. Luxe-but-laid-back dining on a white sand floored deck branching out over the lagoon.
Childcare
Children are welcome at Huvafen Fushi, and a babysitting service is available upon request.
Sorry, there are no offers available for this hotel at the moment
Rooms
Huvafen Fushi has 44 naturally modern bungalows and pavilions to choose from.
Beach Bungalow with Pool
Facing the pristine lagoon with direct access to the beach, the 125m2 Beach Bungalows feature a sumptuous deck overlooking the beach with daybed and dining table. The private courtyard houses an oversized bath, fresh water plunge pool and waterfall shower. Each Bungalow offers an overhead fan, espresso machine, private bar, luxury bath amenities, daybed, IDD telephone – Bang & Olufsen cordless telephone and 32" plasma screen. Each Beach Bungalow can accommodate up to three adults or two adults and one child under the age of 12.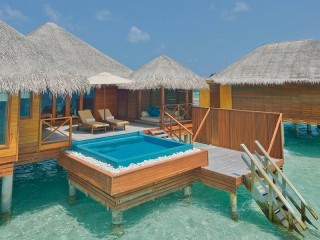 Lagoon Bungalow with Pool
These 130sqm Bungalows with their split-level layout lead into the tropical waters and feature a private deck with sala and a separate sunbathing deck with panoramic views. Your Bose surround sound system, with its 40" plasma screen, has speakers throughout. Listen to your favourite tunes in your freshwater pool or in your free-standing bath cantilevered over the Indian Ocean. Each Lagoon Bungalow can accommodate up to three adults or two adults and one child.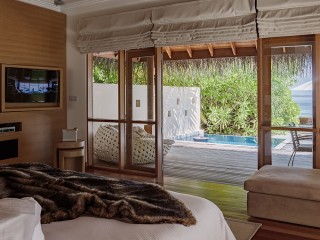 Deluxe Beach Bungalow with Pool
In addition to the offerings of the Beach Bungalows, the 160m2 Deluxe Beach Bungalows have a much larger outdoor living area outfitted with daybeds and sun loungers. Out in your private courtyard, a larger plunge pool is perfect for relaxing. The decadence of a second plunge pool that lights up with fibre optics at night, overlooking the ocean on the front deck. Ideal for daytime lounging and night time stargazing. These bungalows offer spacious living with an array of exquisite fabrics and an even more selective range of designer furnishings. Each Deluxe Beach Bungalow can accommodate up to three adults or two adults and one child.
Ocean Bungalow with Pool
The aptly named Ocean Bungalows look out to miles and miles of the Indian Ocean and offer 160m2 of naturally modern living space. Explore your three-tier deck to find a freshwater infinity pool, dining area, alluring daybed and sunbathing terrace. The living room offers a state-of-the-art theatre system with glass floors to view the pristine waters. Lose yourself in your oversized Jacuzzi and gaze at the endless shades of blue stretching toward the horizon. Each Ocean Bungalow can accommodate up to three adults or two adults and one child.
Two Bedroom Ocean Pavilion with Pool
A further 200 metres out in the Indian Ocean, these stunning 330m2 Pavilions face the sunset and are the last word in pampered luxury. Privacy is assured as access to these wooden walkways is only for Pavilion residents. Your private fibre-optic lit infinity pool blends naturally with the horizon, while your library is fully stocked with the New York Times Bestsellers. The master bedroom is open plan, while an infinity edge Kohler bath that fills from the ceiling forms the centrepiece. A second bedroom with 42" plasma and direct access to its own outdoor deck completes each Pavilion. A dedicated Thakuru is on call 24 hours. The Ocean Pavilions offers two bedrooms and can accommodate up to four adults and two children.
Two Bedroom Beach Pavilion with Pool
The Beach Pavilion covers 800m2 of luxurious living and redefines iconic luxury with its avant-garde design and private beach. The master bedroom on the upper floor offers views through a glass floor down to the fibre-optic lit infinity pool and the lagoon beyond. Venture down a stairwell to your outdoor oasis with open-air shower and gardens nestling your oversized bath. The second bedroom has its own indoor/outdoor bathroom with rainfall shower and separate outdoor deck. A central living area offers a Bose surround sound theatre system with 60" plasma screen and DVD and a library fully stocked with the New York Times Bestsellers. Your dedicated butler is on call 24 hours. The Beach Pavilion offers two bedrooms and can accommodate up to four adults and two children.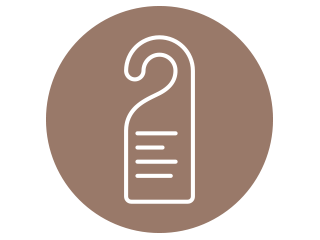 Three Bedroom CUBE with Pool
Nestled in a lush oceanfront garden enclave with direct access to the beach, CUBE is a sanctuary set in a world of its own. A games area with pool table and table tennis greet you upon entering. Once inside, the foyer opens to reveal the living room, kitchen with a walk-in pantry and dining room bathed in natural light. Your garden courtyard houses a swimming pool, barbecue grill with lounge seating, daybeds and dining for four, providing a sumptuous outdoor space for relaxation. On the upper floor, the master suite and two guest rooms feature Bose surround sound systems, plasma screens DVD players. CUBE comes complete with a wine fridge, two fully-stocked mini-bars, a game room with latest video game consoles and a lounge stocked with bestsellers and iPod playlists. A personal butler is on call 24 hours. CUBE offers three bedrooms and can accommodate up to six adults or four adults and two children. 463m2.
Sorry, we couldn't find any reviews.