This very special and very green resort ticks all the boxes if you like it exclusive and intimate. The accommodations at Anantara Kihavah Maldives Villas really sets the resort apart. It is so hard to leave these divine enclaves, in fact, some guests never do. They inhabit their own private little worlds fuelled by room service and complete peace for the duration of their stay.
Spacious pool villas sit directly on the perfect white sand while water villas perch on stilts over the glistening turquoise lagoon. Accommodation has very large private pools and a fully-stocked fridge and wine chiller ready for sun downer drinks. Over-sized swinging daybeds on the terrace call to you for a lazy afternoon snooze. Overwater villas sit atop the stunning Indian Ocean, enjoying three vast terrace hammocks and a glass-bottomed bath.
The Anantara Kihavah beach villas boast outdoor bathrooms, complete with a built-in wine cooler next to a huge tub. For the gadget lovers, Bose sound systems, iPod docks and espresso machines mean you have everything you require at your fingertips.
The overwater spa is a true revelation with its chilled-out, deep joy vibes as you would expect from the Anantara brand. Whilst at the underwater restaurant, Sea, you can be wowed by a stunning spectacle of marine life almost in touching distance over dinner and fine wine from the world's first underwater wine cellar (probably the best stocked in the Maldives). There's also sizzling teppanyaki and a communal atmosphere at Fire. Guests can opt for dining by design just for you in a romantic beach or yacht location.
Activities include relaxing by the substantial pool (it's the longest in the Maldives at 49-metres), to cooking classes and yoga. There are also a variety of sports from beach badminton to football to volleyball and more.  The resort also offers excursions to deserted islands, big game fishing and amazing diving adventures. Additionally, there is a UNESCO World Biosphere Reserve.
Anantara Kihavah: 78 villas
Facilities
Spa
Swimming Pool
Gym
Room Service
Water Sports
PADI Dive Centre
Babysitting Service
Kid's Club
Transfers
Anantara Kihavah Maldives Villas is just 35 minutes by sea plane from Malé International Airport.
Food & Drink
Anantara Kihavah Maldives Villas has a mix of á la carte and casual dining options and bars to choose from.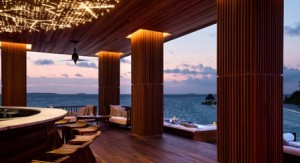 Alfresco dining experience with delicious Maldivian flavours, including freshly caught lobster, prawns and reef fish. There are a variety of cooking techniques available which heighten the flavours of the imported Australian cuts on offer. The restaurant has a salt guru on hand to help you enhance your dining experience with a fine selection of salt from around the world.
Family meal times in paradise are deliciously rewarding, with an invitation for children under 12 years to dine with our compliments from the children's menu (except at SEA restaurant).
Sea: Gourmet dining
Breakfast: Sundays only, reservations necessary
Lunch: 12:00 – 14:00
Dinner: 18:30 – 22:30
Fire: Japanese
Dinner: 18:30 – 22:00
Salt: Asian
Dinner: 18:00 – 22:00
Sky: International tapas
Opening Time: 11:00– 00:00

Enjoy a comprehensive breakfast or a candlelit dinner, savouring a tantalizing buffet selection of Maldivian seafood and bold flavours. International and Maldivian
Breakfast: 07:00 – 10:30
Dinner: 19:00– 22:00 (Tuesdays and Fridays)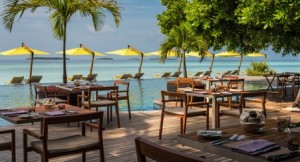 Pool bar and restaurant with one of the longest pools in the Maldives and Sunshine Butlers.
Pool Bar: 09:00 - 18:00
Lunch: 12:00 – 17:00
Dinner: 19:00 - 22:00
Location: Poolside.
Childcare
There are a variety of options for children at the Anantara Kihavah Maldives Villas.
Children's menus and babysitting are available on request. For children 3 months and upwards our babysitting service allows parents to enjoy precious time alone in between the many family friendly experiences.
Family Cinema Under the Stars: For a memorable family night, the private alfresco cinema screenings amidst the coconut palms come with a sofa big enough for the whole family. Choose your film in advance from family friendly favourites, golden oldies to the most recent blockbusters and watch them together on a big screen with popcorn and chocolate dipped strawberries.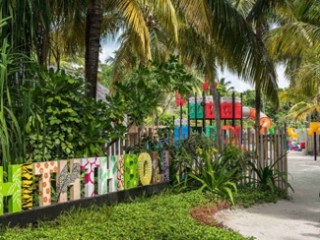 Kihavah Kids Club
A complimentary Kids' Club for ages three to 11, with its own club house. The island has lots of pathways and space with activities laid on for your little ones, plus a recreation area for teenagers and the whole family with billiards, badminton, volleyball, tennis, life-sized chess, Jenga and games for all ages.
Open 09:00 - 18:00.
Sorry, there are no offers available for this hotel at the moment
Rooms
Anantara Kihavah Maldives Villas has 78 villas to choose from.
Sorry, we couldn't find any reviews.