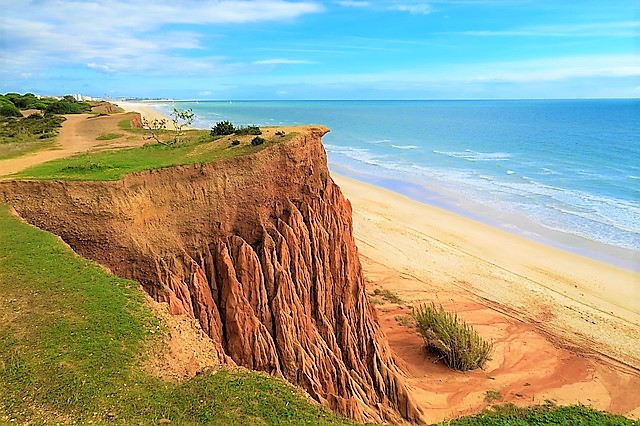 Praia da Falésia
Majestic sandstone cliffs overlook the spectacular Praia da Falésia, stretching more than six kilometres across the Algarve. A luxuriant blanket or lush green pine trees lines the area atop the cliffs, gently shading the town above and filling the area with a sweet, intoxicating fragrance.
A Little More About Praia da Falésia
The word 'Falésia' translates to cliff, fittingly defining the imposing outcrop that lines this golden beach, soaking it in hues of burnt orange, amber and gold, and contrasting brilliantly against the vibrant cobalt Atlantic that sweeps across the shore. Praia da Falésia is home to a pristine beach that is superb for basking in the Mediterranean sunshine for which Portugal is famous, while enjoying the gentle waves that are tranquil and idyllic.
Above the cliffs is a white-washed residential village with a scattering of luxury resorts, stylish restaurants and local eateries. The pine trees provide a cooling canopy over the centre of town and add a verdant backdrop to some of the Algarve's most exquisite hiking trails that run along the coastal path towards Vilamoura and Albufeira.
Exploring the area
On the outskirts of Falésia, the charming village of Olhos de Água sits on a gentle sandy cove that is dotted with colourful fishing boats. The town itself enjoys a café culture, and the relaxed eateries and quaint bars offer a more relaxing ambiance than some of the flashier resorts dotted along this section of the Algarve.
Further east is the luxurious resort Vilamoura, with its chic boutiques, stylish bars and restaurants and glitzy clientele, whereas heading west is the lively resort of Albufeira, with its energetic nightlife and family-friendly Old Town.
Weather
A hot Mediterranean climate which is tempered by the cooling breezes of the Atlantic Ocean. During spring and summer months you can expect sunny and dry conditions. Winter months are mild but subject to rain.

Temperatures (°C)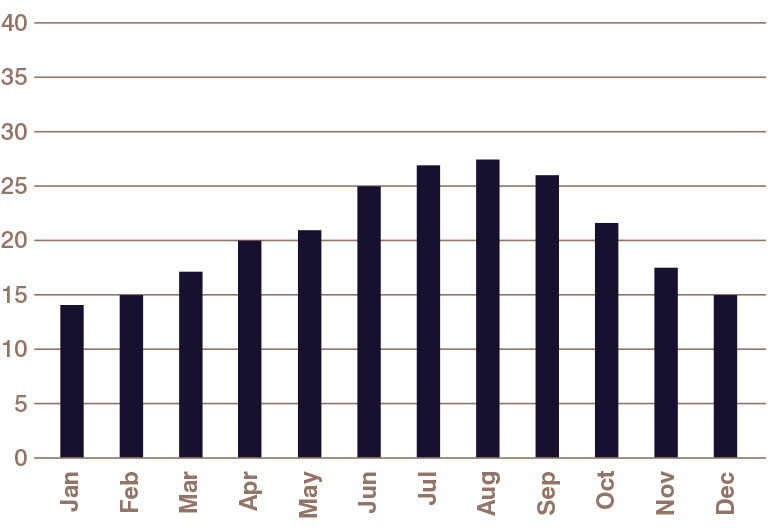 Flight Information
Approximately two hours 30 minutes from the UK
Currency
Euro €
Language
Portuguese
Time Difference
GMT +1 hour
Top Luxury Hotels in Praia da Falésia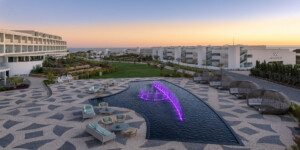 Spa
Beach
2/3 Bedroom Options