This contemporary hotel in the upmarket area of Costa Adeje, features unique über-cool suites with self-catering facilities and super-slick minimalist design.
The suites are divided into several categories, which range in size and capacity from studio to four bedrooms and some of the top suites include terrace Jacuzzis or private plunge pools.
Thanks to its hillside location, most of the accommodation enjoys stunning ocean views and each room is flooded with natural light from floor to ceiling windows. The suites boast at least one outside terrace, an open plan lounge-diner, flat screen TVs and fully equipped kitchen with the latest appliances including a dishwasher and a washing machine. Special touches include the delivery of breakfast boxes to your room included as part of your stay (these are provided on a daily basis). There is also the option to enjoy buffet breakfast in the restaurant.
What's really excellent about Hotel Baobab Suites is that you have the flexibility to chill out in your living space if you want to but there's also every facility you could wish for from a hotel on tap. Style is the focus with a trendy pool bar and restaurant called BB, Bite (the half board restaurant) serving breakfast and dinner buffet and the á la carte Sucas restaurant and Fuel Restobar.
There are two pools and baby splash pools (heated all year round), Baobab Wellness for spa treatments, and the 'Activate Sports Club' with its open-air gym, complimentary group exercise classes such as cycling and zumba or pilates and personal training (at an extra charge). In the club there is a restaurant/bar focusing on healthy and nutritious meals.
There is a free transfer service to the white sandy beach nearby, which is a 15 minute walk away.
Facilities
Spa
Swimming Pool
Gym
Room Service
Babysitting Service
Kid's Club
WiFi
Sports Centre
Transfers
Hotel Baobab Suites are 20 minutes by car from Tenerife South (Reina Sofia) Airport.
Food & Drink
There are four restaurants and one bar. Room service is also available.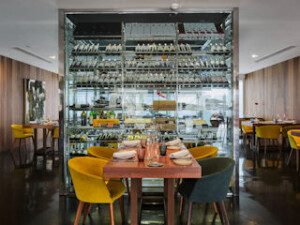 Few restaurants in Costa Adeje can compare with Sucás in terms of innovation. If what you are looking for is a creative place and an elegant environment, you will find a better option than chef Lucas Maes. Try an unforgettable gastronomic experience with sublime flavours, the freshest ingredients and impeccable presentation. Open 18:30-22:30 from Tuesday to Saturday (Sunday and Monday closed).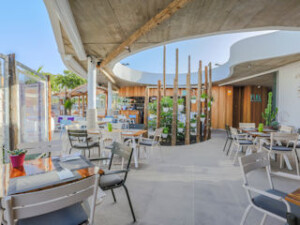 If what you are looking for is a place to enjoy a healthy menu in a relaxed atmosphere, Fuel RestoBar is the perfect option. The hotel have recreated a beach so that guests feel like they are in a real beach club. Salads loaded with vitamins and juices brimming with nutrients, vegetarian and vegan dishes, grilled meat or fish. Fuel RestoBar is the ideal place for breakfast, lunch, dinner or just a healthy snack. Open 08:00-22:00 everyday.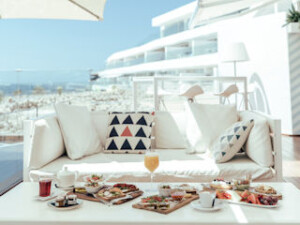 A Solarium with excellent views, a large pool, comfortable hammocks and Balinese beds, delicious cocktails and snacks. Open for breakfast 08:00-10:30 (only be reservation), snacks 12:00-17:00 and lounge bar 18:00-23:00.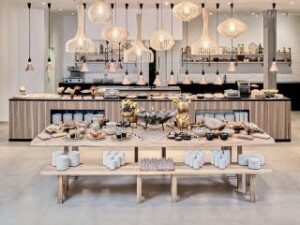 Head first thing in the day to Bite, where a buffet awaits you that includes a large selection of freshly baked breads and cakes, fresh fruit and cold cuts as well as a fantastic variety of coffees, teas and natural juices. Breakfast buffet hours from 07:30 am to 10:30am (Monday to Sunday)
Childcare
Families are welcome at the Baobab Suites in Tenerife, and there is a dedicated kids' club. A babysitting service is also available for children aged from zero to 12 years upon request (additional charge).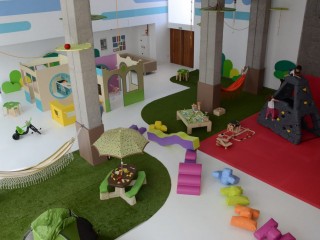 Saplings Kid's Club
Saplings Kids' Club offers little ones to have a place where they can spend a few hours of fun whilst parents can enjoy a bit of relaxation. In the spacious and colourful play area you will find, in addition to stuffed animals, houses and game consoles, a varied selection of toys. Boys and girls up to 12 years old will find everything they need to unleash their imagination, including crafts and educational workshops. Children under 4 years old must be supervised by a parent or guardian. Open 10:00-13:00 and 14:00-18:00 from Monday to Sunday. Hours may change depending on the season. Lunch is offered every day from 13:00-14:00 with an extra charge of €15 per child (optional).
15% Long Stay Booking Discount
Valid for stays between 01May24-31Oct24
Minimum Stay : 12 Nights

Rate Code: 15%
15% Early Booking Discount
Valid for stays between 01May24-31Oct24
For reservations confirmed by 29Feb24

Rate Code: 15%(3)
10% Early Booking Discount
Valid for stays between 01May24-31Oct24
For reservations confirmed between 31Mar24

Rate Code: 10%(2)
Rooms
There are 125 suites to choose from at Hotel Baobab Suites in Tenerife.
A great place to stay.
Posted on: 16th August 2023
A great place to stay. The suite had everything we needed for our family. Breakfast was perfect and we used the sports centre. The views from the suite are amazing and we had a private pool which was great. The surrounding area is excellent, lots of nice restaurants and the beach was clean with good facilities. Would definitely stay there again!
Excellent for families as well as couples
Posted on: 17th August 2022
Excellent for families as well as couples. Very professional friendly staff from reception to the cheery maintenance team. Up the short hill away from the hustle and bustle but restaurants and beach within easy walking distance.
A fantastic family friendly hotel…
A fantastic family friendly hotel. Very good facilities and suites with everything we needed. Great location, easy walk to beach, shops and restaurants. highly recommend this hotel
Excellent accommodation…
Excellent accommodation for a group of people or large families – very clean and spacious
Amazing standard of accommodation…
Posted on: 27th April 2017
Amazing standard of accommodation, everything has been thought of and is of a very high quality. We thought this more than made up for the quiet, slightly out of town location. This hotel has a quiet, discreet, understated feel which we loved.
First choice to stay when we visit Tenerife…
Posted on: 20th March 2017
Will now be our first choice to stay when we visit Tenerife.