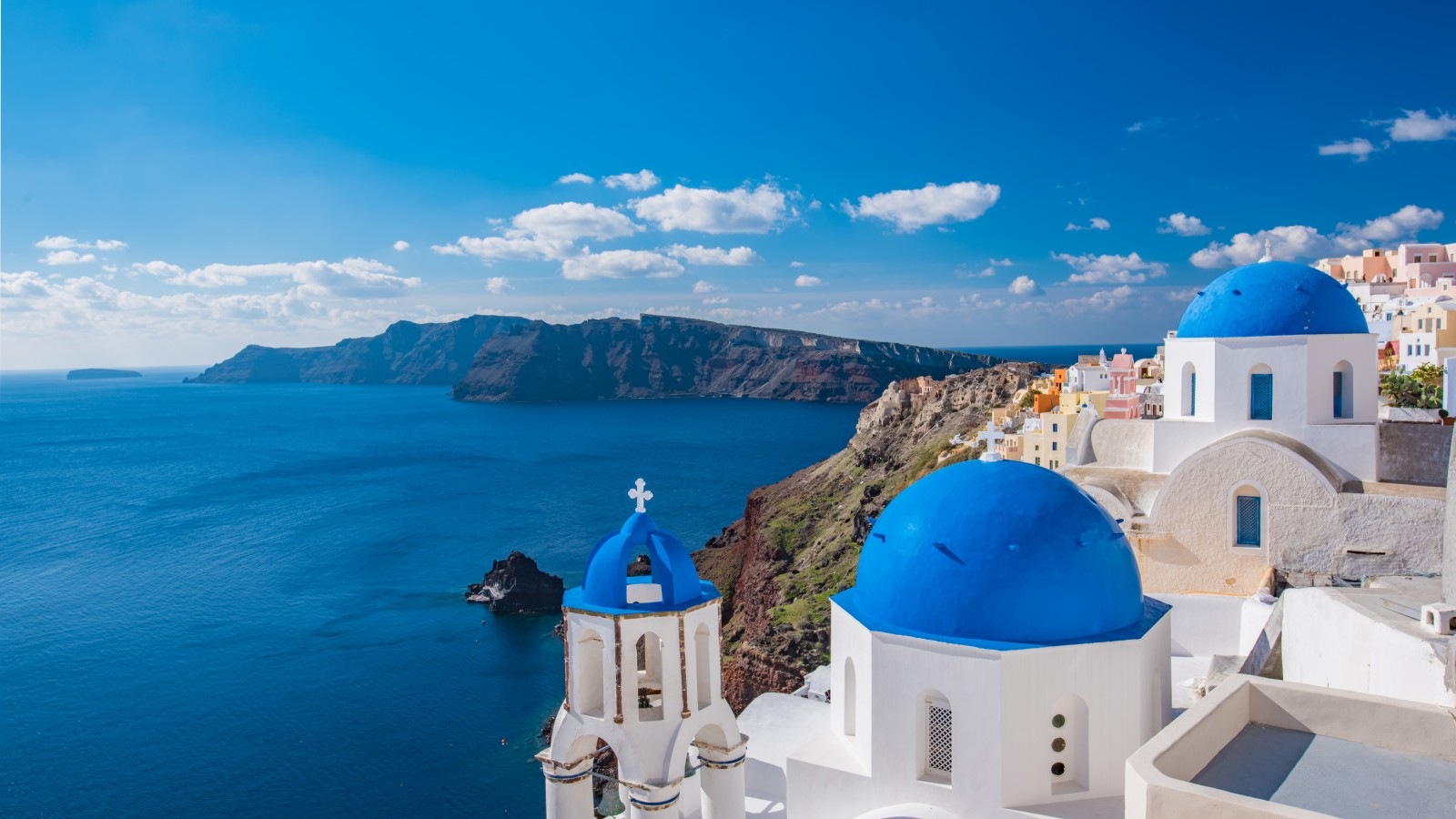 Santorini
Overlooking the brilliant blue Aegean Sea, white-washed hilltop towns frosted with sapphire domes and decorated with blooming magenta bougainvillea are why spectacular Santorini is arguably the most iconic, picturesque setting in all of Greece.
A Little More About Santorini
Santorini's rugged terrain has been shaped by a volcanic eruption in the 16th-Century.  Its dramatic cliffs are peppered with white Cycladic houses that reflect the aquamarine ocean and perfect sky, shining in a subtle pallet of icy blues in daylight hours and becoming drenched in magenta and amber hues during sunset.
The island's beaches are similarly polychromatic, with distinctive stretches of luxuriant black sand in the resort towns of Kamari, Perissa and Cape Columbo, and vibrant red beach in ancient Akrotiri.
Fira is Santorini's cosmopolitan capital. The hilltop city is stylish and whimsical, and a curious maze of winding cobbled backstreets and stone staircases links its main areas. Filled with bustling restaurants and energetic bars, the city is lively and welcoming, showcasing the best in Greek hospitality.
The north western curve of the island is famous for its opulent resorts, with the coastal town of Oia being a particular jewel. The luxuriant area overlooks a pretty caldera and is arguably of the most photographed resort in all of Greece
A taste of Santorini
Like much of Greece, Santorini makes good use of its resources, and its beautiful oceanfront restaurants, authentic hilltop tavernas and unique clifftop eateries serve some of the Mediterranean's most mouth-watering seafood and flavourful produce.
The volcanic soil of Santorini lends itself to distinctive fruits and vegetables that are distinguished from much of Greece. Try the mouth-watering domatínia (intensely-flavoured cherry tomatoes) or tasty white aubergines, washed down with a chilled glass of sweet vinsánto – a fortified dessert wine made from raisins.
Weather
A perfect destination to visit between Easter and mid-June, and from the end of August until mid-October, when you can enjoy a pleasant climate and fewer crowds. If you like it hot, visit in high summer when the temperatures soar past 30°C.

Temperatures (°C)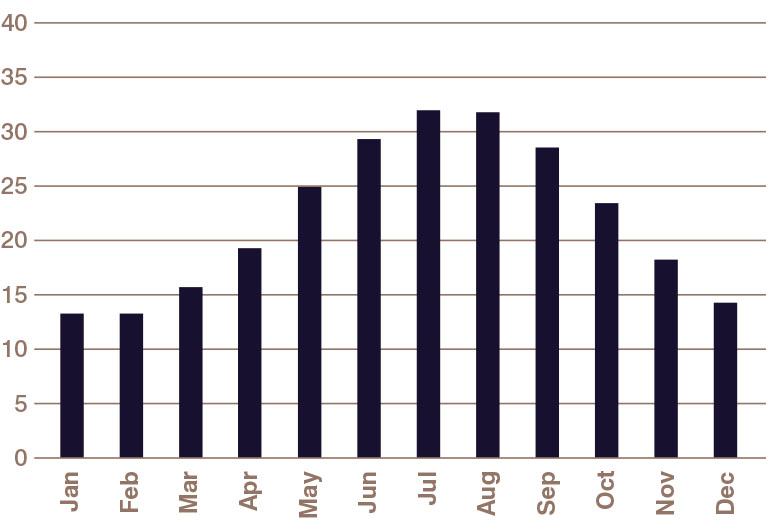 Flight Information
Approximately 4 hours from the UK
Currency
Euro €
Language
Greek
Time Difference
GMT + 2 hours
Top Luxury Hotels in Santorini