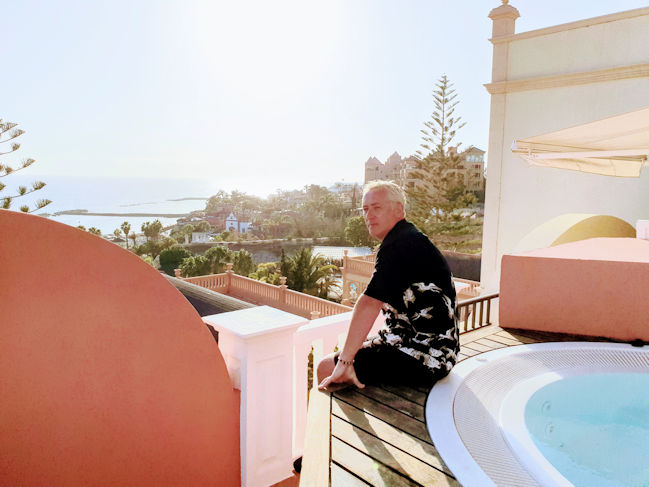 The sunny and sultry coast of Tenerife was the idyllic destination for actor and comedian, Damien McKiernan, and his family during the May school holidays. Many will know of Damien through his exceptional role as the 'new Rory' on BBC's Mrs Brown's Boys. Some may even know him as a professional snooker player back in the day where he met co-star Brendan O'Caroll. On his recent holiday getaway, Damien stayed at the remarkable Bahia del Duque hotel for two weeks which exceeded expectations from the moment he arrived at reception. He shares his experience with us: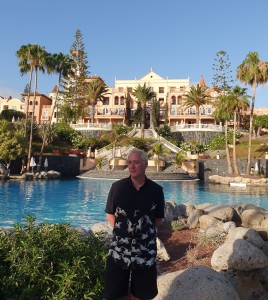 First Impressions
When we walked into the reception area, we felt that we were somewhere special. We were greeted by the hotel manager who welcomed us and made us feel important and valued. It was a great way to start our holidays. The reception area and surrounds were beautiful. All the staff made a great effort to say hello and hoped that we would enjoy our stay. After concierge drove us down to our room, we were in disbelief. The room was spectacular, the views were amazing, and we looked at each other and said, 'we have found our holiday destination for a long time'. The suite was unreal, we are never going anywhere else.
Food
On the first night we booked to eat in the hotel, and I have to say, it was fantastic. Service, food and drink were super and again the staff were excellent. During our stay we ate in all of the restaurants and we found it most enjoyable. The breakfast is the best I have ever had in a hotel.
Activities
In the small square in the evening they had night-time entertainment. Usually entertainment in a hotel can be hit and miss but all the acts were brilliant and was always a great way to end the night. Once more, the hotel excelled and proved why it is top class.
Final words
We will be back as soon as possible. We found the whole experience at Bahia del Duque to be high class. The added bonus as well was that you could walk out the back gate and within five minutes could go shopping or go to nearby beach restaurants. The private beach was beautiful and adds extra class to the whole package. You will find it hard to find a better hotel than Bahia. I could not say enough about this hotel. 10 out of 10!