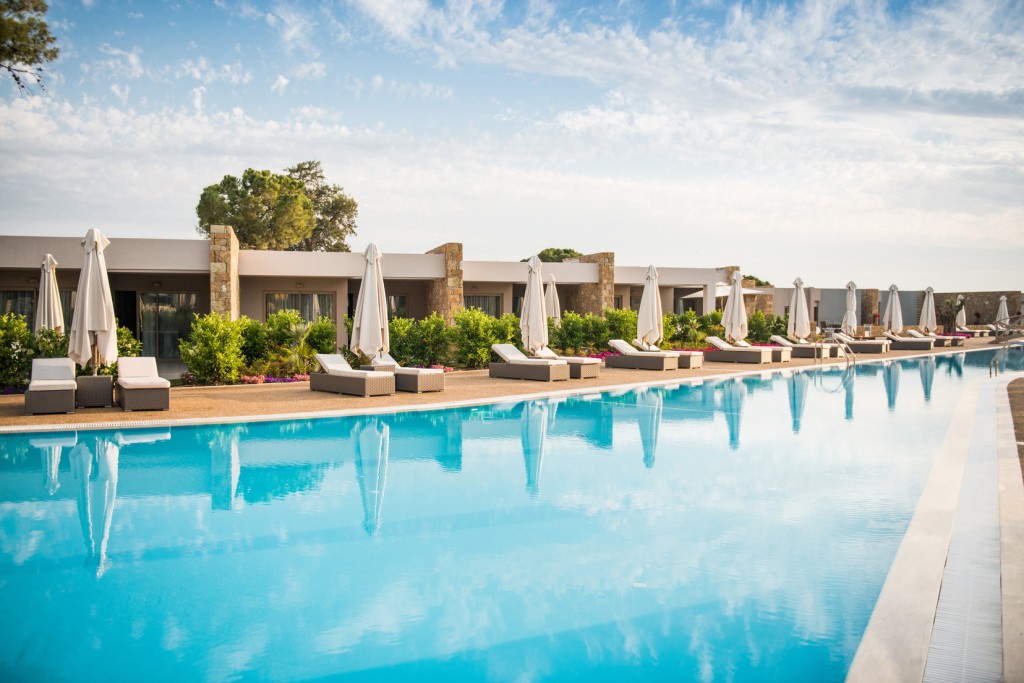 IKOS Olivia, Halkidiki – Review
We have never been on an all-inclusive holiday before and I must say that when IKOS told me they were launching a luxury version of this concept I was sceptical. Surely all-inclusive meant watered down draught drinks, vast buffet dinners and sun beds on top of each other didn't it?
However being in the business of holidays the thought of having a 24 hour mini-bar and 'Michelin-starred restaurants' and family activities at our disposal was very intriguing. So with an open mind myself and my husband (Travelbeam owners) and our three young children travelled to IKOS Olivia in Halkidiki, Greece for Half Term to give it a try.
First Impressions
First impressions were good as we arrived late at night tired and were greeted with very friendly staff with trays of beautiful drinks and quickly taken to our room by a charming porter called Vangolis. The resort is situated in a fairly built-up area with a few shops outside the entrance but the hotel does feel very private and self-contained in its beautifully manicured gardens.
We stayed in a One Bedroom Bungalow Suite Suite Sea View (which sleeps up to 5) and it was beautifully decorated with great functionality with our three children sleeping in a comfortable sofa bed and a rollaway.
The 24 hour mini-bar as promised was extensive and replenished daily (it might have been good to have had a variation or crisps rather than nuts every time though).
We mentioned to Vangolis that we were hurrying for dinner and he offered to take us in his buggy, one of the key benefits of this hotel was the service which was effusive and friendly but never over attentive.
Flavours buffet is a great choice if you want a large selection and don't mind it busy and the food was really delicious with fantastic cooking stations very efficiently run. We found wine everywhere to be excellent even if we didn't always get to see a wine menu or the exact same bottle of wine ordered!
Tips and Tricks
A very important tip is to book your restaurants the day you arrive as you can only book 3 days in advance and ask to be added to the waiting list for the remainder of your stay. Also pre-book Kids' Clubs using the online form that we can send you and spa treatments as this was surprisingly busy considering it is not part of the all-inclusive.
However we had no problem whatsoever hiring any of the other equipment such as non-motorised water sports or bikes, we just rocked up whenever we felt like it. We always plan our activities on the first day to make sure we get the most of the holiday and to ensure that everyone in the family gets to experience what they want otherwise it is very easy to just end on a lounger which is not as memorable when you get home.
The Deluxe Two- Bedroom Collection rooms were well worth the additional money if you have it as they had a much more serene and exclusive atmosphere around the pool and bar and beach. The rooms were huge and it is a massive benefit to have the two bedroom, two bathroom option (It took us some time for our family of 5 to get ready in the evenings with one bathroom!).
Dining Out
Our favourite restaurant was by far the Greek Ouzo as George the restaurant manager here has managed to conjure up an atmosphere and a menu that is really special. The stunning beachfront location (magical as the sun went down) and super trendy white décor helps but it is the little touches like ouzo as an aperitif and generous brandies at the end of the night and informed commentary of the staff that make it such a pleasure to dine there. Breakfast here is also highly recommended as it is a much more sedate and sophisticated affair than the other restaurants with much more waiter service.
The food and service at Provence the French restaurant was also wonderful but some of the food was a little over fussy for our youngest child but they did provide a single children's alternative. One small criticism might be to have a larger children's menu to choose from as this was very limited although this is probably in the pipeline as we visited only in the 3rd week after opening.
Anaya the Asian restaurant was also very enjoyable with a wide selection of fresh and innovative Fusion themed simple dishes like mixed noodles and lemon chicken which were very palatable to the whole family.
Entertainment and Activities
We would highly recommend the live musical shows such as The Blues Brothers and Hollywood Movie Music in the Garden Theatre which were excellent fun if a bit on the crazy side but our four year old was absolutely transfixed by them and we found ourselves rushing our dinner to get there! Maybe go to the buffet or have an earlier meal on show nights.
Activities here for all ages are endless and what's more most of them are covered by the all-inclusive with all sorts of Yoga, Pilates and circuits classes on the lovely outdoor deck to pedaloes, kayaking, tennis and bike hire all with brand new equipment.
My daughter also did water skiing which was chargeable at 40 Euros and the bay was perfect for this. Pools were excellent with three different heights so babies and young children could enjoy a depth tailored to them. You can also hire a DVD player free of charge and it was brought to our room lightning quick within minutes but I would take the DVDs with you as it was a busy time there wasn't much available.
Super Service
The service around the pool bar and on the beach was quite simply phenomenal with staff always there to take your order but never interrupting your book or your relaxation and this is no mean feat. I have stayed at many five star deluxe hotels who have not got this right and IKOS do it perfectly which is amazing considering the hotel is so newly opened.
What surprised me about the all-inclusive is the complete freedom and flexibility it gives you and the family with no need to waste your time signing for drinks etc. and a revelation that there was no waiting for the bill at dinner. The children could quite happily take themselves off with friends to the bar they had met to order a chocolate milkshake or an ice cream without parents having to accompany them. It was so relaxing spending the week not having to keep a check on what we were having and it is undeniably fantastic value for money.
The spa is smallish but the therapists were cut above the rest and for a 60 minute Cryo-Time facial the cost was a bargain €80 but I would book this on arrival as we did as there was a 15% offer at the start of the stay. As at Sani Resort children can use the indoor spa pool during the morning for Splash Hours sessions which is handy if the weather is off one day.
Final Words
On our final day we enjoyed a wine tasting session with an expert Sommelier who gave us a very informative talk about the history of the wine and we enjoyed four excellent wines with accompanying cheeses…Delicious.
All-in-all we had a magical family holiday and we would love to return as soon as we can as it was much better than we had expected and in many ways blew some of the other luxury hotels we have stayed at out of the water.
To achieve this level of food and service in such a short time is nothing short of miracle and we will watch with interest how it develops but right now we are pushing sales for next year as we think this hotel will sell out for 2016 as soon as sales open!
Prices from £2,499 for a Family of 4 in a Panorama Junior Suite Sea View during October Half Term including luxury all-inclusive, flights and transfers. Prices from £699 per Person based on 2 people sharing a Superior Room Double Garden in October including luxury all-inclusive, flights and transfers.