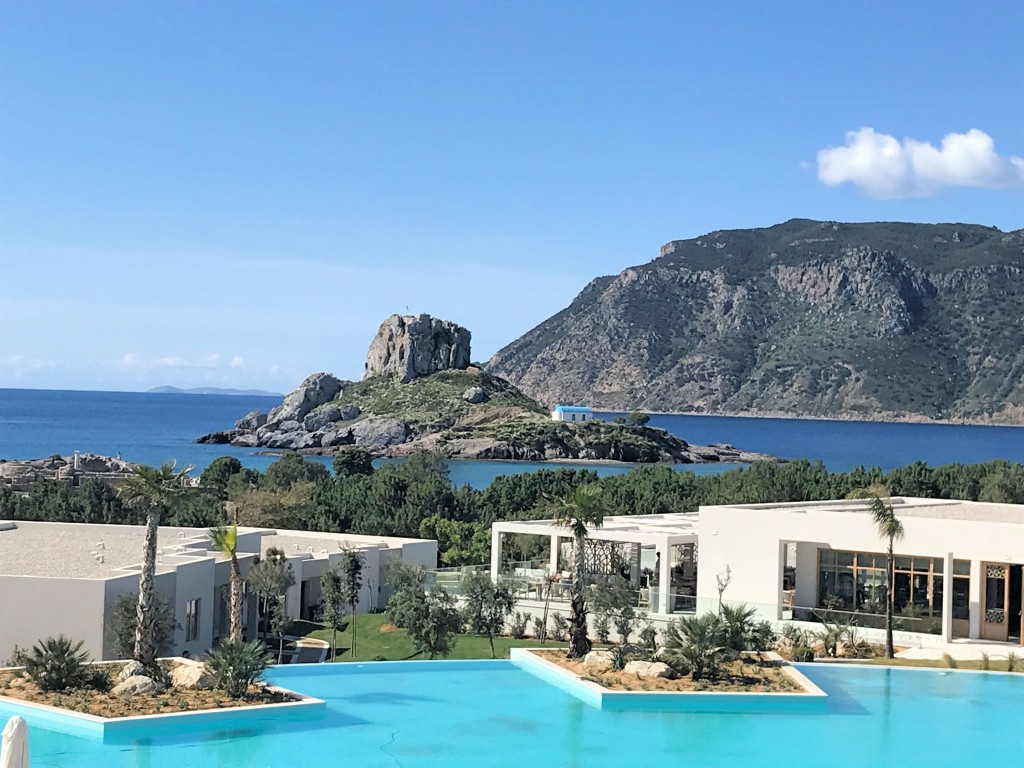 IKOS Aria – Where all-inclusive meets luxury
IKOS Resorts are some of our most popular hotels for 2019. With luxury-all-inclusive on a scale and par with resorts in the Caribbean or Mauritius, IKOS Aria which was brand new last year is a fantastic choice with its beautiful beach setting. Our very own, Sheree, took a trip to IKOS Aria earlier this year when it opened in May. She shares her experience with us here:
First Impressions
The resort is surrounded by stunning scenery, with the ocean as far as you can see on one side and then flanked by hills on the other. The interior design of the resort is very modern and airy which gave a real sense of space so it never feels crowded even when busy. From the minute I walked in I was put at ease with the bright, trendy reception area and  on-it friendly staff who were ready and eager to assist me. The service and hospitality were of high standard right from start to finish.
I stayed in a Junior Suite Private Garden Sea View which was simply stunning. The suite was spotlessly clean and the bed was the comfiest I have ever slept in. WiFi, Smart TV, air conditioning/ heating, daily replenished mini bar, hair dryer, safe and many more were included all part of the rate. The private garden was lovely as well and having the view of the sea made it even better.
Food
IKOS Aria exceeded all my expectations with an amazing choice and variety of foods, fine wines and internationally branded spirits. I had an evening meal at Ouzo (Greek cuisine) and a superb sea bass part of the á la carte menu. What made the meal even more divine was its seafront setting. The breakfast buffet was vast in choice and there was something for everyone. I'd say my favourite restaurant was Provence (French cuisine) where I had a brilliantly cooked steak. My least favourite was Anaya (Asian/Oriental cuisine), the food was great but it wasn't spicy enough for me! With so many restaurants to choose from, you will be spoilt for choice and the service provided is always of the absolute highest quality. There is also an extensive menu selection for the 24-hour room service for breakfast, lunch and dinner.
A good tip to remember is you can pre-book with Travelbeam to guarantee the first three nights' restaurant reservations all part of our service making sure that you can get into the restaurants at the times you wish to and not just get left with the buffet option. if you stay in Deluxe Collection rooms we can book all of dining reservations for you.
Activities 
There are plenty of activities available around the resort. If you want to keep active, it offers a huge range of sporting activities ranging from tennis, pilates, basketball, beach volleyball, mountain biking, windsurfing and Zumba. One of my favourite things about the resort was the spa. It was a beautiful place, perfect for pure relaxation and it was so easy to book a treatment. There were so many treatments available, it was hard to choose! The pools and the beach were also great places to relax and all-day waiter service was available so you can have snacks, such as sandwiches or burgers or drinks such as high-end cocktails at your sun bed. There is lots of choice for evening entertainment as well, ranging from theatre shows and musicals such as an ABBA tribute band or Queen Experience, live music entertainment and beach parties such as a Ibiza-esque white party where you all have to dress in white. You will never be bored at IKOS Aria.
I would highly recommend making use of the complimentary mini cooper where you can explore the island for the day, which I pre-book for my clients. I always advise my clients to book kids club prior to arrival as it can get filled up quickly especially in high season. I would also recommend visiting concierge on your first morning there, they are really helpful with planning trips out, booking your other dinner reservations and ensuring you get the very most out of your stay.
Final Words
This is my favourite IKOS stay so far. The deluxe pool area is beautiful, I would highly recommend upgrading to the IKOS Deluxe Collection as it comes with exclusive benefits and services. IKOS have truly done it again, this resort is outstanding, I genuinely could not recommend it enough. The whole resort is stunning and the staff throughout my whole stay went above and beyond to make my holiday a truly unforgettable one. I look forward to seeing what IKOS' next venture brings.
Prices from £5670 for a family of 4 in a Junior Suite Balcony Sea View for a holiday in early July including luxury all-inclusive, flights and transfers. Prices from £1260 per person based on 2 people sharing a Junior Suite Private Garden Garden View in May including luxury all-inclusive, flights and transfers.
If you are interested in booking IKOS Aria you can call and ask Sheree for a quote or for more information. Her direct line is 01625 466246.