This collection of modern and spacious apartment suites (ranging from one to four-bedroom) are situated above the Abama golf course on the beautiful tranquil southwest coast of Tenerife. Each of the accommodation buildings at Las Terrazas are dotted around a beautiful green hillside, boasting spectacular views of the sea and the resort's stunning subtropical gardens.
Design is key with very chic modern rooms of the apartments are equipped with an exterior Jacuzzi and barbeque and the four ground-floor flats in each building have private gardens.
Las Terrazas de Abama are grouped around three heated swimming pools and a social club and enjoy access to the professional tennis Academy, the beach with imported pale sand, Health Club and serene three-storey spa (reservations are required) at the Ritz-Carlton, Abama resort. Avid golfers will love the Dave Thomas championship golf course (Terrazas guests can enjoy special rates) which is only a short walk away.
Las Terrazas de Abama provides a complimentary shuttle service to enjoy the wider Abama resort's facilities is available.
Facilities
Swimming Pool
Spa
Beach
Babysitting Service
Health Club
Golf
Transfers
Las Terrazas, Abama is 30 minutes by car from Tenerife South (Reina Sofia) Airport.
Food & Drink
There is a restaurant and a pool bar to enjoy at Las Terrazas, Abama.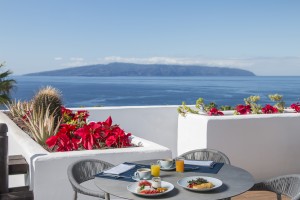 The concept of Melvin combines the personality of the architect Melvin Villarroel with the culinary expertise of Martín Berasategui who, with eight Michelin stars, is recognised as one of the best chefs in the world.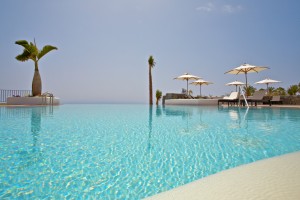 Enjoy refreshments in the sunshine at Las Terrazas' pool bar.
Childcare
Daily program of recreational and educational activities, specially designed by teachers, environmental educators and sports instructors (age 4 - 14 years).
Visiting hours and bookings are every day from 8.30 to 9.30 a.m., from 11:00 to 11:30 a.m. and from 3:30 to 4:00 p.m. (except excursion days). During all the other activities, the visits will not be accepted, because they disturb the normal running of the activities.
Pre-booking is essential.
The prices of the activities will change according hours and packages you can choose in the Abama Kids Camp. There is a possibility of lunch and dinner (according to occupancy period). We offer mid-morning and mid-afternoon snacks (no extra charge).
Sorry, there are no offers available for this hotel at the moment
Rooms
Las Terrazas, Abama has 151 apartment suites
Service good as ever…
Date stayed: October 2019
Posted on: 15th October 2019
Our 10th time at this hotel. Service good as ever. Reception area furniture looking well used! Overall a good stay at our favoured hotel.
Amazing, everything was perfect…
Date stayed: December 2017
Posted on: 9th January 2018
Amazing, everything was perfect from the friendliness of the staff to the manicured gardens. Can't wait to go back
I would highly recommend the apartments…
Posted on: 14th June 2017
Thank you we had a lovely holiday and I would definitely go back next year to Las Terrazas. The apartment was lovely and spacious and we had a wonderful view. It was fully serviced everyday and there was no bother getting to and from the hotel as reception drove us down and back to the hotel/ beach. In fact I think I would have been disappointed if I had stayed at the hotel as it was busy although it was half term  but nothing special if I am honest just like any other five star hotel. So I would highly recommend the apartments as the staff were very helpful. I am a fussy traveller and I find it hard to find a hotel that matches up to Vila Vita but as far as apartments go these are the next best thing.