Nestled on the coast of Elounda, this breathtaking resort has historic surroundings combined with modern decor and amenities. Blue Palace has an award-winning Elounda Spa – perfect for pampering and those that seek relaxation, while the more energetic will treasure the sports facilities.
Privacy is truly yours in the contemporary marble furnished bungalows, suites and villas, all with complimentary WiFi (high speed is chargeable except in the Island Suites and Villas). The lovely Island Luxury Suites are suitable for couples and families and boast very fashionable interiors and a private heated pool.
Exclusive privileges are extended to guests in these suites and the Private Villas, such as Haven ­­ – a section of the beach with your own private reserved gazebo. Baskets of free goodies, including the latest magazines, will be delivered to your bed, and you will also enjoy a more refined á la carte breakfast in Anthos restaurant.­
The five restaurants on offer will whet the appetite of all gourmet lovers, featuring some of the best cuisine on the island of Crete. Guests can enjoy Anthos the Greek restaurant with a modern twist, traditional Greek cuisine from Blue Door Taverna, Asian dishes at Asia Deep Blue and the Italian Isola.
There is much to do for all the family and the resort hosts a range of activities, including water sports, diving, tennis and a fitness centre. Isola Beach Club is a hip hang-out in the evenings, with resident DJs and top cocktail mixologists. There is also a golf course approximately 40 minutes away. Children are very well catered for here with a fantastic Kids' Club and special touches such as children's bathroom amenities, robes and a welcome package.
If you like very personal service while in Greece, the 'Concierge Service' will definitely appeal with a team on hand to plan every detail of your stay for you.
Facilities
Swimming Pool
Spa
Kid's Club
Gym
Beach
Babysitting Service
Interconnecting Rooms
24-hour Room Service
Transfers
Blue Palace is 60 minutes by car from Heraklion Airport.
Food & Drink
Blue Palace has five restaurants and three bars to choose from.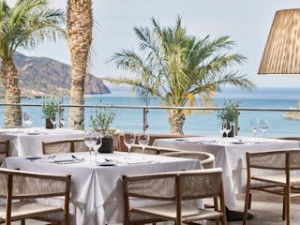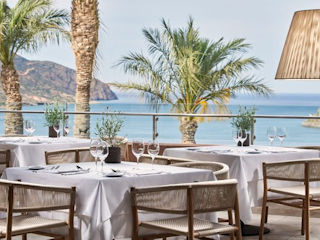 Main restaurant serving American breakfast buffet with Champagne and themed dinner buffets during low and shoulder season.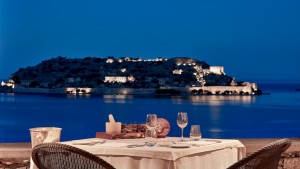 Anthós is a Greek restaurant with a modern twist. The elegant and sophisticated atmosphere is enhanced by the live Greek Cretan music. For guests in Island Suites and private villas there is a refined a la carte breakfast at Anthós.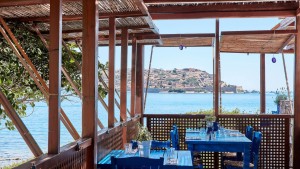 A traditional Greek restaurant set in a beautiful old fisherman's stone house, it serves typical Greek Taverna with a spectacular beach-front location (Closed Wednesday evening).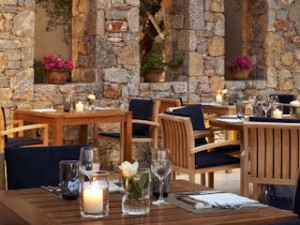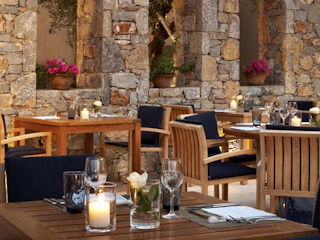 Fusion restaurant. Expert chefs prepare and serve right in front of you in an open plan kitchen providing an exciting and unique experience to fine dining. Enjoy dishes ranging from Sushi to Japanese and Thai. Open for dinner (Closed Thursday).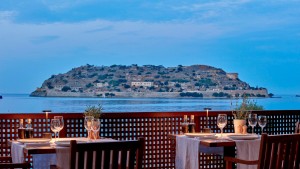 Fresh Italian dishes set in a charming location by the main pool and private beach, created to guarantee an authentic and delicious meal (Closed Monday evening).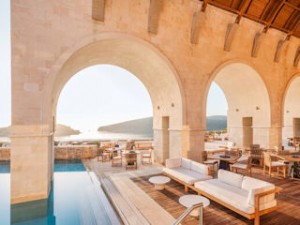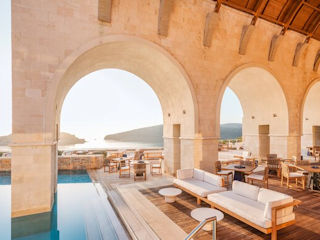 Furnished with Moroccan sofas and lounges, this bar is at the forefront of the resort. The bar looks out onto the crisp blue Mediterranean waters and presents the perfect spot for complete relaxation with one of their refreshing cocktails.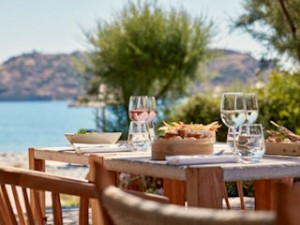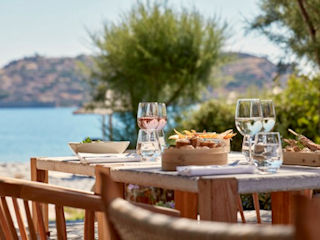 Serves an enticing range of snacks and drinks, with atmospheric music and beachside services.
Childcare
There is a complimentary kids' club at Blue Palace, as well as a range of activities and babysitting upon request.
Facilities include: Indoor and Outdoor playground, Two, Children`s pools, Children welcome package, Children bathroom amenities and bathrobes, High chairs, Kid's menu, Kids pool and Playground.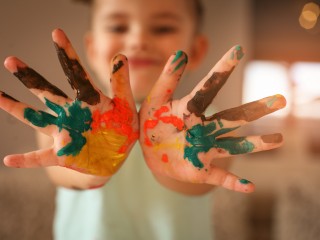 Kids' Club
Complimentary and open Tuesday to Sunday between 09:00 and 17:00, children (age 3-12 years) can enjoy a range of activities, including games, crafts and competitions.
Travel Tips From Our Blog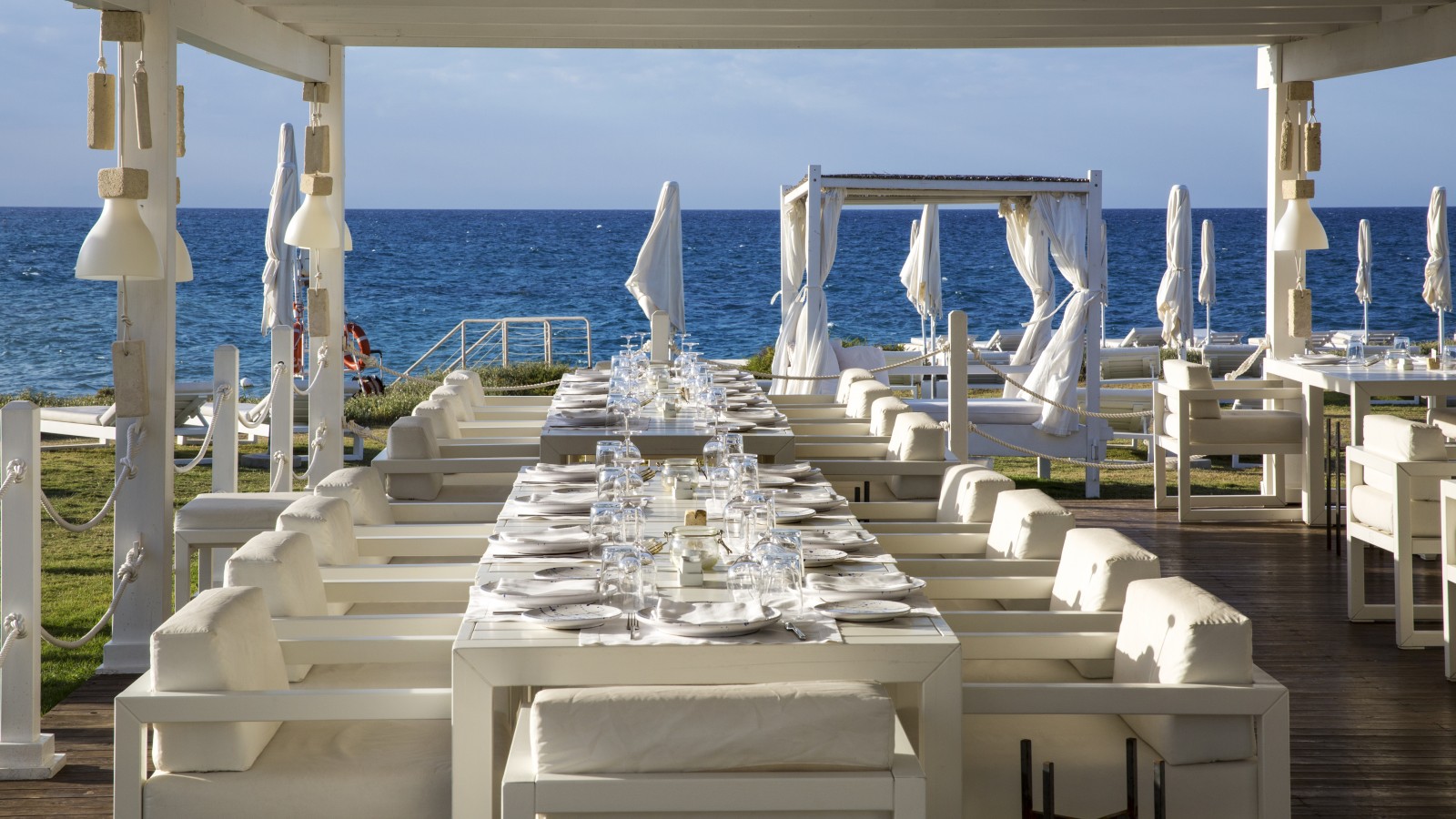 Sorry, there are no offers available for this hotel at the moment
Rooms
The Blue Palace has 251 rooms, suites and villas to choose from.
Just perfect in every way…
Posted on: 24th August 2017
Just perfect in every way.
Lovely hotel, staff and setting. Great views…
Posted on: 23rd June 2017
Lovely hotel, staff and setting. Great views. Found the evening buffett and hot food at breakfast a little on the tepid side but liked the food at breakfast. Loved the beach and service. Our room layout was short on bedroom space and excess bathroom. The Hertz rep at the hotel was rude, unhelpful and very sullen, unfortunately this prevented us from hiring a car. The rep changed on our last day! Would definitely go back to this hotel and location very good indeed.
Lovely hotel, full but didn`t feel too busy…
Posted on: 23rd August 2015
Lovely hotel, full but didn`t feel too busy. Excellent restaurants great service and very friendly staff. The 2 bed rooms with pool were great for the family.
Absolutely lovely hotel & location…
Posted on: 18th August 2015
Absolutely lovely hotel & location. Friendly & helpful staff. Great food & prices. We would definitely return.