The luxury flagship of the Grecotel collection, Amirandes is situated directly on the beach with fragrant gardens complemented by a tranquil central lagoon, lit at night with hundreds of tiny lights to stunning effect.
Water plays an important role throughout the resort, with a majestic Olympic-sized saltwater swimming pool, private pools in many of the suites and beautiful ocean views. There is a wide range of gorgeous accommodation options where style is key; designer chic combined with a hint of minimalism and serious luxury, make this the perfect stay.
Beach lovers will enjoy two sublime bays of Crete's fine golden sand, complete with complimentary gazebos for villa guests and a range of water sports to sample. Expect delicious gastronomy and intuitive discreet service, where the staff consider your needs even before you do.
If you want to unwind while in Greece, the Ayurvedic spa focuses on ancient Indian techniques. On dry land, there is a mini football pitch, three floodlit tennis courts and a golf academy. Toddlers, children and teens can enjoy a wide range of organised, age-specific activities and programmes at 'Grecoland'.
Facilities
Spa
Swimming Pool
Gym
Room Service
Water Sports
Interconnecting Rooms
Beach
Babysitting Service
Kid's Club
Golf
Transfers
Amirandes is 15 minutes by car from Heraklion Airport (however in high season you do get some aircraft noise as a result).
Food & Drink
The Amirandes has seven restaurants and three bars to choose from. There are also various dining options can be arranged on request including in room/in villa dining, Villa BBQ, romantic dinner on the beach and family banquet on the beach.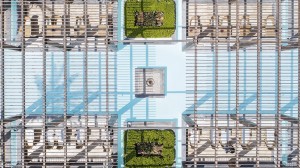 At the extensive buffets of the main restaurant, you will enjoy unique chosen flavours from the Mediterranean cuisine for breakfast and dinner, in absolute safety.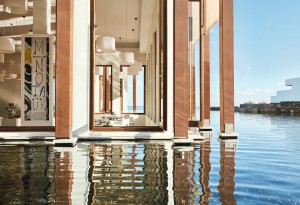 Experience a unique signature set menu in the incomparable Italian restaurant decorated with an amazing collection of genuine Picasso ceramics.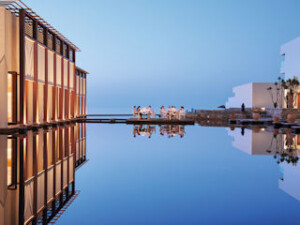 A sparkling, floating a la carte restaurant with fine selection of steaks and fresh fish menu and magnificent views.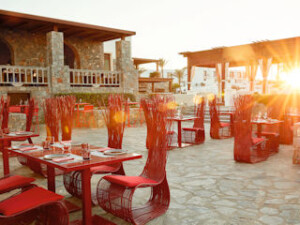 A fascinating tasty trip to Asian cuisine with the Cretan sunset in the background.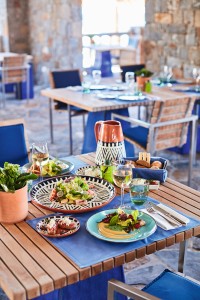 A Greek restaurant at the beach with sea food and fresh fish, like the ocean breeze.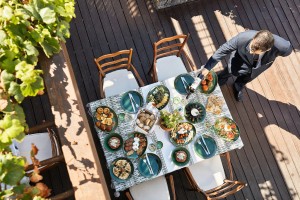 A tribute to Cretan cuisine with a menu bursting with island flavours, using the freshest ingredients.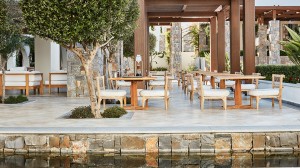 Savour your drink or cocktail, with the views of the lagoon and the Cretan sea from the sunken lounges.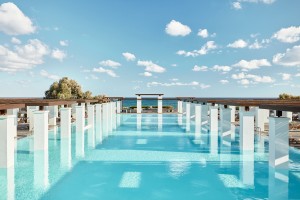 Relax and enjoy your drink or cocktail by the pool, with the views of the lagoon and the Cretan sea.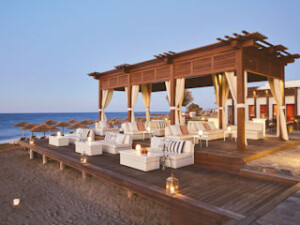 Sunset Lounge & Beach Bar
Sunset Lounge on exclusive Amirandes Beach, its unique seaside setting for delighting in the stunning sunsets over the mesmerizing Cretan skyline. Enjoy the music from the DJ with cocktails accompanied by fresh fruits under the Cretan Sky.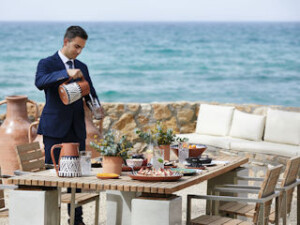 The Dine Club Half-Board Programme
Free upgrade for all half-board guests. Amirandes introduces The Dine Club, a new experience in half board dining featuring credit in 14 destination restaurants, two free dinners per week and kids go free. For an absolute carefree holiday experience upgrade to the new 'Comfort All-in package'. In addition to the dinner offered in The Dine Club you will enjoy lunch, drinks and beverages as well as snacks throughout the day. The Dine Club Half-Board programme and Comfort All-in package are provided with additional fees.
Childcare
There is an array of kids' clubs, teen hangouts and summer camps on offer to kids of all ages at the Amirandes. There is a playground, 'Tasty Corner' and pool near to 'Grecoland'. Kids menu available in all a la carte restaurants.
Grecoland Kids and Juniors
Regular supervised hours (age 4 to 12 years) during the whole season, six times per week. Games, competitions, culinary lessons and creative activities, etc. and also baby-sitting on request (set rates).
Children under four-years-old are welcome to use the Grecoland facilities but must be supervised at all times by a parent or guardian. Kids' menus are available at main restaurant and at à la carte restaurants (on request, with extra charge).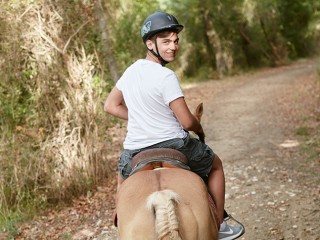 Greco Teens
Mid-June/Mid-September. From morning to night, there is plenty to keep teens occupied. From golf academy, beach volleyball, discovery adventures (up to 14 years old), football, tournaments, Greek dancing, safe internet surfing and parties.
Sorry, there are no offers available for this hotel at the moment
Rooms
Amirandes in Crete has 212 rooms, suites, bungalows and villas to choose from.
Lots of the elements of the hotel were very good…
Posted on: 15th August 2017
Lots of the elements of the hotel were very good however we would`t visit again. We were underwhelmed by the rooms – they felt very basic especially for the money we paid. The buffet food was often on the cold side to warm and that applied to breakfast and dinner in the evening. Service around the pool was ok but sparse and not on a level that again you would expect for the money.
We loved this hotel – the architecture & especially the staff…
We loved this hotel – the architecture & especially the staff. They were all so warm, welcoming and accommodating. The only issue was that only the Blue Monkey & one other restaurant was open + the nightly buffet so the Super VIP Half Board was not quite as useful as we`d hoped at this time of year. We`d love to go back to this hotel.
Fabulous…
Posted on: 17th April 2017
Fabulous