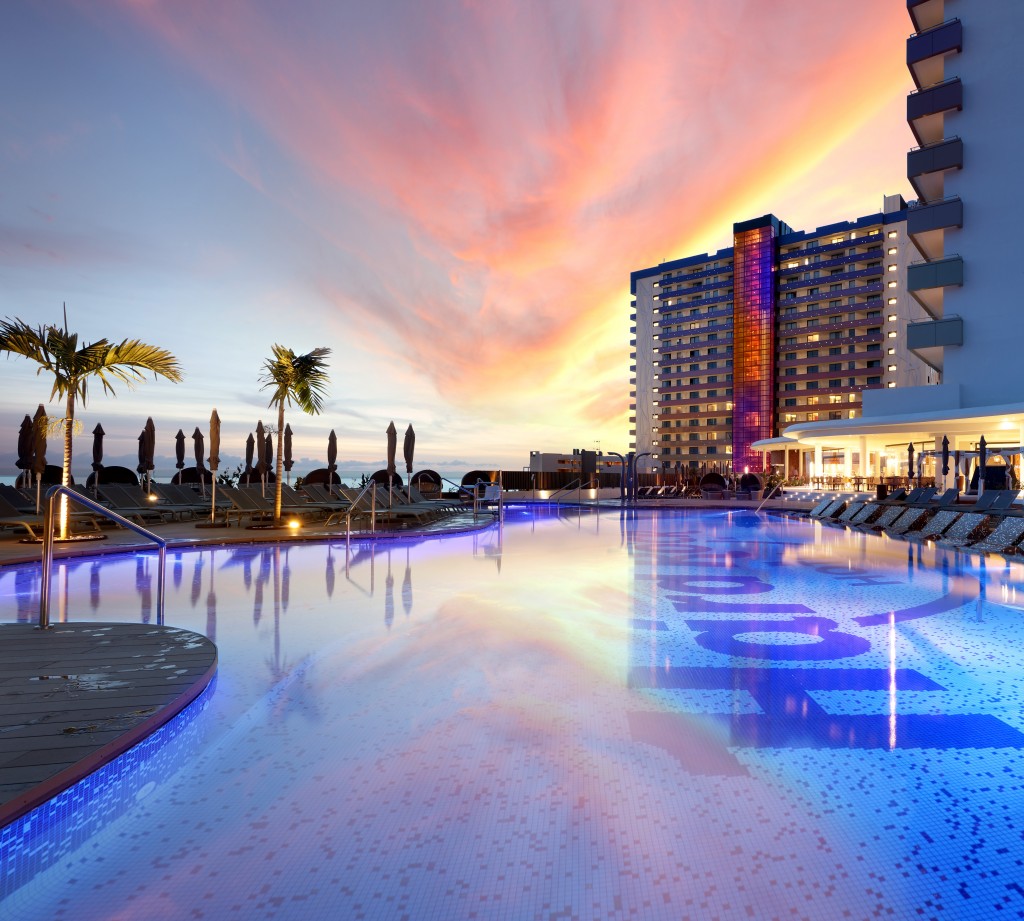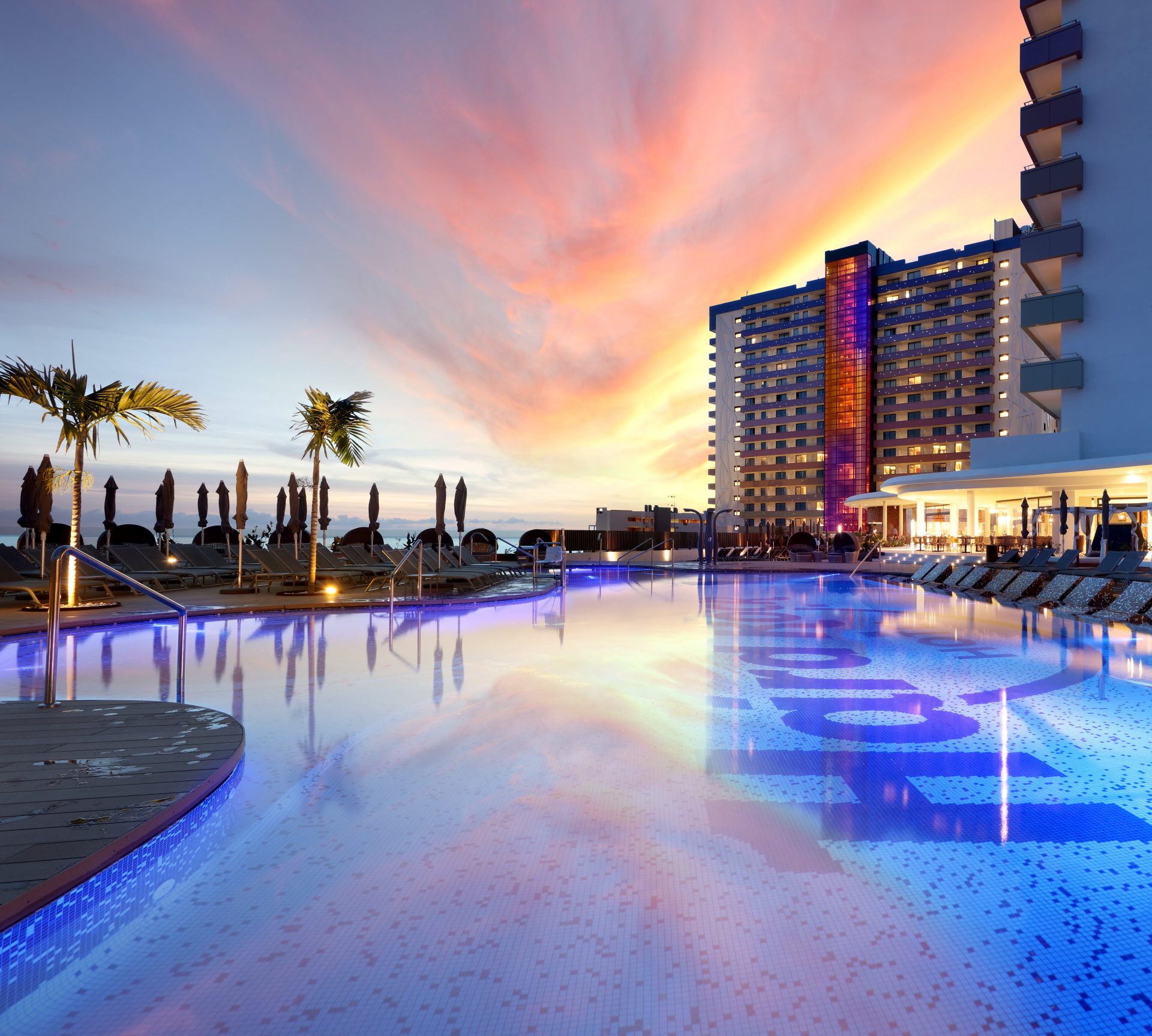 Not very familiar with Hard Rock Hotels, we were curious about what to expect when our family (three children age 12, 10 and six) jetted off to escape the UK rain and sleet this February half term to see this new hotel just opened on the island of Tenerife. For a luxury family hotel with year round sun that does not break the bank, it exceeded all expectations. Here's the lowdown:
First Thoughts
The British take on Hard Rock in my opinion tends to be the mass-market Hard Rock Cafes with loud slightly tacky music and burgers where you can literally go and buy the T-shirt. Hard Rock Hotel Tenerife does have amazing burgers, five dollar shakes and great music but it is very far removed from the Cafes. It goes hand in hand with amazing dining and service, brand new designer chic rooms and fantastic value for the level of luxury. What's more take your children here they will love you forever as for them it's the epitome of cool.
When we arrived we were greeted by an ultra-trendy marble lobby sited around an Elton John style blue piano and a glass of violet cava. If you like music you will love it here. Each area of the hotel has different genres piped into it at varying volumes depending on the mood and it's surprising that everyone is kept happy whatever your preference. I dare you at some point during your holiday not to say 'I love this song' or find yourself unconsciously mouthing the lyrics.
The little touches
We heard everything from Guns n Roses to Bowie to Oasis to Adele. There's a pianist at breakfast some days playing chilled out tunes, DJs around the pool in the afternoon and most evenings there is a band or musician playing music in the lobby. There were three pools to chose from; adults only for peace and quiet, a heated main pool perfect for family fun and a more chilled pool by the beach with huge orange bean bag-style loungers on imported pale sand and sporting the main stage.
Rooms are spacious and hip with nice little touches like wristbands instead of key cards (so you never have to think where your key is), i-device charging sockets, tea and coffee making, proper wine fridges and the kit for ironing. We loved the ice machine on every floor, perfect for G&Ts. There's a club-type lounge with drinks food and snacks on the Rock Royalty level which is well worth it if you can afford it!
Fun for all
The crèche (the only one in the Canaries) and Kids' Club is fantastic. State-of-the-art and brand new, there's all manner of the latest gaming stations, a small crazy golf, basketball court, small football pitch and great playground. For very little ones there's a splash pool with slide. Teenagers will love the area just for them.
You can have a lovely experience in the spa with a Synchronicity Massage which combines a musical journey with rhythmic relaxing strokes or the youth waves facial which uses very light acidic masks to even and freshen the skin
We decided to hire a yacht one day to go and see whales and dolphins (only a 20 min taxi ride away) and we had a memorable two hours. This is a trip not to be missed if you are planning a visit to Tenerife. Big Smile Luxury Charters organise boat trips from EUR300 for two hours with a skipper, lunch and drinks.
Delightful dining
We were really impressed by the food with a superb fine dining steakhouse (you even get a choice of three knives for your steak) and also a Japanese where we highly recommend the Teppanaki. It was so much fun and the children were entranced by our chef Diego who did a show juggling his cooking utensils and then cooked us a feast right in front of us. Breakfast was a very varied affair with everything you could think of including an unbelievable pancake station where the cook prepared pancakes adorned with anything you requested from children's names to football logos to princess castles. Staff (each bear a name badge that tells you who their favourite band is) are brilliant with a friendly and enthusiastic attitude and they have obviously been trained by a team who know what they are doing.
As it's the opening year for Hard Rock Tenerife it is the perfect time to go with strong launch offers and everywhere is fresh and brand new. If you want somewhere fun and exciting with a magical feel-good vibe, which the children will love telling their friends about, then this is the holiday for you, and yes both our daughters did buy the Hard Rock T-shirt!