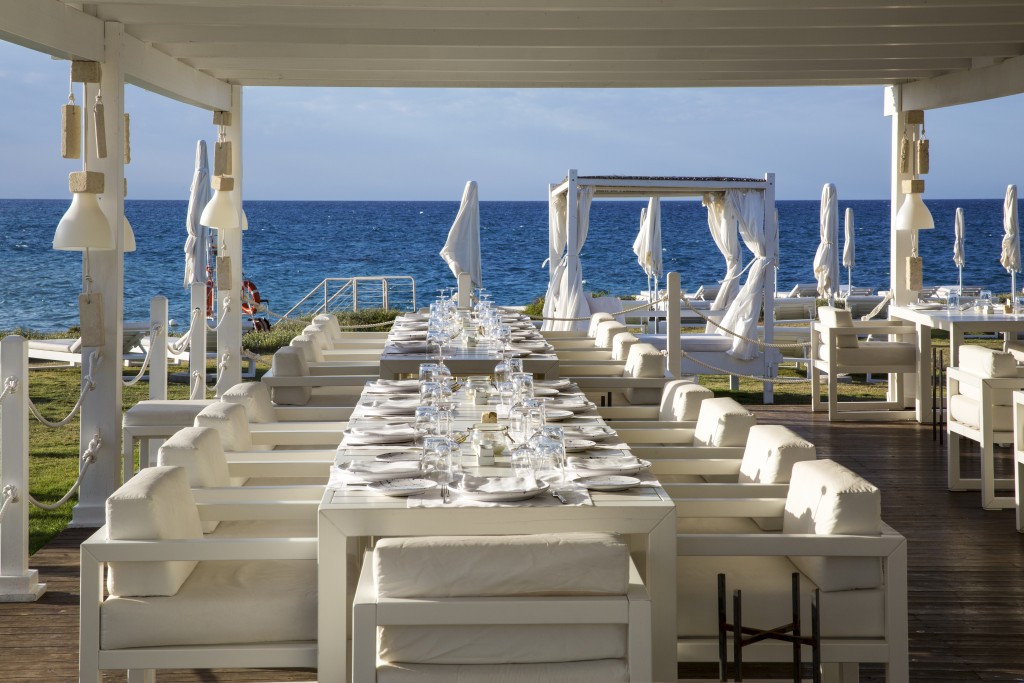 Families Enjoy High Life at Borgo Egnazia, Italy
We have wanted to visit Borgo Egnazia Italy for some time having heard good things about it. I wasn't convinced that a hotel that appeared to be completely decorated in creams and whites was going to welcome with open arms our three lively and often clumsy children but it is family heaven and one of the a small number hotels in our portfolio I would class as ultimate luxury.
High-end styling
I think the first point to make about Borgo is every single in inch of it screams high-end style and boasts of an extremely attentive maintenance and housekeeping team. Rooms are breathtakingly designed and literally spotless. We were particularly impressed with our Casetta Magnifica with its huge (and I mean huge) walled ground floor and roof top terrace. We love the rustic whimsical styling which is painstaking put together with amazing attention to detail. It would have been better if the bedrooms did not have slightly more space as the resort is totally purpose -built from scratch however the three bathrooms were a great bonus when all getting for dinner at the same time.
Borgo is a very unique and intimate property with an atmosphere that is in a league of its own. The clientele are well-heeled and very cosmopolitan all with a breezy smug confidence that they have found holiday gold. Borgo make the different areas of the hotel offer the right mix with couples mainly in the main hotel Corte area and families in the Borgo village which has winding stone-crafted alleys, blue skies and beautiful greenery where ever you look.
Your wish will be granted
What you need to realise about Borgo Egnazia Italy is that you have to get the full benefit you have to ask and your wish will be granted once you get the hang of this you will really understand what the vibe is all about. Take breakfast for instance the room is set beautifully, there are more waiters than guests and juice is charmingly encased in romantic glass bottles but the choice although exquisite looked a little narrow and there is no menu. On day 3 we sussed that you simply have to order whatever you require and they will bring it to you piping hot and freshly made from pancakes and crepes, hot chocolate and every kind of coffee to most delicious scrambled eggs and bacon I have ever had.
Activities
If you wish to go on an excursion, book a restaurant or arrange an activity simply call one of the Borgo Advisors and they will tailor it to you but you won't find a list in your room. The Kids' Club and crèche is fantastic with really charming and enthusiastic staff with all manner of exciting Italian themed activities. We also really enjoyed doing the pizza cooking school as a family which although it is quite expensive ( 100 Euro per adult and 50 Euro per child) if you arrange to do it at before evening meal time time (you can swap your dinner for lunch this day if you are on Half Board) or at lunch time you get to eat the pizza and receive a drink included so it works out well. The chef is brilliant and showed us lots of tips and hints we could take home with us and the children thought it was one of the best parts of the holiday.
Wonderful dinning
We also had some wonderful meals and we would definitely recommend taking Half Board as you can't really walk out and you can choose anything you want off the extensive menu making it good value for money. The fine dining restaurant Du Camini is magical and the service is superb. In fact there are many staff here and the service is typically Italian and full of personality.
I would go back tomorrow in a heart beat
The only drawbacks are; that in high season Borgo Egnazia Italy is a bit on the pricey side and whilst in resort you really have to just relax into the Italian way and ask for what you want and not just sit and wait (the English way!) but I would go back tomorrow in a heart beat as the warm impression it leaves you with only grows on your return home, as it is as Borgo profess in their ethos "like nowhere else".
Please call for more details on 01625 538 634. Prices from £4,199 for a family of 4 for 7 nights in Casetta Splendida (townhouse) including breakfast, flights and private transfers during May Half Term.